Softaculous is an application installer that can install just about every CMS available. And as such, you can use it to install Open Source Social Network. This is a CMS that specializes in creating social networks. Using Softaculous to do this will allow you to start building a social network in just a few clicks.
Today, I will demonstrate how to use Softaculous to install Open Source Social Network to begin creating your very own self-hosted social network.
What Is Open Source Social Network?
OSSN is a social networking software written in PHP that allows users to create their very own social network. And since it is open-source, it is completely free to use.
As you would expect, this CMS will let you create an environment that allows visitors to easily share posts, photos, videos and just about everything else you would expect on a social media platform.
Visitors can create a profile, add friends, and create groups. It is equipped with a chat option that allows for both private and group conversations. And visitors will be able to comment on each other's posts, tag each other, and even leave a rating on a post.
If your goal is to build your own social network, this is the CMS to do it.
Installing Open Source Social Network
Softaculous is accessible through your web hosting account. Without one, you will not be able to log into cPanel, where the Softaculous installer is located. If you are not sure about your login credentials, contact customer support.
Step 1: Log into Your Account and Access cPanel
Visit the GreenGeeks login page and sign in to your web hosting account.
Click on the "cPanel" button.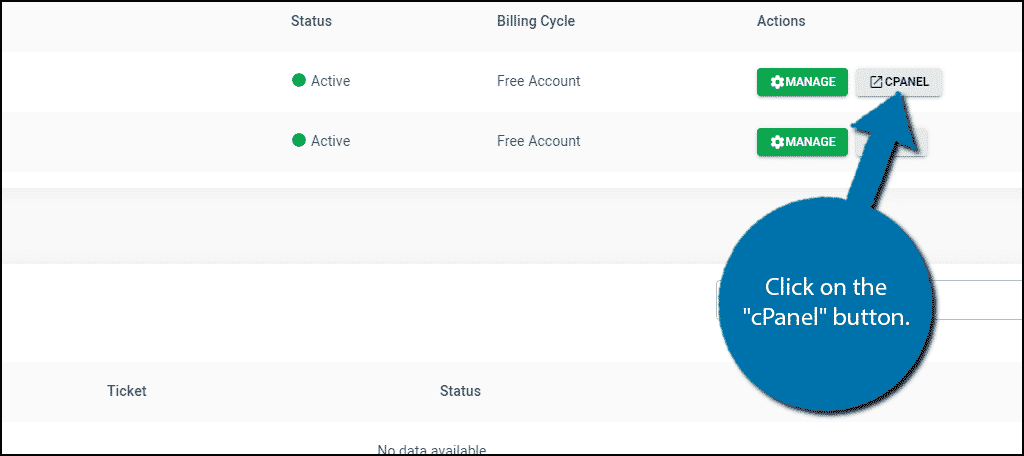 Step 2: Open Softaculous
Scroll down to the Software section of your cPanel and click on the Softaculous Apps Installer.
Search for Open Source Social Network in the available search box.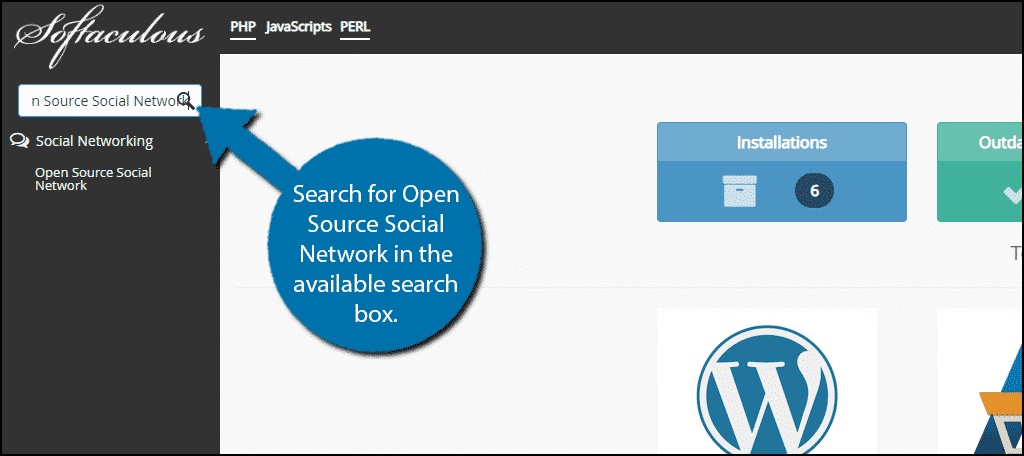 Step 3: Install OSSN
Click on the "Install Now" button.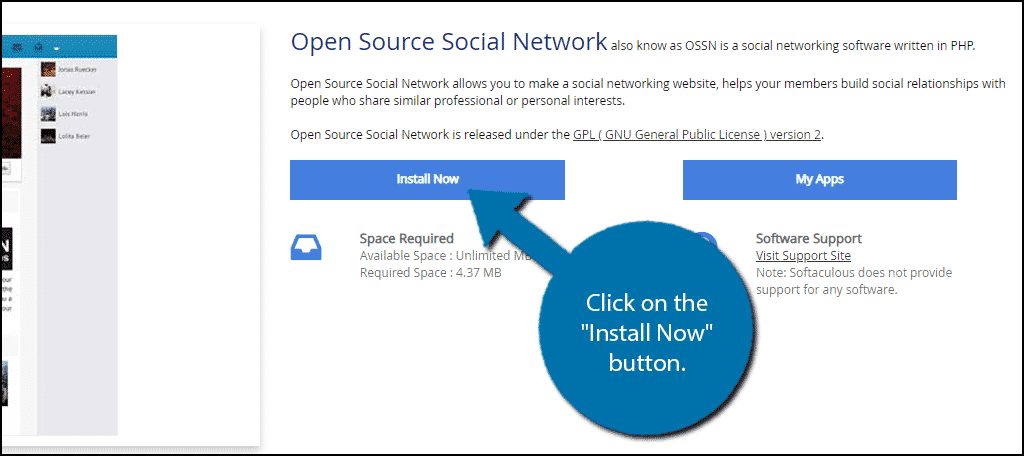 You will now need to go through the various settings, but there are only a few. The first option is to select the domain or subdomain the install will occur on. Make sure there are no other installs on the choice you make.
The data directory and site name are up to you but can be left at the default entries. In the admin account settings, you will need to create a user name, select a password (make sure it is strong), enter your date of birth(DD-MM-YYYY format) and enter an email.
You should also see the Advanced Options section. Here you can name your database (again the default is fine), choose where your backups are stored (default is fine), and turn on automatic backups (daily, weekly, monthly, or custom).
Once all of this information is entered, click on the "Install" button.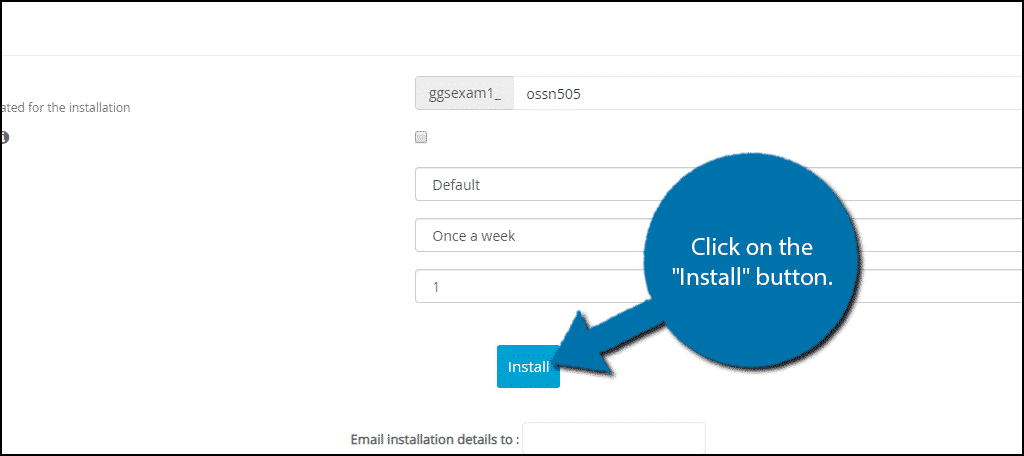 You should now see a congratulations page letting you know the installation was successful.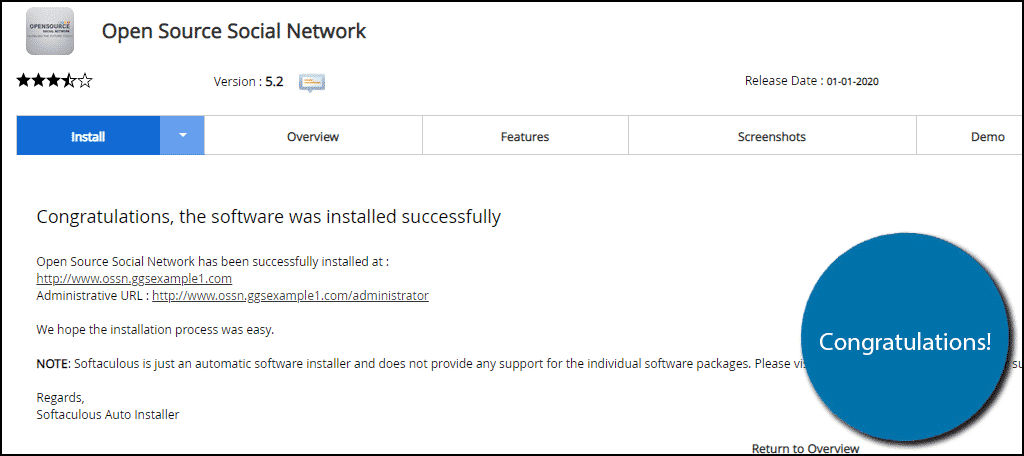 Now Comes the Fun Part
With the installation complete, it's time to start customizing and setting up your website for use. The good news is that the Open Source Social Network platform is like Facebook. It is very intuitive for both developers and users alike and has similar features, although far less in comparison.
Competing with other social media platforms today is no easy task, but if you can find a unique way to make your website stand out, it can be done. Just keep in mind, that it will take time to properly set up your website.
Stay tuned for the more OSSN tutorial in the future!