Twitter Cards are essentially media-rich methods that can help you share the content of your website on the popular social media channel. By including a snippet of HTML into your pages, you can offer more information on Twitter that goes beyond the traditional 140 characters. For example, sharing a link that has an attached card to the webpage may show a thumbnail image as well as the META description of the page in addition to your 140-character message.
Why Should You Use WordPress Twitter Cards?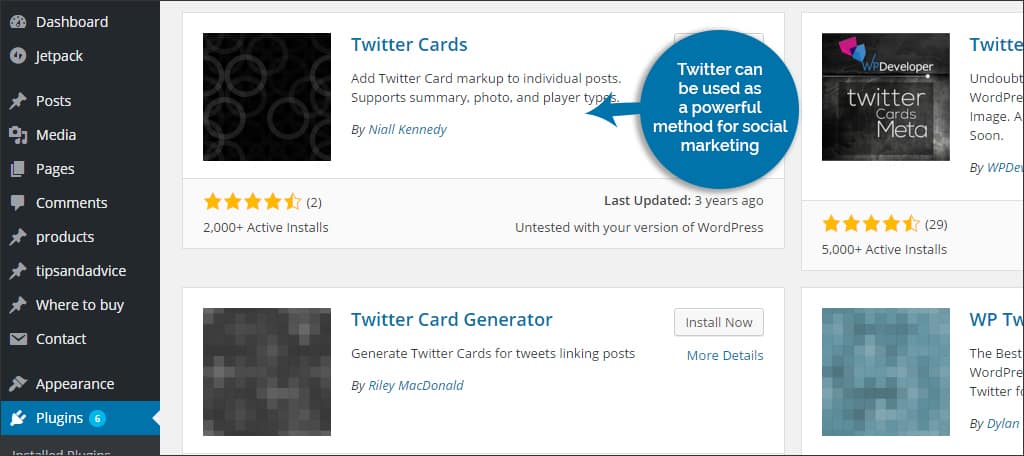 Twitter can be used as a powerful method for social marketing. Posting messages regarding your content can help boost awareness of your brand while driving traffic to your website. Installing cards onto your pages only serves to enhance the experience for those who follow your account. It can also help create greater attention for your content should someone else share pages on Twitter.
There are several different methods in which Twitter cards can be used. Some things such as signing up for email lists and website registration can be done directly from Twitter. This could benefit you by helping to build an email list for campaigns at a future date.
Currently, there are 10 types of cards that can be added to your content. They include:
Website Card: Used as a common method to encourage others to visit your landing page.
App Card: This card provides a link, call-to-action and rating of apps you share.
Lead Generation Card: This card allows others to sign up for email lists or register with websites without leaving Twitter.
Summary Cards: These include description, title and thumbnail of pages shared in Twitter.
Large Photo Summary Card: This provides the same functions as the Summary Card but use a large image.
Product Card: Offers information regarding the link as well as supporting prices and availability of a product.
Audio Card: Used primarily for Podcasts, this method supports audio formats.
Play Card: Allows you to share media such as YouTube and Vine to Twitter.
Gallery Card: Supports multiple images in a single Tweet.
Photo Card: These put images directly up front while supporting links and captions.
How to Use Twitter Cards in WordPress
There are several ways in which you can easily add WordPress Twitter cards. While you could manually enter lines of codes to get cards to work properly, plugins are the easiest way to go. Some of the cards are not usually available for WordPress directly because of their attribute. For instance, a WordPress site may not use a Play Card unless it's hosting video on its own server.
Jetpack
In the Jetpack plugin, which comes as a default installation in many versions of WordPress, you can view the "Social" module and configure your settings. This can also be found by going into "Settings" and then clicking "Sharing" in your dashboard. There is a field called, "Twitter Site Tag." It is here that you enter your Twitter handle. Jetpack will automatically adjust the right card for each post. For example, Jetpack will use a Gallery Card if your post uses more than one image.
JM Twitter Cards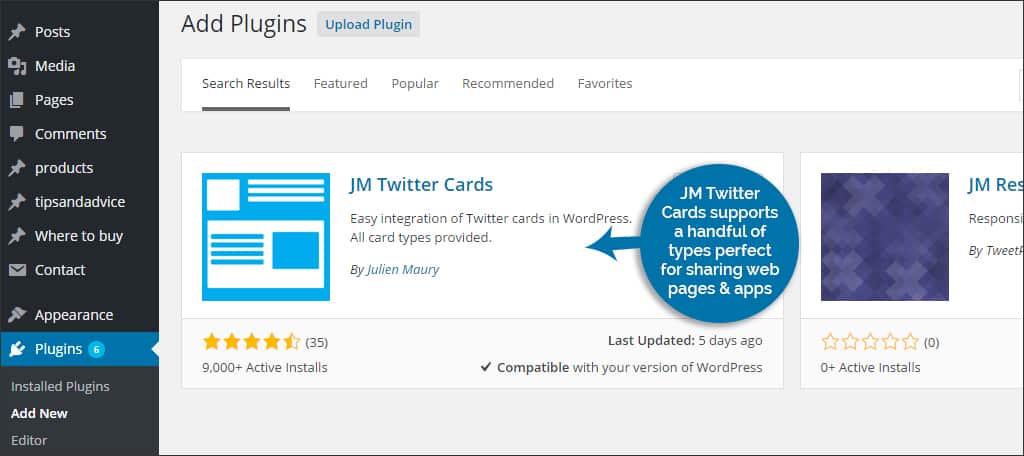 JM Twitter Cards supports a handful of types perfect for sharing web pages and apps. If you're into graphic design and want people to see a rich shot of your images on Twitter, this may be what you're looking for.
WordPress SEO by Yoast
Although the WordPress SEO plugin only offers Summary and Large Photo card types, it also has support for a variety of other social engagements such as Facebook. If you are looking to just share your posts, this may be a viable option given how many other things it can do for your website.
Many of the cards that are available in Twitter are still relatively new. However, a lot of developers are currently working to implement these features into later versions. Some eCommerce platforms may already have features such as Product Cards as part of the tools. If you use Twitter as part of your marketing strategy, it may be greatly beneficial to include cards into your WordPress installation.
Have you ever used WordPress Twitter cards in the past? Will this feature encourage you to use the social media site more often?