While most developers focus on designing their website for visitors, the WordPress dashboard is only for the developer's eyes. As a result, you can customize the WordPress dashboard to help you locate important information with a few simple tweaks.
None of the changes to the dashboard will be visible to visitors and it will not affect any other part of your website. Thus, making these changes will not impact anything but the developer's view. There are a variety of plugins that add additional dashboard widgets upon installation.
You might already have some that you aren't using.
Today, I will demonstrate how to customize the WordPress dashboard in a variety of ways.
What is the WordPress Dashboard?
The WordPress Dashboard is the admin control panel of your website. It allows to view information after logging in and can be accessed at any time afterward. Developers can use it to view statistics and provide immediate access to tools that help you maintain your site.
For instance, if you utilize the Broken Link Checker plugin, you can add an alert option to the dashboard to display any broken links on your website. This allows you to quickly respond to problems before catching on too late.
Another interesting application of the dashboard can be to monitor what other employees are doing. It's quite common for larger websites to have multiple authors or have contributors that regularly add content. You can check how active they are from the dashboard.
You can even add a calendar full of upcoming events or even a to-do-list.  A custom dashboard can really go a long way in managing your website, thus without further ado, let's learn how to customize it.
How to Easily Customize the WordPress Dashboard
Step 1: Choose Your Dashboard Widgets
This tutorial will showcase how to customize the WordPress dashboard using built-in options. Plugins can add new options for the dashboard, and they can be added via the screen options. This is also how you can choose which default options will appear.
Note: The Screen Options are available in every area of WordPress, but the options they provide are specific to the section you are in. This means you can only find dashboard options when you are in the dashboard.
Click on Dashboard and select the Home option.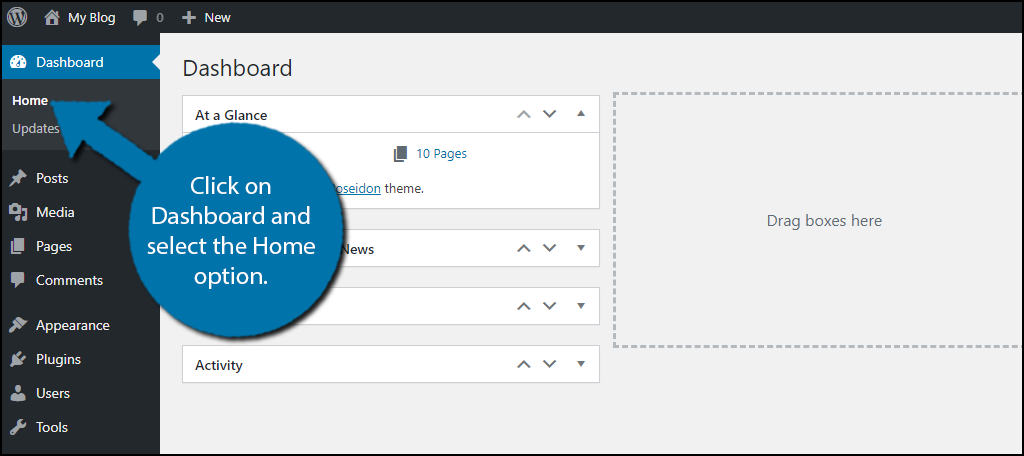 This is the WordPress dashboard and by default, it contains quite a few pieces of information. Some you may find useful and others not so much. Click on the Screen Options option.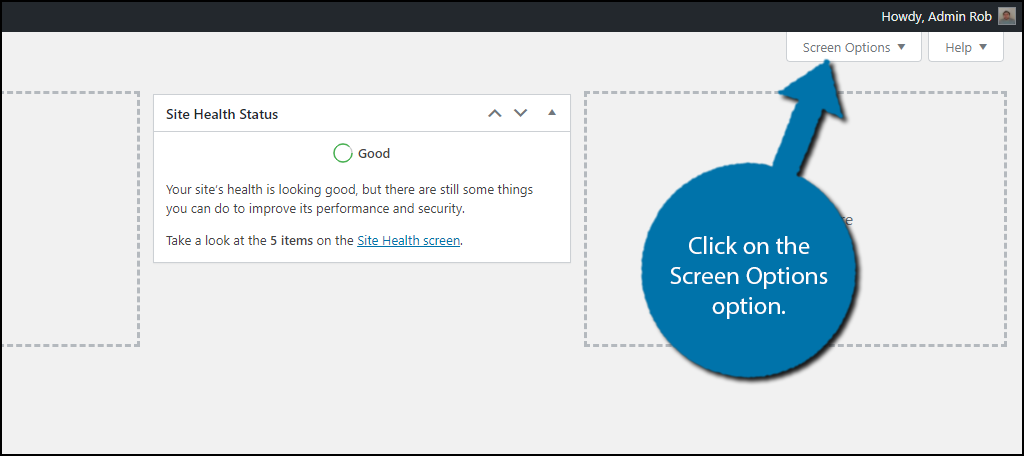 By default, you will have six dashboard widgets to choose from that include Site Health Status, At a Glance, Activity, Quick Draft, WordPress Events and News, and Welcome. Each of these options has a small checkbox you can use to enable them.
Note: You may have additional options available as the result of plugins. Many plugins have dashboard options that you may not be aware of.
Pick the dashboard widgets you want to display.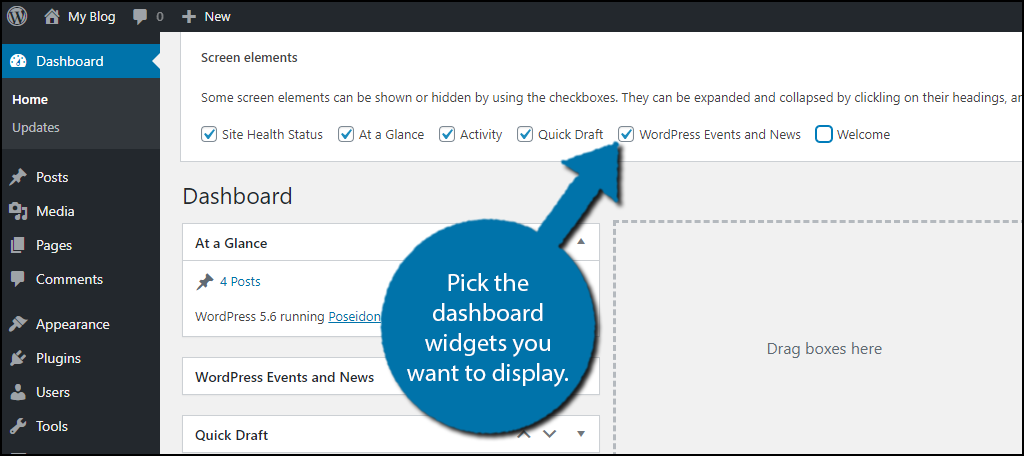 All of the dashboard widgets are added to the dashboard. To create a custom dashboard for WordPress, we are going to need to organize them.
Step 2: Organize Your Dashboard Widgets
WordPress was built to be used by anyone, and one of the simplest ways to move anything is to drag and drop items. The WordPress dashboard is no exception. Everything in this section can be rearranged by dragging it.
To drag a dashboard widget, click on the title of it and drag it to the desired location.
Note: Your cursor will become a four-way mouse icon when hovering over the draggable part of the widget.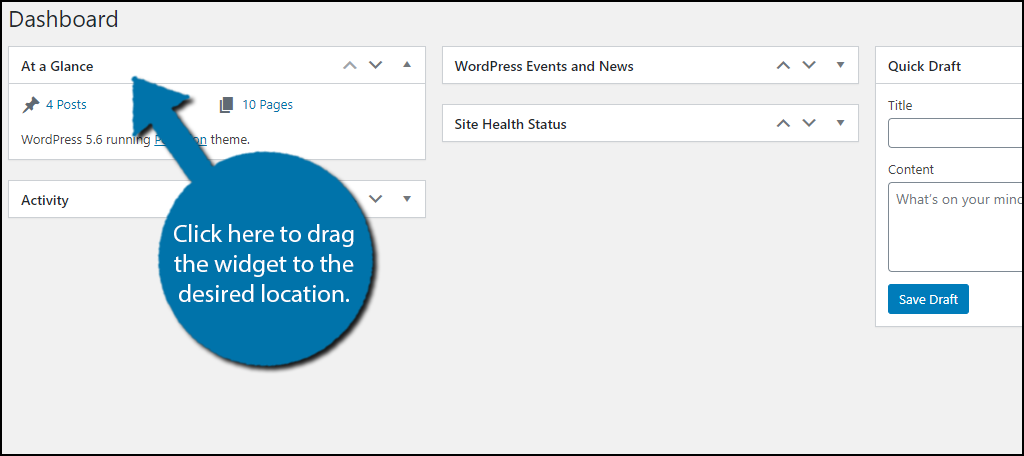 When moving the widget, the potential spots are outlined with dotted lines. If you hold onto the widget, you can see what it will look like before you place it. Although you don't have to worry too much about making a mistake, you can easily rearrange them if it happens.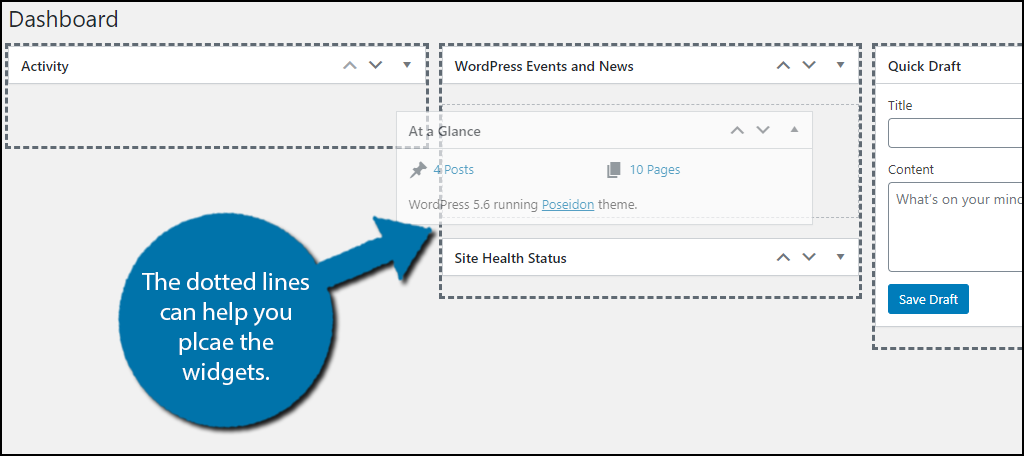 There is also a second option to rearrange these dashboard widgets, by using the arrows. This can also be useful if you have trouble with drag and drop movements. You can simply click on the up arrow to move it above a widget or the down arrow to move it below another.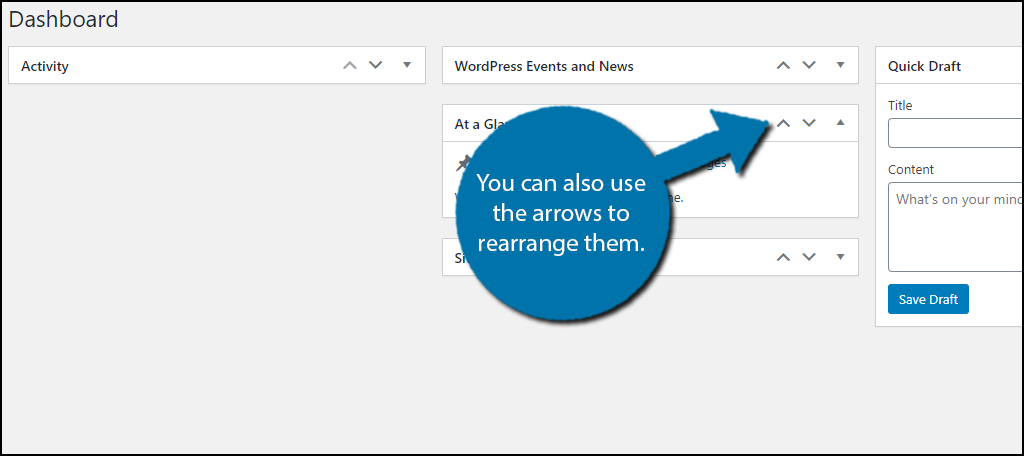 Now that you have the widgets you want to use and they are in the position you want them, all that's left is to add more.
Note: Some plugins have ways to customize the widgets. Unfortunately, none of the built-in ones allows you to change appearances. But all widgets that allow you to customize them are unique to that specific widget.
Additional Plugins to Consider
When you install a plugin that is capable of displaying information on the Dashboard, it should appear in the list of items in the Screen Options tab. Some plugins may have Dashboard controls you weren't even aware of.
Check the Screen Options after installing a plugin. You may benefit from having it on your WordPress Dashboard. However, there are some WordPress admin plugins dedicated to adding custom dashboard widgets to your site.
Here are a few WordPress dashboard plugins you may find useful:
Google Analytics Dashboard for WP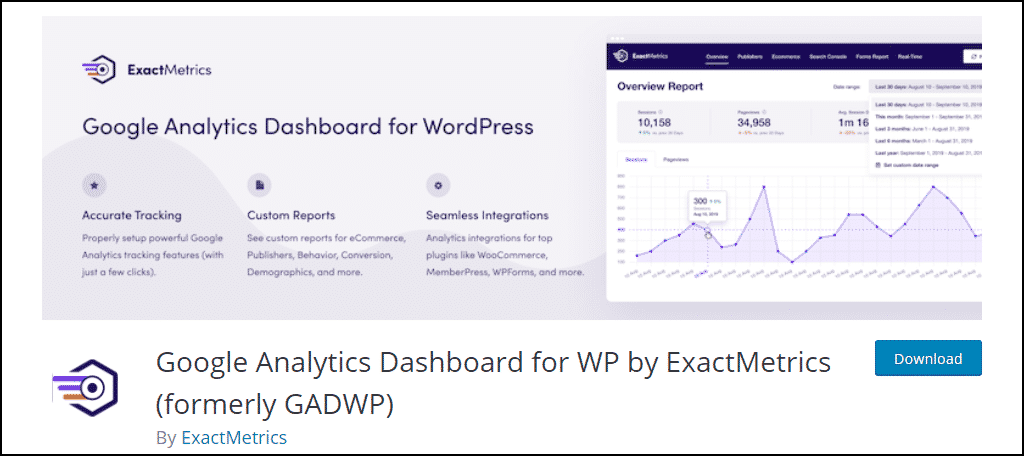 If you are like most blog owners, you are constantly checking your website's analytics via Google Analytics. What if I told you that you could do that from your WordPress dashboard? Well, you can with the very popular Google Analytics Dashboard for WP plugin.
It allows you to take key analytical tools and put them right on your dashboard. However, you will still want to check Google Analytics for the full analysis.
Ultimate Dashboard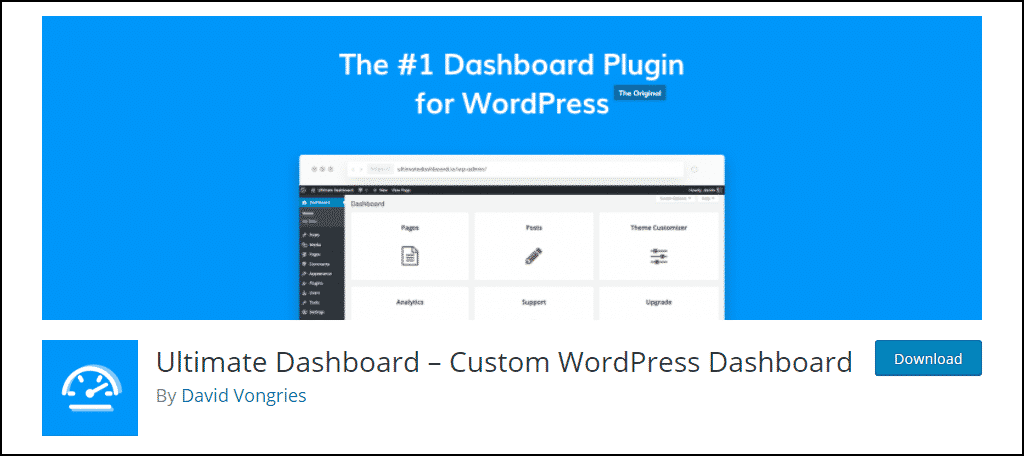 What if you want to make your own custom dashboard widgets? This would require a bit of work to do without a plugin, but you don't have to worry about that. The Ultimate Dashboard plugin allows you to create your own simple dashboard widgets.
By adding a URL to a specific area of your website or another one entirely, you can make useful tools to save time. It will also create better visuals for the dashboard widgets you create.
Broken Link Checker
You may very well already have this awesome plugin installed, but did you know it also adds a Broken Link Checker dashboard widget? Well, it does. Instead of having to visit the settings of the plugin, you can have a display right when you log in.
This helps you immediately see when there is a broken link on your website. To do this, you would simply need to use the Screen Options that we previously discussed.
A WordPress Custom Dashboard Saves Time
The ultimate goal of a WordPress dashboard is to save the developer time and allow them to view important information when they log in. After all, the dashboard is the first thing you can see after logging in.
And this is by design.
Making changes to the dashboard will not impact the visitor experience in any way from a visual standpoint. However, it is worth pointing out that all plugins, big or small, will have some impact on your website's performance.
Thus, adding a bunch of plugins for the sole purpose of customizing your dashboard is not advisable.
What dashboard widget do you find to be the most helpful? Did you install any plugins just for their dashboard widget?