Having a responsive website is imperative in today's world. According to StatCounter, more than 56% of users are online through mobile devices.
This means if you don't have a responsive or mobile-friendly design, you may be missing out on a lot of traffic. It all starts with the best WordPress responsive themes.
Responsive themes for WordPress allow visitors to experience the website in the best possible way. Instead of pinch-to-zoom and trying to read text that doesn't seem to fit the display, WordPress delivers a grand layout to smaller screens.
Keep in mind that 67% of people are more likely to purchase from a site that is mobile friendly. That's quite an increase in income just by providing a good experience from smartphones and tablets.
Here are 45 of the best responsive themes I can find for WordPress. If you're interested in delivering an amazing appearance, it's worth the time to take a look at the this list.
1. ColorMag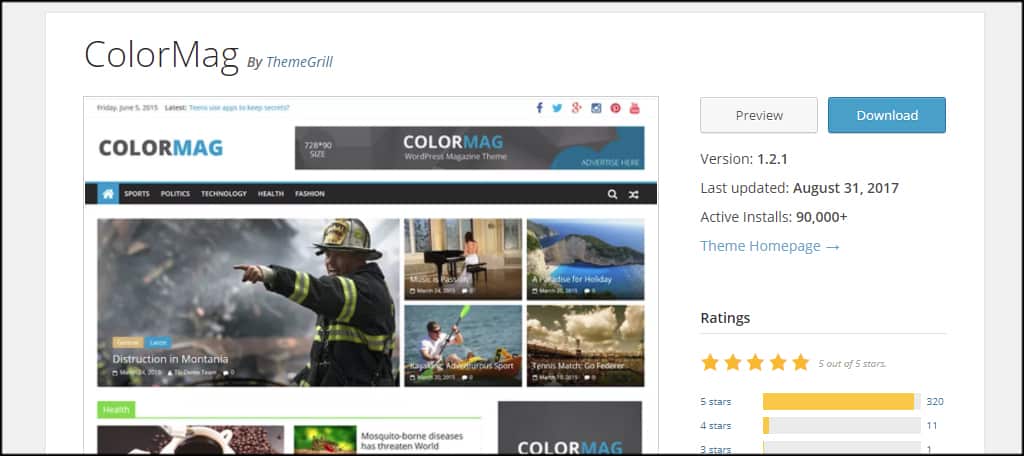 ColorMag is definately one of my favorite responsive themes for WordPress. Not only does it have an excellent appearance on mobile devices, but it comes with a variety of customization tools.
Functional theme-only widgets, sidebars and blocks for widget placement, AdSense friendly and free, it's a good theme to get your feet wet.
2. ColorNews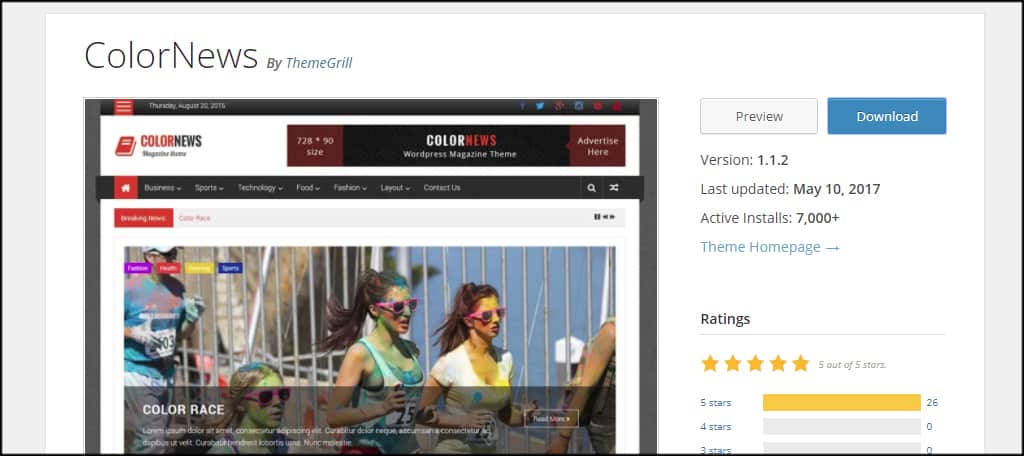 ColorNews is a similar theme to that of ColorMag. However, its layout is a bit different and has a much larger header image carousel.
Like its counterpart, this theme comes with unique widgets, many editable areas and a full range of customizable options. Most importantly, it looks brilliant on a hand-held device.
3. Corporate Plus
If you need a basic, business-minded layout, Corporate Plus may be a good choice. It supports single-page design while including customizable site sections.
Corporate Plus has a full screen slide, sticky menus and fully compatible with WooCommerce. The layout of this theme allows it to function perfectly in almost any business dynamic.
4. Ampersand
Ampersand is a great looking theme for both desktops and mobile devices. It focuses more on modern typography and image placement. This theme has been optimized for language translations and comes with the files to support multilingual platforms.
It's a bit minimalist in terms of advanced features, but it's still a powerful and flexible layout.
5. Prologue
Prologue is another example of a well-developed, magazine-style theme. It comes with a Featured Category widget, carousel, sticky posts and a featured slideshow.
It reminds me of a slimmed down version of ColorMag, and it looks very nice on a mobile display.
6. Lenscap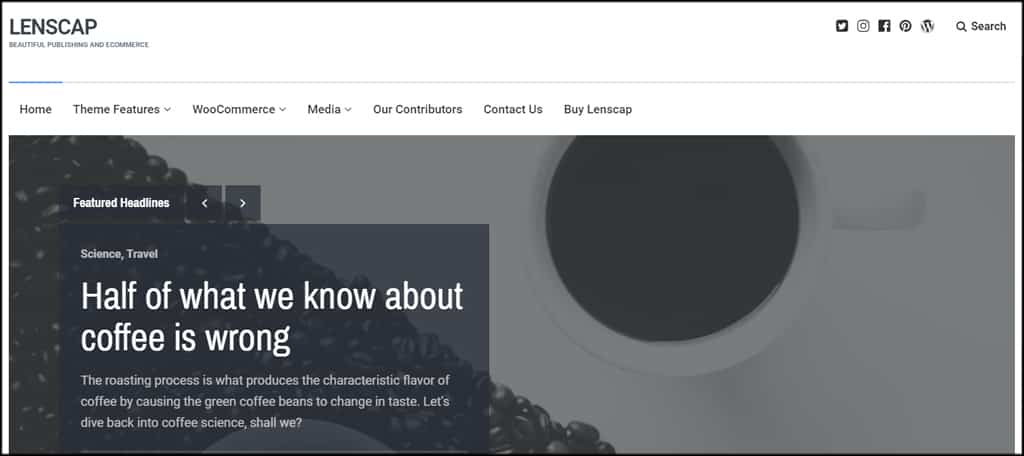 Lenscap is very customizable and comes with a content carousel with varying options. For instance, you can add blurs, opacity changes and text width so the carousel appears perfect on your site.
You also have access to lightbox video and image galleries, choose from multiple color schemes or use WooCommerce seamlessly in your site.
7. Metro Pro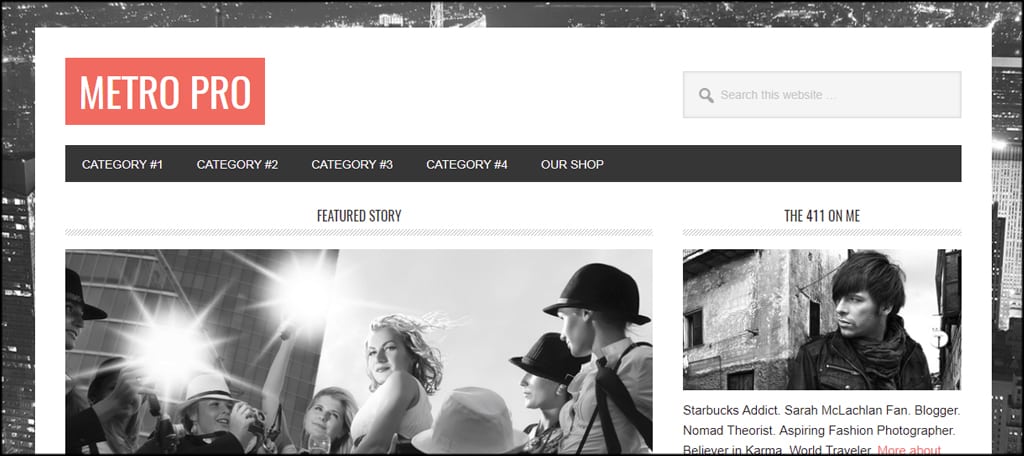 The Metro Pro theme has a nice magazine feel whether it's on a desktop or on a smartphone. It comes with a customizable header, homepage widget areas and supports eCommerce such as the WooCommerce plugin.
Metro Pro is not bogged down by other features and is simplistic in a sense. However, it's a very nice looking theme.
8. Moesia Pro
Moesia Pro is a stunning theme that takes advantage of parallax design as well as animated graphics and buttons. This is one to consider for those who are looking to give their websites a bit of life other than scrolling.
Sliders, Google fonts, content blocks and cross-browser support are only a few reasons to use this theme.
9. Vio Mag
Yet another magazine layout, Vio Mag is quite similar to the ColorMag theme I listed earlier. You have access to four custom widgets, different sidebar locations and is integrated for translation for English and Spanish out of the box.
Like the earlier themes, this one also has a featured article area in the header.
10. Gravida
Gravida is another free theme you can install in WordPress and has a nice appearance on mobile devices. Although it's a bit lacking when it comes to some of the frills of other themes on this list, it does support social integration and a nice layout.
It also supports elements such as WooCommerce and Contact Form 7 with little effort.
11. Responsiveness
Responsiveness has a great layout for those who want a simple yet effective design.
It's SEO friendly using HTML5 and CSS3 framework as well as Twitter BootStrap. This means it will work great as a social-connected platform for your guests.
12. Parallax
Parallax is a premium theme you can find at Themify.me. It has animated progress bars, interactive images, sleek parallax scrolling, excellent social integration and much more.
The blog area of the theme itself is well-developed and the image transition effects are impressive.
13. The Essence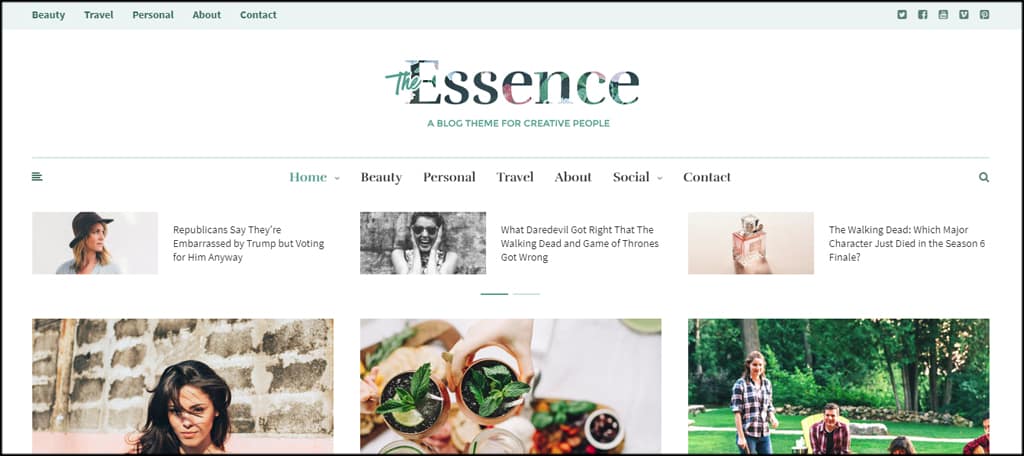 If you're looking to create a source for news content or simply want to add a professional look to the site, The Essence is an incredible theme.
You have access to 17 different blog layouts, integrated social sharing, custom widgets and more. I was quite impressed with how well this theme transitions between desktop and mobile devices.
14. Di Blog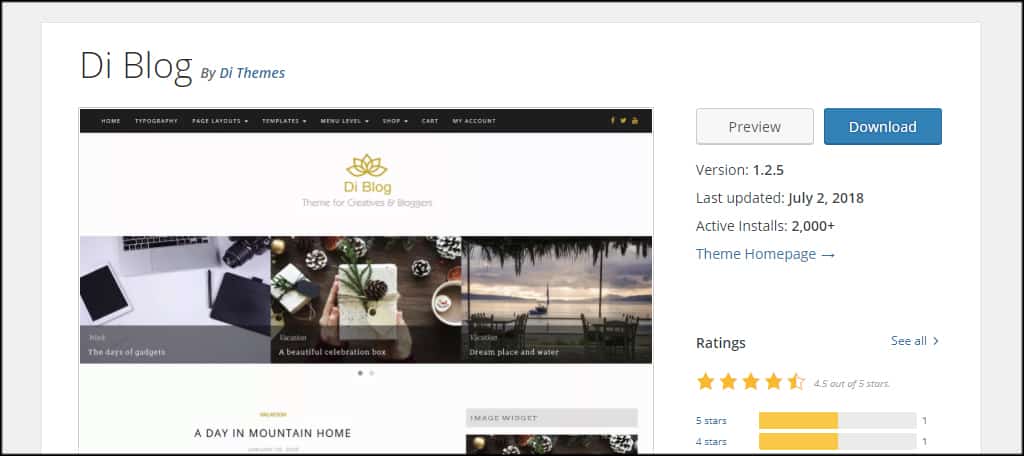 Di Blog is a simple responsive theme that promotes mobile friendliness as well as SEO practices. It features a demo import function so you can see what the site would look like live even if you don't have content ready.
It's compatible with most plugins and has a wide range of child themes available in the WordPress database.
15. Roxima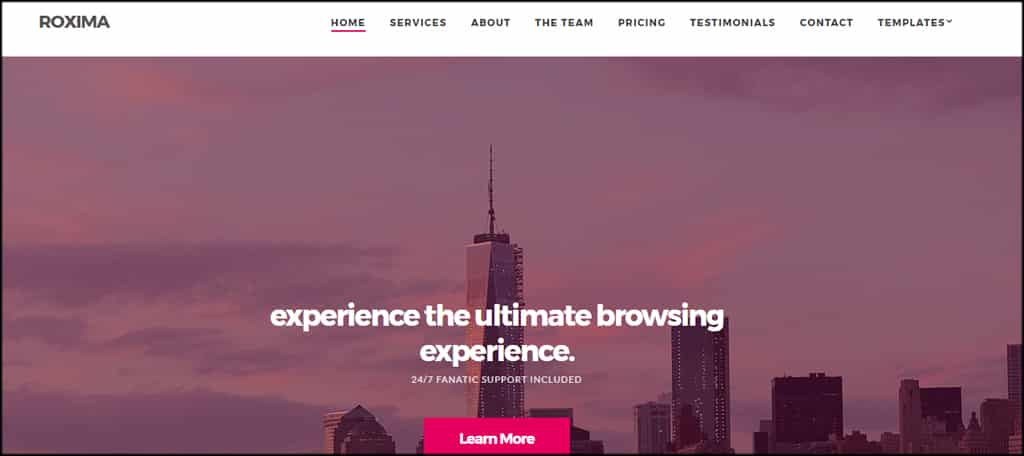 For those who love the idea of parallax design and interactive control, Roxima has a few nice additions to its layouts.
With a drag-and-drop editor, you can customize the homepage to look exactly how you need. It comes with custom widgets, full color controls and is fully compatible with Elementor.
16. Blog Zone
Looking for a simple, clean and free responsive layout? Blog Zone has that covered. While it does have a few options for adding content sliders to the home page, it doesn't have a lot of features crammed into it.
This also means the theme should perform very well in terms of speed and functionality.
17. Mobile Shop
Mobile Shop is a child theme of StoreOne. It puts together an excellent combination of functionality and form for both desktop and mobile device users.
The whole premise to this design is to provide a flexible system to sell just about any product you can think of. What's more is that it's free to use.
18. BusinessBuilder
BusinessBuilder has the look and feel of a professional website and is perfect for just about any purpose. It is SEO friendly and optimized for desktop, tablet and smartphone displays.
BusinessBuilder's minimalistic appeal is great for single-page layouts or you can customize it to fit your needs while incorporating a blog.
19. SpiderMag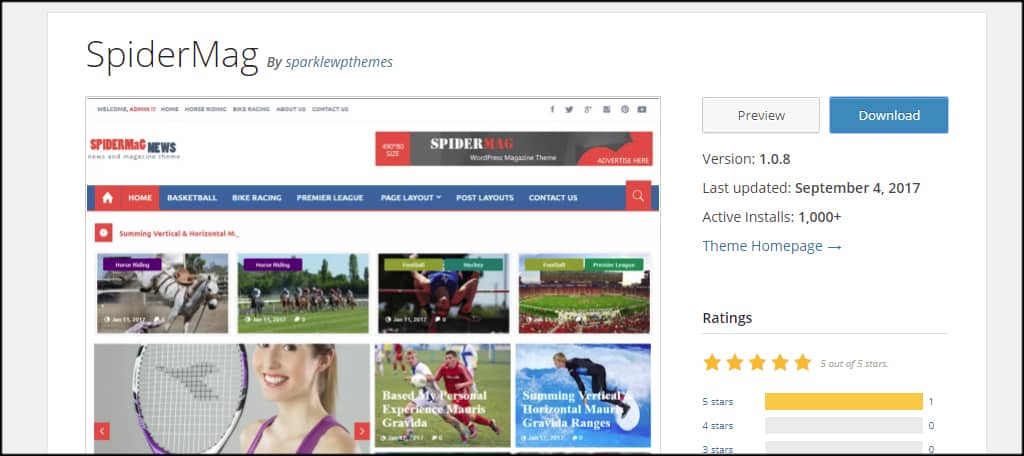 Looking to create a magazine layout with a lot of activity and engaging images? SpiderMag is a bit more visually active than some themes, but it would be perfect for those who are rich with graphics and photographs.
This theme comes with more than 10 widgets and is compatible with a slew of high-end and popular plugins.
20. Click
Artists and photographers may love this free theme from Acme Themes. Click delivers a platform to quickly design a portfolio using a full screen slider and the masonry image layout.
Complete with zoom effects on mouse hover, customization options and social integration, you can easily create an elegant mobile-friendly site.
21. OnlineMag
OnlineMag delivers a magazine-like appearance centering around imagery to engage visitors. It comes with a few optimization tools that allow you to make quick changes with a click of the mouse and has an excellent appearance on mobile devices.
While it's a bit more basic than some of the others in the list, it does come with a couple of theme-specific widgets for enhancing the front page.
22. Magazine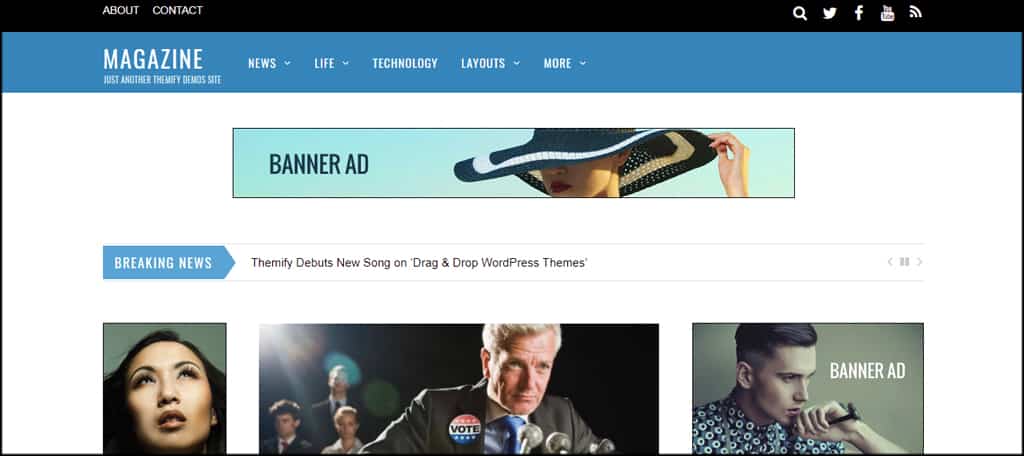 Another premium theme from Themify, Magazine has a lot of fun functionality. Carousel header, advertiser friendly blocks, two-column sidebars and tabbed layouts are only a couple of the highlights to this design.
The sticky menu at the top remains visible even in a smaller display screen.
23. Paperback
Paperback doesn't have a lot of features, but it looks very nice on desktop and mobile displays. It does have a featured post carousel, an interactive category menu and enhanced typography perfect for viewing content no matter what device is used.
It's also built around being fast as well as optimized for search engines.
24. Trusted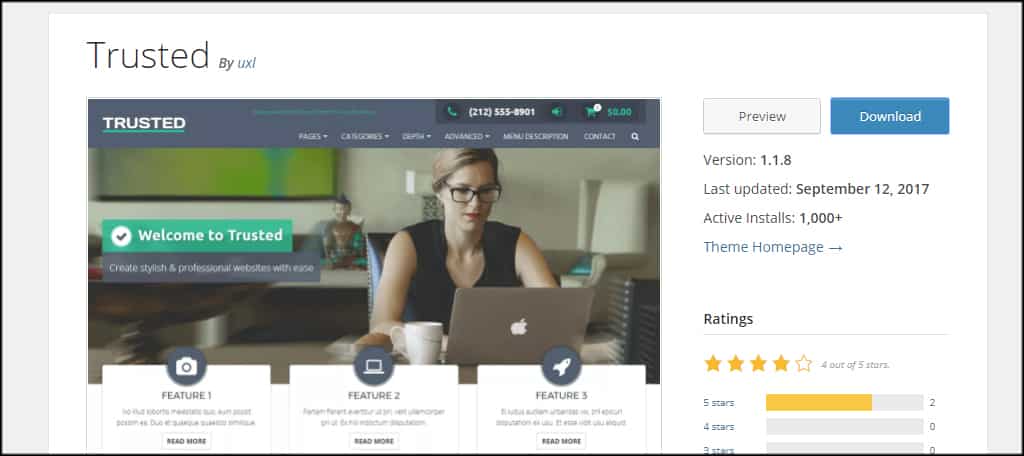 Trusted is a wonderful theme for business and professional-minded users. It comes with all of the elements you'd need for company information and contact as well as sections for eCommerce.
While it comes with four widget areas for customizing, you can also take advantage of the incorporated blank canvas to use with page builders like Elementor and SiteOrigin.
25. Exposure
Exposure is a great theme for those who love the full-header slideshow feature of sites. It's designed around enhancing the imagery while incorporating elements to make it ideal for online shopping.
You have several built-in page layouts available as well as a drag-and-drop designer to fine tune the website.
26. Igloo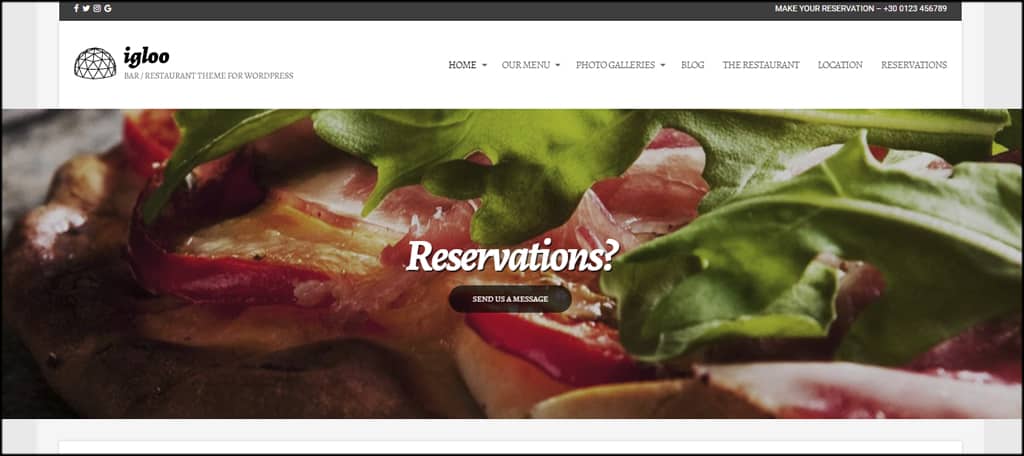 Igloo has a nice appeal for building business websites. It has a built-in featured image slider, four content types, custom widgets and multiple color schemes.
One of the things that stands out the most is the zoom-on-hover feature for the images. It gives the site a bit of an interactive feel.
27. Hueman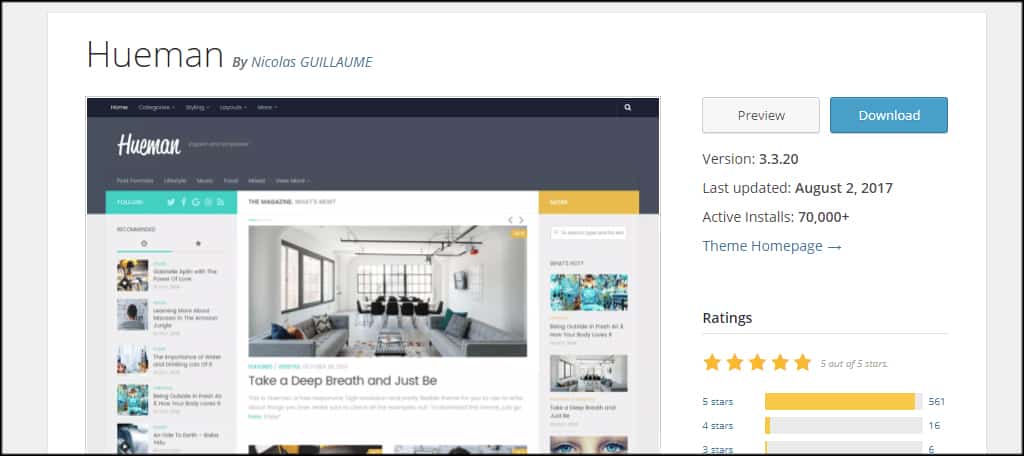 The Hueman theme has been around for quite a while and is constantly updated. It ranks well in the Google PageSpeed Insights tests and has a lot of flexibility when it comes to creating anything from a business blog to a news magazine.
On top of being free, it also has a header image carousel and adapts when switching to mobile view.
28. Poseidon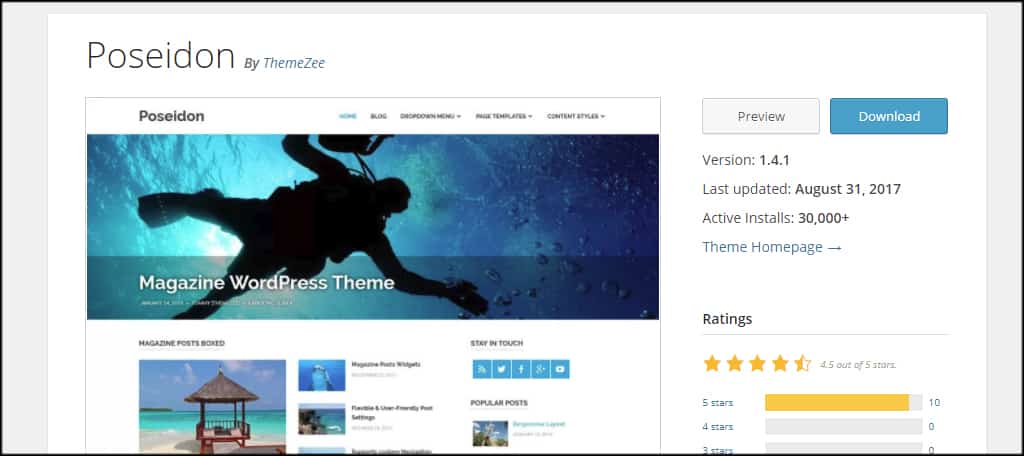 One of Poseidon's nicest features is the full screen slideshow in the header. This theme uses a clean typography making it easy to read regardless of the device being used.
Poseidon is easily customized and incorporates all of the necessities such as social links and content widgets.
29. Shopper
Shopper is a free theme specifically focused on using WooCommerce to power online shopping. It is ready for translations, is designed with SEO in mind and integrates with various WooCommerce add-ons such as Wishlist.
This theme also supports Articles and Products Structured data allowing things like blogs to be alongside the shopping environment.
30. Power Mag
Power Mag has a nice feel to it in the mobile aspect, but it's a bit flamboyant in the desktop version. However, it's completely customizable so you can fine-tune the color scheme to fit nicely.
The header section consists of visual blocks for featured posts and it easily supports advertising elements.
31. ThemeMin
ThemeMin has a minimalist design that has a certain appeal for those who want basic but functional. It's not over inundated with various features and presents a distraction-free design.
ThemeMin handles social integration fairly well and transitions perfectly to mobile devices.
32. The Traveler
The Traveler is a good choice for those looking to upload a lot of photography or images. It uses a grid-based layout for content as well as having a built-in Instagram feed.
While it may not be a good choice for certain situations, it's something to consider if you plan on creating a travel site or even a graphic design blog.
33. OnePage
OnePage is another theme that doesn't have a lot of features driving it when compared to some of the others on this list. However, it is fully responsive and optimized for speed – something you want in a website for mobile devices.
The theme is set up for search engine optimization and comes with a few additions such as testimonials and portfolios.
34. Compass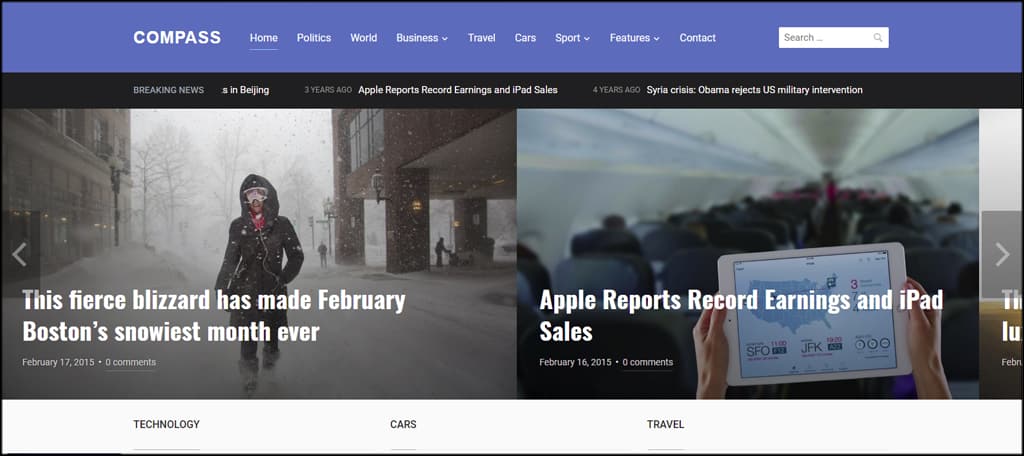 Compass is another stellar example of creating an online magazine or news site. The theme comes with an options panel, touch slideshows, a homepage builder, and ready for Retina displays.
Compass is perhaps one of the few in this list that was specifically designed for mobile touch displays.
35. Alpha
If you want a responsive magazine layout with a bit of flair, consider the Alpha theme from WPZoom. It's quite a bit more active than some of the others in this list and comes with two skins: magazine and newspaper.
You can also make use of the video widget or the "Breaking News" ticker to engage the audience.
36. Township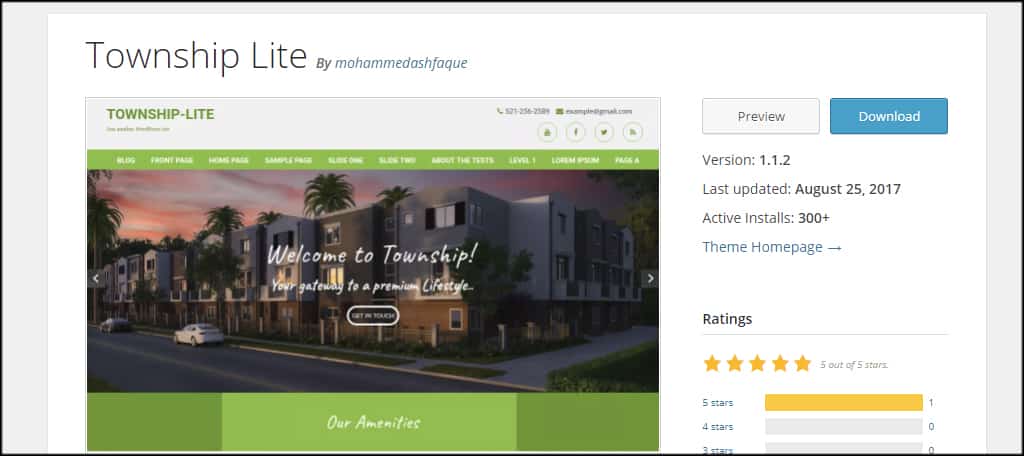 Township comes with a customizer giving you an easy way to make adjustments to create the site you want. It's a simple theme that is responsive and primed for SEO.
This theme doesn't have a lot of features driving it as you would see from some of the others in this list, but it does look nice from a smartphone.
37. Easy Commerce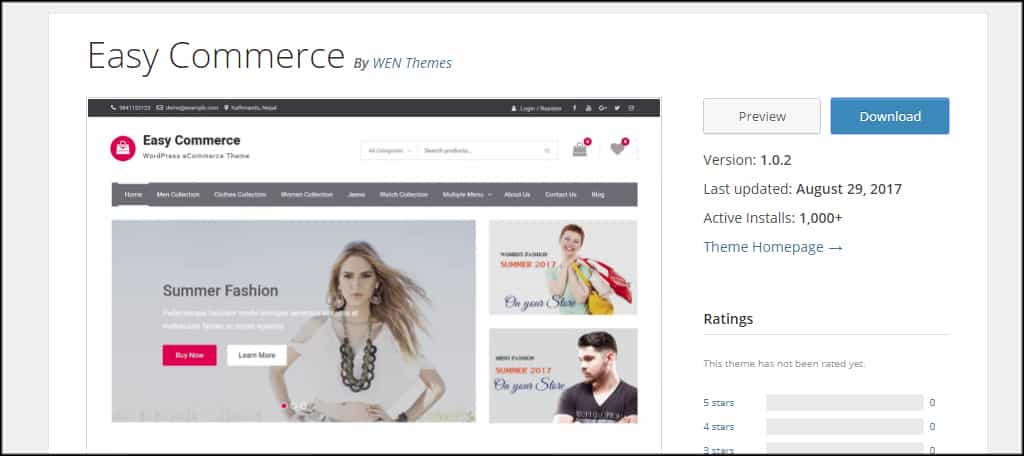 Here is another eCommerce-specific theme for those who want to sell online. Easy Commerce integrates well with the WooCommerce plugin and delivers a nice and clean interface for your visiting shoppers.
Easy Commerce comes with various features that will help you design the perfect online store for your needs.
38. Bloggerbuz
Don't let the name fool you. Bloggerbuz can be used for more than just creating a blog. This theme comes with a grid view, footer widgets, sidebars and other additions to create something nice.
The responsive layout is guided by a modern feel and is optimized for search engines.
39. HitMag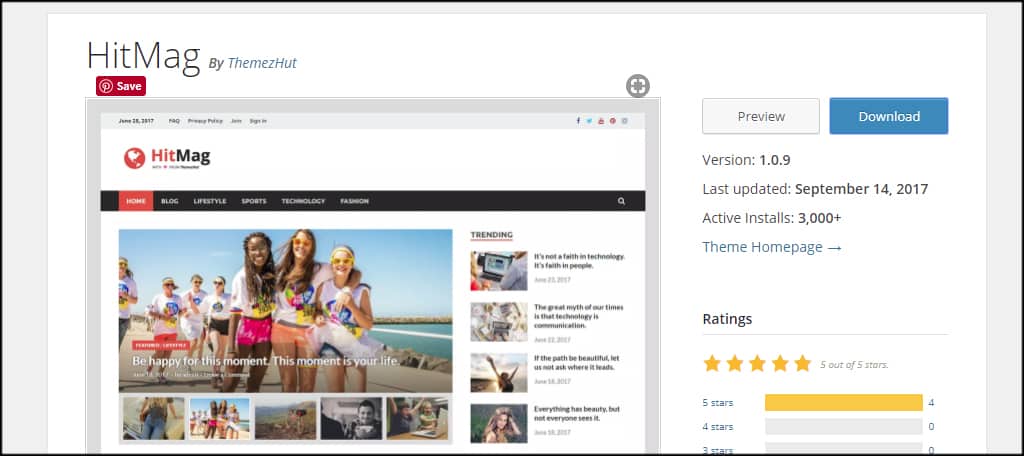 Like some of the others in this list, HitMag features a great deal of customization. It offers four styles of blog listing layouts, various color options and elements such as controlling the post metadata.
The header carousel and Trending blocks are a nice touch for those who want to engage their audience.
40. Resume
Looking to share your abilities with prospective employers? The Resume theme delivers a great layout for professionals who want to brand themselves.
Resume is verified to work across popular web browsers, optimized coding, optimized speed and has integration with Font Awesome.
41. Responsive Mash
Responsive Mash is a child theme of the Di Business layout. It's developed by the same creator of the Di Blog theme I mentioned earlier.
This theme focuses on using commerce and how it looks on a hand-held device. However, it's easily customizable to become virtually anything you need from portfolios to news releases.
Best of all, it's free.
42. Themify Ultra
Themify Ultra is more than just a layout design. It comes with a drag-and-drop website builder making customization incredibly easy.
This theme supports parallax scrolling, lazy loading of resources, multiple header and page styles and a myriad of other features.
43. Float
Another theme that uses Themify's drag-and-drop builder, Float has a lot of fun features including a variety of parallax elements and mouse-over effects.
For those who love to design, it comes with gradient effects to add some visual appeal and works exceptionally well as a photo gallery.
44. Outreach Pro
Outreach Pro comes with 12 areas to place widgets, a variety of theme options, customizable headers and more.
This one is a bit more basic than some of the other themes you can choose, but it does have a bit of flexibility when it comes to customizing and responsive layouts.
45. GalleryPress
Another child theme, GalleryPress is designed for those who want to show off their art or photography skills. It's a responsive portfolio that is built to ensure users can see the imagery on any device in a stunning manner. You will need BasePress in order to use this theme.
Don't Assume Your Theme is "Good Enough"
Good WordPress hosting is only the beginning. Many site owners will constantly check for new themes and layouts to better suit what they're trying to create. By keeping tabs on technologies, innovations and trends, you can keep your site relevant to the current market.
Don't simply rest on obsolete design because it looks good on a desktop computer. Millions of people may be waiting to view it on a mobile device.