Having a responsive website is imperative in today's mobile-friendly world. And to achieve this, you are going to need to use responsive themes in WordPress. According to StatCounter, more than 56% of users are online through mobile devices.
This means if you don't have a responsive or mobile-friendly design, you may be missing out on a lot of traffic. It all starts with the best WordPress responsive themes.

Responsive themes for WordPress allow visitors to experience the website in the best possible way. Instead of pinch-to-zoom and trying to read text that doesn't seem to fit the display, WordPress delivers a grand layout to smaller screens.
Keep in mind that 67% of people are more likely to purchase from a site that is mobile-friendly. That's quite an increase in income just by providing a good experience from smartphones and tablets.
Here are 45 of the best responsive themes I can find for WordPress. If you're interested in delivering an amazing appearance, it's worth the time to take a look at this list.
1. ColorMag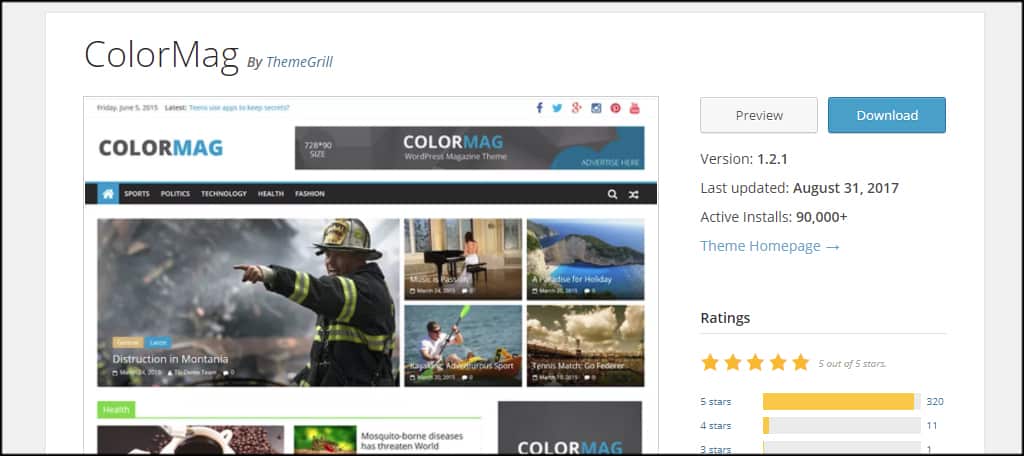 ColorMag is definitely one of my favorite responsive themes for WordPress. Not only does it have an excellent appearance on mobile devices, but it comes with a variety of customization tools.
Functional theme-only widgets, sidebars, and blocks for widget placement, AdSense friendly and free, it's a good theme to get your feet wet.
It is perfect for any theme that wants to build an online magazine or blog with a great layout.
It is also fully compatible with WooCommerce so you can easily add an online store in conjunction with a blog. And regardless of what you use it for, it has been optimized for SEO, so you have nothing to fear.
Pros
Translation & RTL ready
Multiple locations available for ads
Fast load times
2. ColorNews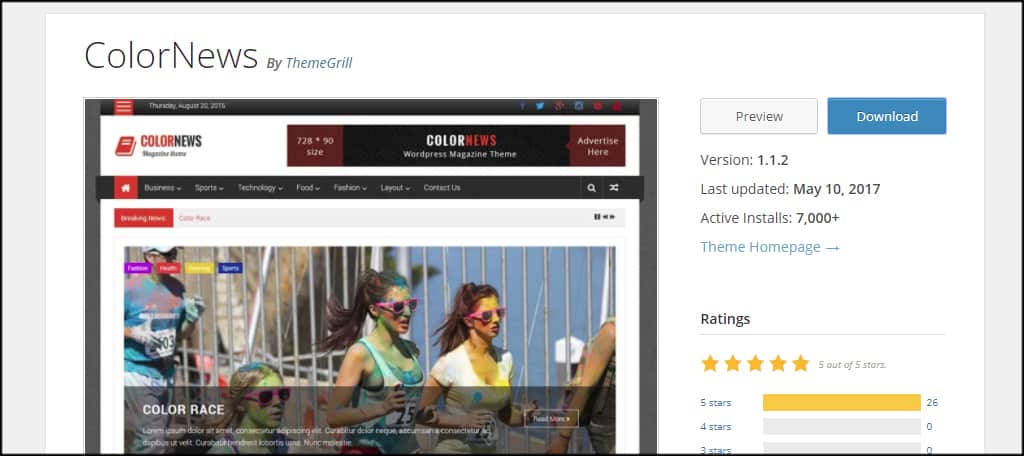 ColorNews is a similar theme to that of ColorMag. However, its layout is a bit different and has a much larger header image carousel. That makes it perfect for sharing your latest stories with guests on the homepage.
Like its counterpart, this theme comes with unique widgets, many editable areas, and a full range of customizable options. Most importantly, it looks brilliant on a hand-held device.
You can even represent different categories with different colors to help users identify what section of the website they are in.
The ColorNews theme is designed for news sites, magazines, and blogs, so if that describes your website, give it a try.
Pros
The Pro version provides a selection of starter websites you can use
Compatible with all major page builders in WordPress
Supports sticky menus
3. Corporate Plus
If you need a basic, business-minded layout, Corporate Plus may be a good choice. It supports single-page design while including customizable site sections. With even more available in the Pro version.
Corporate Plus has a full-screen slide, sticky menus, and is fully compatible with WooCommerce. The layout of this theme allows it to function perfectly in almost any business dynamic.
Users can take advantage of the Go Down option, which allows them to quickly go down a page instead of traditional scrolling. You can even choose which side the sidebar appears on.
Pros
Customize the theme any way you want with custom CSS
Upload your logo to automatically appearing all designated logo areas
Freely change the background image at any time
4. Authority Pro
If you are looking for incredibly responsive themes in WordPress, look no further than the Authority Pro theme. It utilizes a plain white background to help make the key elements of your pages and posts stand out.
You can use it to build just about any kind of website from a blog to an eCommerce platform. In fact, it is preconfigured for WooCommerceto help get your online store up and running as quickly as possible.
You'll be able to replace all of the logos with your own with one simple upload option. Just about everything in the theme is customizable and you can view those changes in real-time with the theme customizer.
Pros
Utilizes the Genesis framework to improve performance and security
Support for all popular page builders
Includes 4 widget areas to take advantage of
5. Prologue
If your looking for multipurpose themes that are highly responsive in WordPress, look no further than Prologue. This premium theme boasts a wide selection of features that give you complete control over your website.
Some of these options include access to over 700 different Google fonts, 1000+ icons to utilize, and a great selection of premade pages you can use as a basis for your own. With all of these options, you won't have any limitations.
As you might have guessed, everything is fully responsive by design. No matter what you make, your site will look great on devices of all shapes and sizes without requiring any extra work.
Pros
Includes access to a premium slider plugin
The theme code provides detailed comments to help you make changes
Provides 24/7 support
6. Divi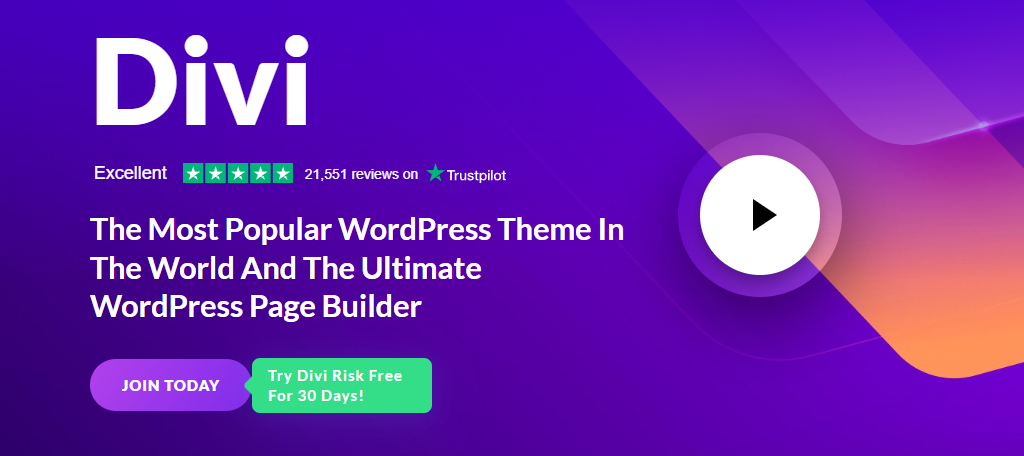 Divi is among the most popular themes on the WordPress platform, so you better believe that it is fully responsive. Every aspect of this theme is customizable and it provides a huge selection of demo sites.
With Divi as your basis, you can realistically get a website ready in a short amount of time. And part of that is thanks to the visual editor.
With this editor, you can easily build web pages from scratch regardless of your skill level.
No coding is required whatsoever. Instead, the drag-and-drop editor will do most of the work for you. And you can make massive changes to the entire site by using global elements.
Overall, Divi is one of the best themes in general.
Pros
Access over 2000 design elements
Style hover elements in minutes
You can customize design aspects for different screen sizes
7. Ocean WP
Want responsive WordPress themes, but don't want to spend a lot of money? Look no further than the amazing Ocean WP theme. This theme provides a great free experience that is comparable to many premium themes.
That said, it does offer premium plans loaded with even more great features. You'll immediately gain access to over 220 demo sites that you can customize and make your own. You can even pair it with page builder plugins for more results.
Everything about the theme was designed with beginners in mind. Thus, you'll find everything intuitively and not rely on code. Overall, you'll have a hard time finding a free theme with more options than Ocean WP.
Pros
The theme is built to be accessible by all users
RTL & translation ready
Implements the best SEO practices including very fast load times
8. Moesia Pro
Moesia Pro is a stunning theme that takes advantage of parallax design as well as animated graphics and buttons. This is one to consider for those who are looking to give their websites a bit of life other than scrolling.
Sliders, Google fonts, content blocks, and cross-browser support are only a few reasons to use this theme. You'll be able to use the Contact Page Template to build your own in minutes. It even has built-in support for Google Maps.
It utilizes the best practices in WordPress, which means it's fast and compatible with most plugins on the platform. And you can view all of the changes you make in real-time with the theme customizer.
Pros
The support team is available 24/7
Includes blocks for Dribble, Instagram, and more
Detailed documentation helps answer any questions
9. Astra
Astra is easily one of the most popular themes in WordPress, and naturally, it is responsive by design. It offers some of the fastest speeds on the WordPress platform alongside a plethora of customization options.
As with most premium themes in WordPress, you'll gain access to an absurd amount of pre-built websites. These can act as a basis for your website and you just need to customize them, which there is no shortage of options.
The theme was built for users of all skill levels. You won't need any code to customize it. Instead, everything can be done through the theme customizer.
Of course, that isn't to say the option isn't available for those that like to work with code.
Pros
Integrates with all major plugins
The header/footer builder is very powerful and easy to use
Great support options to help you every step of the way
10. Gravida
Gravida is another free theme you can install in WordPress and has a nice appearance on mobile devices. Although it's a bit lacking when it comes to some of the frills of other themes on this list, it does support social integration and a nice layout.
It also supports elements such as WooCommerce and Contact Form 7 with little effort. Of course, you can go premium and gain access to a huge selection of features and customization options.
For instance, you'll be able to build filterable galleries and carousels without much trouble. You'll also be able to add testimonials to all of your pages. And since the theme is optimized for speed, you won't suffer any slowdowns.
Pros
Includes CAPTCHA to protect your forms
Supports multilingual websites
Access to 12 transition effects for sliders
11. SeedProd
SeedProd is far more than just a theme, it is a responsive website creator that offers one of the best Drag & Drop builders on the market. With it, you won't have any trouble crafting a responsive website from scratch.
That said, why start from scratch when you have access to a great selection of pre-built sites? With them, you can build a site very fast and even use those templates to build other sites.
SeedProd even provides custom pages every website needs like 404 or maintenance pages. Naturally, everything about this theme is responsive in design, and you can even view what the site will look like on every type of device.
Pros
Compatible with most major plugins
Choose from over 200 templates and demo sites
Very fast-loading pages
12. Parallax
Parallax is a premium theme you can find at Themify.me. It has animated progress bars, interactive images, sleek parallax scrolling, excellent social integration, and much more.
The blog area of the theme itself is well-developed and the image transition effects are impressive. You'll be able to use over 60 different layouts to get a headstart at building a website.
One of the more interesting features is the amazing amount of page layout options you have. You'll have access to 11 different header possibilities, which include a No-Header option.
Overall, you'll have a lot of options to utilize, and all of them are responsive.
Pros
Use the Team Post section to include staff information (photos, email, position, etc.)
Apply a variety of image filters to any image
Customize the color of your progress bars
13. The Essence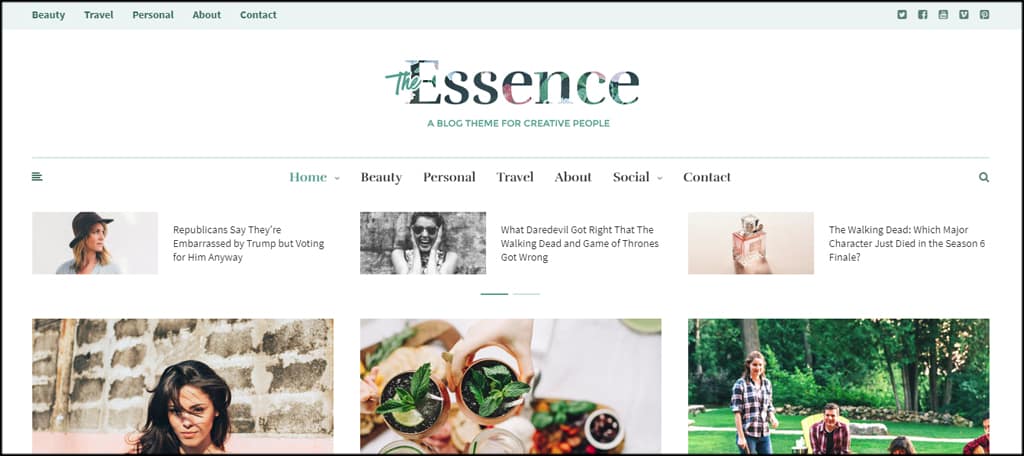 If you're looking to create a source for news content or simply want to add a professional look to the site, The Essence is an incredible theme that is also responsive. And you can try it with a 7-day money-back guarantee.
You have access to 17 different blog layouts, integrated social sharing, custom widgets, and more. I was quite impressed with how well this theme transitions between desktop and mobile devices.
You'll also be pleased to know that social sharing is built in. You can place it in a variety of locations including above or below page or post content.
Essence is a great theme that's definitely worth a glance.
Pros
Custom widgets make it easy to display anything anywhere you want
Custom promo boxes for your homepage
Make changes to the theme in real-time
14. Di Blog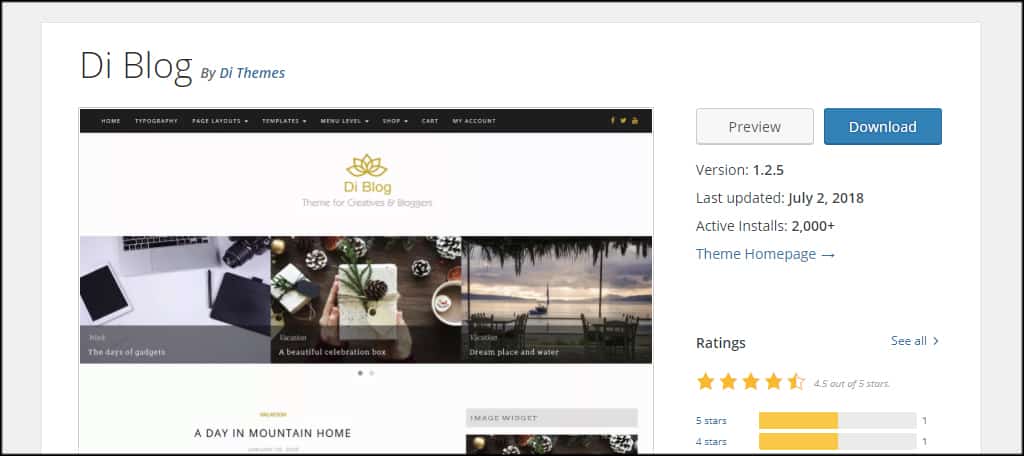 Di Blog is a simple responsive theme that promotes mobile-friendliness as well as SEO practices. It features a demo import function so you can see what the site would look like live even if you don't have content ready.
It's compatible with most plugins and has a wide range of child themes available in the WordPress database. You can customize the width of any page and even bring it to a full 100% if needed.
One of the best parts of this theme is the built-in slider. Many themes often require a separate plugin for this to work.
Speaking of plugins, you won't have any compatibility issues with this theme with popular plugins like WooCommerce.
Pros
Compatible with page builders
Advanced blogging options give you complete control over content display
Easily import demo sites in one-click
15. Roxima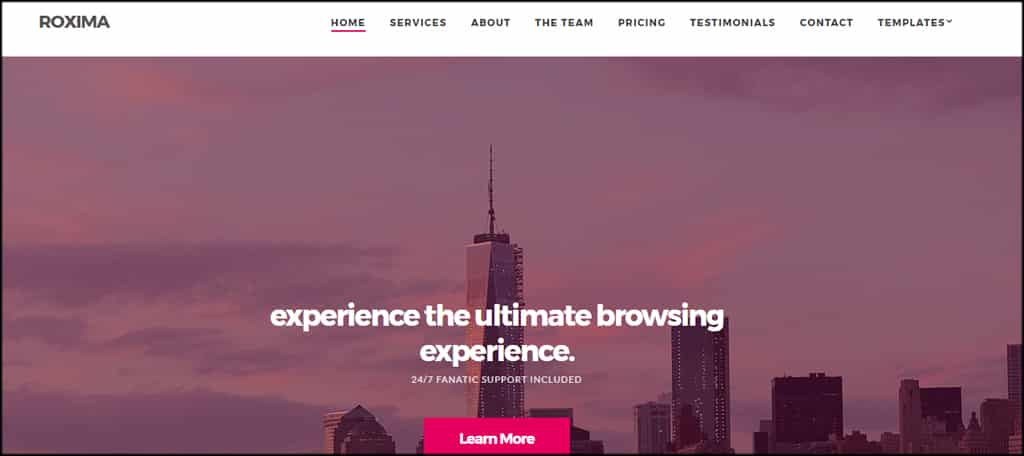 For those who love the idea of parallax design and interactive control, Roxima has a few nice additions to its layouts. With a drag-and-drop editor, you can customize the homepage to look exactly how you need it.
It comes with custom widgets, full-color controls, and is fully compatible with Elementor. This theme is fully responsive, and looks great on any device size, especially for one-page websites.
It even includes smooth scroll functionality to further enhance one-page websites.
Of course, if you don't use a one-page design, you can take advantage of the global settings to make changes to various pages on your website all at once.
Pros
Customize the site width
Use your favorite Google Fonts
Optimized for SEO, which includes great load times
16. Blog Zone
Looking for a simple, clean, and free responsive layout? Blog Zone has that covered. While it does have a few options for adding content sliders to the home page, it doesn't have a lot of features crammed into it.
This also means the theme should perform very well in terms of speed and functionality. If you upgrade to the premium version, you'll also gain access to the support team that can be contacted via email and online chat.
Overall, the theme is ideal for any news, magazine, or blogging site. The excellent layout and SEO practices it follows will help give your website an edge over the competition.
Pros
The Pro version includes a left and right sidebar
Includes a post slider for the homepage
Includes a variety of social integrations
17. Hestia Pro
When it comes to building a one-page site in WordPress, there is no better option than Hestia Pro. It is fully responsive, employs the best SEP practices, and is incredibly easy to customize.
You'll get immediate access to a wide selection of starter websites that you can use as a basis for your own. In many cases, they are ready for you and you will just need to add your own information.
One of the more exciting features of this theme is the ability to display videos in the background instead of just a static image. This can be great for showing off your team or what your company does for customers.
Pros
Supports all major page-builder plugins
Templates include a ready-to-use storefront compatible with WooCommerce
Incredibly fast load times
18. Inspiro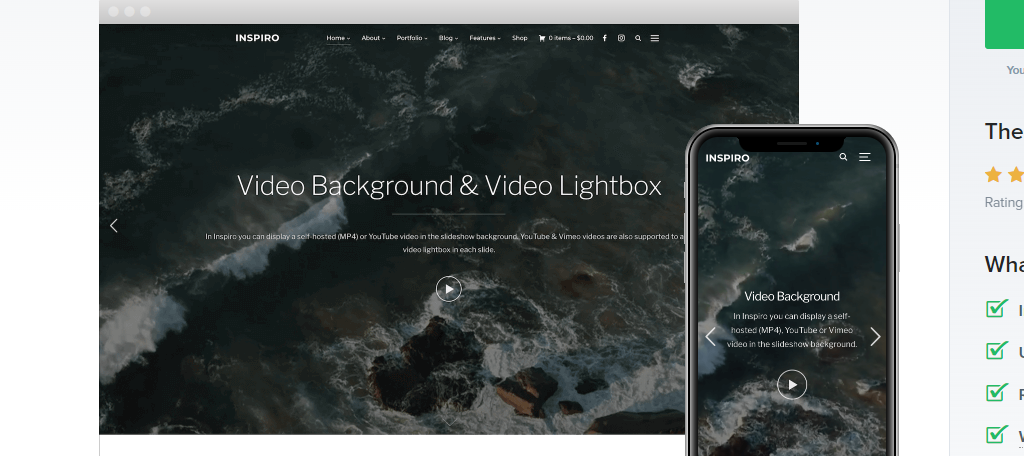 Are you building a website focused on film and video content? If so, choosing Inspirio to build with will be the best decision you've ever made. This theme was built specifically around video content and contains a lot of useful features.
For instance, you'll be able to include a video in the background. It supports embeds from YouTube and Vimeo, but you can also use self-hosted videos. That makes it a great choice for original film content.
Inspirio even has options to allow videos to play when a user hovers over them. Most importantly, regardless of what device your visitors are on, the website and video content will be perfectly sized and ready for their consumption.
Pros
Supports the Elementor Page Builder
The theme is translation ready and supports WPML
Import demo sites with a single click
19. SpiderMag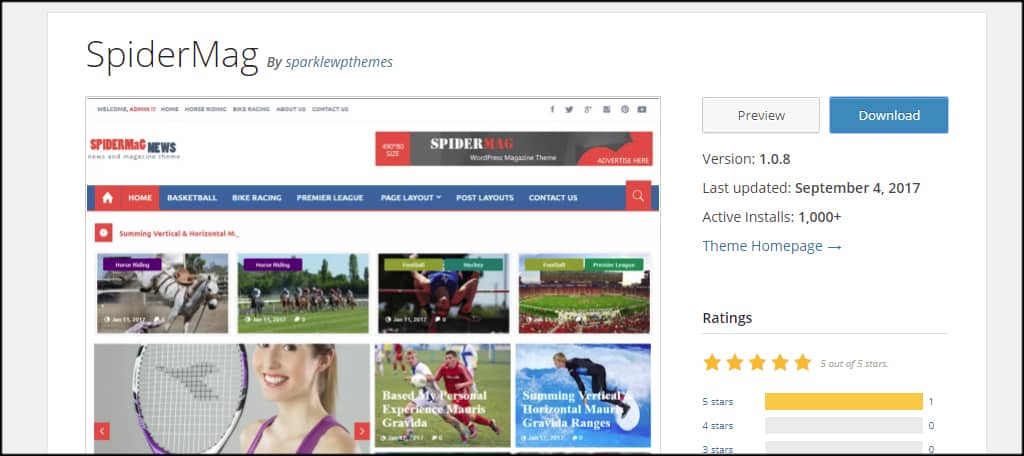 Looking to create a magazine layout with a lot of activity and engaging images? SpiderMag is a bit more visually active than some themes, but it would be perfect for those who are rich with graphics and photographs.
This theme comes with more than 10 widgets and is compatible with a slew of high-end and popular plugins. Of course, you are not just limited to blogging, it is fully eCommerce compatible and works perfectly with WoooCommerce.
To add SpiderMag to this list, the mobile view of the website is spectacular. And if your looking for even more options, upgrading to the premium version will get you a variety of useful features every website should have.
Pros
Pro version includes the GDPR cookie consent form
Multilingual support
Access to 24/7 customer support
20. Tusant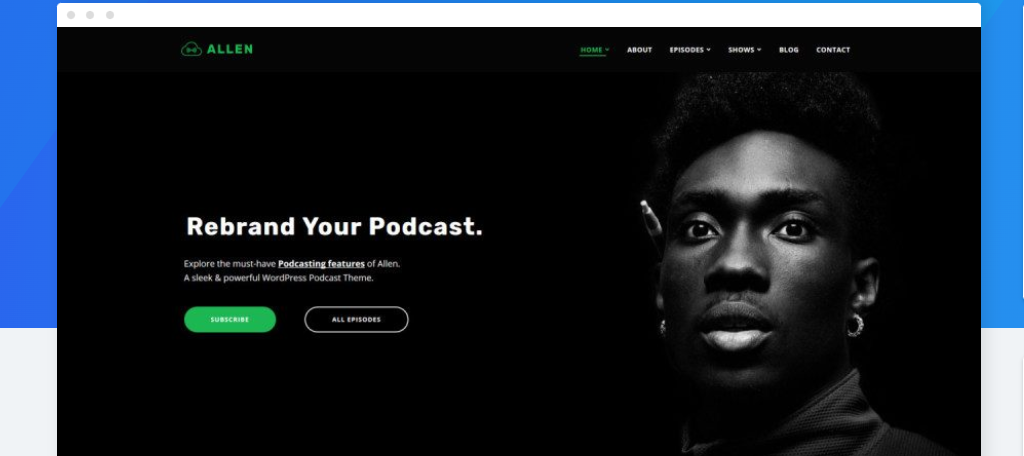 Regardless of if your website is focused on streaming videos or podcasts, Tusant remains one of the best responsive WordPress themes for the job. It is built for these types of websites and offers the features and design elements expected o them.
The theme supports an endless amount of uploads for podcasts, music, or video content. It offers a custom media player to help users shift through the content they want to watch.
It also includes a carousel display, so, you can easily display your newest releases on the homepage. It's compatible with major page builders like Elementor, which means the design options are limitless.
Pros
Includes a setup wizard to get your site ready in minutes
Includes a subscribe button for podcasts
Supports over 900 Google fonts
21. OnlineMag
OnlineMag delivers a magazine-like appearance centering around imagery to engage visitors. It comes with a few optimization tools that allow you to make quick changes with a click of the mouse and has an excellent appearance on mobile devices.
While it's a bit more basic than some of the others in the list, it does come with a couple of theme-specific widgets for enhancing the front page. Most importantly, it avoids cluttering your site if you upload often.
This is particularly important for news outlets that cover events on a daily basis. This is thanks to the advanced layout options you have available.
With them, you can ensure that new articles are front and center and avoid site clutter.
Pros
Includes a back-to-top option for your posts and pages
Includes pagination options
Easily create different sections on your homepage
22. Magazine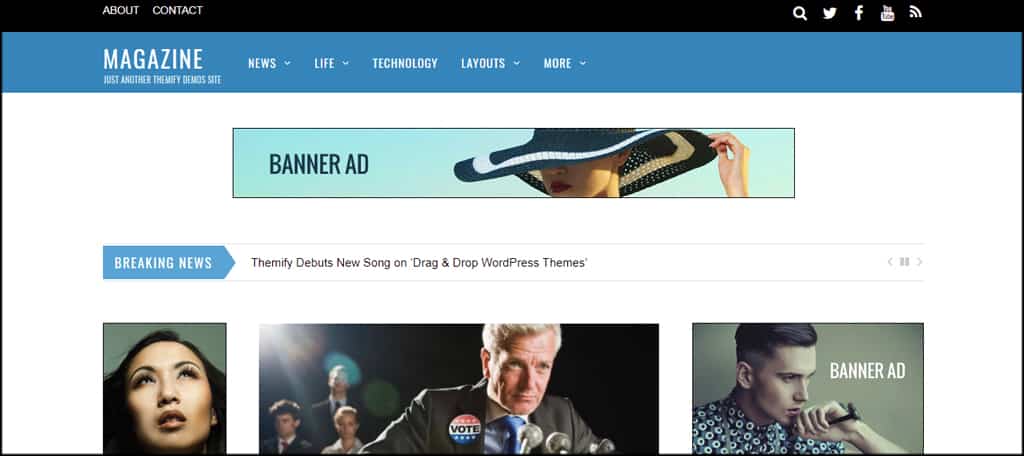 Another premium theme from Themify, Magazine has a lot of fun functionality. The carousel header, advertiser-friendly blocks, two-column sidebars, and tabbed layouts are only a couple of the highlights of this design.
The sticky menu at the top remains visible even on a smaller display screen, which means the theme is responsive by default. It even includes a mobile slide menu to improve usability.
In terms of design, the theme uses three columns by default, but also provides 7 different layout options to choose from. As such, you will have a great selection of design options, especially when paired with a page-builder plugin.
Pros
Provides a lot of room for ads
Includes over 360 icons
Includes social sharing options for Facebook and Twitter
23. Gutentheme
Gutentheme is another excellent theme you can choose that offers a great mobile design. Of course, it has good design in general thanks to an amazing amount of options for headers, footers, layouts, fonts, and more.
and when you take all of these built-in functions and combine the theme with other tools like page-builders, you'll find there isn't anything you can't build with this theme. It's perfect for most sites.
The code of the theme is clean, which helps keep it lightweight so your pages will load fast. You can easily add hooks and filters with the theme code, or just use the built-in tools if coding isn't your forte.
Pros
Get access to a dedicated support team
Fully compatible with WooCommerce
Includes pre-built layouts you can import
24. Trusted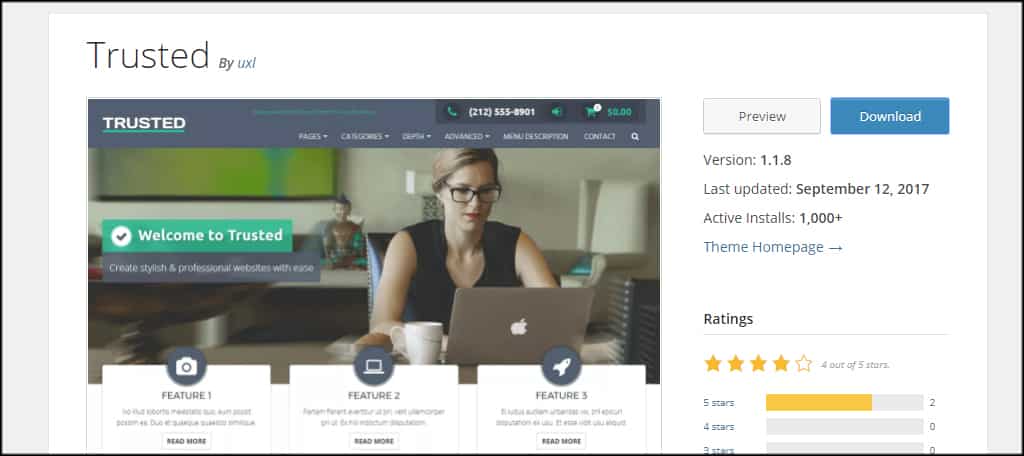 The Trusted theme is wonderful for business and professional-minded users. It comes with all of the elements you'd need for company information and contact as well as sections for eCommerce.
While it comes with four widget areas for customizing, you can also take advantage of the incorporated blank canvas to use with page builders like Elementor and SiteOrigin. And it's mobile responsive.
In fact, you can actually use the demo site to view what it looks like on each device. Of course, you can also use it for a company blog as it has all the features.
In fact, you can use Trusted for both e-commerce and blogging, so, there is no need to choose.
Pros
Easily show off your services or plans on the homepage
Easy to use and ready right out of the box
Use the customizer to change colors in seconds
25. Nozama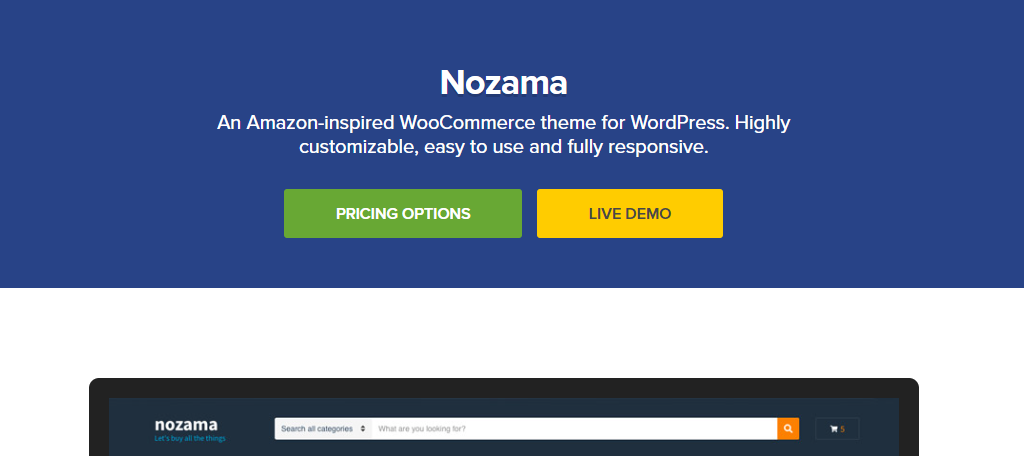 Looking to build a WooCommerce store on WordPress, no problem, the Nozama theme has you covered. It includes a customizable storefront ready for action out of the box.
In fact, you can import the demo site directly and modify it to your liking. In terms of responsive design, you have nothing to fear. The theme is right out of the box. You'll have no issue selling goods to mobile users.
In terms of design, there is no shortage of options you can take advantage of. For instance, you can customize the site width, create a unique color scheme, choose your favorite Google Fonts, and much more.
Pros
Place sticky menus in multiple locations
Conditionally loads assets when needed to ensure high speeds
The theme is translation ready if you plan to sell internationally
26. Carbone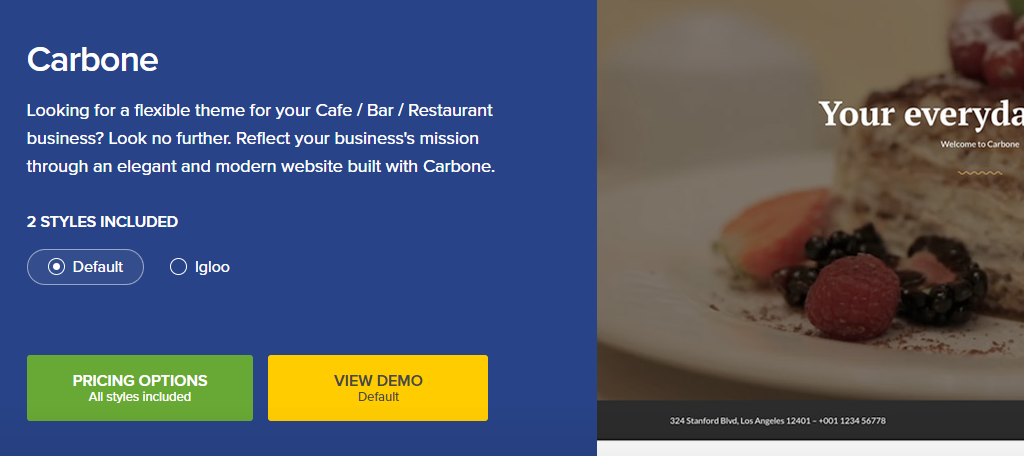 Carbone has a nice appeal for building restaurant-themed websites. It has a built-in featured image slider, four content types, custom widgets, and multiple color schemes.
One of the things that stands out the most is the zoom-on-hover feature for the images. It gives the site a bit of an interactive feel. This is perfect for zooming in on the dishes your restaurant is famous for.
Carbone is compatible with your favorite online ordering systems. This means you can still use what you want and how you want it. And you can create beautiful menu pages to help streamline online orders.
Pros
Create a media gallery to show off your restaurant
Gain access to a support team that can help you every step of the way
Integration options for Elementor
27. Hueman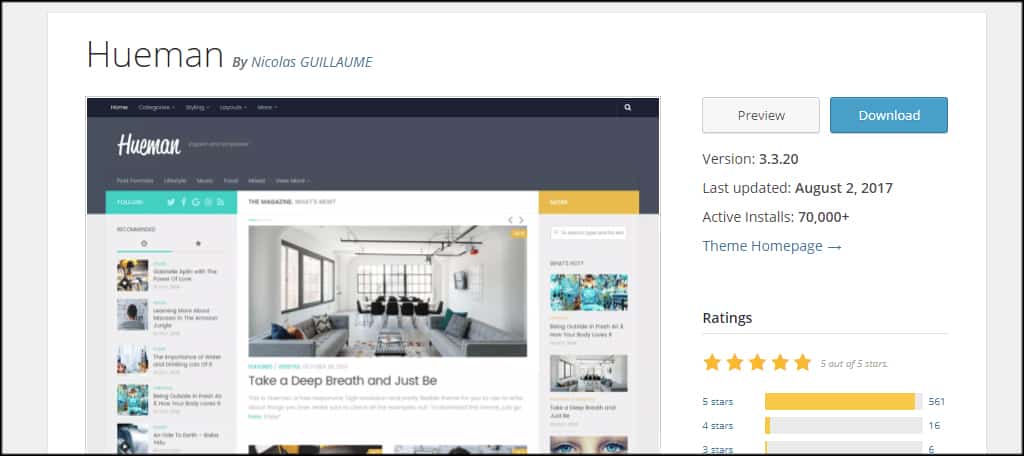 The Hueman theme has been around for quite a while and is constantly updated. It ranks well in the Google PageSpeed Insights tests and has a lot of flexibility when it comes to creating anything from a business blog to a news magazine.
On top of being free, it also has a header image carousel and adapts when switching to a mobile view. And when it comes to customization, there's no shortage of options.
For instance, you can create an unlimited number of unique sidebars and assign different ones to appear on specific pages. It can be a powerful additional help to get visitors going where you want them.
Pros
Includes a huge slider for your homepage to display recent posts
The footer and widget areas have room for ads
Control all of the colors on your website from one location
28. Poseidon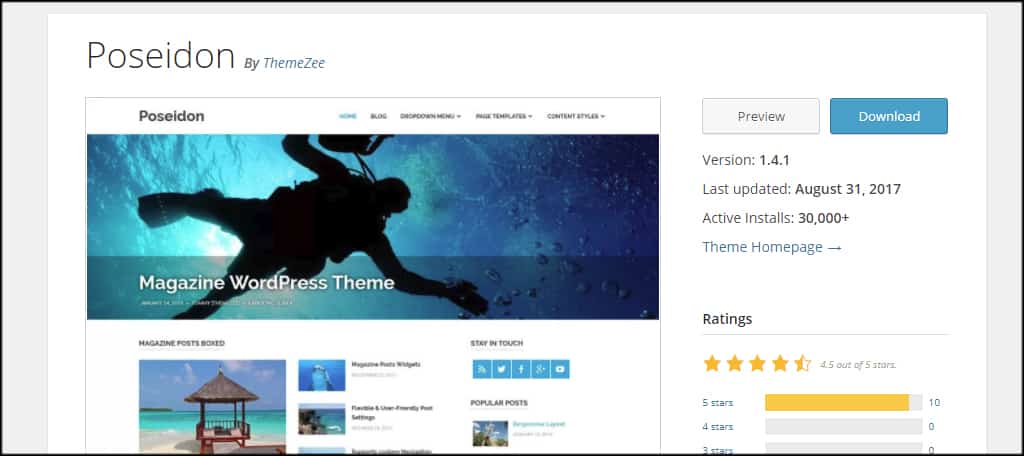 One of Poseidon's nicest features is the full-screen slideshow in the header. This theme uses clean typography making it easy to read regardless of the device being used.
Poseidon is easily customized and incorporates all of the necessities such as social links and content widgets. The theme is perfect for blogging and is already optimized for SEO, which means it loads fast.
You'll also get access to the support channel, which is quite rare for a free theme. But you may not need it as the theme offers some incredibly detailed documentation to help you learn the ins and outs.
Pros
GDPR compliant
Minimalist design lets your images shine
The theme and blocks are translation ready
29. Neve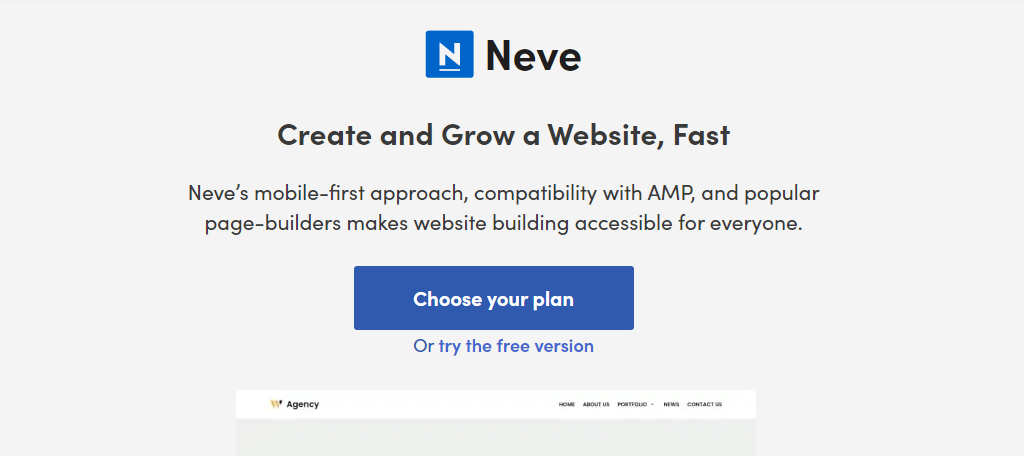 When it comes to themes that offer responsive design in WordPress, it's hard to beat the mobile-first approach of Neve. It includes its own drag-and-drop page builder to help make the theme accessible to all skill levels.
As a result, you really have no limitations when it comes to designing your website. Of course, why start from scratch when you can choose from over 100 start sites? With them, you can save hours of work.
Just to be clear, you are not limited to their page builder. You can still opt for Elementor or another.
Neve also boasts some of the best performance on the platform with blazing-fast load times.
Pros
Includes a header and footer builder
Includes a variety of enhancements for WooCommerce
Customize your theme and see the change in real-time
30. Spencer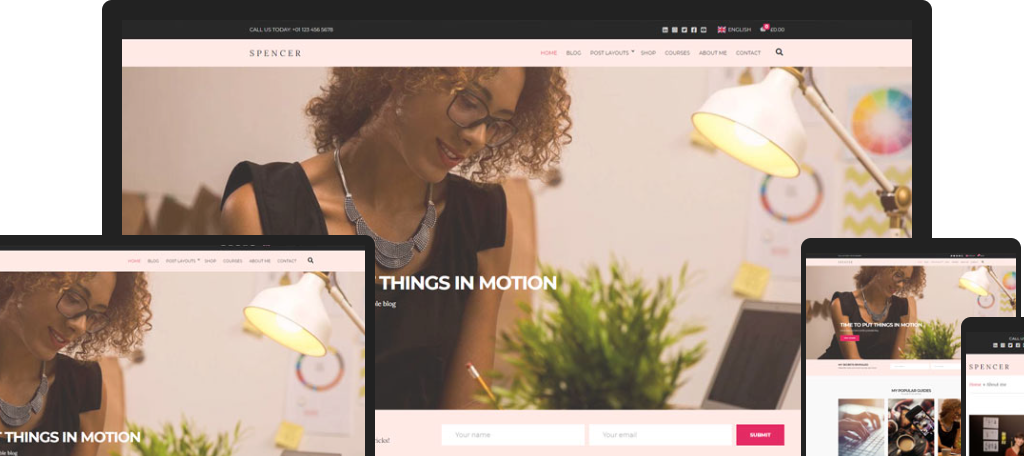 One of the best responsive WordPress themes is Spencer. It is a multipurpose theme you can use to build any type of website and has a variety of tools that are ideal for small businesses.
For instance, one of the first things every site does is try to build up its email subscribers. Well, this theme provides a variety of newsletter sign-up forms you can use to help you get started.
All you need to do is customize what they say and you can use them immediately. And since it is on this list, you can bet it looks great on any device.
The best part is that it doesn't even take a lot of work to achieve those results. In most cases, it's all automatically done for you.
Pros
Choose from Google fonts, or even add your own
Utilize global settings to make large-scale changes from one spot
Compatible with most major plugins
31. ThemeMin
ThemeMin has a minimalist design that has a certain appeal for those who want basic but functional. It's not over-inundated with various features and presents a distraction-free design.
ThemeMin handles social integration fairly well and transitions perfectly to mobile devices. And as you might expect from a minimalist design, it's lightweight, which means your pages will load fast.
That said, there are still a good amount of customization options for you to take advantage of. One of which is a dual-column sidebar widget area. It's a great way to display content in a sidebar without creating a cluttering problem.
Pros
The footer widget allows you to place 3 footer widgets
The header provides room for placing ads
Allows you to enable threaded comments in your comment section
32. The Traveler
The Traveler is a good choice for those looking to upload a lot of photography or images. It uses a grid-based layout for content as well as having a built-in Instagram feed.
While it may not be a good choice for certain situations, it's something to consider if you plan on creating a travel site or even a graphic design blog. And don't worry, your images will look great on mobile devices without any extra work.
In terms of customization, you can use the WordPress theme customizer to make changes in a flash. And you even have 5 layout options to choose between, giving you more base options for your site.
Pros
Includes detailed knowledgebase and access to one-on-one support
The theme loads extremely fast
7-day money-back guarantee
33. Responz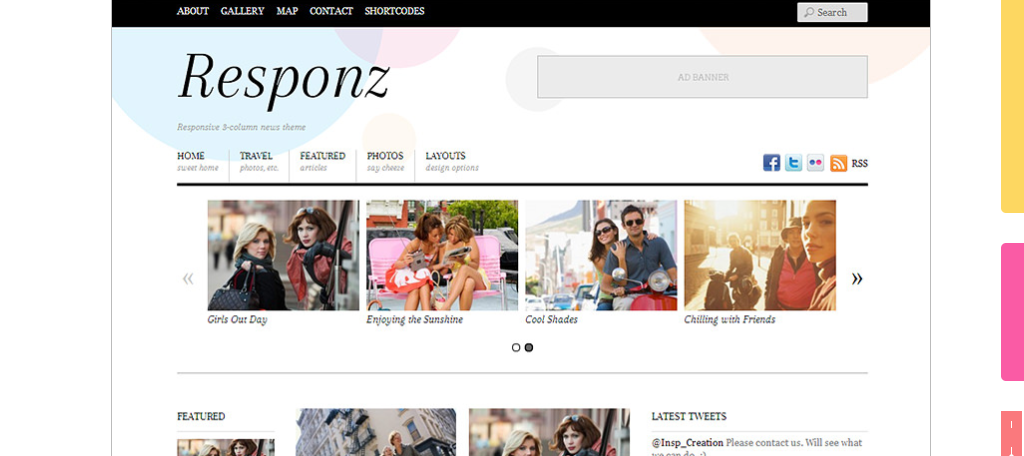 Responz is another great responsive theme that sports a minimalist design. It's ideal for any news, magazine, or blogging site as it offers plenty of room to show off your latest posts.
when it comes to design, you'll have a variety of customization options available. For instance, you can choose between several layout options, or even choose to use a grid layout.
The theme was coded with HTML5, which makes it ideal for any website looking to include video and audio content. And it works especially well on mobile devices, keeping your mobile users engaged.
Pros
Includes a built-in lightbox gallery for images
Access to your favorite social media icons
Add a slider to your footer or header area
34. Compass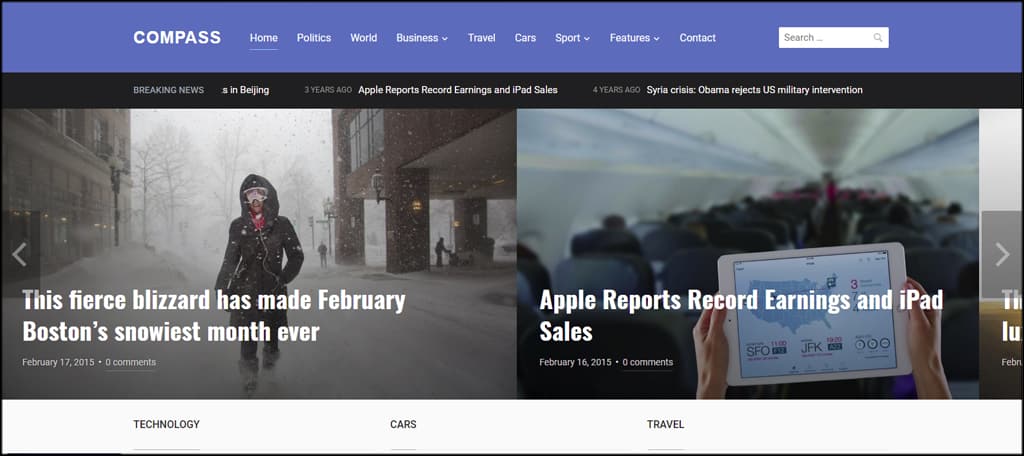 Compass is another stellar example of creating an online magazine or news site. The theme comes with an options panel, touch slideshows, a homepage builder, and ready for Retina displays.
Compass is perhaps one of the few in this list that was specifically designed for mobile touch displays. That means you can easily use elements like sliders on a touch screen, which can help improve the mobile experience greatly.
You'll be able to use the theme customizer to change everything from the colors on display to the fonts you are using. Overall, the theme is easy to use, offers a large amount of customization, and is fully responsive.
Pros
One-click demo importer
Translation ready
Optimized for SEO with fast loading times
35. Felt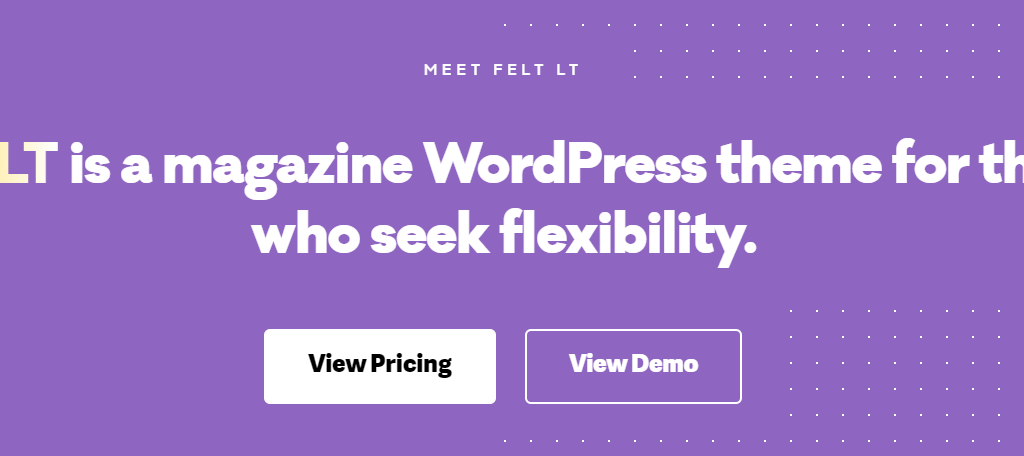 When it comes to the best responsive WordPress themes, Felt stands at the top. It offers an amazing amount of customization options and flexibility to all websites that use it.
The theme uses a full-screen design that sports a background slider to give you even more options. It is ideal for any blog or magazine-styled website. It also provides a large number of customization options.
One way Felt achieves this is by having the homepage be comprised of widgets. As a result, you can structure it any way you want. And yes, the entire theme is responsive by default.
Pros
Includes widgets for placing ads on your homepage
eCommerce ready with WooCommerce support
Gain access to amazing customer support
36. Township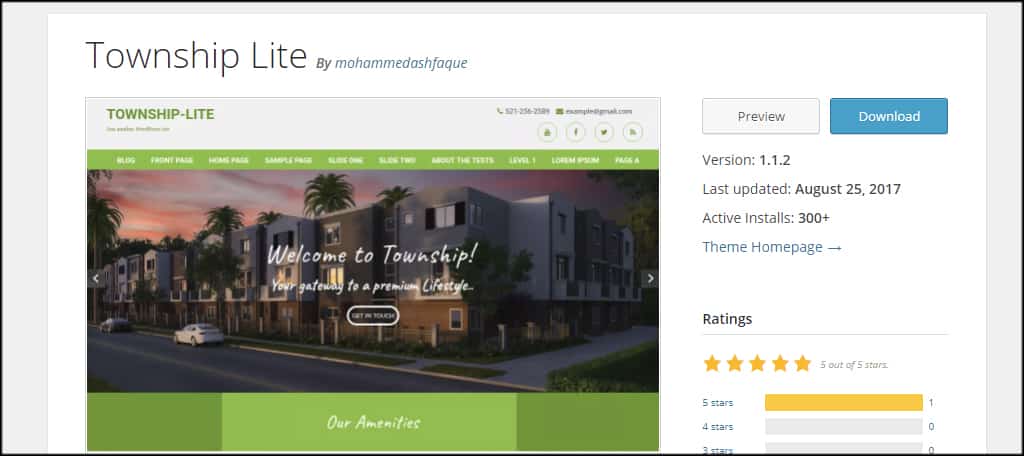 Township comes with a customizer giving you an easy way to make adjustments to create the site you want. It's a simple theme that is responsive and primed for SEO.
This theme doesn't have a lot of features driving it as you would see from some of the others in this list, but it does look nice from a smartphone. It was made specifically for real estate and construction companies.
As you may expect, it has a variety of tools to aid these businesses. For instance, you can use the slider to show off properties with style. Or, you can even create a full gallery of any property.
As a bonus, the responsive design makes it ideal for agents in the field.
Pros
Supports all menu types including mega menus
Supports Google Fonts
Includes access to 6 template pages
37. Easy Commerce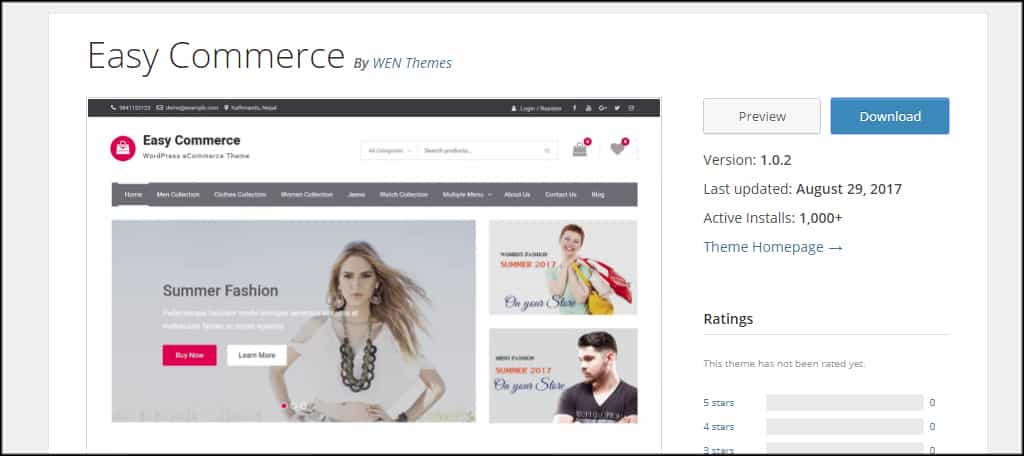 Here is another eCommerce-specific theme for those who want to sell online. Easy Commerce integrates well with the WooCommerce plugin and delivers a nice and clean interface for your visiting shoppers.
Easy Commerce comes with various features that will help you design the perfect online store for your needs. It offers a load of customization options from font to footers and everything in between.
One of the more useful features are the pagination options. This can help you break up the number of reviews left on a product to improve load times.
The theme is fully responsive, so shoppers can safely and easily buy products from their phones.
Pros
Includes 10 layout options for the sidebar
Support is very good with detailed documentation helping every step of the way
Easily place your logo on every page
38. Breakthrough Pro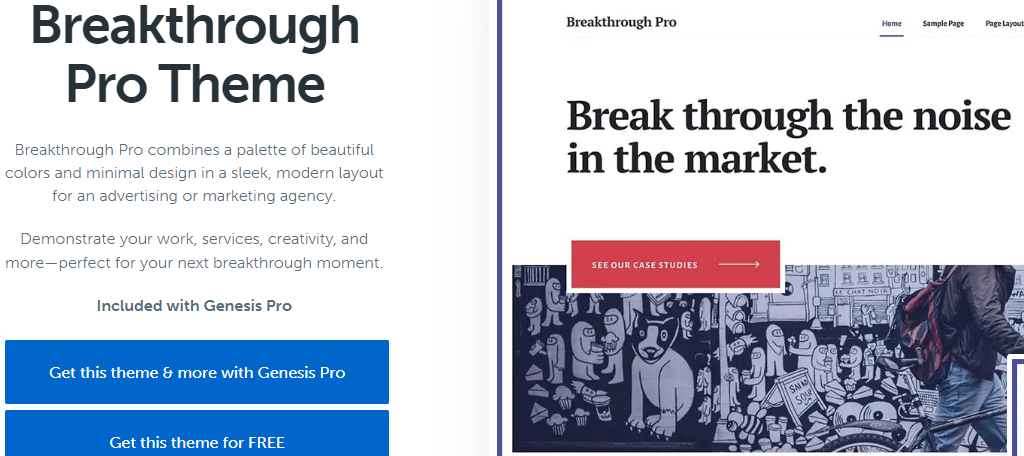 Breakthrough Pro is easily one of the best responsive themes in WordPress. It utilizes a minimalist design that makes it easy for content to stand out from the white background.
The theme was made for agencies that focus on advertising, as they easily show off what they are advertising. That said, the theme is quite flexible and fully supports WooCommerce, so eCommerce is no problem for it.
No matter what you use the theme for, you can rest easy knowing that the theme is fully responsive by default. That means everything will look great regardless of the device visitors use.
Pros
Easily upload your logo throughout the website
Includes 9 customizable widget areas
Powered by the Genesis Framework to ensure fast load times
39. HitMag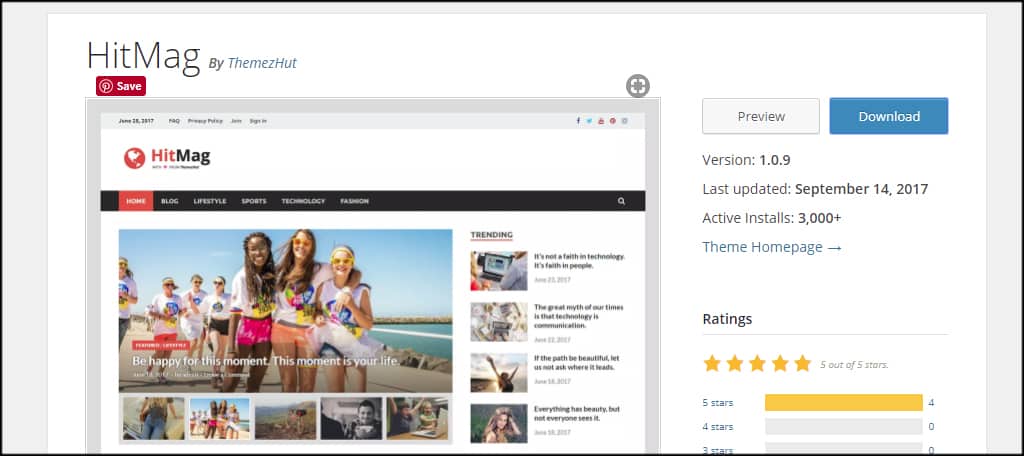 Like some of the other amazing responsive themes for WordPress on this list, HitMag features a great deal of customization. It offers four styles of blog listing layouts, various color options, and elements such as controlling the post metadata.
The header carousel and trending blocks are a nice touch for those who want to engage their audience. Combine these with the image slider, and you can build an amazing homepage for any blog or magazine.
As you might've guessed at this point, the theme is fully responsive and looks really good on a smartphone. Overall, it's a great theme that offers a lot of customization options for websites.
Pros
Includes both left and right sidebars
Supports over 650 Google fonts
Includes Jetpack infinite scroll
40. Allegiant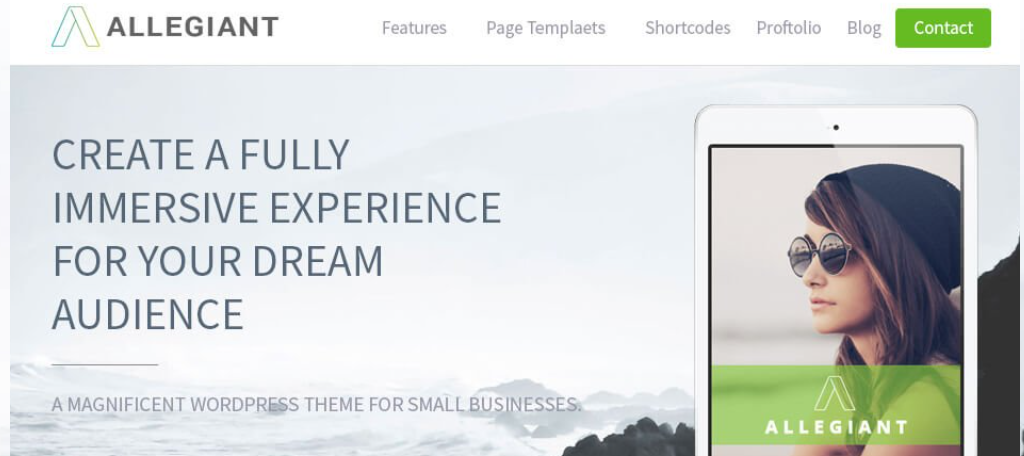 Looking for responsive themes that build any kind of WordPress website? If so, look no further than Allegiant. This is a multipurpose theme that supports both One page website design and multi-page design.
As you might expect from a theme like this, there is a tremendous amount of customization available. One such feature is the custom testimonial block that can help you display customer experiences anywhere you want.
Of course, like most modern WordPress themes, Allegiant is responsive by default. No extra work is required to make your website look good on a mobile device, as it just happens automatically.
Pros
Control every aspect of your website's layout
Gain access to a dedicated support team
Supports the full-width layout
41. Fargo
Are you planning on building a wedding website to celebrate your special day? If so, you'll want to make sure you pick from themes that were made for it, and Fargo is one of the best.
It has a large amount of space that is perfect for showing off pictures of the Bride and Groom, or the wedding venue itself. You can also place an image in the background, so you won't have any trouble letting guests know whose wedding this is.
Of course, while the theme was built for weddings, it excels at all things photography related, so feel free to branch out. The theme is also fully responsive, which means you can view it from any location without losing quality.
Pros
Incredible page speeds
Translation ready
Includes extensive documentation
42. Themify Ultra
Themify Ultra is more than just a layout design. It comes with a drag-and-drop website builder making customization incredibly easy. With it, you can build just about anything on the WordPress platform.
This theme supports parallax scrolling, lazy loading of resources, multiple headers and page styles, and a myriad of other features. As such, it is fully responsive when it comes to design.
One of the best parts of this theme is the huge library of quality demo sites and templates you can use. With them as a starting point, you can build a full website in no time at all.
Pros
Includes access to a variety of pricing tables
Choose from 17 different header options and layouts
Utilizes section scrolling for quick navigation
43. Float
Another theme that uses Themify's drag-and-drop builder, Float has a lot of fun features including a variety of parallax elements and mouse-over effects that do not require any coding.
For those who love to design, it comes with gradient effects to add some visual appeal and works exceptionally well as a photo gallery. This pairs nicely with the number of layout options you can choose from.
Similar to other Themify themes, you'll gain access to a variety of demo sites you can use as a starting point. No matter what you choose to do, rest easy knowing it'll be responsive by default.
Pros
Includes built-social share buttons and icons
Works well with WooCommerce integration
Banner ads are easy to add anywhere on your website
44. Eclipse
If your looking for responsive WordPress themes with a minimalist design, look no further than Eclipse. The theme was built specifically for photography and the minimalist design allows your photos to stand out.
One of the biggest hurdles when it comes to building a photography-centric website is making sure those images look good on smaller devices. Eclipse does this automatically, so you have nothing to fear.
It also has a lot of useful features like an image slider to display your latest photos. And that's just one of about a hundred customization features you can take advantage of with this theme.
Pros
Includes an Instagram widget to connect with your account
1-click demo importer
Easily upload your own logo
45. Mozzy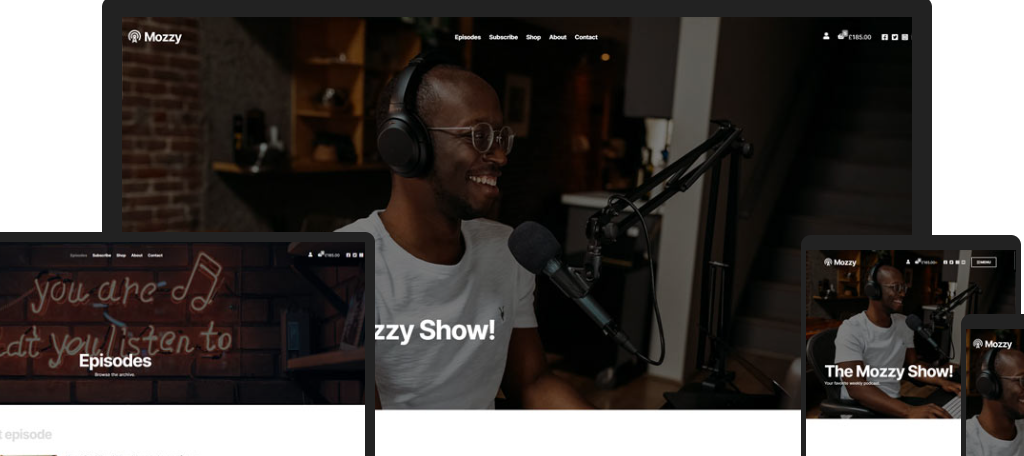 Closing out our list of the best responsive themes in WordPress is the amazing Mozzy theme. It is another great theme for websites focused on photography and lifestyle blogs.
One of the more unique features you get with Mozzy is the built-in podcast player. It makes it easy for visitors to listen to what they want and to even create playlists. If you create podcasts, it's a strong selling point on its own.
The theme is fully responsive by design, so no matter what you add, it will look great on screens of any size. Overall, it's a great theme to try and with the excellent support options, help is always available.
Pros
Includes a variety of layout options to choose from
Compatible with most popular plugins and third-party options
Supports one-click demo imports
Don't Assume Your Theme is "Good Enough"
Good WordPress hosting is only the beginning. Many site owners will constantly check for new themes and layouts to better suit what they're trying to create.
By keeping tabs on technologies, innovations, and trends, you can keep your site relevant to the current market.
Don't simply rest on obsolete design because it looks good on a desktop computer. Millions of people may be waiting to view it on a mobile device.
What are your favorite responsive WordPress themes?