Not all content on your website needs to be available for everyone to read. In fact, you might have some things you want to keep hidden from the general public. While you could completely hide your website or blog, it may make more sense to simply set WordPress to publish a private post.
In this tutorial, I'm going to show you how easy it is to create a private post in WordPress. As this is a feature already built into WordPress, it'll only take a few seconds to change a private post's visibility.
Why Would You Want a Private Post?
Some of you might offer a subscription service on your website. Perhaps you require users to register before reading content. It's a common practice to offer free posts while enticing a user to register to access "premium material."
This kind of practice easily helps create a newsletter or mailing list. Others may charge a small fee every month like you would see on some news websites.
The point is that keeping certain content private can offer quite a bit in terms of marketing.
Another reason why you may want WordPress to hide a post is to keep it out of the eyes of the public in general. If you share your company website with the public, you might have content you only want employees to see.
While an Intranet is often a better choice for keeping a private site, sometimes it's just not feasible.
What Does a Private Post Do?
Essentially, a private post just means only those who are logged into WordPress are capable of reading it. Which means users who cannot log into your website are not even aware the post exists.
Setting the post to private also restricts access to it from search engines. If you don't want sites like Google to crawl your private content, it's only a few clicks away.
You can also restrict WordPress private posts even further by using tools like Capability Manager Enhanced to control custom user roles. With a couple clicks, you can also restrict logged in users from seeing private posts.
Setting Private Post in WordPress
For this tutorial, let's go ahead and create a new post. It'll give me a chance to show you where you need to click.
Go to Posts and click, "Add New."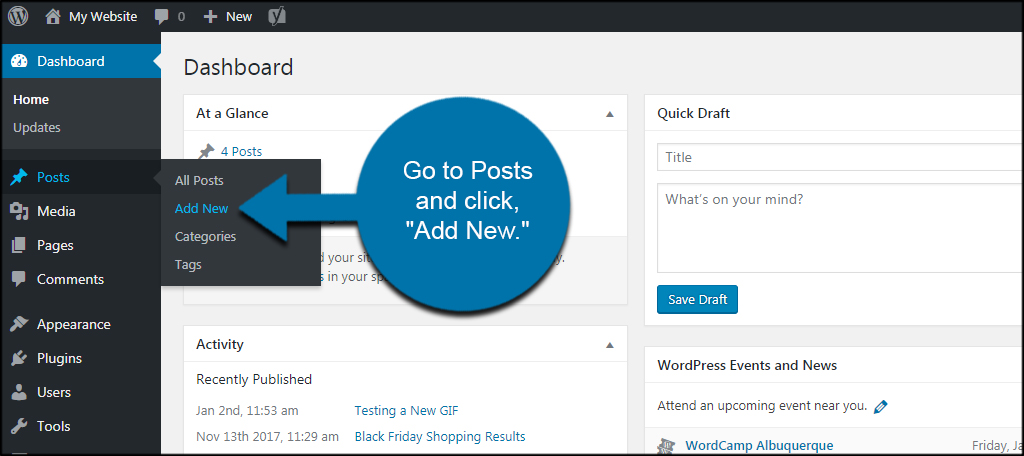 On the far right, you'll see options for "Publish." Click the "Edit" link next to Visibility.
A few options will drop down below Visibility. Click the radio button for, "Private."
As you can see, you can also password protect the post to add even more privacy to select individuals.
Click the "OK" button to finish.
Now, you can create your content and publish it without the general public seeing the material.
You should be aware that images used in private posts are still available to anyone logged into the system. So if you hide a post from authors, they can still see any images in the media folder of WordPress.
Using Capability Manager Enhanced to Show Hidden Posts
As I mentioned earlier, you can use Capability Manager to control who can see private content when logged into your site. Let's take a quick look at how that can be done.
If you have Capability Manager Enhanced plugin already installed for custom roles, go to Users and click, "Capabilities."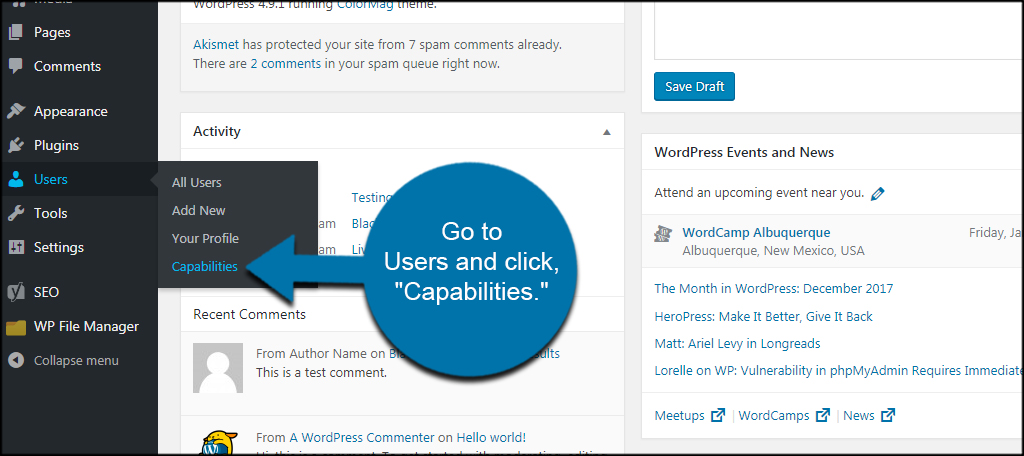 Select a user role to edit and click, "Load." In this tutorial, I am choosing, "Author."
Under the Reading section, click the check boxes to control "Read private." By default, authors are unable to see private posts unless it is their own. By clicking the check box in this section, I can enable authors to read all posts or pages marked private.
Once you're done, scroll down and click the "Save Changes" button.
Each user role has its own abilities, so you will have to go into each if you want to make adjustments for privacy.
The Right Tools for the Job
WordPress comes with a lot of features out-of-the-box. From managing themes to customizing the site's appearance, there is a lot you can do. Without installing other tools, it only takes a few clicks of the mouse to create a private post in WordPress. Explore what this management system can do and get ideas to customize your website.
What kind of roles do you use to manage users on your site? In what ways do you use a private post in WordPress?