So, you have a WooCommerce website and you have started selling products online. Wouldn't it be great if you could show your product feed easily on multiple marketing channels? Well, now you can using a solid WooCommerce product feed plugin that will provide you all you need.
What is a Product Feed?
A product feed is simply a file that is made up of a list of products and attributes of those products. All of the products in a shopping feed are organized so that each can be displayed, advertised, or compared in a unique way.
There are several items that are displayed in most (if not all) product feeds. They include things like the product image, the title of the product, identifiers, marketing copy, and product attributes.
Today, I am going to show you how to use a smooth plugin in conjunction with WooCommerce that allows you to quickly and easily build multiple product feeds.
Let's take a look at the plugin in question and see all it has to offer.
Product Feed PRO for WooCommerce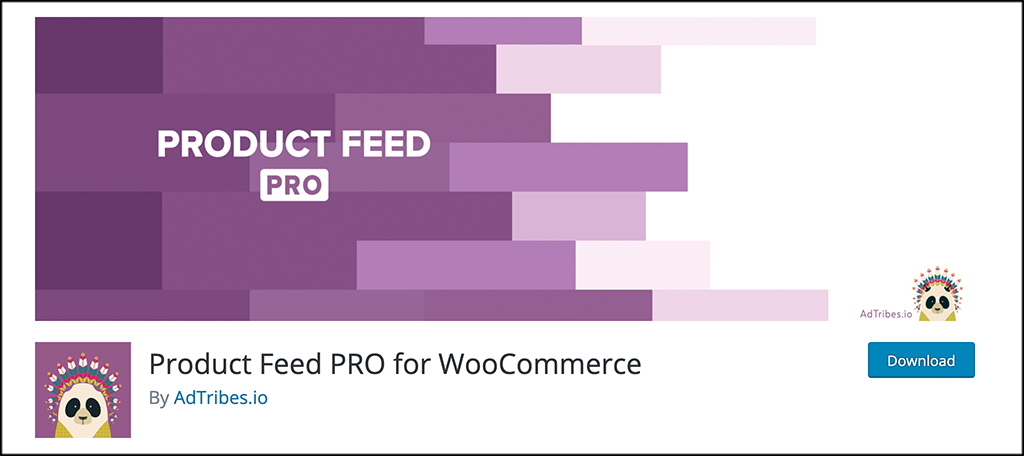 Product Feed PRO for WooCommerce is a plugin that will allow you to easily generate WooCommerce product feeds for all of your marketing channels. The plugin includes over 100 pre-defined templates that can be used. Use these templates for marketplaces, comparison shopping engines, and regular search engines.
Product Feed Pro is the most complete and comprehensive plugin available for creating WooCommerce product feeds and distributing them across all your separate marketing channels.
Several marketing channel options are already built into the plugin including Facebook Remarketing, Google Shopping Feed, Bing Ads, Billiger.de, and Pricerunner to name a few.
The plugin comes with a lot of great functionality and features. Some of the highlights include:
Unlimited Number of Product
Unlimited Product Feeds
Filters and Rules
Field / Attribution Selection
Field / Attribution Mapping
WooCommerce Structured Data
Performance-Based
Static Field Values
Category / Taxonomy Mapping
Google Shopping
Analytics Support
Product Tags
Product Feed Statistics
And that is just the tip of the iceberg. Basically, this WordPress product feed plugin gives you everything you need and more to build multiple WooCommerce product feeds for all your marketing channels.
Note: There is a pro version of this plugin available. You are more than welcome to check it out and see if it is something you think you need. The tutorial below is based on the free version. This tutorial also assumes you already have WooCommerce set up on your site.
How to Create a WooCommerce Product Feed
Step 1: Install and Activate the Plugin
Before you can start using Product Feed PRO for WooCommerce, you first need to install and activate the plugin. You can easily do this by jumping over to the Plugins page in the WordPress admin dashboard.
Simply use the available search field to search for the plugin by name.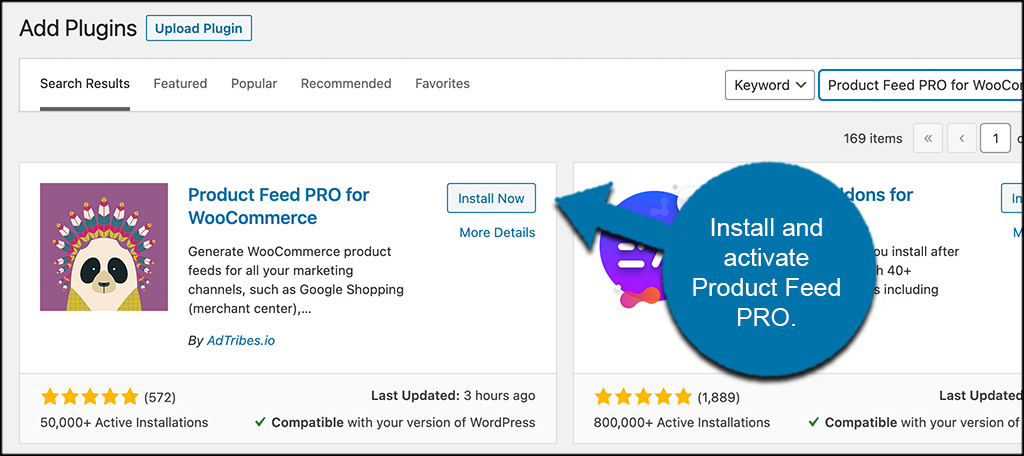 When you see it pop up, install and activate it right from there.
Step 2: Access the Settings Page
Now that the product feed plugin has been installed and activated, you first need to configure the settings before building your first product feed.
To do this, click on Product Feed PRO > Settings, located on the left side menu area of the dashboard.
You can see that this tab is now an available option after you activated the plugin.
Step 3: Configure Plugin Settings
You have made it to the plugin's settings. Go ahead and go through and configure them how you see fit. Again, these should be put into place and saved before building a product feed.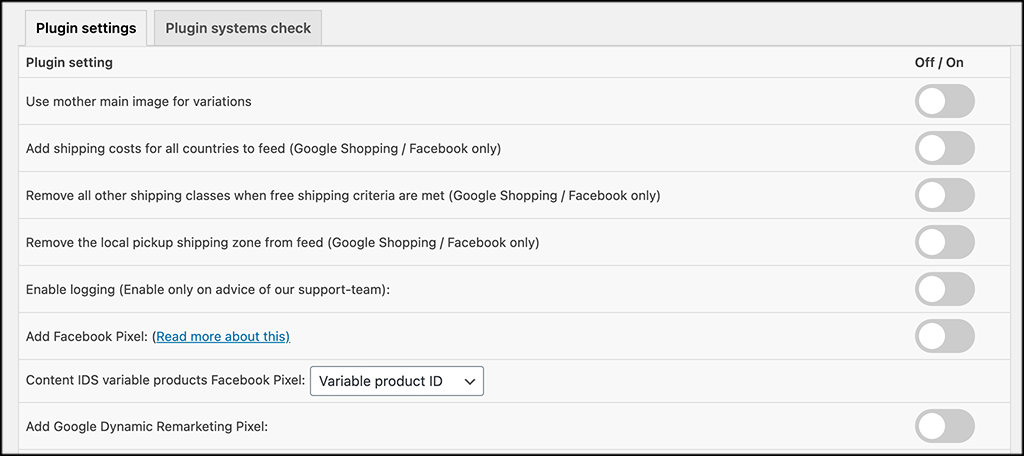 Using the toggle switches, you can enable each individual function.
Note: There is also a tab in the settings area called "Plugin System Check." If you want to view the plugin system and how it is performing on your setup, then feel free to click on that tab and check it out.
Step 4: Create a Product Feed
Plugin settings are in-place according to how you want. Now, you can go create your first product feed.
Click on the "Create Feed" link located under the main Product Feed PRO menu item.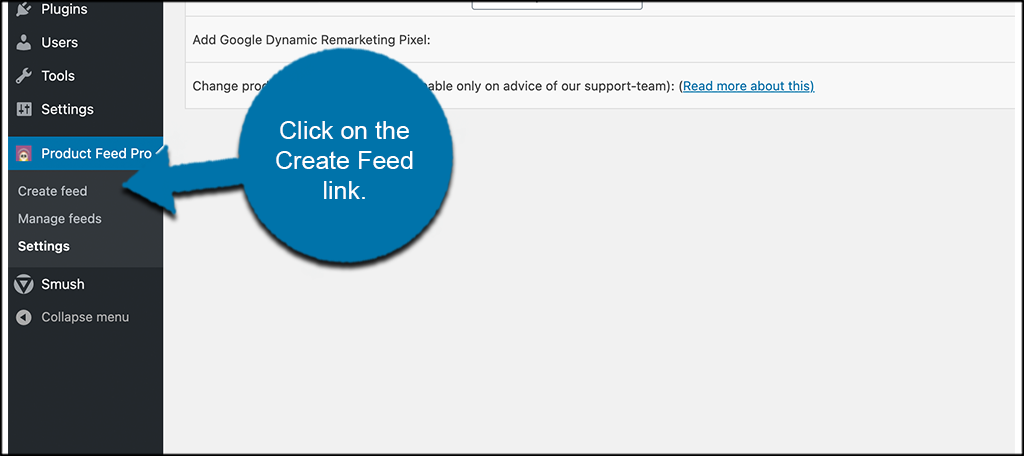 Go ahead and fill in all of the general feed settings. This includes creating a name for your project (feed), deciding on a country and a channel from the dropdown, and choosing a file format and refresh interval time.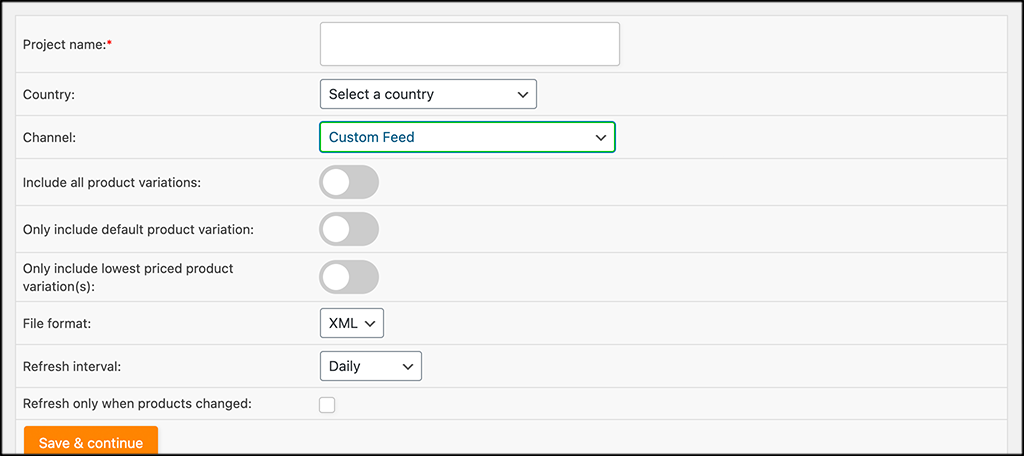 Here are just some of the different feeds you can choose from.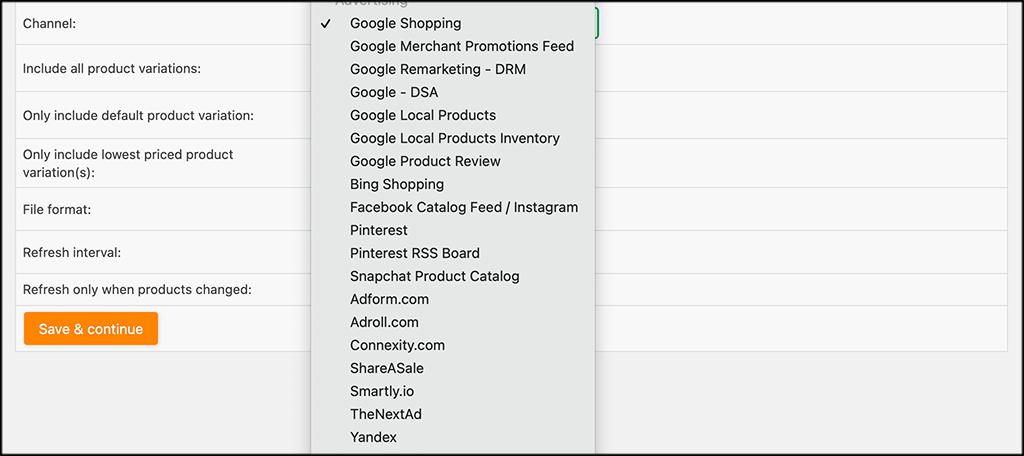 Once you are ready, click on the "Save and Continue" button.
Note: The page that comes next will be based on the type of shopping feed you choose to build. Different feeds will have different actions you need to perform. In this case, I went ahead and clicked on the "Google Shopping Feed" option.
Step 5: Add Field Mapping
This page is full of all the field mapping fields available in Google Shopping. Go ahead and fill them all out however you want your products displayed in the product feed.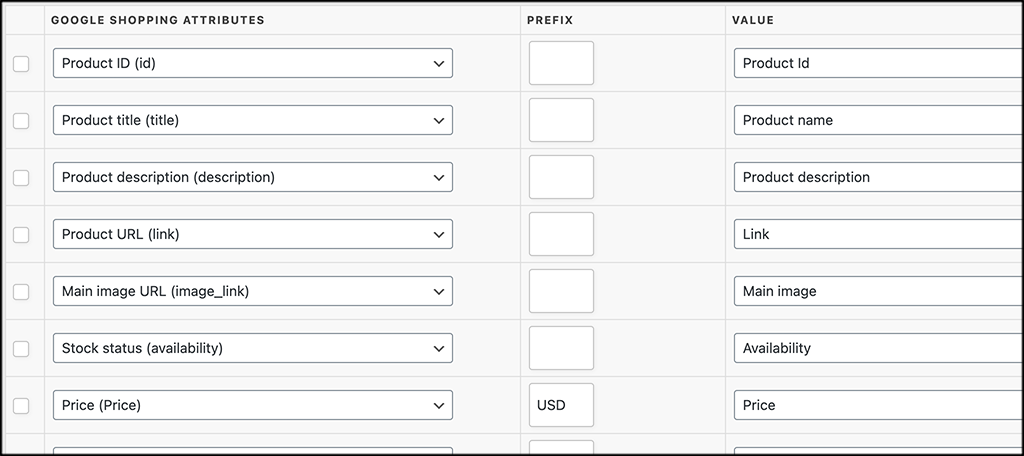 At the bottom of the page, you will notice the buttons for adding field mapping, adding custom fields, or "Save." Finish up what you need to do and click on the "Save" button.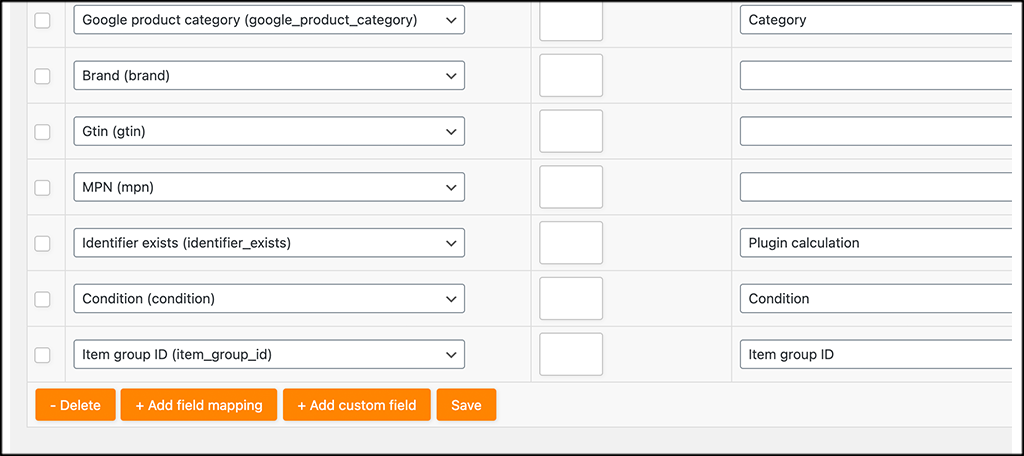 Step 6: Add Category Mapping
This takes you to the "Category Mapping" page. This will show items based on what you filled out above. Choose a Google Shopping Category and click on the "Save Mappings" button.
Step 7: Customize Feed Filters and Rules
Now, create your feed filters and rules. You can add a rule, add a filter, delete, and then continue when you are finished.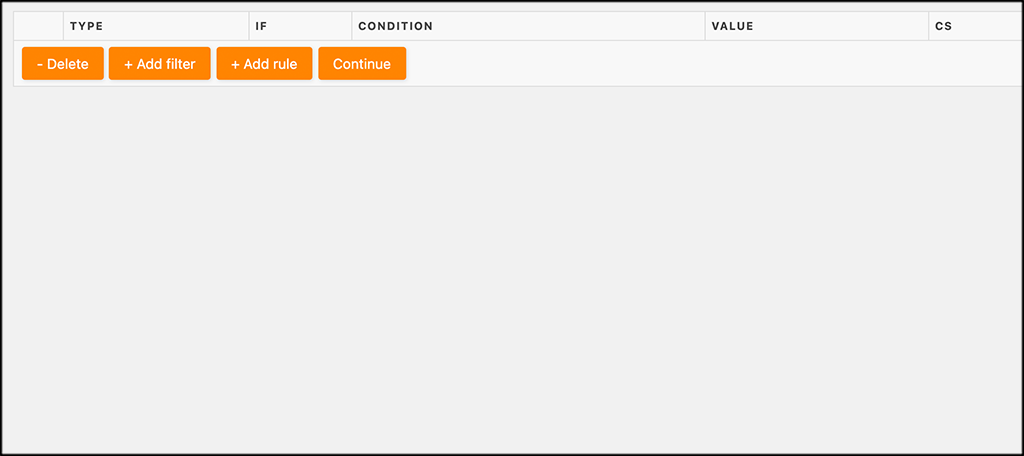 Step 8: Apply Any Conversion and Google Analytics Settings
Last but not least, apply any Google Analytics settings and conversion settings you want on this page.
Click on the "Generate Product Feed" button when finishing your options.
That's it! You have built your first product feed using the Product Feed PRO for WooCommerce plugin. Repeat the process above and build as many feeds as you want for any marketing channel offered.
You can view and manage all the feeds you build from the "Manage Feeds" tab link. They will all be listed there.
Product Feed PRO FAQs
You may run into some questions while using the plugin. Here are a few popular ones and the answers to them.
I Am Having Plugin Issues, What Should I Do?
Plugin problems can be due to a number of factors. There are several troubleshooting techniques you can use and see if any of these fix the problem.
Deactivate and Reactivate the Plugin
Remove and Reinstall
Check for Plugin Conflicts
If none of these work, feel free to contact the plugin developer.
Is There a Product Limit?
No, you can add as many products in a feed as you would like.
Is There a Product Feed Limit?
No, you can create as many product feeds as you want.
Again, if you have other questions, please contact the plugin developer, as they will be able to walk you through any issues.
Final Thoughts
Creating product feeds from your WooCommerce store and adding them to different marketing channels is a great way to get your products out there.
I hope this article was able to show you how easy it is to add as many product feeds as you want and get them going online.
Have you been creating product feeds using a different method? Is there another plugin you prefer?