So you have purchased or started your own restaurant and you are looking into what it will take to make a restaurant website. You want to have an online presence that will help you bring in local customers. Here is everything you need to properly build an online presence.
What You Need to Start
Before you move forward with the actual website build, there are a few things you may want to have ready. Here are some suggestions for you to consider as far as relevant information goes.
Your Menu
The menu is arguably what could make or break your new restaurant. Make sure you have the full menu in place. This will be good because it will give you something to show people who are interested, as well as allow you to post it on your new website for online customers to view.
Background Information
Have something in place that tells everyone the restaurant background information. Did you buy it from someone else? Is it a family business? What is the history behind why you are opening the restaurant? People enjoy reading this type of information on your new website because it gives them a more personable feeling for the place.
Location, Contact, Hours of Operation Information
You may think this is a given. However, you would be surprised how often this is forgotten on a website. Make sure your location and contact information is on the website and ready to go. Furthermore, make sure it is easy to find and easily accessible from anywhere on the site. You also want to make sure your hours of operation are easily visible.
Steps to Build a Restaurant Website
Now that you have some specifics in order, it is time to move on. The above information should now be ready to put onto your website when it is live. Now, let's take a look at the steps to take in order to make your own restaurant website.
Purchase a Domain Name and Web Hosting
Before you can choose a CMS and actually make an online name for yourself, you first need to purchase the domain name you want and find web hosting. There are a lot of really good domain name registrars out there, so choose one and then start searching for the domain name you want.
You may be unable to find the first choice for your domain name. If this is the case, type in a different spelling, or play on words. You can also use any of the hundreds of different domain name extensions that are now available. At some point, you are sure to find something that suits your needs.
Now that you have a domain name, it is time to find a great web host. You want something that will provide you with everything you need to easily build a website for restaurants. GreenGeeks web hosting will provide you every tool you need to get up and running in no time at all.
In fact, GreenGeeks can register your domain name and provide web hosting all in one location. This way, you can keep everything organized and together.
Choose WordPress as Your CMS
At this point, you have your domain name and your web-hosting provider in place. Now comes the point of the process where it is time for you to choose the CMS (content management system) that you will use to make your own restaurant website.
You have a number of content management systems to choose from. However, for this tutorial and an overall recommendation, I am going to suggest that you use WordPress to build your restaurant website.
First off, WordPress is an open source system that thousands and thousands of people contribute to. It is very user-friendly, especially for beginners. This is ideal when you are first starting to work on a website.
Not only that, but since the WordPress system is so big, you will never have to go far to find resources and tutorials that will help you complete your project.
The installation of WordPress is also very simple. You basically have two choices. You can install it using the one-click installation process that is provided in your cPanel. Or, you can install it manually. Either way, you will be up and running in no time and ready to make a restaurant website.
WordPress also often comes with visual page builders that allow you to drag and drop items to create your website. This is also ideal for beginners and will make the process much easier.
Choosing the Right WordPress Theme
WordPress has no shortage of excellent themes that you can choose from to build your restaurant website. However, here are some suggestions for ones that are specifically tailored to what you are doing.
Downtown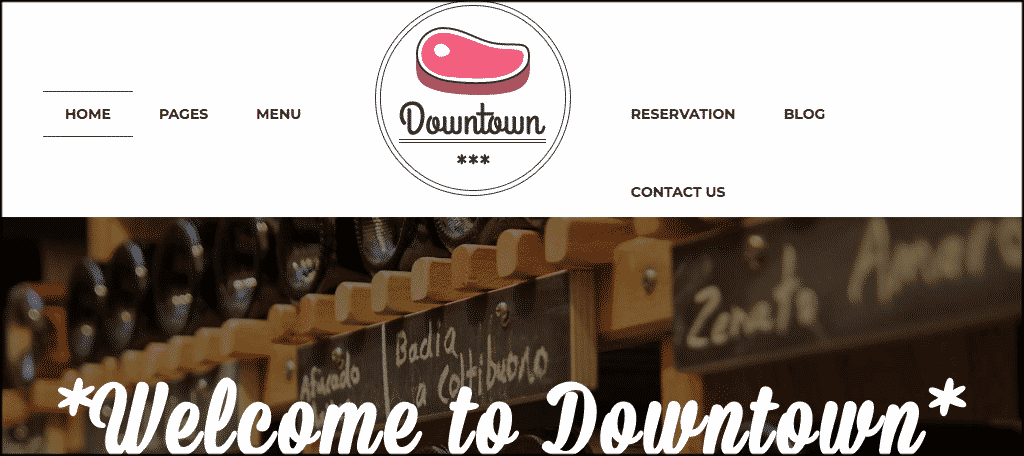 Downtown is a multipurpose restaurant theme that comes packed with features. Powered by the Tesla framework, the theme allows you to easily customize your entire site by providing you tools like sliders, widget areas, custom icons, and pre-built templates. It also has a fully responsive design and dozens of built-in shortcodes to use.
Café Pro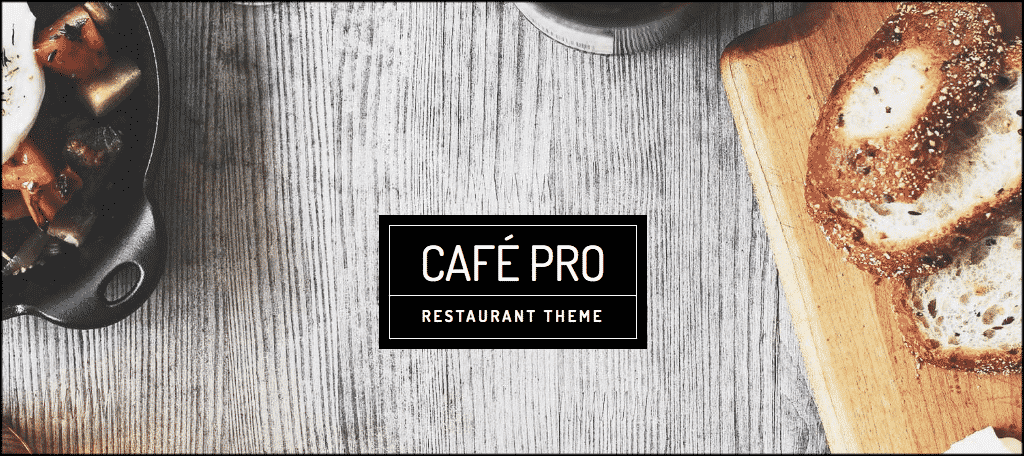 The Café Pro theme is a simple and beautiful theme that will allow you to make a restaurant website that is easy to navigate and fun to look at. It has simple widget areas that you can easily build around and a strong SEO structure built-in. You can also easily integrate a website restaurant menu design so customers can see what you offer.
Delicio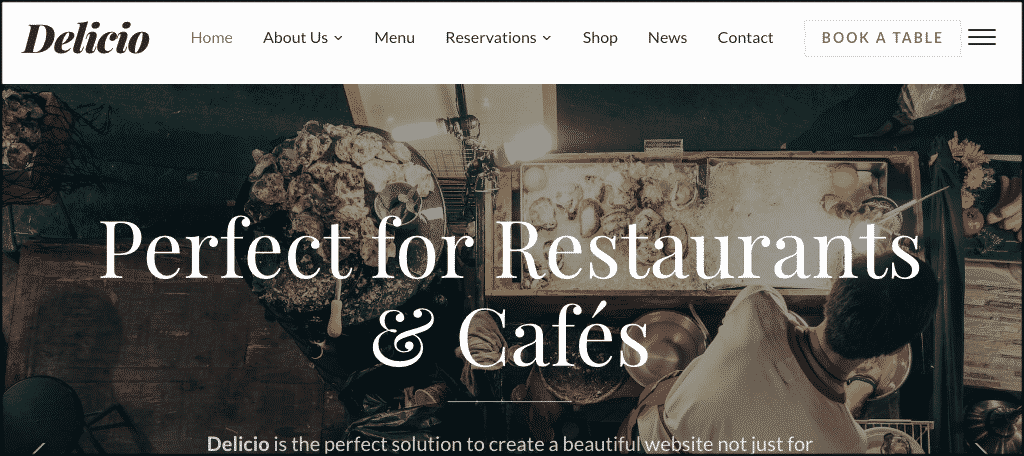 The Delicio theme is a fantastic theme solution for anyone trying to make a restaurant website. The theme has a built-in reservation and booking form. It also comes complete with a menu setup template for you to easily create an online restaurant menu design. Furthermore, it has a drag and drop interface, making it very easy for even beginners to build a solid site and gain traction online.
Carbone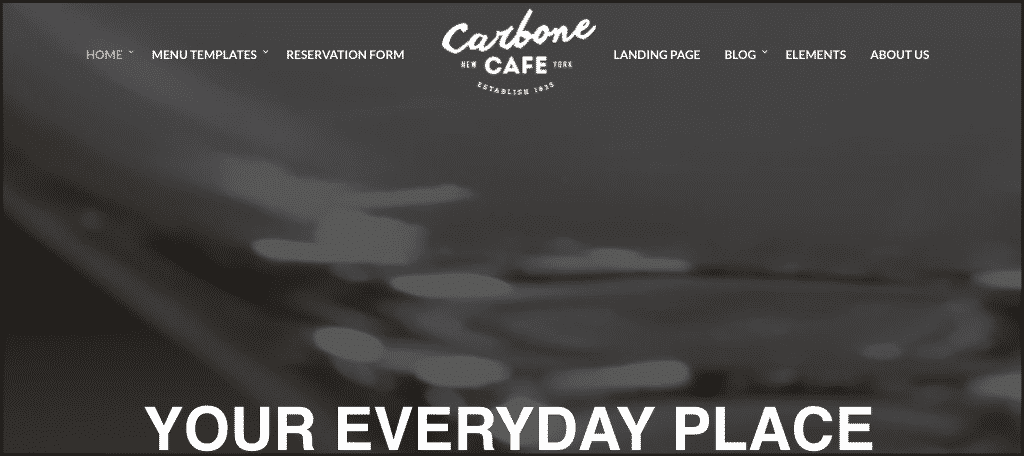 The Carbone theme comes with page builder support, a built-in reservation form, and a dedicated menu-management system that allows you to create and manage different menu items quickly and easily. The theme is SEO-optimized and responsive. It is perfect for a restaurant website so give it a look.
Foodica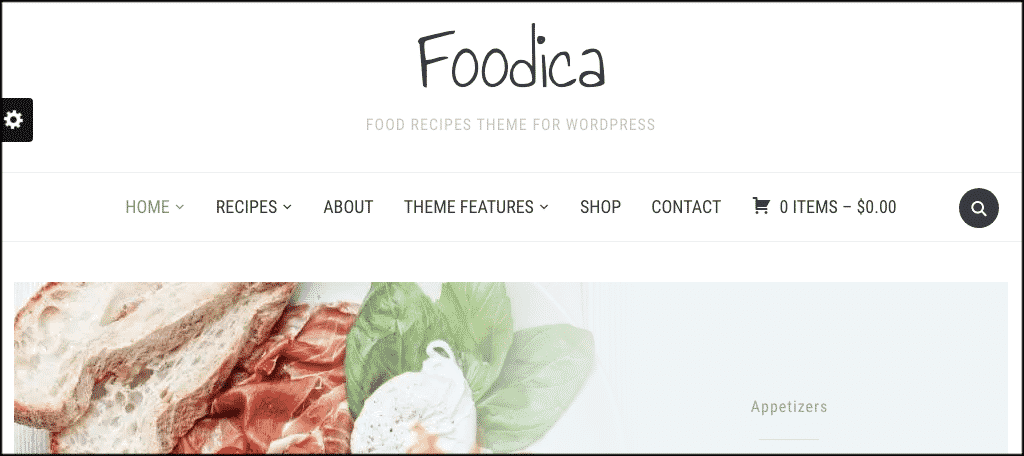 Foodica is actually a recipe style blog template that can be used to make a restaurant website. You can also add news, recipes, and tons of menu item information to the website quickly and easily. The theme is WooCommerce ready, so selling online and taking orders will be smooth and simple.
Choosing the Right Plugins
One of the perks of using WordPress to make your restaurant website is that there are thousands and thousands of amazing plugins available for use. While most websites need a specific few, you also want to grab some that are tailored to your niche.
Here are a few suggestions for plugins needed to make your own restaurant website complete.
Restaurant Menu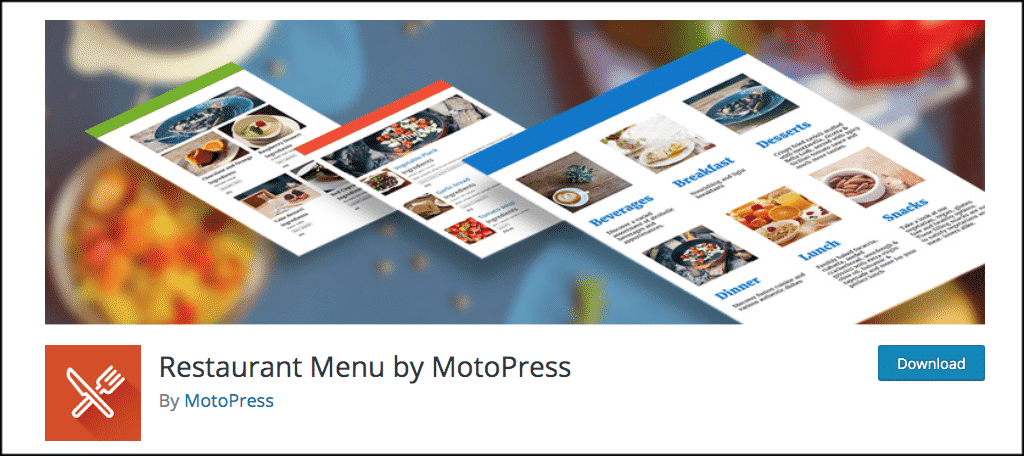 The Restaurant Menu plugin is the essential menu plugin for easy online menu creation. It is lightweight, easy to manage, and very modern. Better yet, it will work with any WordPress theme. You will be able to easily create and customize the menu and display it in pages, posts, sidebars, and widget areas.
Five Star Restaurant Reservations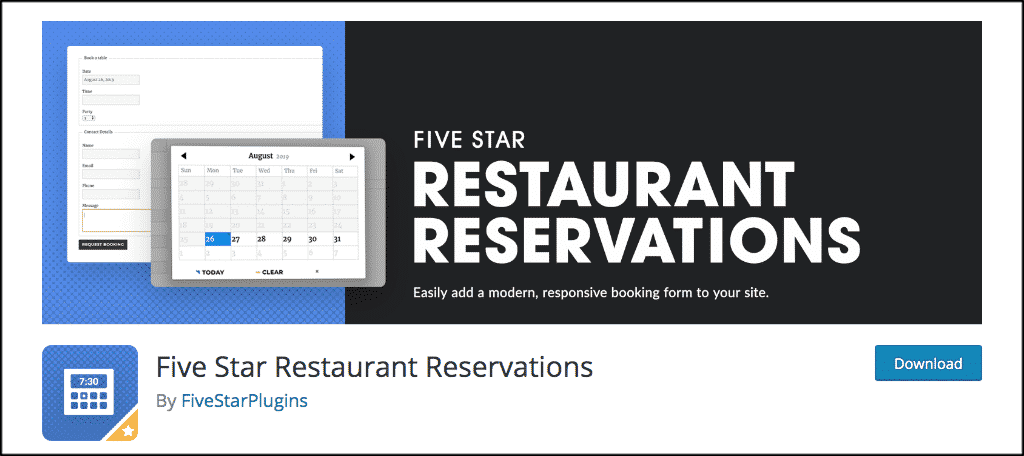 Simply put, Five Star Restaurant Reservations is a fantastic plugin to install and use to easily accept reservations and table bookings online. The plugin comes with a lot of functionality. You will be able to reject reservations if needed, send out custom email notifications, and even restrict booking times.
Five Star Restaurant Reviews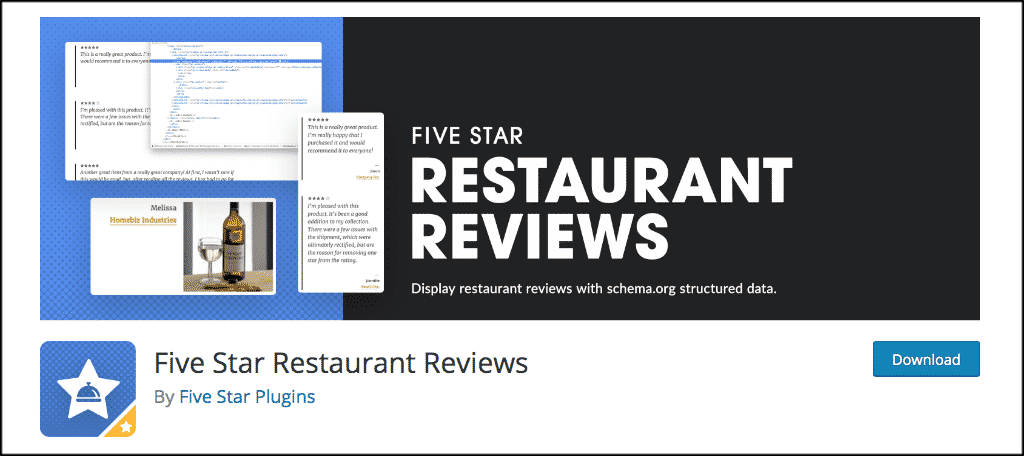 We all know it is ideal to have solid reviews for your restaurant in place. This helps with an online presence. Five Star Restaurant Reviews allows you to easily take reviews from customers and put them on your website. They are SEO-friendly and you are in full control of them. This can be more ideal than something like Yelp to start, as you have no control over what someone may post there.
Speed Contact Bar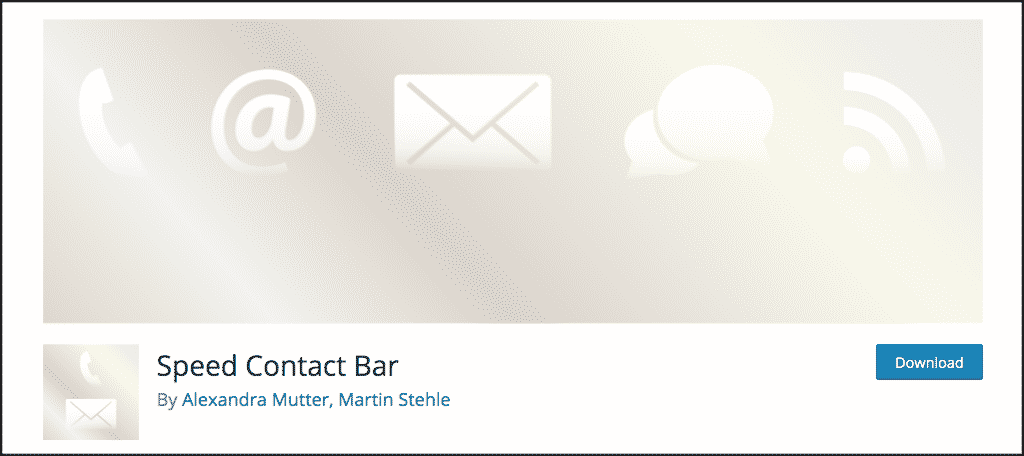 You always want to make your contact information easily available from your website. The Speed Contact Bar can help with this very thing. The plugin allows you to show a fully visible contact information bar on your website that is easy to access and view from any page. You will be able to show all contact info and social media links in the bar. It is clickable and ready right out of the box.
Yoast SEO
Yoast SEO should be on every website in order to build and create proper SEO functionality. In this case, you will want to install the plugin and really work the local SEO patterns. Since your restaurant will gain most (if not all) of its business within the local community, you want to make sure your restaurant pops up in the correct searches. Set up Yoast the correct way to really shine in searches.
Sharing Your Website
Now that you have some guidance regarding making a restaurant website, you will more than likely need to get it out there for people to see. There are several really great ways to share on the Internet. Here are some suggestions for you if you find it to be difficult.
Social Media Marketing
One of the best places to start is on social media platforms. Share the link to your site on all your social media channels. You can also blast out information on menu items, locations, specials, and more. There are so many people on social media that it is a great way to get your name out there.
Local Festivals and Events
Set up a booth at local festivals and events. Serve some menu items, offer information about your new place, and get your restaurant name out there to the public. Plus, this is also a fast way to become more relevant in your local community.
LinkedIn Business Page
Having a business page on LinkedIn for your restaurant is a great way to connect with like-minded professionals and get your website noticed within the business community. You can build connections with customers, vendors, and other people that can advocate on your behalf.
Create an Online Special
Create an online special through your restaurant website. Send out fliers around town or advertise it on Facebook as well. This will help drum up interest in your restaurant website and help get you noticed. Plus, this will also bring customers into your establishment.
Advertise on Vehicles
A great way to get your restaurant website name out there is to display it on your own or on company vehicles. This way, no matter where you go, people can see the link and you can drum up some interest. This is basically free advertising because they are your own vehicles.
Ideas For Your Restaurant Website
Having a restaurant website puts you in a unique position. You can use the platform for different things, depending on how popular you are in your own community. Here are some suggestions for you.
Benefits and Fundraisers
Use your website as a tool for pushing local benefits and fundraisers. This will not only help your local customers with fundraising around the community, but it will also help you build a solid reputation that people will trust.
Takeout and Delivery
Even if your original restaurant idea did not include call-in and takeout orders, or delivery to your community, you may want to rethink that. The rush for individuals and families to order food for pickup or have it delivered is at an all-time high. Not only should you be able to increase sales, but you should also be able to expand your reach into the local community.
Online Ordering
Use your restaurant website as a tool that allows people to order ahead of time and place online orders. This can help streamline your process and help get more orders out when the operation is running smoothly.
Conclusion
When you have opened a new restaurant, you always want to think of your online presence. The first step to securing this presence is to make a restaurant website. Follow that with social media channels and marketing, and before you know it, you will have a solid, well-established restaurant website.
Don't be intimidated by the thought of having to learn how to build a site for your business. Use the guide above and follow the steps how they are laid out. You will have everything in place, and you can simply continue to learn the ins and outs of your website as time goes by.