If you have been paying attention, then you notice that many businesses and individuals have started podcasts. Wondering how to start and/or manage a podcast in WordPress? You are in luck. Today I am going to show you how to use a plugin called Seriously Simple Podcasting.
Why Have a Podcast?
There are several reasons as to why you may want to start a podcast or keep one going on your WordPress website. Many people believe that starting a podcast will help their business grow. Truth be told, they are correct.
However, there are also other reasons to have a podcast. They range from simply wanting to connect with others and share something you are passionate about, to starting a podcast to make money.
Today, some of the most popular podcasts are those that started a while ago and have a built-in audience that has gathered over time. Don't let that deter you. You can have a popular podcast if you put the work in and stick with it.
So where do you start? It is probably a good idea to get your podcast on your website. That way, people can listen to it there and also easily subscribe to it on the other major platforms.
Unsure how to do this? Don't worry, today is your lucky day. In this tutorial, I am going to show you how to use a simple podcast WordPress plugin to get everything on your site where it is needed.
While there are actually several good WordPress podcast plugins available, today I will be demonstrating how to use the Seriously Simple Podcasting plugin to accomplish this.
Let's take a look at the plugin in question and see all that it has to offer.
How to Add Seriously Simple Podcasting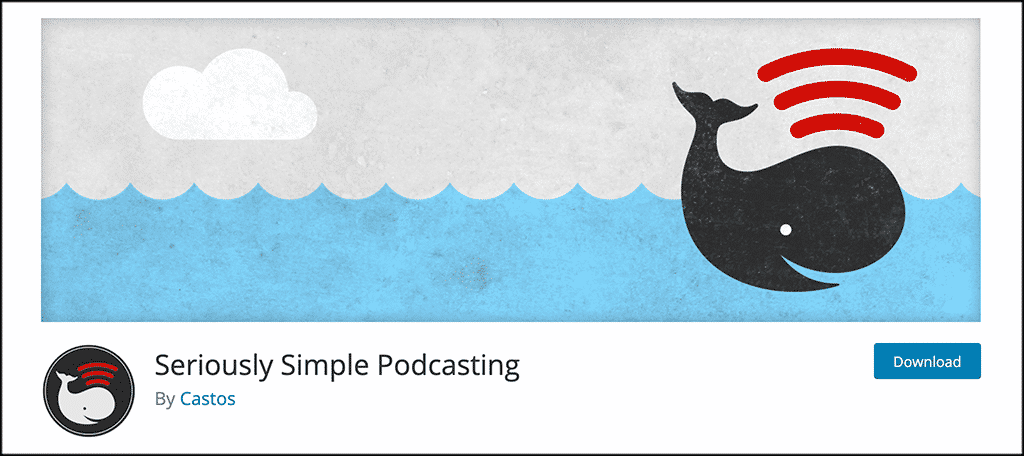 Seriously Simple Podcasting is exactly what the name says it is. It is a very simple, yet powerful plugin that you can use to set up and run WordPress podcasts directly from your website.
The plugin comes with a ton of built-in options and functionality. Perhaps most appealing is that this plugin is free to use on any level, as there is no pro version. The only cost you may incur is if you choose to host your audio files with a dedicated podcast hosting provider.
That being said, this is very common, as just like the case is with video, it is better to host those types of files outside your WordPress site for various reasons.
Once you install this podcast plugin for WordPress, you will notice how easy it is to use. The plugin is straight-forward with its setup instructions, has plenty of advanced features, and delivers a ton of customization options.
Every plugin feature is fully functional no matter who you choose as your podcast hosting provider. Remember, it is recommended that you host these files on a dedicated podcast hosting provider, but it is not required.
Seriously Simple Podcasting gives you more control over your content so you can start podcasting without limits. The plugin is stacked with great features. Some of the best ones include:
Ability to Manage RSS Feeds from WordPress

Manage Multiple Podcasts

Customize the Embedded Media Player

Use Custom Widgets to Create Playlists

Display Playlists Anywhere

Publish Your Podcast Episodes on Any Post Type

Supports Video Podcasting

Free Analytics Add-ons and Integrations

Imports, Migrations, Redirects All Made Simple
As you can see, Seriously Simple Podcasting has left no stone unturned. You basically have all the tools imaginable to start and run a podcast with WordPress
Let's take a look at how to get the plugin installed and running. After that, we can go over the configuration and settings together to get it running.
1. Install and Activate the Plugin
In order to start a podcast in WordPress, you first need to install and activate the plugin. You can do this by going to the Plugins page in your WordPress admin dashboard.
Just use the search field to find the plugin by name and install and activate it right from there.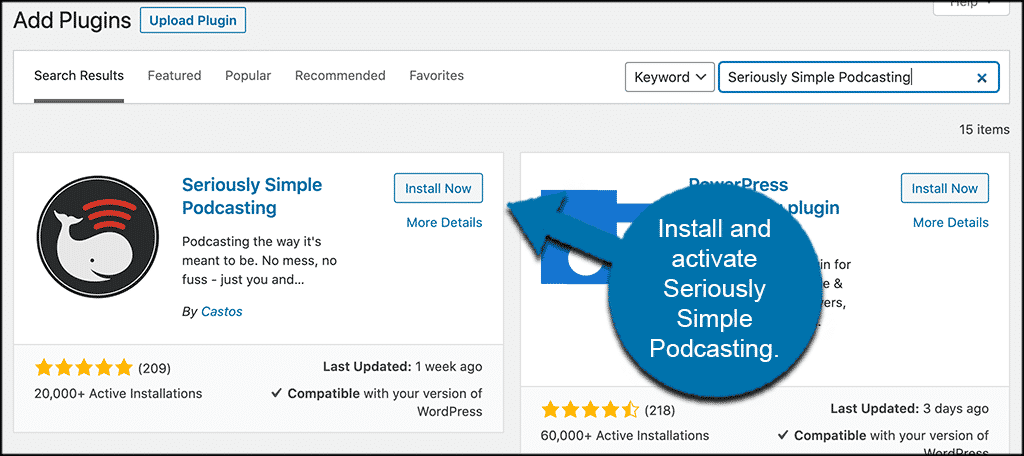 Once the plugin has been installed and activated, you want to access the main settings and configuration page to set it all up. You can do this by clicking on Podcast > Settings.
You will see this is now an available option in the left side menu area of the dashboard after you activate the plugin.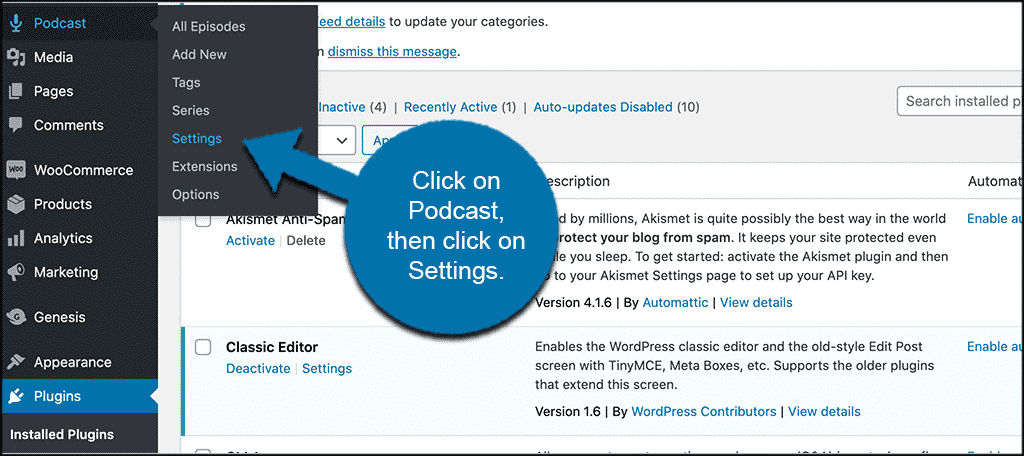 This takes you directly to set up, where you can configure everything and get the plugin running live on your site. There are quite a few options to go through. Even though it isn't hard, let's go over setup together and get your podcast up and running with Seriously Simple Podcasting.
Note: If you are using the Gutenberg block editor, the plugin will provide three blocks when it is activated. These blocks are:
seriously-simple-podcasting/castos-player

seriously-simple-podcasting/audio-player

seriously-simple-podcasting/podcast-list
2. Setup Seriously Simple Podcasting
At this point, you are on the main settings and configuration page for the WordPress podcast plugin. You can see that there are eight main tabs to go through. These include:
General

Feed Details

Security

Redirection

Publishing

Import

Extensions
Let's go ahead and run through these together. This should give you a pretty good feel for how it all works.
General
The "General" tab has all the main settings and configuration options for the Seriously Simple Podcasting plugin. Choose items like post types, visibility, colors, and a bunch of other options. Fill these out how you want them to be for your podcast.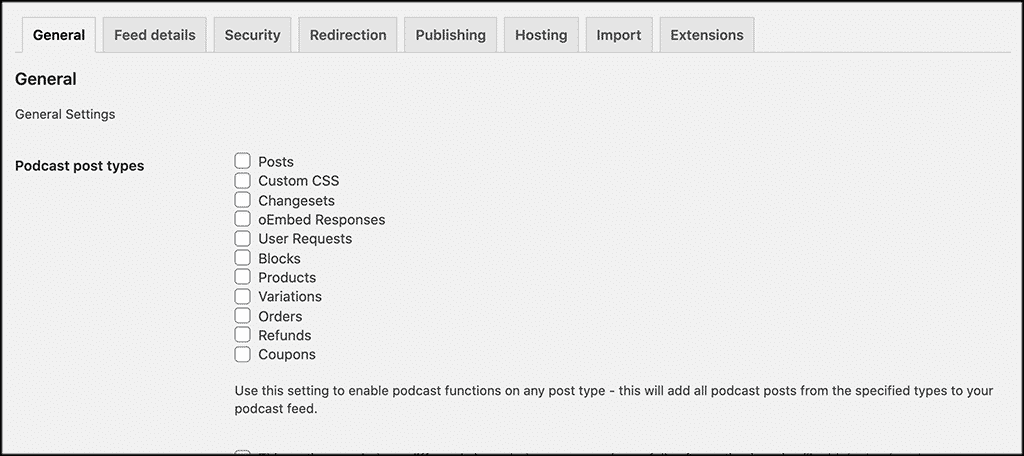 Feed Details
Arguably, this is perhaps the most important tab to set properly and configure. All the data and input you add here is used in the feed for your podcast so your listeners will know more about it before they subscribe.
Surprisingly, a lot of these fields are optional. However, if you want your podcast to show as professional as possible, then fill everything out as best you can.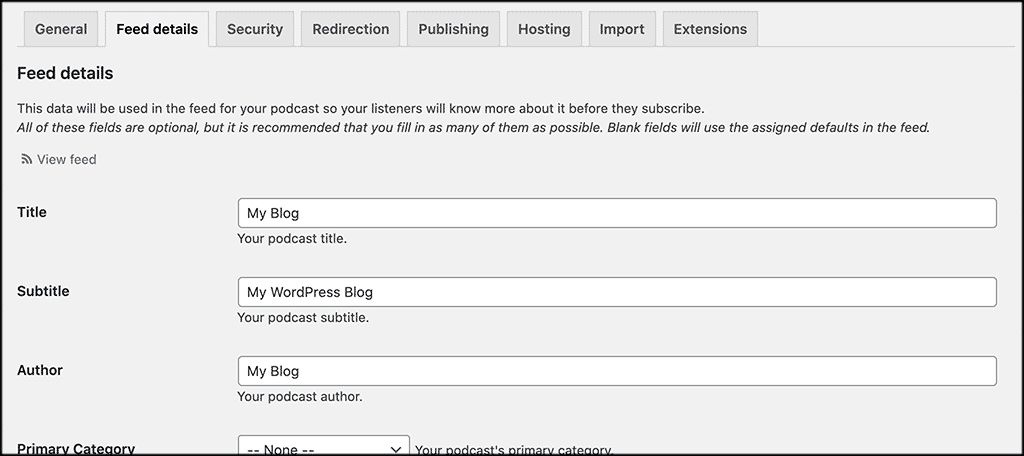 Security
There are several security options available to apply to your podcast. Go ahead and set these in how you see fit.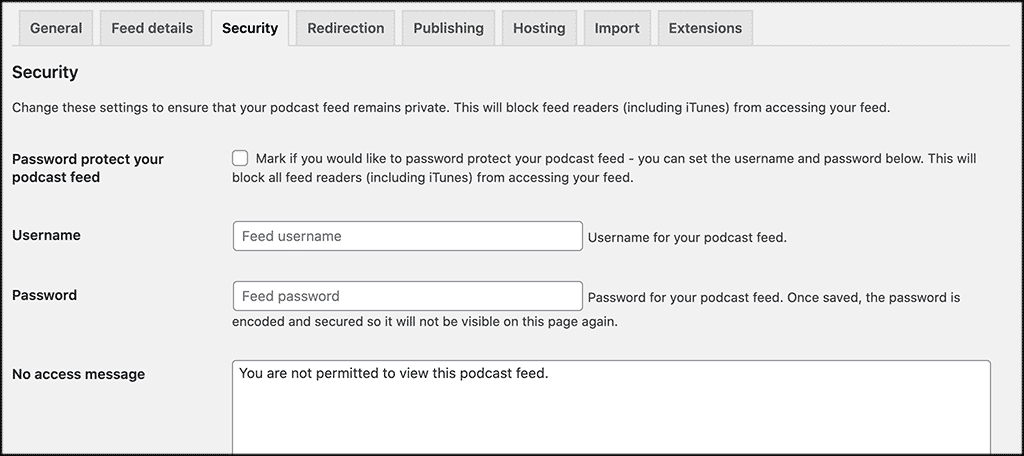 Redirection
If you want or need to move your podcast from a different location, then you will find those applicable settings under this tab.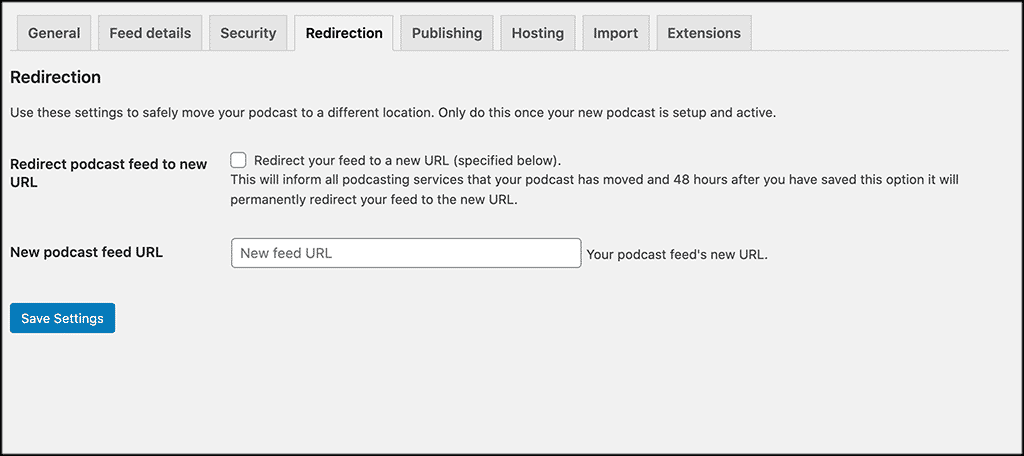 Publishing
Here, under this tab, you see all the publishing options for setup.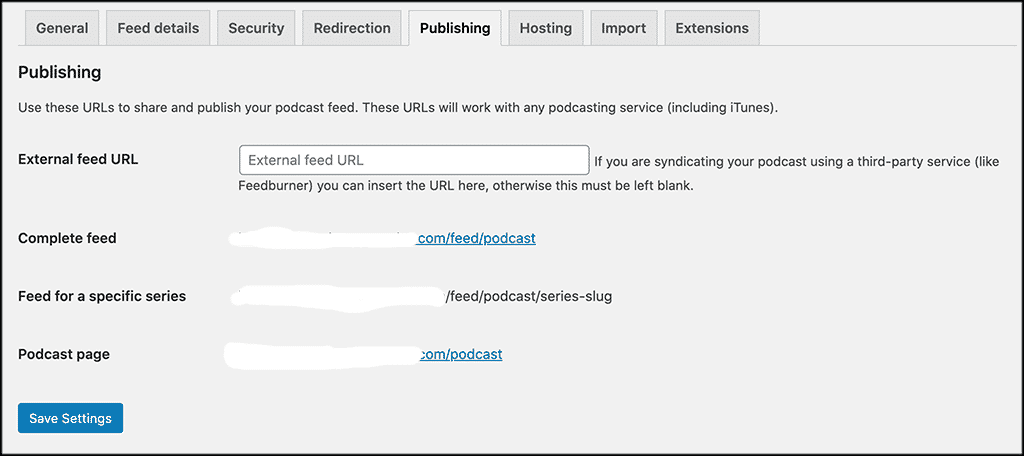 Hosting
If you are using Castos (recommended hosting provider for podcasts using Seriously Simple Podcasting), then you can fill in all of that information under this tab.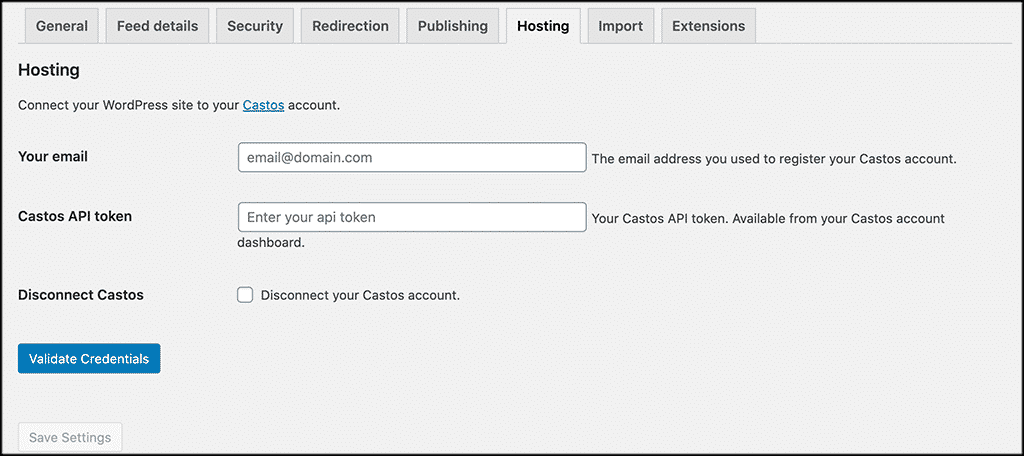 Import
A one-time import option is offered for those wanting to import already existing podcasts into their Castos account and tie them all together. You can do all of that under this tab.
Extensions
Here, you see all the available and recommended extension for the plugin. If you are interested in these, then download and activate them from here.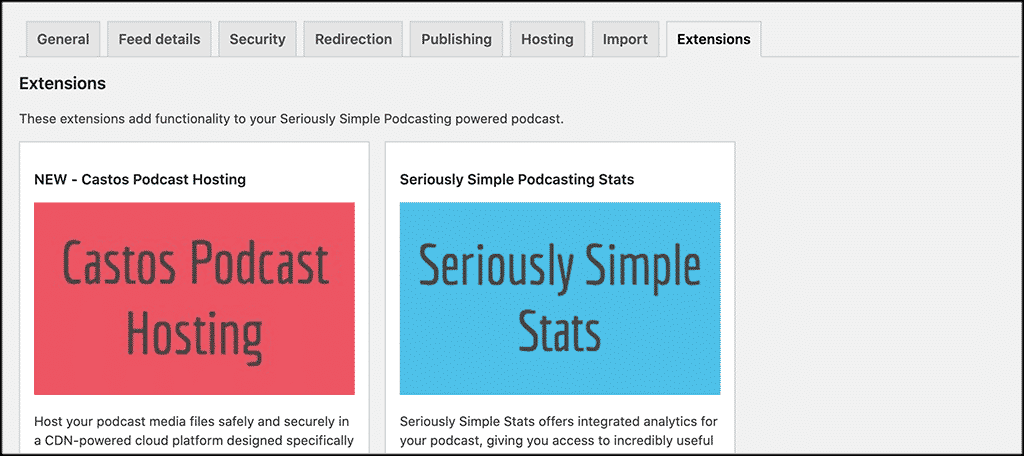 That's it! You have been through all the configurations and settings. Make sure you double-check that everything is saved. At this point, your podcast system is up and running.
Let's add a podcast episode real quick.
3. Add a Podcast Episode
Adding a podcast episode and getting it onto your WordPress site is very simple. Click on the "Add New" link located under the "Podcast" tab in the left menu area of the dashboard.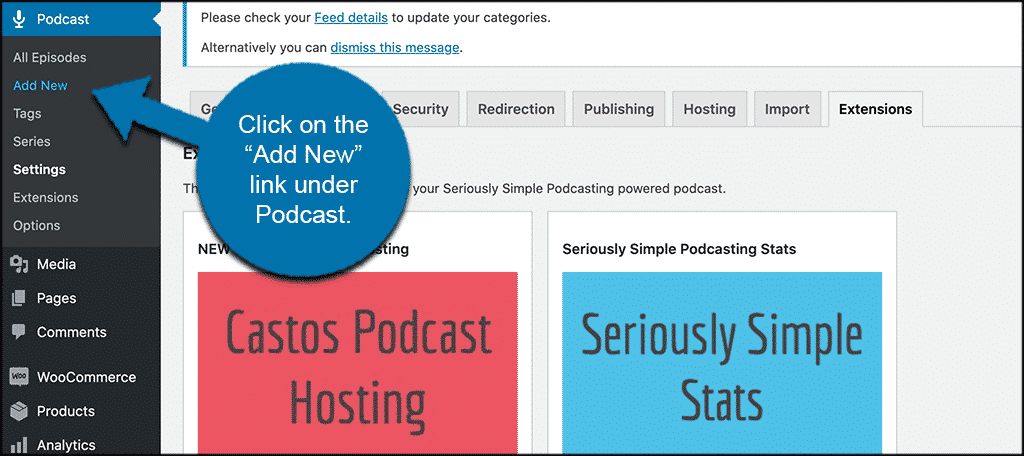 When the add new episode editor comes up, the first thing to do is add a title and some podcast episode info. Go ahead and do that first.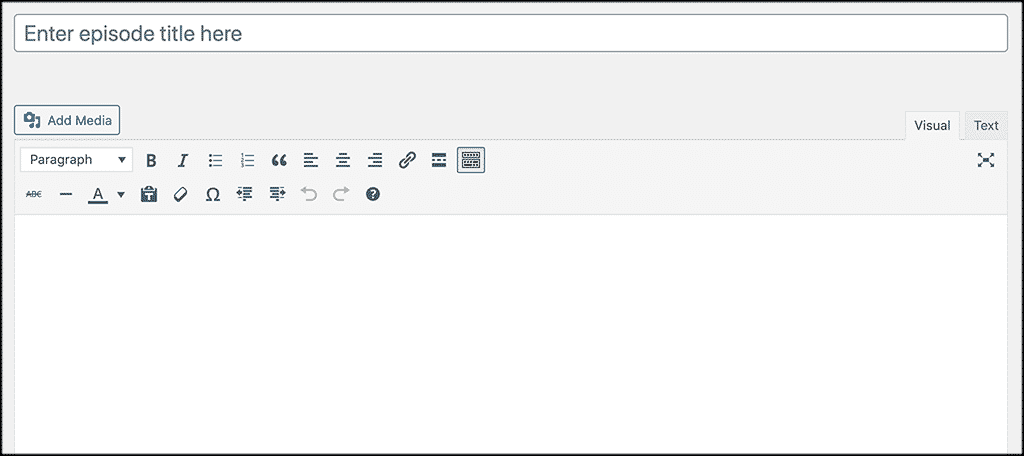 When that is done, scroll down some until you see the "Podcast Episode Details" section. Enter all the relevant details for this particular podcast episode.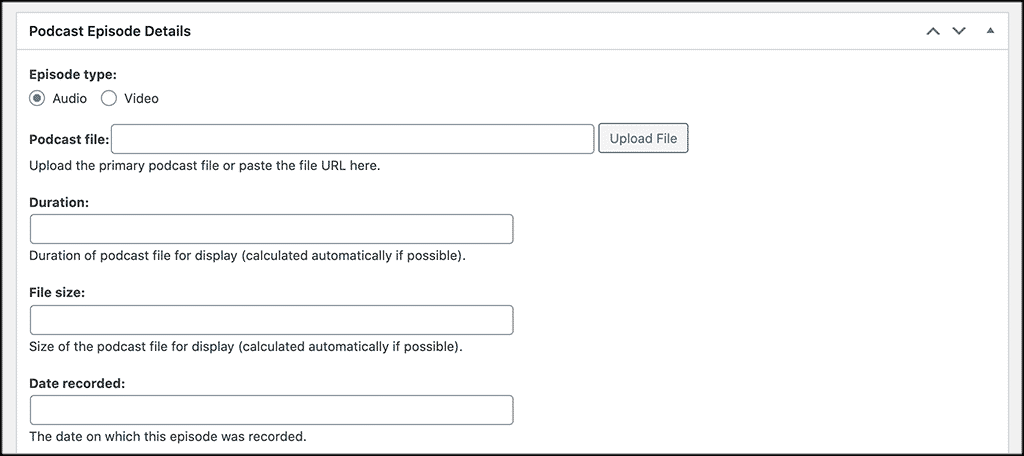 That's it. Publish your podcast episode and it is live with everything else. You can repeat this process and add as many episodes as you want.
Final Thoughts
A plugin like Seriously Simple Podcasting will allow you to build and expand your podcast across your WordPress website. It also makes it available for following and downloading across major platforms.
If you have ever dreamt of building and maintaining a WordPress podcast, then this is the plugin for you. Have fun with it, create, be unique, and start to build an audience. If you keep at it, you will find that you have built a nice little audience in no time at all.
Have you been thinking about starting a podcast and putting it on your website? Is there is a different solution that you are looking at as opposed to Seriously Simple Podcasting?