Avatars have become wildly popular in the world of WordPress, and even further out. Of course, we know that Gravatar is the leader in easy-to-use and automatic avatars showing across profiles. However, there are other alternatives for users who want to use custom Avatars for WordPress without having to use Gravatar.
As you may have noticed over time, there are also WordPress users who do not use Gravatars. When they post comments on your WordPress website there is nothing but a blank icon man left as the avatar that shows. The same can be said for some of your users that you allow to create and write content on your site.
This problem can be resolved if you enable a process that will allow you to show a default user avatar of your choice for WordPress users who do not use Gravatar.
In this tutorial, I will show you how to easily set custom avatars for users who leave comments with no Gravatar. This will also allow you to get rid of Gravatar altogether and speed up your page load time.
What is Gravatar?
Before we look at a solid alternative to Gravatar when using avatars, let me explain to you exactly what Gravatar is.
An "avatar" is a small image that represents you online. It is the little picture you see next to your names and the names of other users when they interact on websites.
Gravatar is simply a "Globally Recognized Avatar." When you create a Gravatar account you upload the picture you want only one time and when you interact with any Gravatar-enabled site, your Gravatar image will automatically follow you and display properly.
Most WordPress sites have this enabled, as it is a free service for site owners, developers, and users. It is automatically included in every WordPress.com account, and is actually run and supported by Automatic.
However, some sites still choose to use alternatives to Gravatar to support avatars when people interact. The following alternative to Gravatar will allow you to use the first letter in the user's name as their avatar for WordPress comments.
Letter Avatars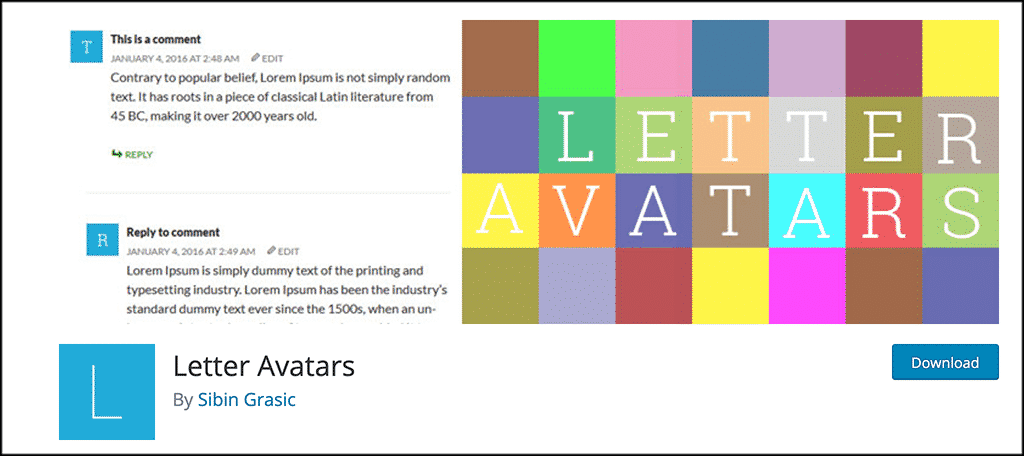 The process of setting a custom WordPress avatar as an alternative to Gravatar can be accomplished by using a great plugin called Letter Avatars.
This plugin sets custom avatars for users without Gravatar. The avatar will be the first letter of the user's name. You can also configure the plugin to use any other letter to set a custom avatar.
Letter Avatars does not use any images, scripts, or font-icons. All letters will be rendered by your theme font (or Optionally via a Google font). Some of the plugin features include:
Works anywhere – Plugin hooks into the pre_get_avatar function, so the avatar size is preserved
Highly customizable – You can change colors, letter font, as well as the font size
Stylish – You can change the background and letter colors or you can randomize them for all the avatars
Lightweight – Plugin does not use any external stylesheet, image, or js files. It only adds a small inline CSS in your header
Highly compatible – You don't have to edit your theme/plugin files, it works automatically and plays nice with other plugins
Works with BuddyPress – Users and groups without gravatar / local avatar will use Letter Avatars
Works with YITH Reviews for WooCommerce – Avatars in reviews support Letter Avatars
Basically, it gives you everything you need to allow custom avatars on your site without having to use Gravatar. it is a fantastic alternative.
Let's take a look at how to install and activate the plugin. Then we will go over the setup and configuration process together.
Install and Activate Plugin
In order to use this as an alternative to gravatar, you first need to install and activate the plugin. You can do this by navigating to the Plugins page in your WordPress admin dashboard.
Simply search the plugin by name and install it right from there.
Once the plugin has been installed and activated, you want to access the main settings and configuration page. To do this, click on Settings > Letter Avatars.
You will find this option located in the left menu area of the dashboard after the plugin has been activated.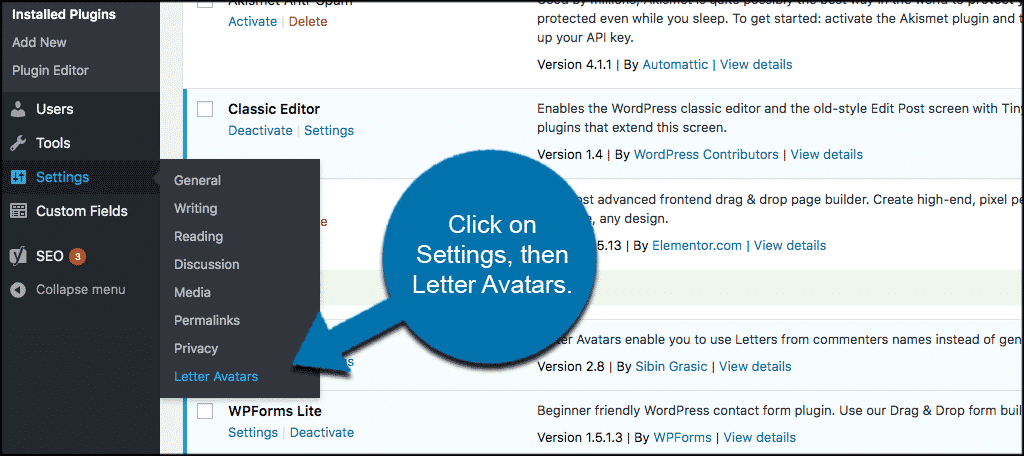 Now that you are on the plugin configuration page you can see that settings and configuration are very easy and straight to the point. Let's take a look at some of the configuration options.
Set Custom Avatars for WordPress Users
At the very top of the plugin configuration page, you will see the "Use Gravatar" checkbox. You can check this box so that the plugin knows to use a user's Gravatar if they do indeed have one. Go ahead and make the choice you prefer.
You then run into some simple style options that include:
Font Style
Avatar Shape
Randomize Colors
Background Color
Font Color
Set all of these options to your liking.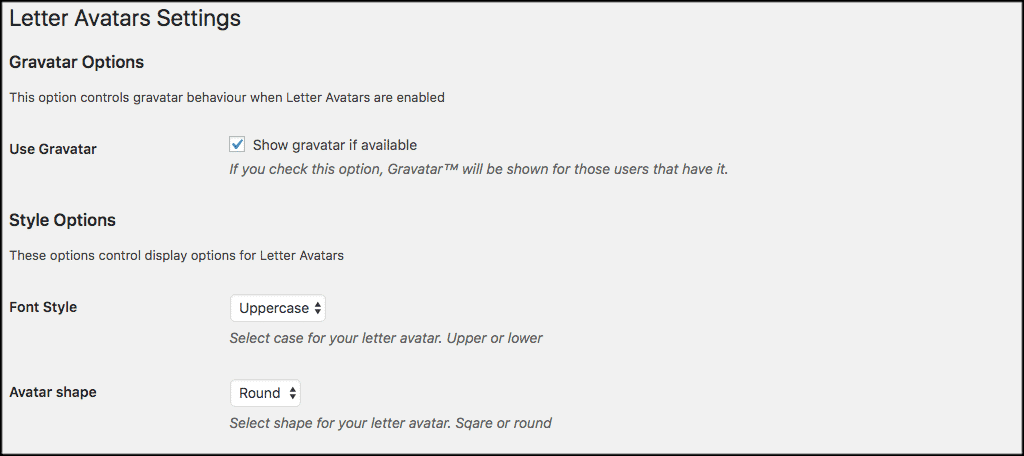 Then we see the Google Fonts options that are available. Those include:
Load Fonts
Load CSS
Font Family
Font Size
Again, set these options to your liking, and then don't forget to click on the "Save Changes" button to make sure your configuration options are applied.
That's it! You can now visit the front end of your website to see the plugin in action. You will see that any comments that have been made by users with no Gravatar now have an avatar based on what you set up through the plugin.
Why Are Avatars Important?
This is actually a good question. For one thing, having an avatar lets others know that you are not a bot and are someone real that they can interact with. Oftentimes, you see random comments from people with no avatars. These are usually bots trying to spam a comment section with links.
That aside, perhaps the most important aspect of an avatar is the fact that it acts as branding for you. It is basically a graphical representation of a user.
An avatar helps to brand you, as well as make a site more credible because it shows a more accurate representation of someone, instead of showing some random, default icon.
Since millions of avatars are shown billions of times a day across the Internet, having an avatar next to your name will help you stand out, look more professional, and can help your site gain more traffic.
Final Thoughts
As is the case with most everything involving WordPress, you do have different options available to you. Despite the fact that gravatar is globally recognized, some websites and some users simply don't use it. The reasons behind this can be different based on the situation.
That being said, the Letter Avatars plugin gives you a smooth, clean, fun alternative to gravatar when and if you need it. This will allow you to have a little more freedom on avatars and how they are used, without having to rely on gravatar.
I hope this article showed you an easy way to clean up your user avatars when a WordPress user does not have a Gravatar. It is a great way to create custom avatars for WordPress.
Have you tried this plugin before? Do you like the changes or do you prefer to just leave the blank Gravatar icon in place?