One of the ways to make a website more engaging is by showing off the authors who contribute. This gives the site a more personal feel, boosts engagement and makes writers feel appreciated. So, why not show all authors as a list in WordPress?
Whether it's a dedicated page or a widget in the sidebar, letting visitors know who helps create your content can go a long way to connect with everyone.
In this tutorial, I'll show you how to create an authors page in WordPress or as a sidebar widget.
Benefits to Show All Authors as a List in WordPress
Whether you have a handful of contributors or a run a multi-author site, showing them off to the world comes with many benefits. The method I'll show you in a moment makes this process very easy to manage.
This goes beyond including an author photo and a bio display.
While adding the author bio box to content will go a long way to creating engagement, showing all of your contributors can take it even further.
A few ways creating a WordPress author list page benefits the site include:
Recognition
Your writers work hard to make your website shine. Showing them off in some form provides recognition. This helps encourage greater productivity as the author may feel a sense of pride.
Encourages Engagement
Many visitors like the idea of knowing the inner workings of any brand. It helps bring a more personal feel to the website and makes them feel like they're "in the loop." And keep in mind many visitors follow specific authors as they become fans.
Helps Promote Trust in the Brand
By giving the website a face of who creates the content, you're inspiring trust from visitors. This works to boost the online reputation and improve relations between the brand and those readers.
Using Author Avatars List
Today, I'll show a bit of what Author Avatars List can do for you in WordPress. It's an easy tool that gives you a variety of custom options, an author widget, and shortcodes to create an amazing author list page.
It also supports using social network plugins like Ultimate Member and BuddyPress.
Install and activate, "Author Avatars List."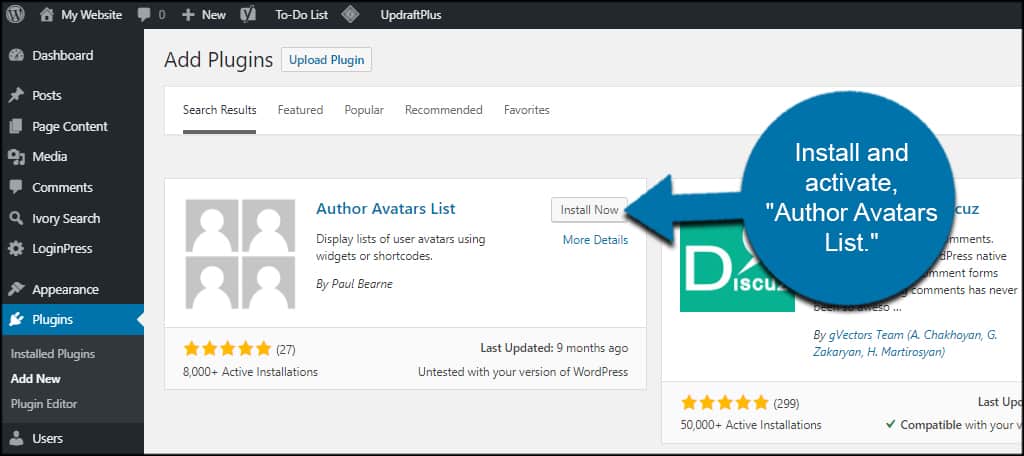 You don't have settings to configure. The plugin adds a new function to the WordPress editor as well as a new widget.
While you can add the author avatars to posts and pages, we're going to make a landing page for your authors.
Go to Pages and click, "Add New."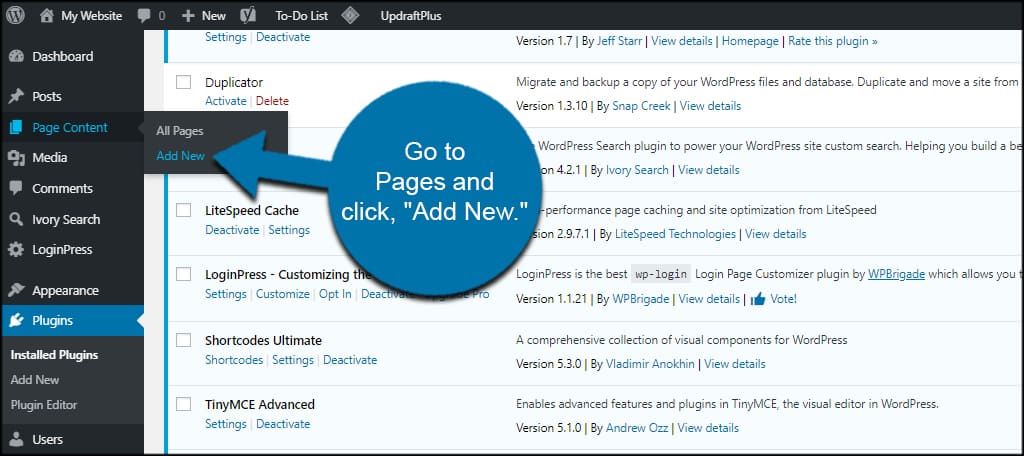 Insert the cursor anywhere on the page and click the "authoravatars" icon.
In this screen, you can choose between a single author or a list of users. You might already have the list selected by default. If not, click the "List of Users" radio button.
Select the options you want to display. This includes custom user roles, what information to show and a link you want visitors to use should they click.
NOTE: You can use the "Advanced" button to make adjustments like sorting order, maximum number of authors to show and hiding or whitelisting users.
After making your adjustments, click the "Insert" button.
You can see the shortcode is created for you in the page.
After you publish or update the page, the author list will be available for all to see.
If you're using the Gutenberg editor, you can add this by using the shortcode block:[ht_message mstyle="info" title="" show_icon="" id="" class="" style="" ][authoravatars][/ht_message]
You will have to style the shortcode yourself with the list of parameters you can use. There are a few other plugins that will also give you the TinyMCE editor as well as the buttons in certain blocks.
Otherwise, it might be easier to just use the sidebar widget with Gutenberg.
Using a Sidebar Widget
The sidebar widget with this WordPress authors plugin comes with similar options to that of the shortcode generator above.
Go to Appearance and click, "Widgets."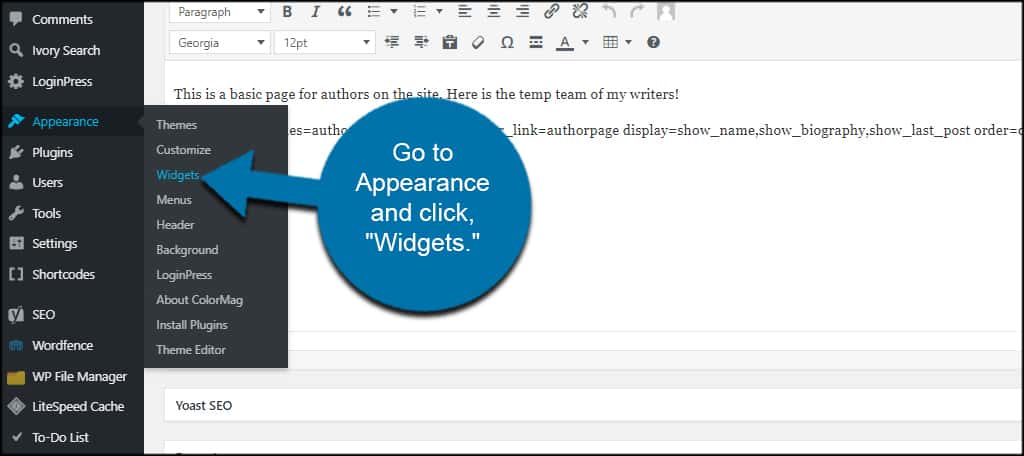 Drag and drop the Author Avatars widget into the sidebar where you want it to show.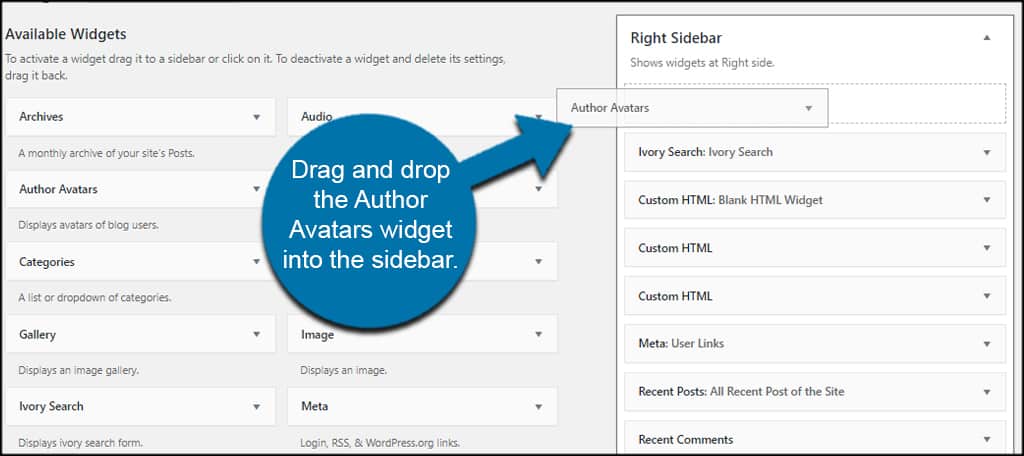 Choose what information you wish to share. This includes roles, author information as well as advanced settings for sorting and other adjustments.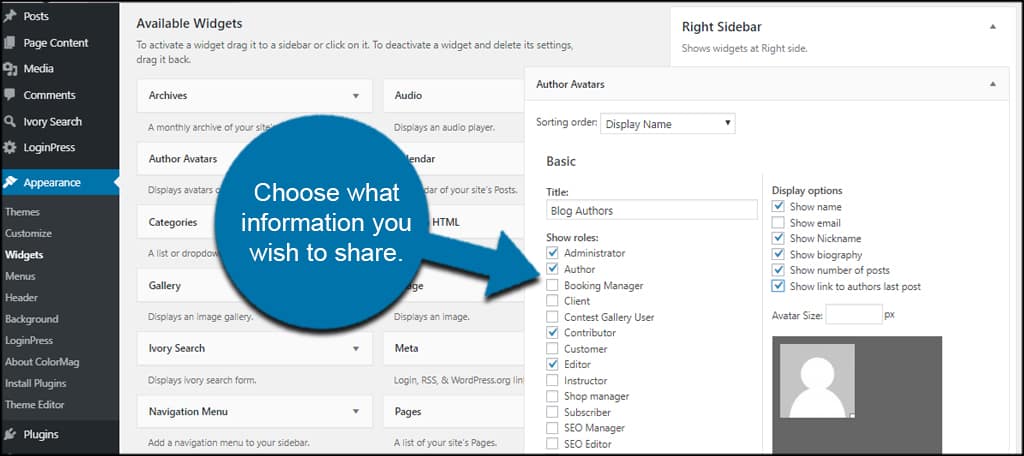 Note: Currently, the widget does not let you choose a single author. It will only display a list according to the roles you select.
When you're done fine-tuning the author avatars list, click the "Save" button for the widget.
Inspire Your Writers by Promoting Them
Everyone loves recognition for hard work. And creating a WordPress author list page or using a widget can help them feel proud of what they contribute. Inspire trust within your writers as well as the visitors by promoting author bios.
It may help your brand build a stronger fan base.
How do you show of author bios on your website? What plugins are your favorite when it comes to team management or promotion?