WordPress comes with the ability to automatically create RSS feeds. It also comes with the capacity to pull feeds from other websites. However, you can do more than simply show RSS feeds using a sidebar widget. For instance, using the WP RSS Aggregator plugin opens the doors to what you can do on your site.
Showing the RSS feeds of others does two primary things: a) offers additional content to visitors, and b) shows support for those outlets. In fact, you may even set up an exchange with other site owners to show each others feeds.
In this tutorial, I'm going to show you how to use WP RSS Aggregator. It's a feed-to-post plugin available for WordPress. It's an exceptionally useful tool especially if you want to offer a consistent flow of content on your website.
While it may not maximize your own RSS feed, it's helpful when pulling content from other sources.
Setting Up WP RSS Aggregator
Today, I am demonstrating WP RSS Aggregator. It comes with a variety of tools to optimize how to import and execute custom RSS feeds from your WordPress website.
Install and activate the WP RSS Aggregator plugin.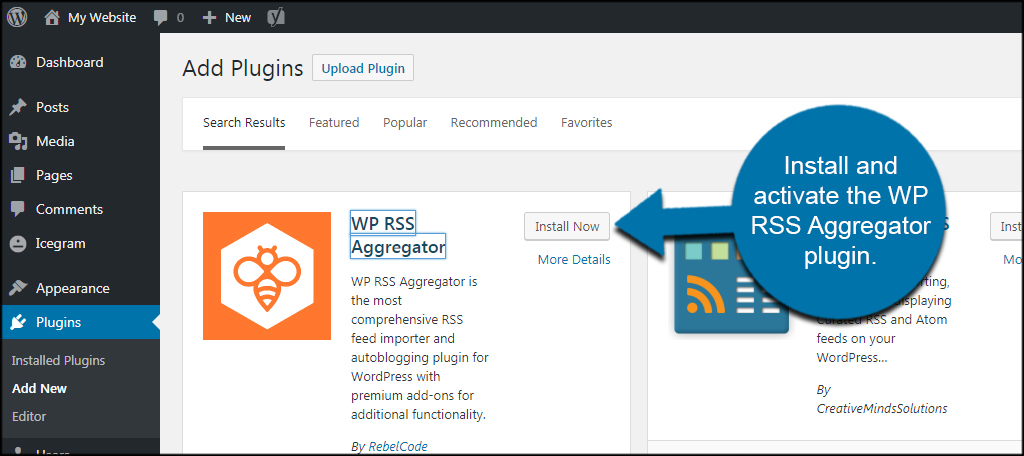 After activating the tool, you will see a welcome screen. It probably wouldn't hurt to check out the add-ons you can use with this plugin. For now, go to RSS Aggregator on the left and click, "Add New."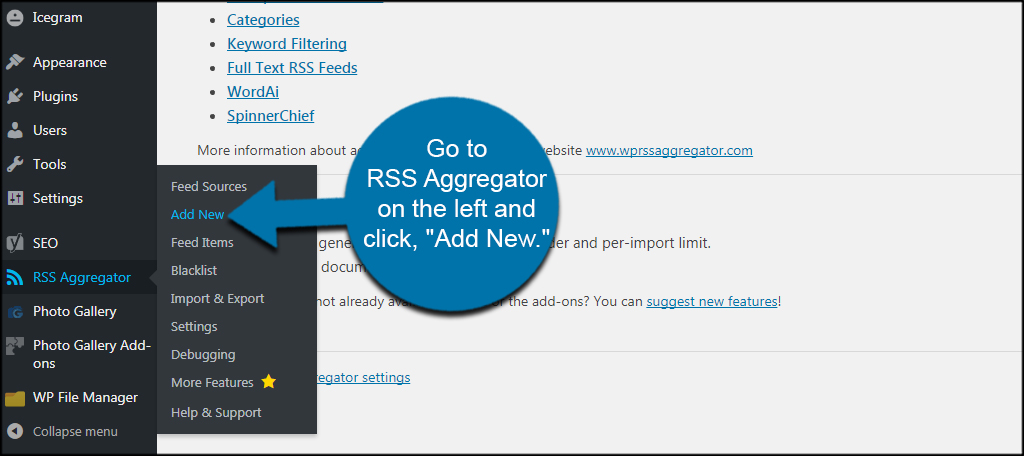 Input a name for the feed that you want to include on your site.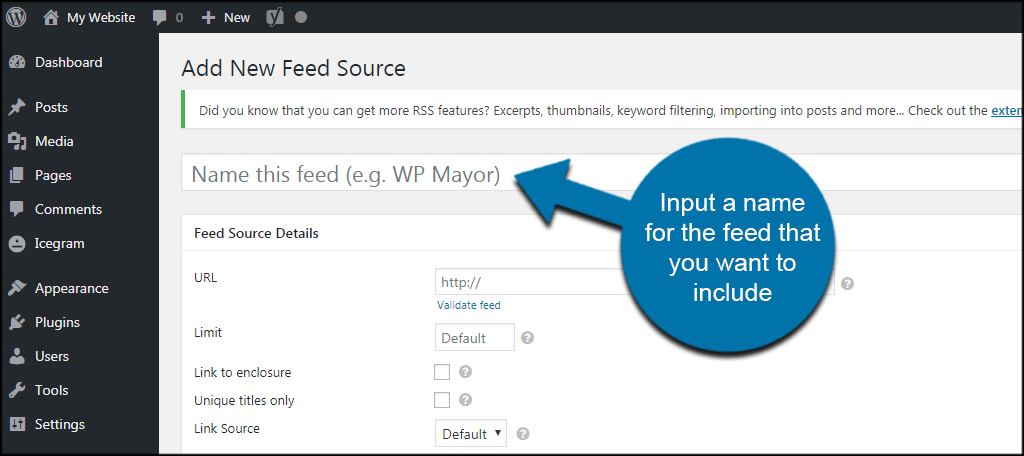 Input the feed source details such as URL, links and other data. For example, I'm going to use our own tutorial feed.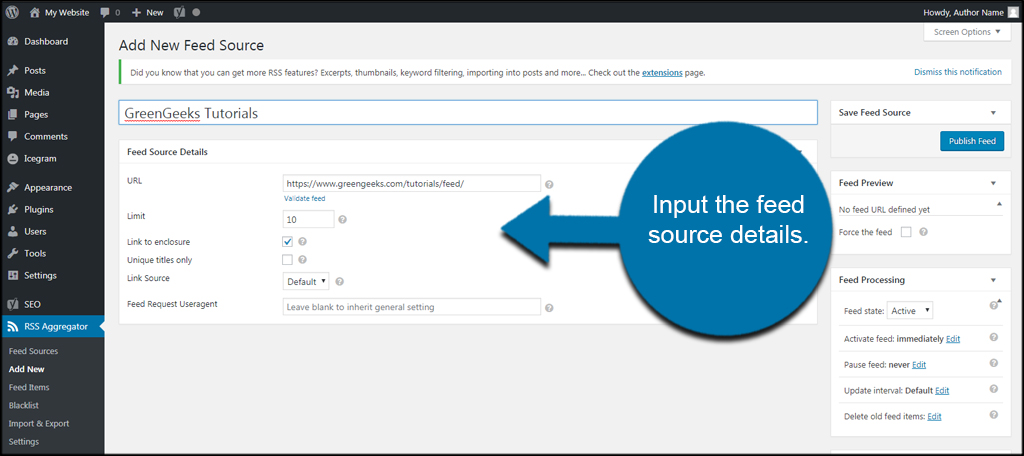 Once you're done, click the "Publish Feed" button on the top right.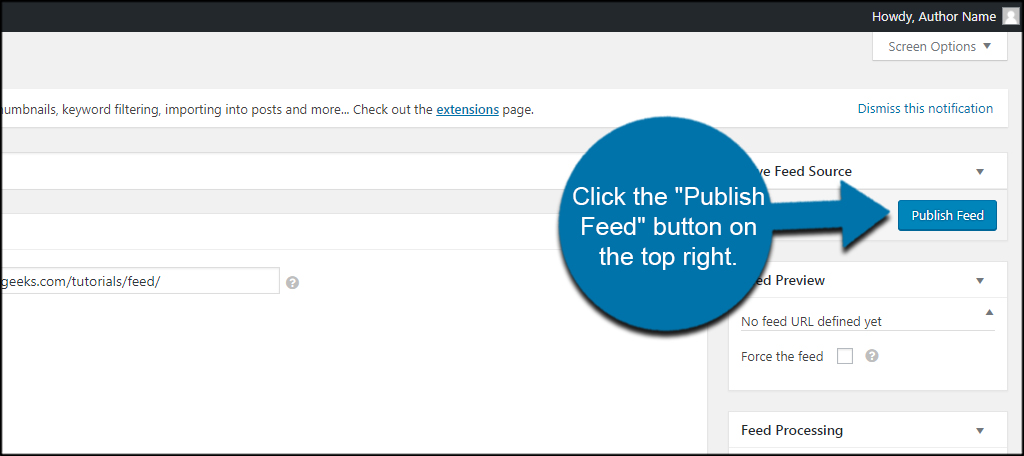 Now, anywhere you add the shortcode from WP RSS Aggregator, you will show the feed from the desired site. The shortcode is useful for posts, pages and using the Text widget in a sidebar.
For future reference, the shortcode is "[wp-rss-aggregator]".
You can also change some of the more advanced options for the feed. These include pausing, activating the feed, deleting old items and more. This is located in the Feed Processing window of your source screen.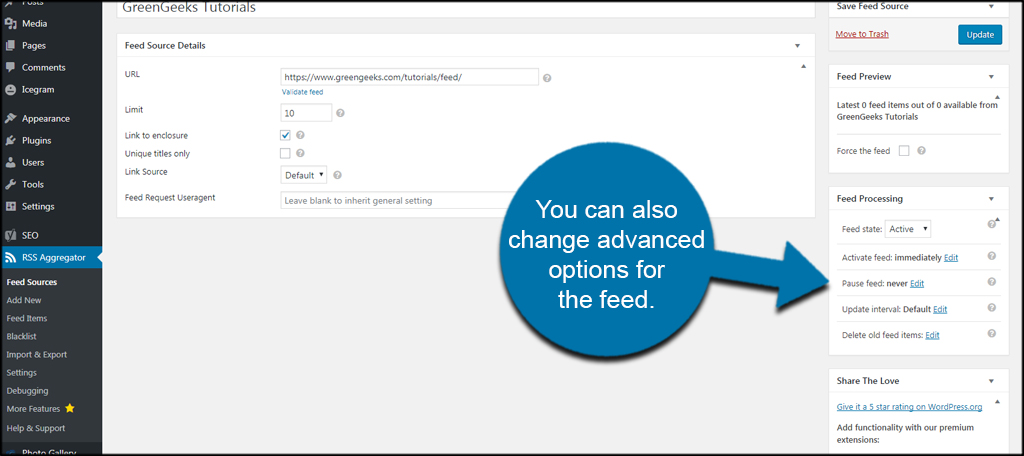 Showing Excerpts and Thumbnails from Feeds
The above is a free function of the WP RSS Aggregator. However, showing excerpts and thumbnails is something for which you need to buy the premium version to accomplish. Because the developer sells most of the features separately, it can get pretty expensive to add all of them.
On the other hand, some of the features may offer more to the experience for visitors. Which, in turn, may improve how people view and interact with your site.
Should you choose to pay for the feature and offer excerpts and thumbnails to the RSS feed, it's easy to activate. In the settings screen, you'll see new tabs available for both "Excerpts" and "Thumbnails" to modify these options.
Adding Feed to Post
Unfortunately, the feed to post function for WP RSS Aggregator is not free. And once you purchase it, the add-on will disable the Excerpts and Thumbnails feature because they are not compatible.
The trade-off, however, is the ability to pull content directly from RSS feeds and turn them into posts on your website. This is excellent for creating curation websites or perhaps a news outlet.
The add-on does come with a lot of useful options such as saving content as drafts, using custom post types, labeling authors and much more. The developer even claims you can aggregate videos from YouTube and Vimeo.
These options are in the Settings area of RSS Aggregator once you pay for the premium add-on.
Engage Your Visitors
Showing an RSS feed from other sites is only one of many ways to engage your guests. It gives the sense of an active website especially if the source actively creates content. In reality, there is so much you can do with RSS ranging from creating content to marketing.
How do you keep your visitors coming back to your website? How often do you utilize RSS tools like the one I demonstrated above?