Social sharing is an important part of online activity in today's world. Not only is it often engaging for users, but it also helps boost traffic by making others aware of your content. Adding floating share buttons on a sidebar in WordPress can help make this happen.
This is a tool that includes the most popular sites giving people a way to distribute your content. And when it floats, it stays with the user when he or she scrolls down your page.
Are Social Sharing Buttons Important?
The short answer, yes, social sharing buttons are extremely important. Think of it as a way to boost your social media marketing toolkit. And it doesn't really take much from you to set it up.
They provide you a way to get content out to the masses, as well as a way to market your site and content for free. Remember, social sharing and word of mouth are both important when it comes to building a website.
In this tutorial, I'll show you how to add one of these social media sharing floating sidebars in WordPress. It's not overly complicated, and it's one of those things you can simply set and forget.
Let's take a look at the plugin we are going to use today and see what all it has to offer.
AddToAny Share Buttons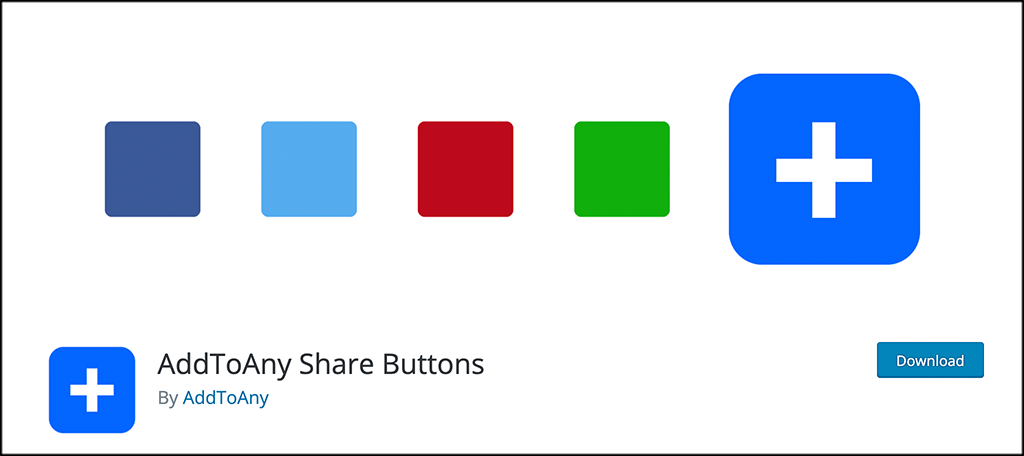 AddToAny Share Buttons is a smooth sharing plugin for WordPress that can help you increase overall site traffic and engagement when users share and interact with your posts.
The plugin allows users to share to all of the most popular social services. These include Facebook, Twitter, Pinterest, WhatsApp, LinkedIn, Tumblr, Reddit, WeChat, and over 100 more sharing and social media sites and apps. Honestly, this has arguably the most available shareable sites and apps of any social plugin around.
It is a universal sharing plugin that can be added to multiple spots on your site. It comes loaded with great tools and features as well. Some of them include:
Share Buttons
Counters
Follows
Images
Vectors
Custom Share Icons
Custom Placement and Appearance
Before Content Placement
After Content Placement
Sidebar Floating Placement
Analytics Integration
WordPress optimized
Mobile-Optimized
Retina Ready
Very Customizable
Excellent Support
You will be hard-pressed to find a better social media sharing platform than this one.
Let's get it installed and running together so that you can add floating share buttons to your WordPress website.
Note: Surprisingly enough, there is not a pro version of this plugin. The free version is open source and gives you everything imaginable to properly add sharing buttons and a social sharing floating bar to your website.
Add a Floating Social Sidebar to Your Website
Step 1: Install and Activate the Plugin
Before you can add a floating social sidebar to your site, you first need to install and activate the plugin. You can do this by jumping over to the Plugins page inside the WordPress admin dashboard.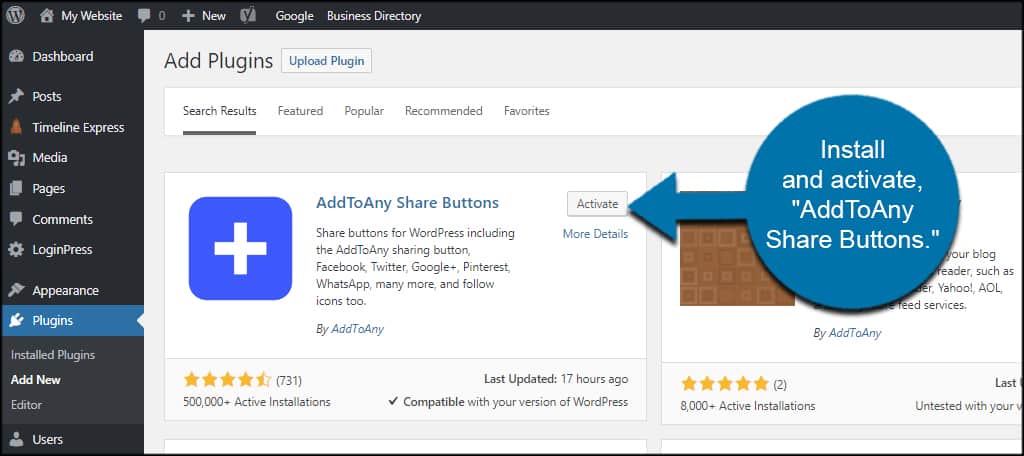 Once you get there, use the available search field to search the plugin by name. When you see it pop up, install and activate it right from there.
Step 2: Go to Settings Page
Now that the plugin is installed and activated, you want to make your way to the main settings page for it. To get there, click on Settings > AddToAny, located on the left side menu area of the plugin.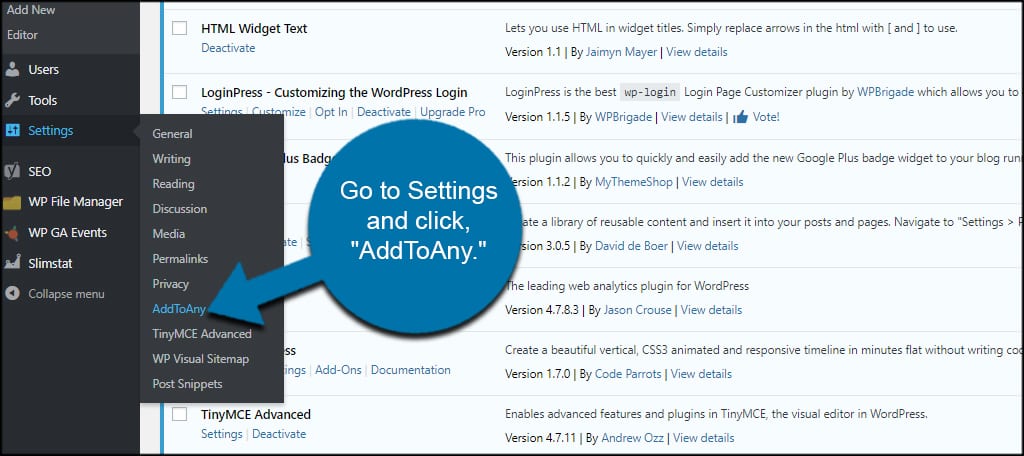 You can see that this option is now available because you successfully installed and activated the plugin.
Step 3: Configure the Plugin
On this screen, you can modify how your icons appear on the website. You have control over sizes, an extensive list of social sites to add, where the buttons are placed, and more. You will see two main tabs, standard and floating.
Standard
Add your own CSS to the tool if you want to further customize the experience.
Spend some time configuring the standard options first. It's worth the effort to make everything look just right for your website.
When you are finished with all of those settings, go ahead and click on the "Floating" tab. We need to set up the floating social configurations to be used.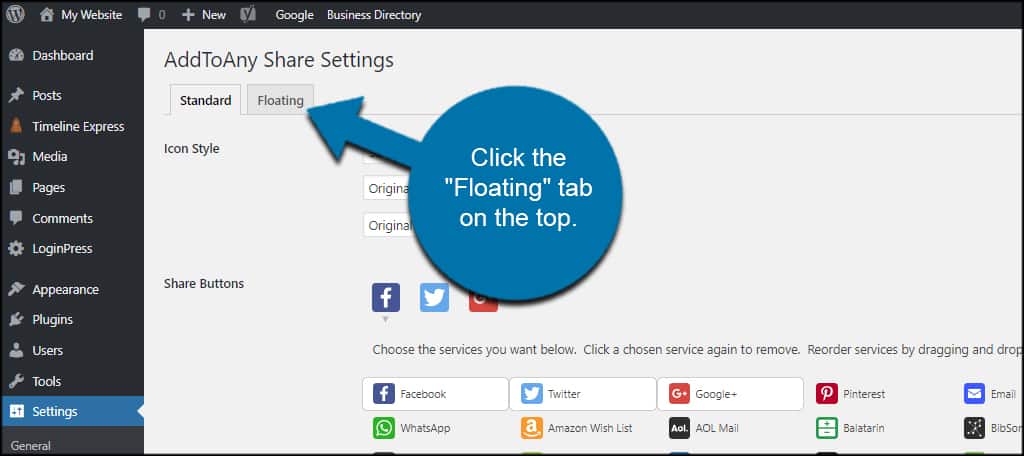 Floating
By default, floating is disabled in AddToAny. Choose where you want the buttons to appear by clicking a radio button under, "Placement."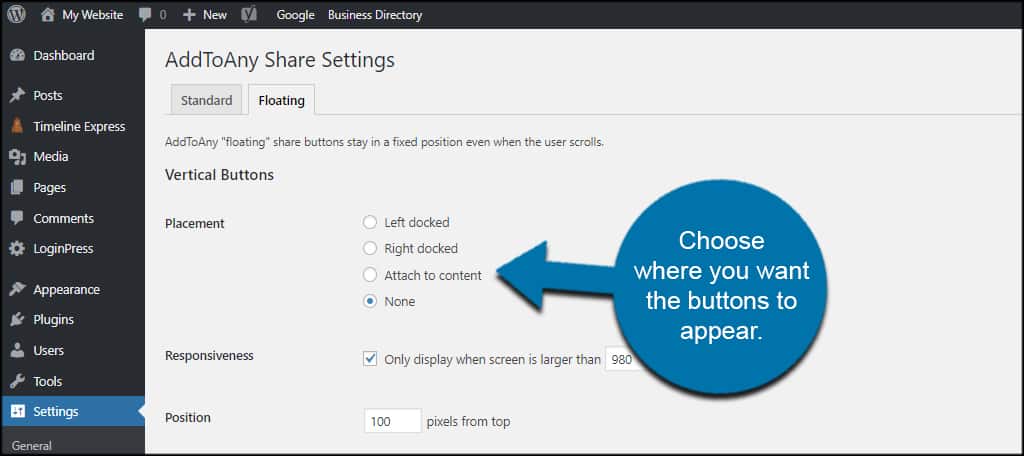 You can decide whether you want vertical, horizontal, or both types of buttons. For this tutorial, I'm just going to set the vertical buttons on the right.
Select the rest of your options regarding how you want them to appear. This includes things like responsiveness settings, position, background colors, icon size, and more.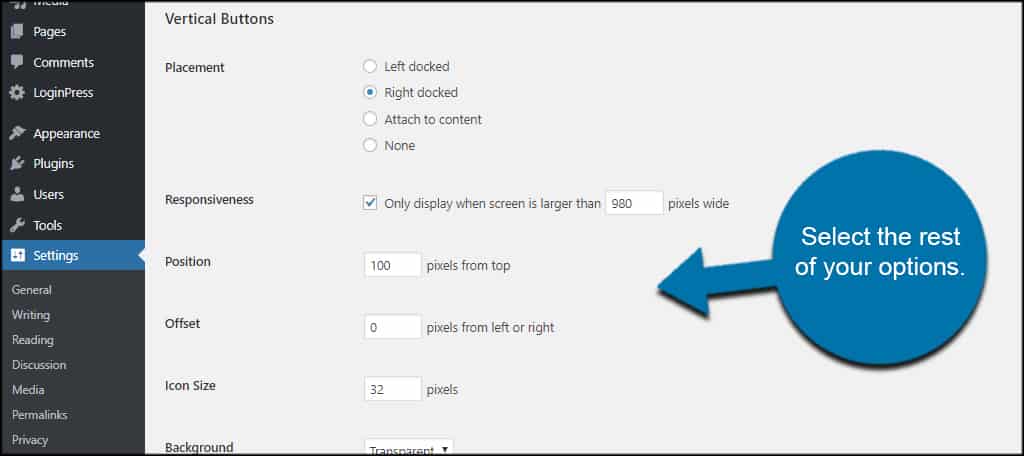 After making your adjustments, click the "Save Changes" button on the bottom.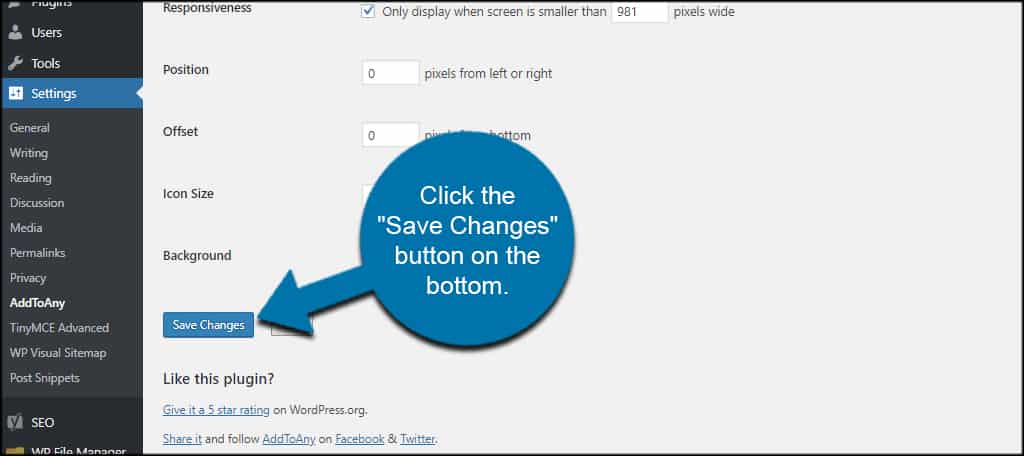 Step 4: View Your Floating Share Buttons on the Live Site
Your floating WordPress share buttons will now appear on your site. Go ahead and go check them out.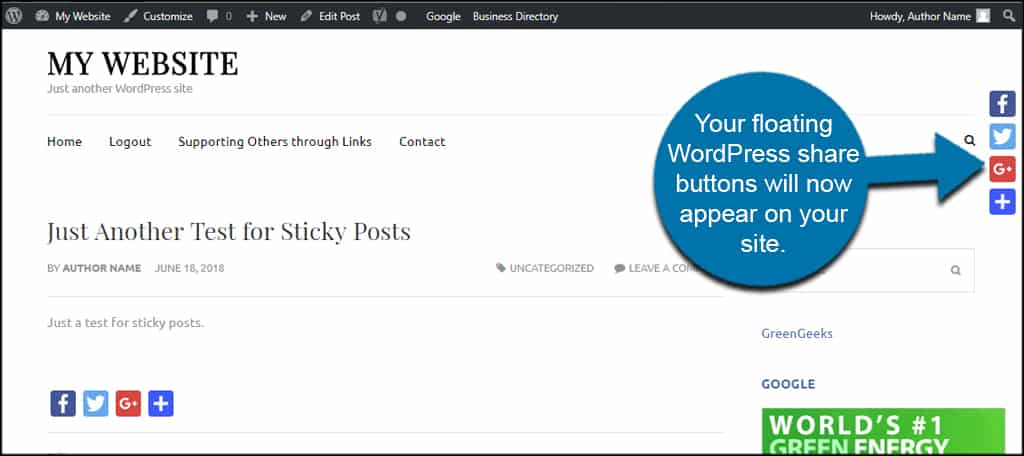 If you need to make any type of adjustments, then simply go back to the main settings page and adjust whatever you need to make the plugin work right for you.
That's it! You should have floating share buttons now working on your site.
Other Plugins to Consider
While AddToAny is a favorite among many, it's not the only quality WordPress social media plugin available. Here are a few more that may pique your interest when it comes to engaging the audience.
Social Media Share Buttons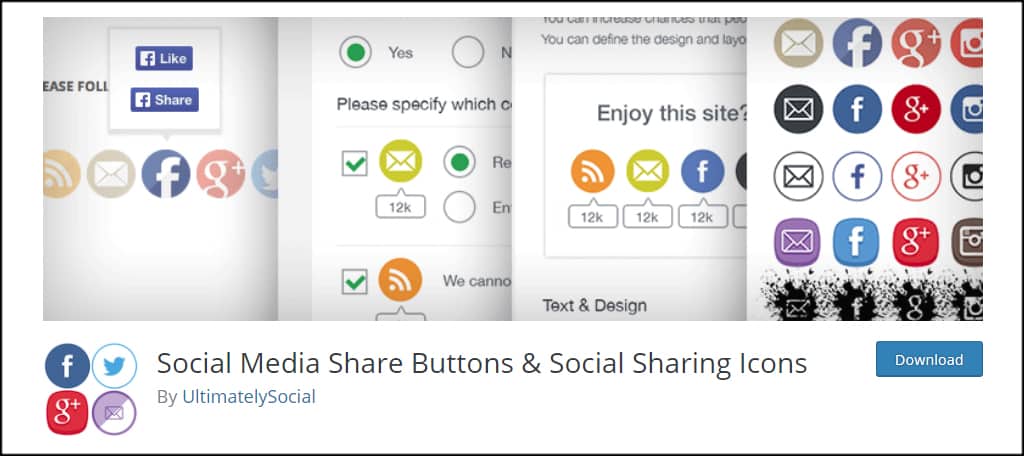 Social Media Share Buttons & Social Sharing Icons is another popular plugin with options for customization. Not only can you deliver a floating social bar in WordPress, but you can also make them "sticky." It works the same as sticky posts in WordPress by keeping the share buttons readily available.
Social Share Icons
Social Share Icons & Social Share Buttons is similar to the plugin above. It handles floating as well as using widgets and shortcodes. It is built with a variety of features including animations and share counts. You can also display a pop-up as a call to action to share or follow your content.
Super Socializer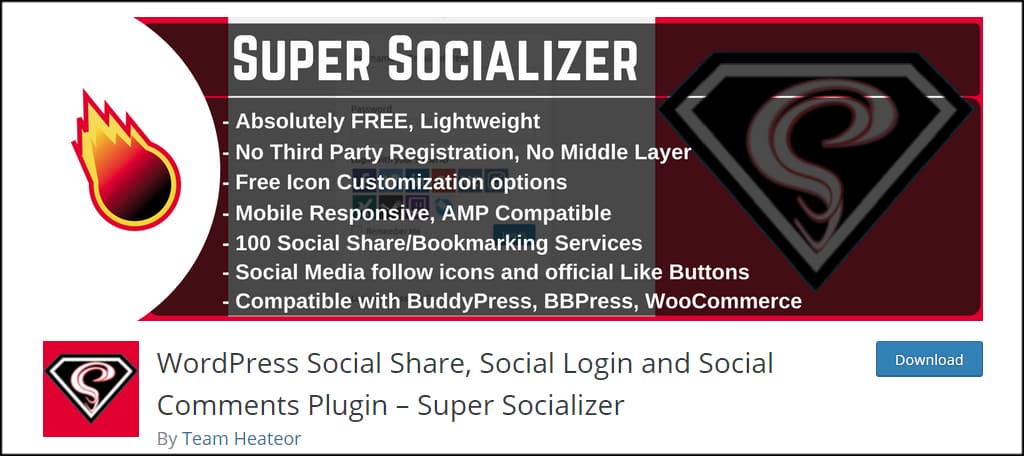 Super Socializer gives you floating options as well as icon customization. This means you can create your own images to use on your site. It adds a bit of flare by giving the site a sense of individuality. Like the others, Super Socializer also includes widgets and shortcodes in addition to floating social bars.
Most social sharing plugins are quick and easy to set up. In literally minutes, you can allow users to distribute your content.
This, in essence, turns your visitors into your own micro-marketing group. It's all about getting your site attention, and letting people share the content does just that. Once you start getting your content shared across multiple platforms, you will definitely see a bump in website traffic.
Final Thoughts
The importance of social sharing cannot be overstated. In the world we live in today, it is important that your content gets shared. Not only will this get more people interested in what you are saying, but it also helps with overall website traffic.
As you can see above, there are a lot of really great social media sharing plugins available to help you get floating social buttons on your website.
What is the most successful way to market your website? How often do you notice others sharing links to your site on social media?