Do you want to prevent spam bots from registering on your membership site? Spam registration can inflate your numbers and make it look like your website is doing better than it actually is. While this may sound like a good thing for membership sites, it is not.
Websites that do not realize that they have a lot of spam registration may think about expanding. Expanding under a false notion of growth could have serious financial consequences. For this reason, it is important to prevent spam registration on WordPress membership sites,
Today, I will demonstrate how to prevent spam registration in WordPress membership sites by using the Stop Spammers plugin.
Why Prevent Spam Bots From Registering on Membership Sites
The main reason it is so important to block spam registrations is that they give you false website statistics.
Imagine you see a 20% increase in new accounts registered. You probably are on the verge of a heart attack and are rushing to make plans to expand your operations, but what you should be doing is checking if they are spambots.
Spam in WordPress is never a good thing and there are always ways to prevent it. Unfortunately, a lot of these ways tend to impact users in small ways.
For example, one of the best spam blockers is CAPTCHA, however, this also affects users. It may seem insignificant to ask your registered users to have to enter a few letters, solve a math problem, or select some pictures, but all this takes time and nobody wants to waste time.
Another concern is that these spambots may begin flooding your comment section or forums with incoherent words, advertisements, or profanity. This can ruin the experience for real members that are expecting a better experience.
Luckily, blocking spambots is not that hard.
How to Prevent Spam Bots From Registering in WordPress Membership Sites
Step 1: Install Stop Spammers
The Stop Spammers plugin is extremely easy to use and utilizes powerful spam prevention techniques to guard your website. The tool even provides options to block entire counties from accessing your website.
It is fully compatible with Akismet and works in conjunction with it. All you will need to do is install it and select what the plugin will do with a few easy selections.
Note: Before you begin, it is important to note that this plugin is not compatible with the Jetpack Protect feature. You will need to deactivate Jetpack Protect or the plugin will not work, but the rest of Jetpack is compatible.
Begin by clicking on Plugins and selecting the Add New option on the left-hand admin panel.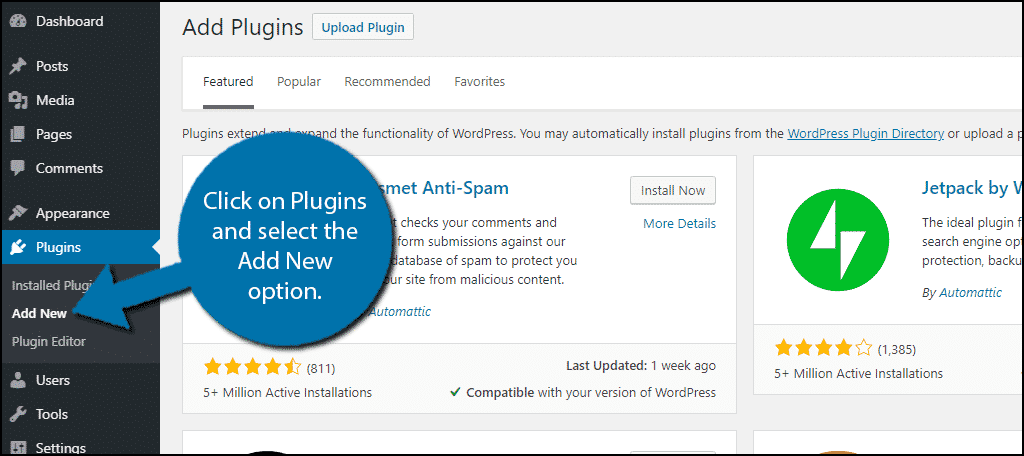 Search for Stop Spammers in the available search box. This will pull up additional plugins that you may find helpful.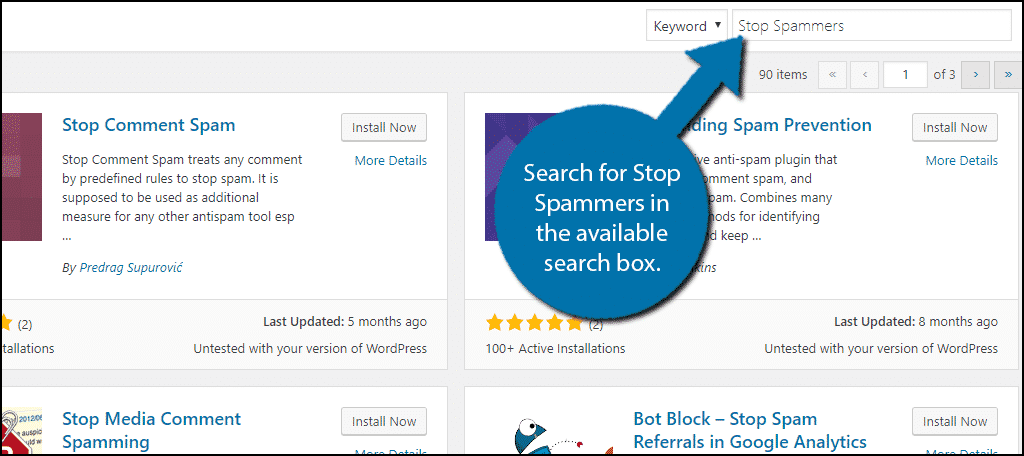 Scroll down until you find the Stop Spammers plugin and click on the "Install Now" button and activate the plugin for use.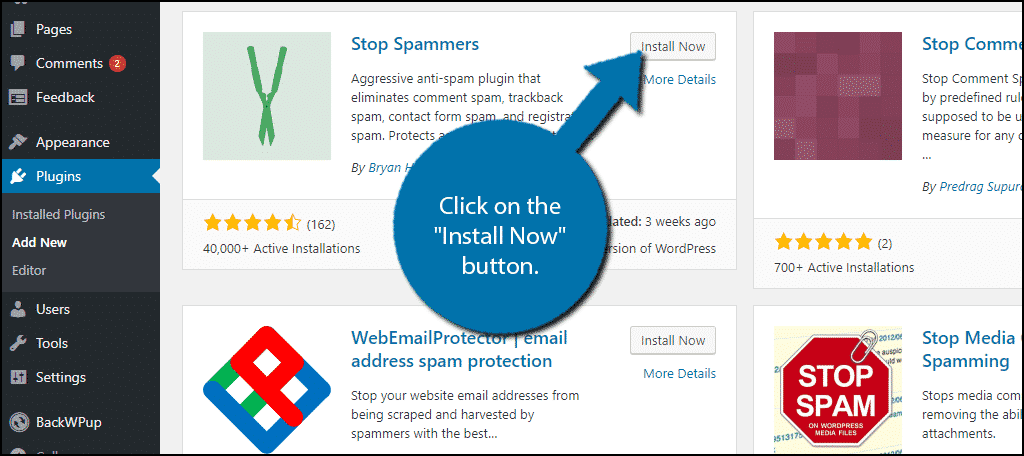 Step 2: Configure the Settings
This plugin has a lot of customization options to choose from. The default option will most likely be enough for your website, but you can definitely fine-tune what the plugin does and doesn't do to block spam. This is all done within the plugin's settings.
On the left-hand admin panel click on Stop Spammers and select the Protection Options option. This will pull up the main settings page. If you did not disable Jetpack Protect, you would see a message indicating that you must disable it to use the plugin.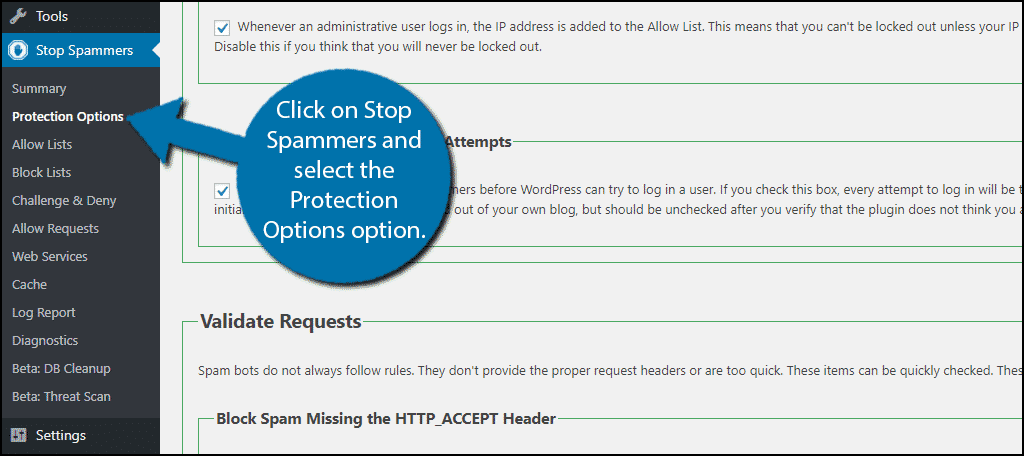 The settings consist of a list of sliders that you can use to either enable or disable a feature. While the default settings will work well for most websites, you are free to change them. However, since we are dealing with a membership site, make sure to enable the Members-only Mode.
This setting will require users to be logged in to view the website. You may also want to enable the Form Checking option if you use custom form types.
Go through this page and read what each setting does and select which ones you want to use.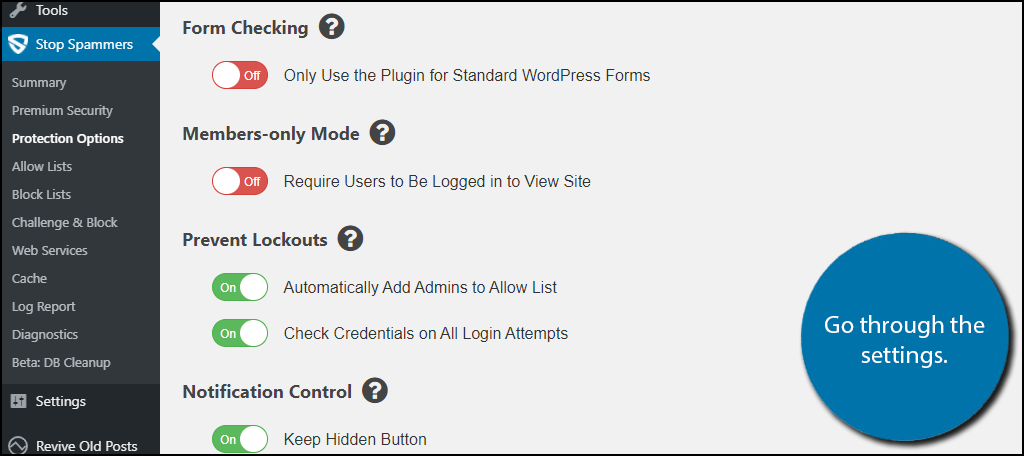 If at any point while reading the descriptions, you're not quite sure what it does, I'd recommend not changing the default settings.
Step 3: Block Countries Access
At the bottom of the page, you will see a Block Countries section.
This is a very powerful tool for websites that know exactly what regions they want to do business with. You can block websites that you are not planning on doing business in and this will prevent all spam bots from that country from accessing your website.
For example, after the United States, Russia, Vietnam, and China are the biggest spam producers in the world. It may be a good idea to block those countries if your website does not apply to them.
However, you are cutting off an entire country from your website, so make sure you are positive before doing it.
Once you have reviewed all of the settings and made your changes, click on the "Save Changes" button at the bottom of the page.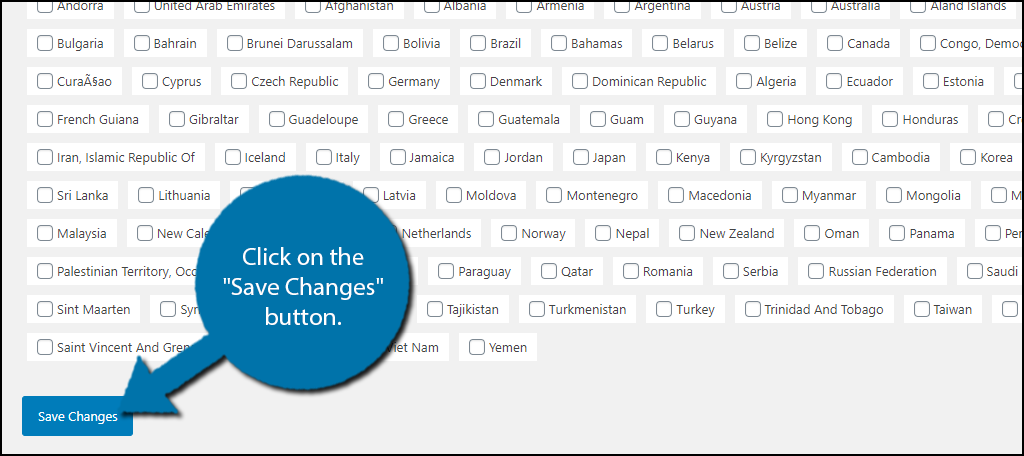 Congratulations, you have successfully configured the Stop Spammers plugin for your website. You can change these settings at any time by visiting this page again.
Other Ways to Stop Spam Bots from Registering
As you might have guessed, the Stop Spammers plugin is just one of many ways to stop spam bots from registering. Let me provide a few alternatives you may consider using.
Remove the Registration Form From WordPress
While there are certain websites like online stores or membership websites that will require users to register on their site, does a simple blog or business site need to? And the answer is a pretty hard no in most cases.
The good news is that this is extremely easy to achieve. All you need to do is visit the General Settings section of WordPress and uncheck the "Anyone can register" box. That will completely eliminate the ability for bots (or anyone) from registering on your site.
Add Email Verification To Your Website
Have you ever wondered why so many websites force you to verify your email address? That's because most spambots are not able to perform the verification process, thus they can't actually access your site.
That said, they can still spam your forms. To enable this feature, you can use a plugin like Email Verification/SMS Verification/OTP Verification. Once set up, this plugin will give you the ability to enable user verifications via email, SMS, or OTP.
Of course, this type of feature also has benefits outside of security. In some cases, users really do end up typing in the wrong email address, or other pieces of information.
Forcing them to verify credentials is just a good practice in general.
Include CAPTCHA In Your Registration Form
While many users may find CAPTCHA very annoying, there is no denying that it is highly effective at preventing bots from submitting registration forms. And that's exactly why nearly every major website uses CAPTCHA to some capacity.
In many cases, your form builder plugin will actually have a CAPTCHA option built-in. So will most anti-spam tools in general.
If not, you can install a plugin like Really Simple CAPTCHA. As the name suggests, it's very easy to use.
It supports a variety of CAPTCHA patterns that you can select. That way, you can try to make it less annoying for your actual visitors to fill out.
After all, I'm sure all of us have struggled to complete a CAPTCHA in the past.
Avoid Installing Multiple Anti-spam Tools
One of the biggest mistakes a new developer makes is trying to install multiple anti-spam or security plugins at once.
It makes sense right, install more spam prevention plugins and less spam will be able to get through, right? In many cases, these plugins are not compatible with each other. There are exceptions to this rule, but this can actually cause all protection to stop.
Thus, your website will get flooded with spambots.
Another reason to not do this is that anti-spam and security plugins generally use a lot of resources. Having too many resource-intensive plugins active at once can make your website perform sluggishly. This can seriously impact your SEO rankings.
It will also ruin the user experience, that is, assuming they don't leave the page if it takes too long to load.
Even if they are compatible and somehow do not use a lot of resources, there is also one more factor to consider. The user experience. These plugins typically affect the average user in some way. This can be in the form of a CAPTCHA, limited login attempts, and other things.
These can all be very annoying to users and drive them away.
Prevent Spam Bots from Registering Today
Many new web developers do not take spam seriously enough. Spambots can take over your email subscriptions, comment sections, and registrations. These will give you a false sense of the traffic on your website and eventually your website will be full of spam.
More importantly, they will ruin the experience for real visitors. Spam does not benefit your website at all and you need to make sure you take the proper measures to guard against spam.
One of the best options is to use the Akismet plugin. It is the most popular spam blocking plugin with over 5 million active installs. It is fully compatible with the Stop Spammers plugin, so don't be afraid to use both. Keep your website spam-free.
How easy do you find the plugin to use? Have you noticed a significant reduction in spam registrations on your website?