If you find the basic WordPress Customizer too difficult to use, there are a variety of tools you can use to build a professional-looking website. One such tool is the Starter Templates plugin.
This plugin gives you access to over 280+ templates that you can take advantage of to build a website with the least amount of work. Not only are there templates for individual pages, but for entire websites.
That's right, this plugin actually gives you access to demo websites that you can tweak to make your own. The end result is the ability to quickly put together a professional-looking layout in a short amount of time.
Today, I will demonstrate how to build a WordPress site with Starter Templates.
This tutorial is for:
WordPress 6.0.1
Plugin: Starter Templates v3.1.15
Can I Create A Unique Design With Starter Templates?
One thing that most will wonder is if you can actually create a unique website using this tool.
To be perfectly clear, absolutely!
So, if you think about it, you would take one of the thousands of themes available in WordPress and customize it to fit your needs. Of course, you're not alone, most themes have several hundred or several thousand users.
That means unique websites are born every day on the platform using the exact same tools.
Using the Starter Templates plugin will be no different. Even if two users use the same exact templates, they can customize them to look completely unique. The color options, layout, font, and other design elements will likely be different.
It's also worth pointing out that these templates are compatible with page-building tools like Elementor.
This means on top of using the default WordPress tools and systems to configure the templates, you could also take advantage of a page-builder. With all of the customization options available, you can build virtually anything you want in terms of appearance.
So again, you won't have any trouble creating a unique website using this plugin.
How to Use Starter Templates in WordPress
Step 1: Install Starter Templates
Starter Templates (previously known as Astra Starter Site) is an incredibly easy plugin to use. Simply put, you just need to install it, choose the templates you want to use, and configure them to your liking.
While the plugin was originally made for the Astra theme, it should be compatible with any theme in the WordPress respository.
Let's start by clicking on Plugins and selecting the Add New option on the left-hand admin panel.
Search for Starter Templates in the available search box. This will pull up additional plugins that you may find helpful.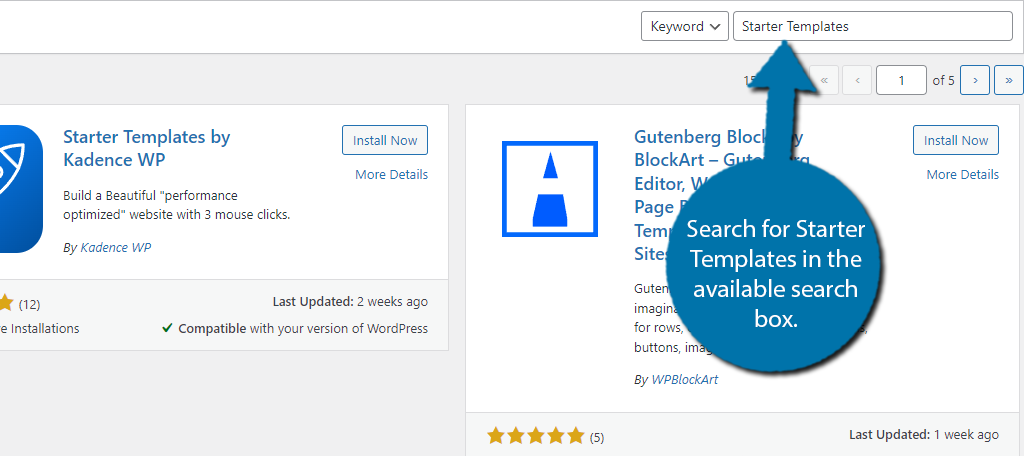 Scroll down until you find the Starter Templates plugin and click on the "Install Now" button and activate the plugin for use.
Step 2: Choose Which Templates to Use
On the left-hand admin panel, click on Appearance and select the Starter Templates option.
This will bring you to a new page that contains a welcome video that outlines how to use the plugin. It's a short two-minute video that I recommend watching. After that, click on the "Build Your Website Now" button.
You now need to choose what you will use to build the website. You can use the default block editor in WordPress, Elementor, or Beaver Builder. For this tutorial, I will be using the block editor.
You can now begin selecting what templates you want to use. They are broken up into several categories like business, local business, personal care, professional, eCommerce, and more.
Choose the category that best describes what you are looking for. You can also use the search bar at the top to find something more specific. Take your time and look through as many templates as you want.
Once you find a starter pack template you like, click on it to begin editing.
Step 3: Customize the Template
When you click on a template, you will go through the process of customizing it. The first thing you can do is upload your logo. Upon doing so, all of the logos in the template will be replaced with your own.
To do so, upload the file to the appropriate location.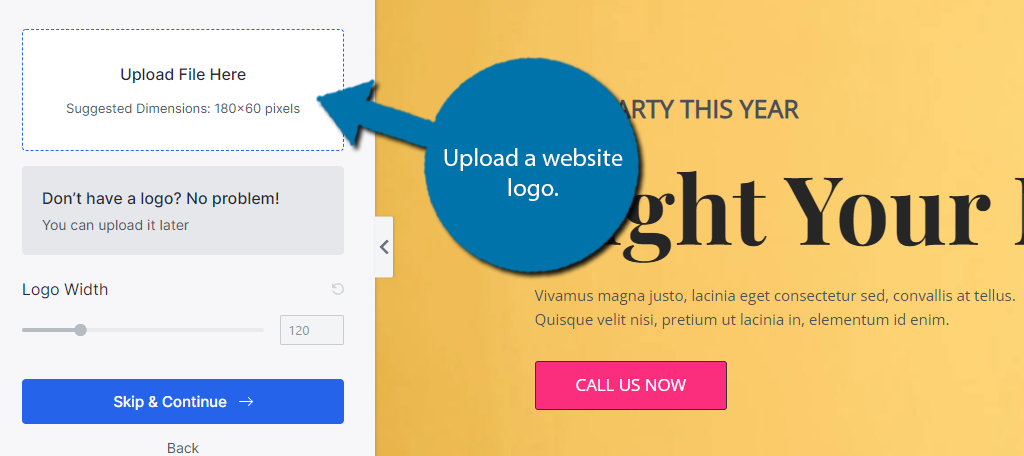 You can customize the width of the logo if necessary. Click on the "Continue" button when down.
Next, you can begin choosing the colors and fonts the template uses. Go through the options and select what you like.
After this, you'll be asked to input some personal information. This includes your name, email address, experience level, and some import options. You can also toggle a checkbox if you want to receive a newsletter.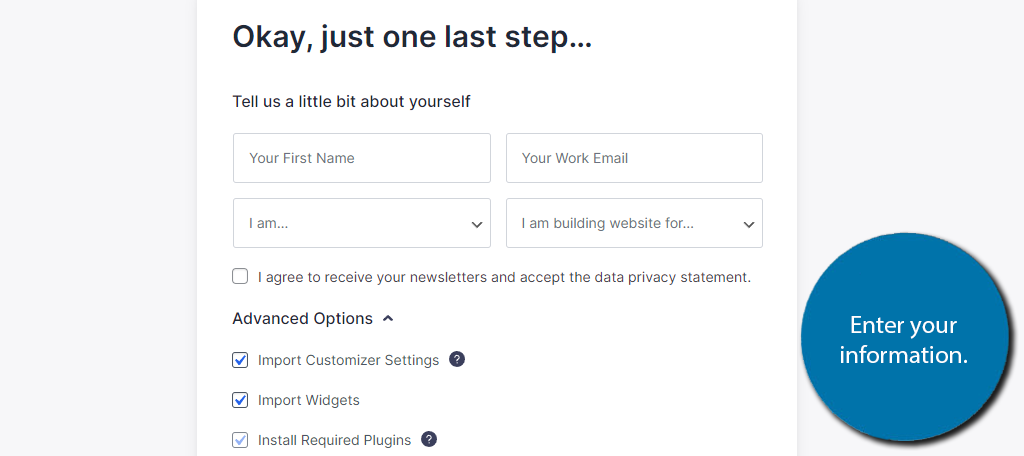 The plugin will now begin building your website using the information you entered. In my case, it only took 16 seconds to build, but times may vary.
Step 4: Enter Your Information
You now need to actually edit the content on the template. For example, you need to enter your website information, swap out the stock images for your own, if necessary, and make sure the links and buttons actually lead somewhere.
And yes, by default they will not. You need to individually go through each one and add the necessary destination.
The template you chose will be saved and set as your homepage. You can find it by going to the Pages section of WordPress. Select the Homepage option and you can begin editing the page.
All you'll actually need to do is click on the element you want to edit and replace the default text with your own.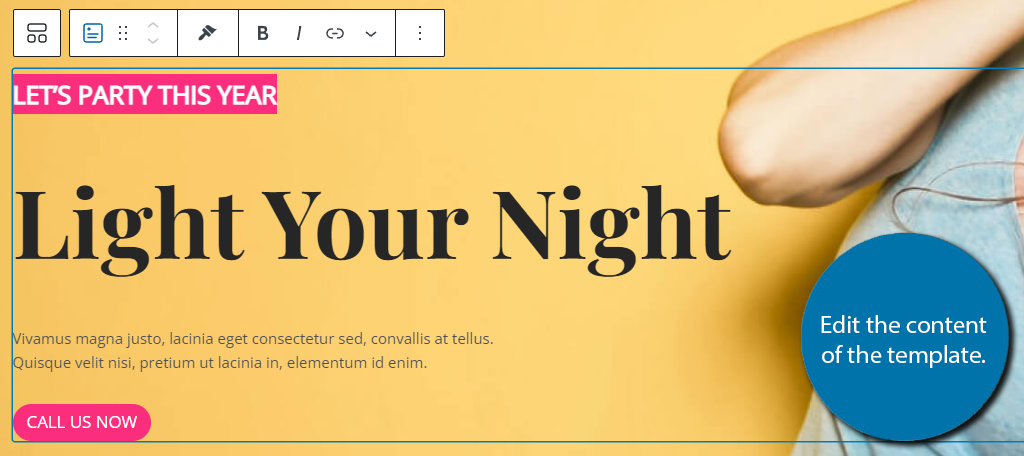 Now, the harder part is actually making sure the buttons lead to the correct location. This isn't something I can demonstrate as it depends on what you are trying to do.
For example, the template I chose here has a "Call Us Now" button. This would probably connect to a page that contains the phone information or perhaps launch a tap-to-call function for mobile users.
You would need to create that page/post and then edit the button to lead to it.
You'll need to spend some time customizing everything, but this plugin will give you a huge headstart.
Does This Mean The Theme Doesn't Matter?
With plugins like this available, it may make you question if a theme is even important. To answer that question, yes, a theme is still incredibly important.
These are far more than just the appearance of your website. Many of them are built with specific tools and make it possible to edit certain areas of your website or ensure that your content is responsive.
Plugins like Starter Templates actually interact with your WordPress theme. In fact, most plugins need to interact with the theme.
So yeah, picking a good starter theme can go a long way.
Easily Build Your Website Today
The Starter Templates plugin can save you a lot of time, but that doesn't mean the process will be quick. Truthfully, even with a template, it will take hours to set your website up for actual use.
This includes swapping out the template info for your own website info and creating any additional pages or posts your website might need. While websites are much quicker to build today, they still require a certain amount of effort.
And creating one is just the first step.
How easy did you find the Starter Templates plugin to use? Did you enjoy the Elementor theme templates?