A gravatar is a globally recognized avatar. It is a representation of you or your brand that you represent. A lot of people use a picture of themselves, a logo or maybe even their latest art creation. Now, why would you need to use one? It makes you identifiable online.
How to Setup a Gravatar
Want to setup your own gravatar? Point your browser towards gravatar.com. Once you set up your free account there, you will be asked to associate your image with an email address that you own.
The reason for this is simple. If the website in question has gravatars enabled, your image will show up when you leave your email address in the comments. If you like to leave comments with a number of different email addresses, you have the option to associate the email addresses with the same gravatar image or a different one.
How Can I Enable Gravatars on My WordPress Blog?
Since the company that owns WordPress also owns gravatar.com, they have made the process super easy. Follow these steps and you can enable gravatar images in your own blog comments:
From the WordPress Dashboard, click on Settings > Discussions.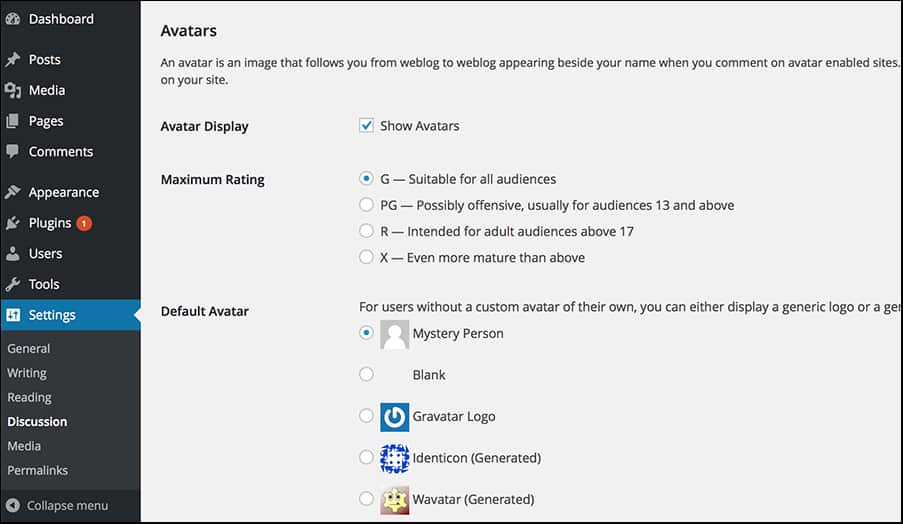 Next, scroll down to where it says, "Avatars". Make sure that you have clicked the box that says, "Show Avatars".
Save your changes at the bottom of the page and you are done.
There are also a few more options you can set up too. You can make sure you only show gravatars that are rated G, PG, R or X. You can also set up a default avatar that is shown when somebody comments that does not have an account on gravatar.com.
Do I Need a Gravatar?
One of the nice things about gravatars is that they really make your comment pop out from the rest of the crowd. I do not know the number of times I have paid more attention to a comment with a really cool gravatar versus comments without one. If you are using your brand or logo, you can also think of it as a little 'bit of free advertising too.
A gravatar makes it really easy for you or your brand to be recognized online. There are thousands of websites and blogs out there today that make use of gravatars – so there is a wide networks of places that this technology can be used. Have you set up your own gravatar yet?