Have you ever wanted to track user history in WordPress? Oftentimes, there are several different users on a website. However, you can't track things that are happening from these users by default. You need to employ some sort of plugin that tracks WordPress user history.
Well, now you can easily see all recent changes of a site by using a plugin called Simple History. This plugin will allow you to easily track WordPress history from several different aspects.
Why Should You Track User History in WordPress
If you are the owner of a website, then you want to track all the important events that occur within the WordPress admin dashboard. This is especially true if you run a website that has many users who are all doing different things.
Tracking all recent changes allows you to see what users performed what functions. If something goes wrong, you can also track the history to see what may have happened.
Furthermore, with a solid plugin that tracks user history, you are able to track just about everything that happens on the site, not just when users log in and out.
Let's take a look at how you can easily track user history in WordPress.
Simple History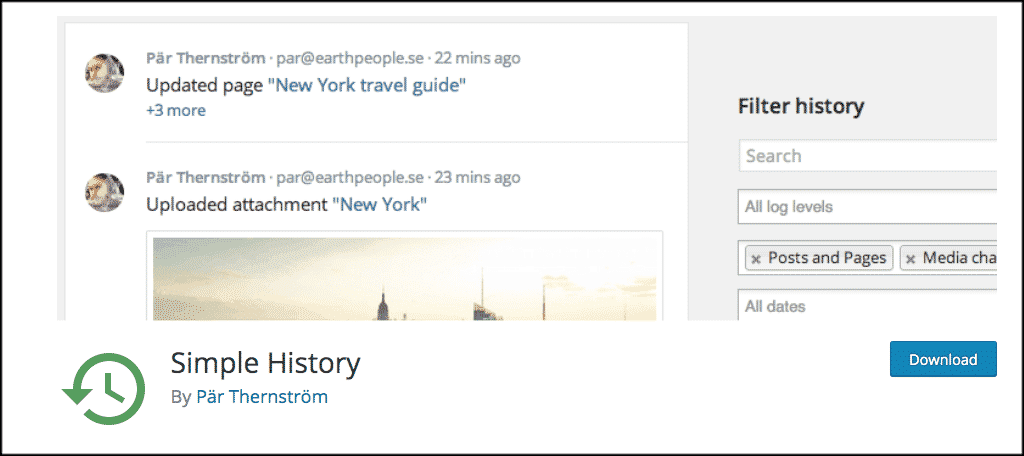 There is a great plugin I found called Simple History. This plugin shows a full user history on your site. It will allow you to track all of the important events that occur. The plugin is packed full of functionality, including:
Ability to see what user added, updated, or deleted a post or page
See who added, updated, or deleted attachments
View who added, updated, or deleted taxonomies
Track which users edited comments
Get info on added, updated, removed widgets
See info on activated and deactivated plugins
Track user profile changes
Track all user logins
View all data import and export and menu edits
Basically, Simple History allows you to track all recent changes in WordPress for just about everything imaginable. The plugin is lightweight and very easy to set up and use.
Install and Activate Simple History
In order to track user history in WordPress, you need to install and activate the Simple History plugin. You can do this from the plugins page of your admin dashboard.
Once the plugin has been installed and activated, click on Settings > Simple History. This is located on the left menu of your dashboard. Doing so will take you to the setting's page for the plugin and you will be able to configure it.
Track WordPress User History
Now that you are on the setting's page, let's take a quick look at the setup. You will see three main tabs on this page. They are:
Settings
There are a few simple things to choose from on the setting's tab. Go ahead and run through these and configure the plugin settings how you would like.
Click on the "Save Changes" button to save all your configuration choices.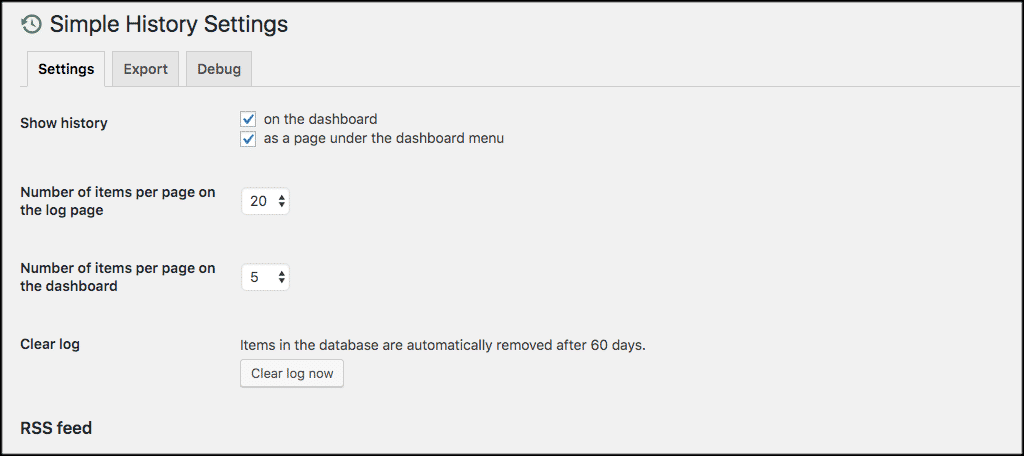 Export
The "Export" tab simply allows you to export a full WordPress user history. You can do this in either a JSON or CSV format.
For example, you could create a spreadsheet of your own using the history data in the CSV file.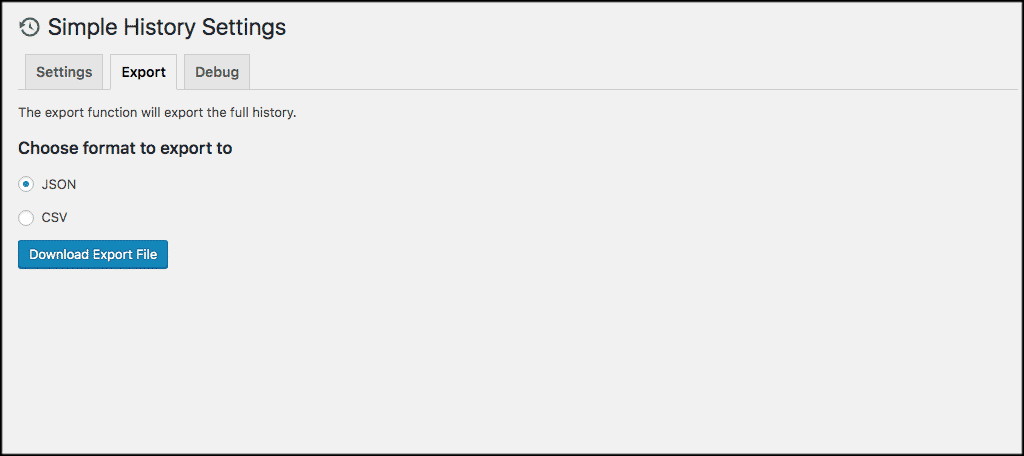 Debug
The "Debug" tab shows you everything that is going on with the plugin and will give you suggestions to debug situations that may arise.
In other words, this can be greatly helpful when troubleshooting the plugin.
How to View User History in WordPress
You can view WordPress user history two ways based on the options you chose in settings. They include:
On the dashboard
As a page under the dashboard menu
In this scenario we will view user history in WordPress from the dashboard. Click on Dashboard > Simple History.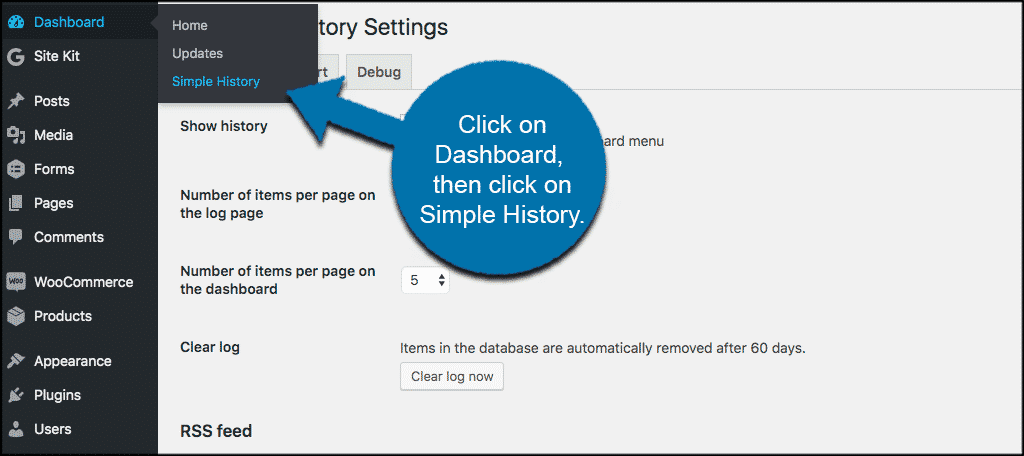 From here you will see some search options. You can view all recent changes in WordPress here as they will be listed below the search options.
Or, you can use the search fields to narrow certain functions down to specific dates, keywords, users, and log levels.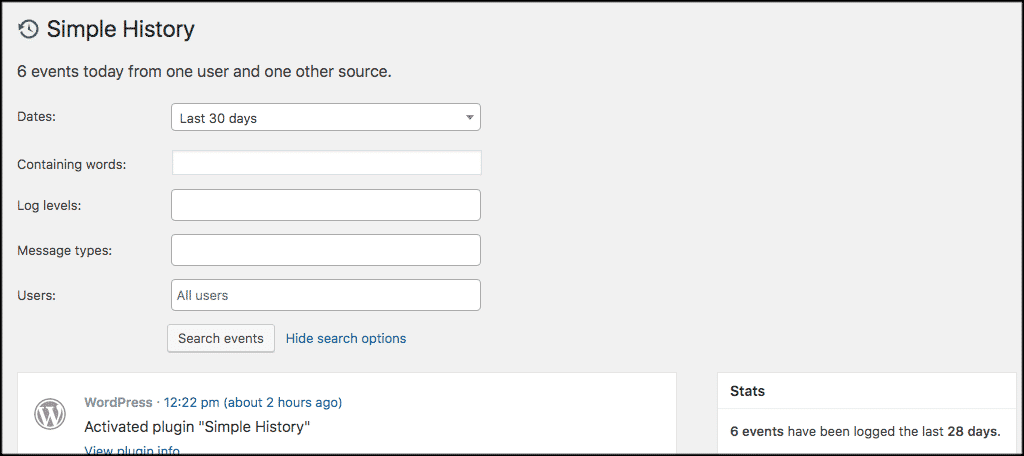 Now, if you scroll down, you will see a list of all WordPress changes that have occurred, either by the default search settings or listed by the search criteria you put in.
That's it! You are now successfully tracking all user history in WordPress.
Final Thoughts
Tracking WordPress changes is an important aspect of running a website. There are a lot of things to consider when you are working with WordPress, but now you have a great option for tracking all WordPress user history. This will be especially helpful to you if you have many people on your website.
Have you tried tracking user history in WordPress using this plugin? Do you prefer to do this another way or not worry about it at all?