The main purpose of WordPress is to help users develop and publish content. However, the development of content doesn't just stop at an easy-to-use editor. Plugins are available that can help you fine-tune your writing skills while helping you focus on search engine optimization strategies. By installing these five WordPress content plugins, you can deliver rich and grammatically correct material perfect for driving traffic to your website.
1. Word Stats
The Word Stats plugin provides a method in which to determine the readability of your content. Using the Automated Readability Index, Cleman-Liau Index and LIX, the plugin shows you the reading level of your content. More advanced word use will show the numbers in red helping you create easy to follow material. When used with the Post Thesaurus, you can create quality content for your readers without making it too difficult to understand. Word Stats will also show the number of posts, pages, categories, total number of words and other information which could contribute to future writing practices.
2. Post Thesaurus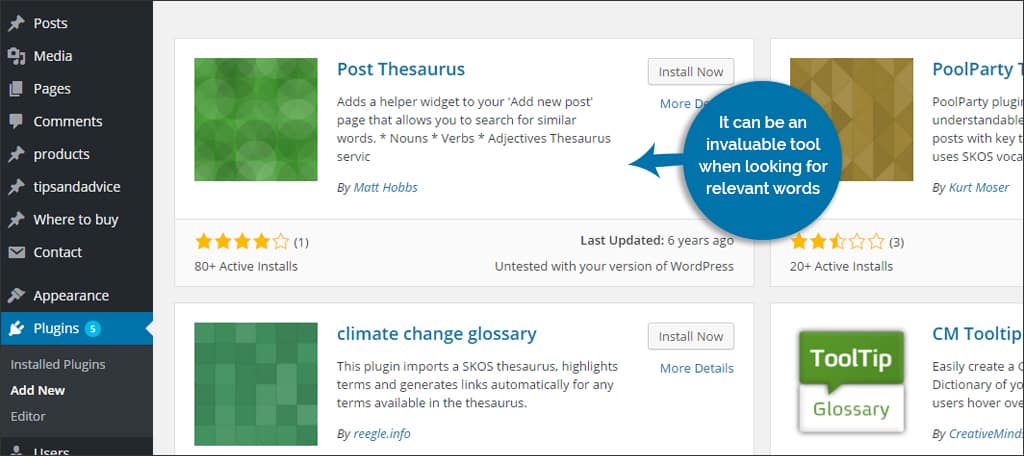 Post Thesaurus is one of those plugins that hasn't been updated in several years. However, it works with current versions of WordPress and can be an invaluable tool when looking for relevant words. Instead of focusing on one specific entry for posts and running the risk of keyword stuffing, this plugin may help you find alternatives that will tighten your content. Complete with synonyms, antonyms, related and similar words, you can create a beautiful piece without seeming redundant. The database provides alternatives for nouns, verbs and adjectives right from your WordPress post screen whether you're making a new one or editing an existing article.
3. Spelling and Grammar – Jetpack
In the Jetpack plugin, there is a module called Spelling and Grammar. This adds a button to your text editor that will check your work for a variety of errors from misspelled words to phrases you shouldn't use. It can be customized in several ways to help adapt to your own writing style while helping you avoid common mistakes. This helps you look more professional while making your content legible to the average Joe.
4. Top 10
The primary use of Top 10 is to display the 10 most access pages of your website. This can be beneficial to new audiences by showing them what content is the most popular. However, it can also help you create future posts. By understanding how your target audience uses your website, you can determine what to write next based on their interests. The plugin adds a field to the "Posts" section of your WordPress dashboard to show you how many times each article had been seen by visitors.
5. Keyword Statistics
Although it's been a long time since this plugin was updated, it still works exceptionally well for WordPress versions 4.4 and below. Keyword Statistics shows you the density of keywords and phrases in your content as you write it. It can also help generate an automatic META description of your content based on the most used words. The "Density" field shows you the percentage in which any given word or phrase is used. This helps prevent keyword stuffing. Too many instances of any given content can score poorly in search engines such as Google and Bing. The plugin's settings will provide you with customization options for displaying this information.
Improve Your Content
WordPress content plugins give you the tools necessary to hone your skills as a writer while giving your target audience what they want: legible material. As content will always be king on the Internet, you need plugins that have potential to enhance the experiences of yourself as well as visitors. Find the ones that work best with your goals and take your content to greater heights.
What tools do you use to enhance the content on WordPress? Have you had success with any of the tools listed above?