Having a backup copy of your website could save you a great deal of time and money should something happen. Luckily a WordPress backup plugin is easy to use and many of them are free.
While there are many ways you can protect the site from hackers and malware, you should never assume that your data is 100 percent secure.
All it takes is an undiscovered security threat in the code to allow people to vandalize your pages. Making sure you can replace the entire site in the event of a disaster could offer peace of mind.
One of the most attractive features of the WordPress management system is the sheer number of plugins capable of doing a wide range of things. One of those is providing backups and restoration of your website with ease.
Here are some of the best WordPress backup plugins that can make this process much easier and streamlined.
Why Backups Are Important
Backups are considered to be one of the most powerful and versatile tools at a web developer's disposal.
For starters, the internet is not a safe place. There is a high chance that a hacker or some form of malware will negatively impact your website. You can mitigate this risk with security plugins, but you will not remove it.
However, having an up to date backup ensures that no matter what happens, you can have your website running the way it was intended within a few minutes.
Of course, not all problems come from hackers and malware. In fact, you are much more likely to cause the problem yourself while testing out a new plugin or adding some lines of code.
A backup can save your website hours of downtime.
Another great use of a backup is for testing purposes. It is quite common to use a separate server like WAMPP . A common way to do this is to make a backup of your live website and put it into the testing environment.
This allows you to make major changes while not impacting your visitors.
1. Backup Guard
Backup Guard allows users to create an unlimited number of backups for keeping files safe. The free version provides great functionality including backup downloads and imports from your computer system.
The plugin includes the ability to manage your backups such as deleting old versions as well as viewing a restoration log. Most of the controls are available from the WordPress dashboard.
If you want to save to Google Drive or Dropbox, you'll need to purchase the Pro version of the plugin.
2. BackWPup – WordPress Backup Plugin
The BackWPup plugin is among the most installed and utilized backup systems. It offers a great deal of support such as backing up files in compressed formats, more than five different online backup locations and the ability to check and repair databases automatically.
Users may find the plugin's ability to send logs and backups by email to be quite useful.
3. Duplicator
The Duplicator plugin makes it easy to backup or migrate any WordPress website. This is one of the more popular plugins on this list with over 1 million active installs and over 15 million total downloads.
The plugin creates a zip file called "the package" that is a bundle of your website's content, database, plugins, themes, and other files. These files can be moved to any server or location.
And since it copies all of your files, you don't even need to spend time installing WordPress.
4. XCloner
XCloner is another semi-popular backup tool that also assists in migration. Like some of the others in this list, XCloner also supports Cloud saves ranging from Amazon to FTP downloads. You can also split the backups into smaller chunks to save on bandwidth.
One feature many users like is the plugin's ability to create an automatic backup just before WordPress automatic updates. This means you'll always have a copy prior to any major changes on the platform.
5. UpdraftPlus
UpdraftPlus is one of the most popular backup plugins available for WordPress. With more than two million active installs, it's a favorite among many developers.
One of the key elements to UpdraftPlus is its ability to integrate with various systems. Dropbox, Amazon, Google Drive and more are available as options. This means you have excellent control over where your copies are stored.
The premium version of the plugin also gives you the ability to create backups of non-WordPress files as well as supporting multisite networks.
6. Migrate and Backup WordPress
Migrate and Backup WordPress is one of the best free WordPress backup plugins available. It is an all in one backup plugin that allows you to easily restore or migrate your website.
Its main feature is its ability to allow for simple migrations. In just a few clicks, you can take all of your website's information and move it to a completely new domain name or just switch web hosts.
This is also made easier by its cloud storage support.
7. All-In-One WP Migration
The All-In-One WP Migration plugin is one of the most popular plugins on this list. It has a whopping 2 million active installs, and that's in large due to how simple it is to use.
In fact, that's its biggest appeal. Even if you are brand new to web development, this plugin is simple to use. Yet, it has all of the features that experienced developers look for.
It is also one of the few backup plugins that fully supports mobile users.
8. WP Database Backup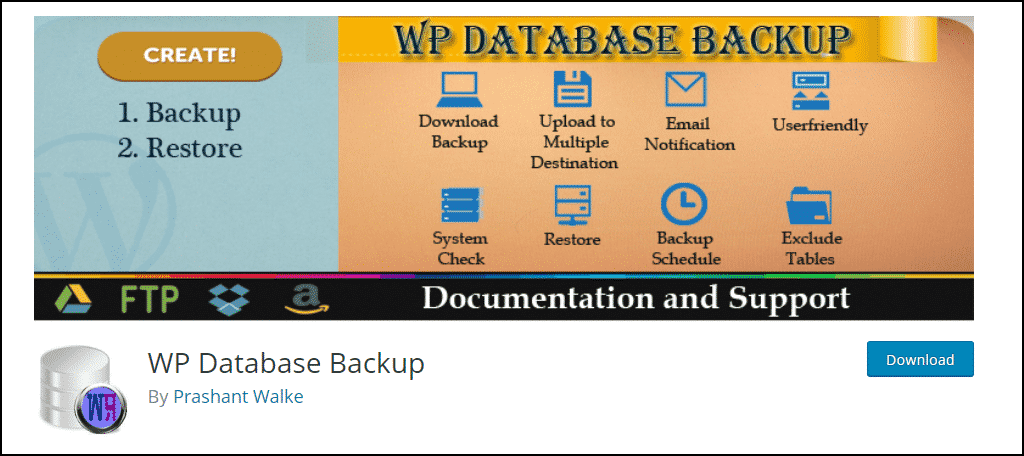 The WP Database Backup plugin is a great tool to use on your website if you are looking to backup your database. All it takes is one click to create a backup and one click to restore that backup.
However, once you get it set up, you won't even need one click to create a backup thanks to its automatic backups. This allows you to schedule backups whenever you want, which is a great way to ensure that your file is always up to date.
Installing Plugins
Installing plugins is quite easy. First, click on "Plugins" in your WordPress dashboard. Click the "Add New" button on the top of the screen.
From here, you type in "backup" in the plugin search bar on the right-hand side. You can also type in any of the above plugins by name.
Choose the plugin you want by clicking the "Install Now" next to its name. However, clicking the plugin's name will open a popup window that will tell you more about the tool before you install it.
Always Keep Your Files Safe and Secure
When it comes to the Internet, there is no such thing as being too careful. Although GreenGeeks offers courtesy nightly backups included in the web hosting account, a WordPress backup plugin provides some security against some of the things that make site owners worry.
With the right system in place, you can recover quickly from some of the most destructive of malware and hacks. Take the steps necessary to make sure the data you'll spend years creating isn't lost to the void in the worst-case scenario.
What kinds of systems do you have in play for protecting your WordPress website? Do you use integrated accounts with other computer backups?