Website backups aren't exactly an exciting topic. Until you need one. Then suddenly they're very interesting. Compelling, even. 😉 Making website backups is easier than ever, though, so it's time to consider a WordPress backup plugin.
There are a lot of ways to protect your website from hackers and malware. But if the bad guys manage to get through, you want to be prepared for recovery. That's where a good backup plan comes in.
What Is a WordPress Backup Plugin?
A backup plugin makes a copy of your WordPress website and database. It stores the copy in a remote location, away from the website web server. If your live website suffers a hack or crashes for some other reason, the backup copy can be uploaded. That restores the site to the state it was in at the time the backup was made.
There are different forms of backup, like a database-only backup, or backup that includes your website files and database. There are also scheduled backups, which run automatically, typically every 24 hours. Backups can be sent to various locations, including a separate web or file server, Dropbox, Google Drive, and Amazon S3.
Backups can be done manually, but a plugin can be used to automate the process. If you want to backup WordPress, these plugins will do the trick. Here are the WordPress backup plugins we'll talk about today:
Some of these plugins are free, and some are not. But the paid plugins are much more flexible than most of the free plugins and come loaded with attractive options. And really, can you put a price tag on peace of mind?
UpdraftPlus is easily one of the most popular WordPress backup plugins. But just because it's popular, does that necessarily mean it's good?
In this case, it does. I mentioned backing up to services like Dropbox, Google Drive, and Amazon S3, and Updraft does that. You decide where your backups are stored. The paid version of the plugin will also back up to Microsoft OneDrive and Azure, Google Cloud, and Backblaze.
The paid version will also back up non-WordPress files and WordPress multi-site networks. You can't go wrong with UpdraftPlus.
BackupBuddy doesn't have a free version. It's strictly pay-to-play. But if you want a truly comprehensive backup service, it may be worth your money.
It does what you'd expect a backup plugin to do. Meaning it will schedule automatic backups, send backups to a remote location, restore files in the event of a failure. But it goes beyond that. You can create custom backup profiles and back up as frequently as hourly.
It can also repair and optimize your database, and it comes with a gigabyte of cloud storage. The storage is called Stash, and it continuously backs up your database changes.
VaultPress is another paid WordPress solution, but with a major difference. It's made by WordPress. Or more accurately, by Automattic, the company that makes WordPress.
VaultPress is essentially the same service as Jetpack backup. They both provide daily backups for $10 a month, or real-time backups for $50 a month. The difference is VaultPress works without Jetpack. (In fact, if you have Jetpack installed, you can't install VaultPress.)
The thing that sets VaultPress (and Jetpack backup) apart is real-time backups. That means every time you change anything – a plugin, theme, page, or post – the change is instantly backed up to the cloud. If you have a mission-critical WordPress website, you can't get better protection than that.
Similar to VaultPress and Jetpack backup, WP Time Capsule backs up incrementally. Meaning it only backs up changed files (then bundles the changes together with all the site files if you need to restore).
It doesn't do real-time backups like the Automattic plugins. But it will back up changes every hour, which is about as close to real-time as it gets. It also backs up to Google Drive, Dropbox, and Amazon S3.
WP Time Capsule doesn't compress and zip backup files. That means it uses considerably fewer resources than plugins that do compress and zip.
In order to use WP Time Capsule on your site, you have to open an account on the WP Time Capsule website. They do offer a 30-day free trial, so if you think it may be a good fit, you can try it first.
It's half the cost of VaultPress or Jetpack backup, starting at $49 a year to back up two WordPress sites.
I always see the "Pup" in the name of this plugin, which makes me like it. Even if they weren't trying to remind me of dogs. Anyway, the BackWPup plugin is extremely flexible and powerful, but perhaps not the easiest backup plugin to use.
If you like to dig in and have control over every aspect of your backups, BackWPup is for you.
If you prefer a more effortless, user-friendly experience, it may not be for you. Instead, you might prefer to check out any other backup plugin on the list. They're all easier to use.
The Duplicator plugin makes it easy to backup or migrate a WordPress website. It creates a "package" backup – a bundle including website content, database, plugins, and themes. That's handy, and since everything is backed up, it can be dumped in a new location (or a hacked or compromised location) without going through WordPress installation.
The package backup is convenient, but it can make for a long backup process if your WordPress site is large. But if you have good hosting, it shouldn't be a problem.
Duplicator may be the best backup plugin for WordPress. It's definitely the best free backup plugin (and the paid version adds even more valuable options).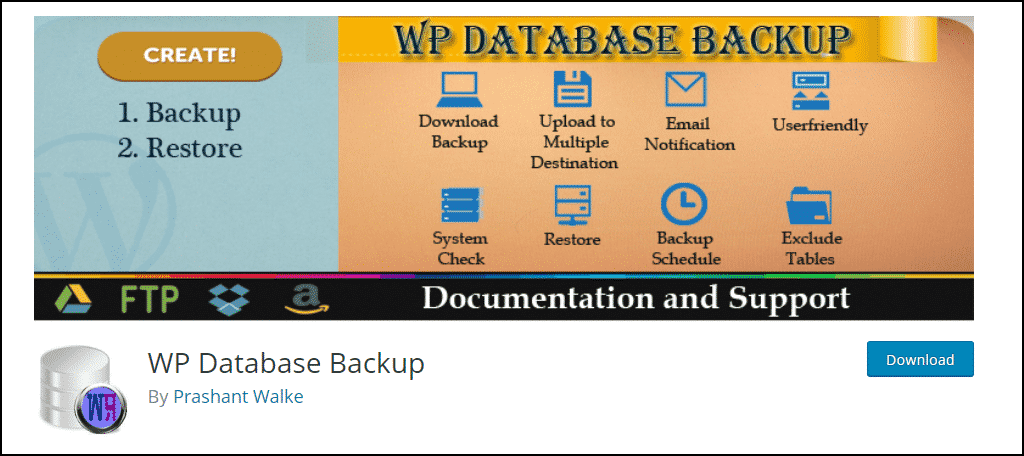 The WP Database Backup plugin is perfect if you just want to back up your WordPress database. That might seem like an incomplete backup solution, but most of your important WordPress configuration information is in the database.
So while it isn't a complete backup, it's an efficient one. Perfect for those of us who have backup storage limitations.
If you're currently making backups manually with MySQL Workbench or phpMyAdmin, this plugin will save you a lot of time.
Once it's set up, it will automatically back up your WordPress database at the interval you choose. It's a basic meat and potatoes plugin, but it does what it does very well. Not the best WordPress backup, but the best WordPress database backup.
Backup Guard does everything you need your backup plugin to do, but it provides better management than some other plugins. You have control over retaining or deleting old backups, and there's also a restoration log.
The free version of Backup Guard will save to Dropbox. If you want to save to any other backup service, you'll have to go with the paid version. But the paid version has some slick, automated migration features. That alone could justify the cost if you're moving to a new host or domain.
Why Are WordPress Backups Important?
Allow me to answer that question with a question:
Are you perfect?
If you're not, website backups are important!
We all make mistakes, and there's nothing worse than making an irreversible mistake on a website. Have you ever done it? I sure have. Remember that feeling in your stomach when you saw what you'd done? I sure do.
I felt it a couple of days ago. 😉
I've been building websites since Bill Clinton's first term as President, and yes, a few days ago, I did something that broke a live discussion forum. 10 or 15 years ago, that would have been tragic. But now I back up everything every day. The forum I inadvertently murdered was back up and running within 20 minutes.
But that's just the mistakes we make ourselves.
WordPress is a huge target for hackers of all ages and skillsets because it's so widely used. And because it's been around for a long time, there are a lot of old installations out there, ripe for exploitation.
And even if you keep your site up to date, more than 100 websites are hacked every minute of every day. That may not sound like much, but it adds up to 55 million websites every year.
Maintaining backups doesn't make you immune to problems. But it does make you prepared to solve them.
Do you have systems in place to protect your WordPress website? If not, choose a backup plugin from our list and install it today.