Social media plays an important part on the Internet for any business. According to studies, about 77% of the population in the United States has at least one social profile.
Facebook is the most utilized of these accounts. This means a lot of your traffic may come from this social hub.
Facebook Instant Articles in WordPress allows owners to deliver content much faster to an audience. It uses optimization technology for mobile devices through the Facebook app.
As a result, your posts may be up to 10 times faster when people read them from this social media giant. However, it does come at a price. Here are some of the pros and cons of using Facebook Instant Articles and what kind of an impact it will make on your site.
What Exactly Is Facebook Instant Articles?
In a nutshell, Instant Articles is a feature that pulls the entire post from your website and displays it within the Facebook mobile app. Some of the formatting will remain, such as headers or bullet points.
However, this service only pulls the post itself and not the rest of your site. Things like header images, footers and widgets may not be converted. The content will still belong to you while referencing the website.
Pros of Using Instant Articles
Speed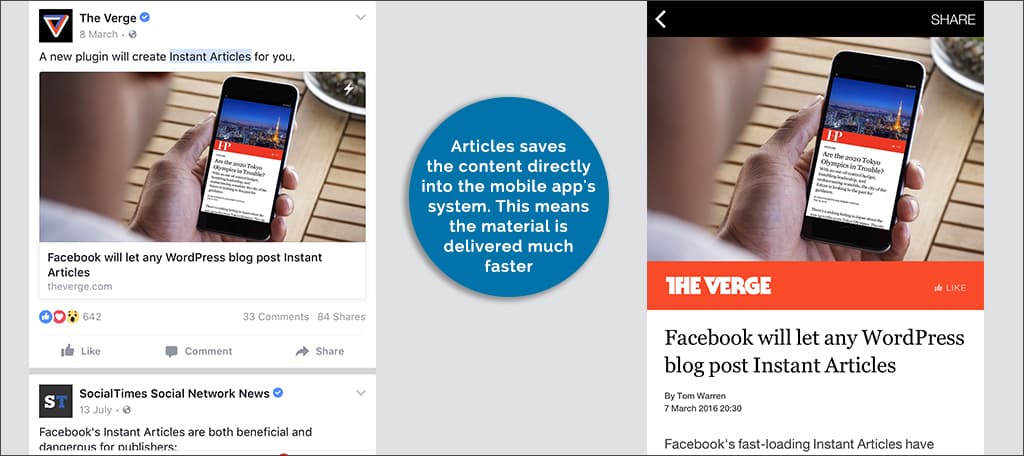 The most obvious reason to implement Facebook Instant Articles in WordPress is speed. Statistics show that most people will abandon a mobile website if it takes longer than three seconds to load.
Instant Articles saves the content directly into the mobile app's system. This means it is delivered much faster while it removes a great deal of the material that could be slowing the site.
In essence, it trims your content to be more efficient through the mobile app.
Improving Traffic
Because so many people use the Facebook app on their mobile devices, there is great potential to increase traffic to your site. Facebook Instant Articles is accessed by a vast audience. Links back to your site may inspire those readers to click and visit.
Some owners have admitted how these posts have increased overall traffic.
Improving Shares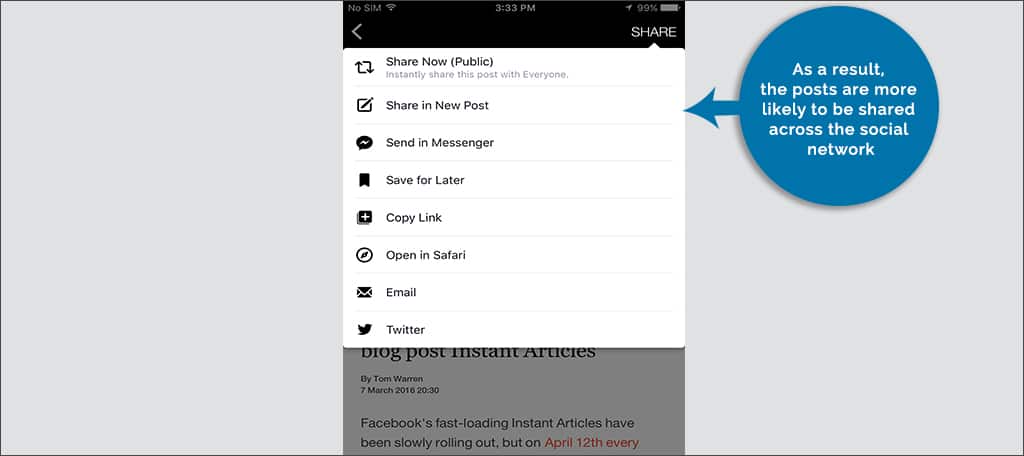 Many experts attest to how a quick post can lead to a better user experience. As a result, the posts are more likely to be shared across the social network.
From a marketing perspective, this may be a more ideal method to engage new visitors. You never know when your perfect post may go viral.
Monetization Options
Content that is posted in Facebook through Instant Articles is able to generate revenue due to monetization through the Audience Network. This places Facebook ads on the bottom of your posts much like Google Adsense.
These ads have potential to target your audience more precisely to be the most beneficial for yourself as well as Facebook. If you have a good following, your business may generate a residual income from the posts you create.
Increasing Social Reach
As more people use their mobile devices to access Facebook as opposed to desktop systems, Instant Articles can increase your social reach. This means a boost to your Facebook page from those on smartphones and tablets which has potential to boost sales and leads.
Cons of Using Instant Articles
Ad Revenue
If you use ad revenue such as that from Google Adsense or InfoLinks, these articles may be less than productive. Facebook limits the number of ads delivered through Instant Articles. This can greatly reduce the income from those services.
Even affiliate marketing can be reduced when posting on this platform.
Image and Video Reduction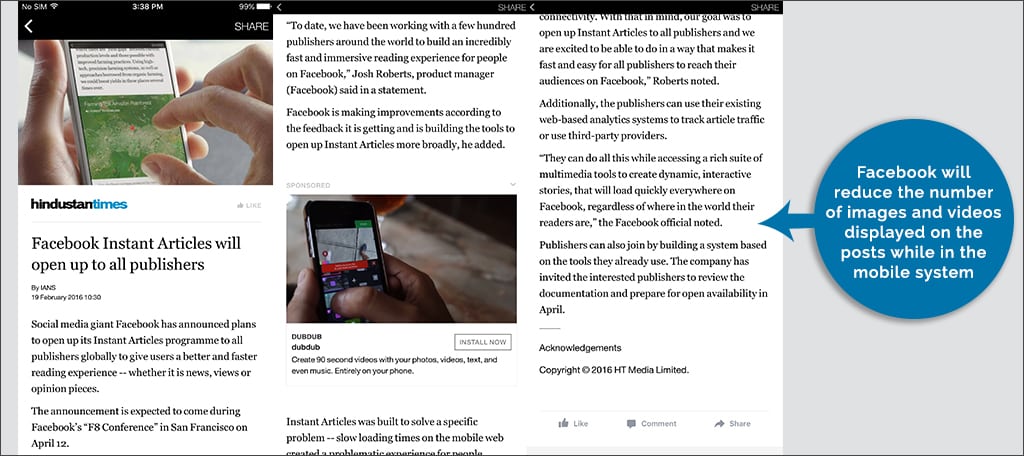 Facebook will reduce the number of images and videos displayed on the posts while in the mobile system. If you use a graphic that accentuates the content, it may be fruitless through Instant Articles.
This is done to help the articles increase speed by reducing the resources to show the content.
Losing Custom Settings and Shortcodes
Many pieces of shortcodes and customized settings will be lost when using Instant Articles. This may include galleries, sidebar widgets and a slew of other plugins users may find useful on the site itself.
You might also lose any custom forms, such as a contact form, through Instant Articles. If you use widgets, custom codes and forms to engage your website traffic, they may not be available on Facebook's system.
How Does This Impact Your Site?
If you're comfortable with what you may lose when posting to Facebook, Instant Articles has potential to boost traffic.
In reality, many business owners use social media for the purpose of brand awareness. Losing widgets, advertising or custom shortcodes is minor in comparison to what the social site delivers in terms of recognition and reputation.
Aside from altering how Facebook users read content, your site itself will still continue to drive traffic through SEO practices on its own.
Is Facebook Instant Articles for You?
For many site owners, the benefits may be worth the drawbacks when using Facebook Instant Articles in WordPress. It generates a great deal of interest while engaging those who use the popular social platform.
As of 2016, mobile devices account for the majority of devices accessing the Internet. Why not make it easier for those devices to read your materials through Facebook?
What kind of optimization features do you offer for mobile technology? Do you have other Facebook integration options on your WordPress site like a Facebook login?