While there are advantages to using both Weebly and WordPress, the rundown below shows a more specific look at what they offer. Which one comes out on top? Let's find out.
One of the first decisions you will face when you are in the process of building a business website is whether you should use a CMS (Content Management System) or a website builder.
What is an Open Source Platform?
The main advantage of using an open-source system or platform is that anyone can contribute to the development of the project. This applies to everything across the board.
In other words, if a project is open-source, then developers can build themes, plugins, and other tools that attach to the system to extend and expand functionality.
This provides a platform for immeasurability regarding functionality. In other words, it opens the doors for development while saving money from hiring professionals.
Open-source platforms usually have very large communities as well. This means that you can find help fairly easily through message boards and forums, and also find lots of tutorials and help online.
WordPress is an open-source CMS platform. This means you have complete control over the full design and functionality of your website. You can customize the appearance, edit any and all of the underlying code, and choose where you want to host your site.
For these reasons, it is the most popular CMS in the world. You will have to take more responsibility for your site, but that is the point.
Lastly, you can take your WordPress site wherever you want. If you want to switch hosts, then the database and site files are yours to move and do with what you want.
Advantages of WordPress
WordPress is the most popular website platform in the world because of many things. It has a learning curve involved, but most feel it is well worth it because of the freedom you have to create.
Aside from that, the platform also offers several other advantages that you want to make note of.
Ease of Use
Despite not being a drag-and-drop website builder, WordPress is actually very easy to use. The platform is user-friendly out of the box and gives developers access to a massive online community where any and all questions can be answered.
There are also tons of tutorials and guides all around to help you navigate your way through building a website.
The Best Blogging Platform
WordPress, and what it looks like now, is much different from when it started out. This CMS platform actually began as a dedicated blogging platform in hopes that it could help people get their thoughts and other content out to others.
However, over time, WordPress has developed into the world's most popular website building system that still has blogging built-in for anyone to use. Its blogging platform is top-notch and ready to be used at any time.
Large Plugin and Theme Library
WordPress is home to the largest plugin and theme library as well. There are tens of thousands of free and paid plugins and themes that you can use to create and build a site.
These, along with the freedom to build around the code, allow you to scale and create anything you want.
Lower Development Cost
WordPress does come with some development costs. However, you can keep them relatively low, even if you are building a big website. This is because there are great hosting deals out there and they give you all the tools you need to get going.
What is a Website Builder?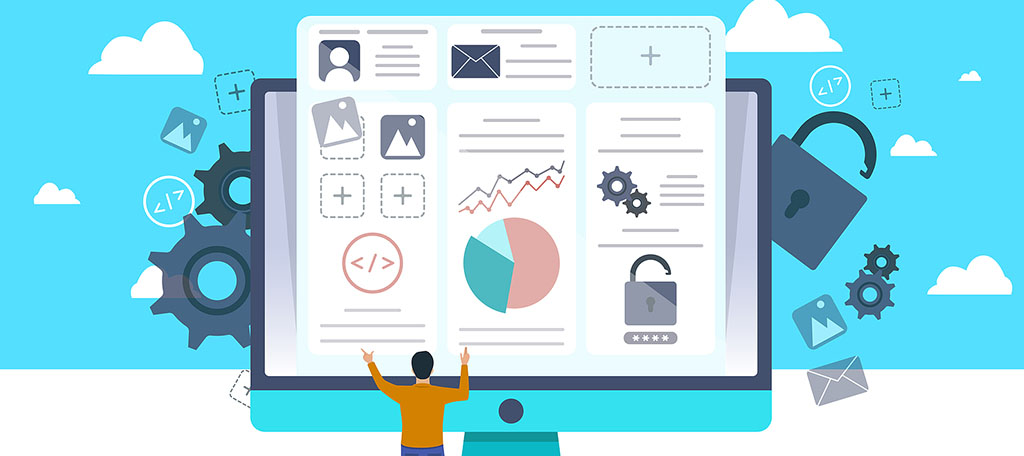 Website builders are not open-source. Though they are usually easy-to-use, you get locked into certain content standards and you are not able to build and design totally free.
In other words, you are restricted by the rules and layout of the particular website builder.
A website builder usually uses a drag-and-drop building technique. That is ideal for people who want a very simple experience. Yet again, the ability to design and create simply won't be there unless you can get it done using a template.
Oftentimes, anything extra on a website builder will cost you more money.
Weebly is a website builder.
You can build a free site, but there are no eCommerce, domain name, or marketing tool options available unless you upgrade to a monthly fee.
While you don't have to take as much responsibility for your site and hosting is taken care of, you are closed off from really scaling and expanding as you can do with WordPress.
Finally, and perhaps most importantly, when you build a site using a website builder, it stays where you built it as you can't move it to another host.
This is because website builders are often proprietary and you can only use what you built if you stay where you are.
Weebly falls into this category.
Advantages of Weebly
While I don't think Weebly provides nearly as much freedom or advantages as WordPress, the platform does offer up some attractive things. Let's take a look at some of the main advantages at your fingertips if you choose to go with this development tool.
Drag-and-Drop Builder
Like WordPress, Weebly is easy to use. However, they actually take things a step further. The learning curve here is way lower because you are provided with a lot of templates and a drag-and-drop layout.
This means that what you see is what you get.
No Worries About Hosting
With WordPress, you have to go out and find your own hosting. Weebly takes care of this for you. The free plan allows you to build a site for free, using your domain name.
However, the domain name will be attached to Weebly. If you upgrade and pay, then you can access more tools and create a site with your own domain.
Whatever one you choose, Weebly has you covered as far as hosting goes, as they provide the service as part of the setup.
Solid Support Team
The support team over at Weebly is actually very good. Whenever you are having issues, simply reach out to their support staff. They are available on a 24/7 basis so they can troubleshoot any issues you might be having.
It is always nice to have a solid support team at your fingertips.
Pricing Comparisons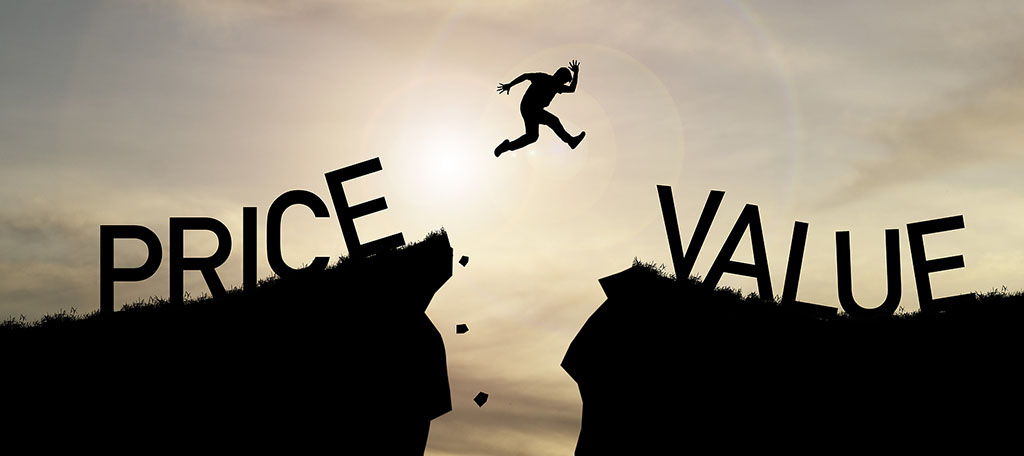 This is something everyone will be interested in. How does pricing for each platform work and what are the advantages and disadvantages of the way pricing is set up between the two?
This is always a huge factor when it comes to making a final decision.
While WordPress is free to use, you need to make sure you account for other costs that will come up when using it. This includes things like hosting, plugin, and theme fees.
Let's take a look at the pricing for both Weebly and WordPress.
Weebly Pricing
Weebly offers a free pricing tier that allows you to build a website (eCommerce, business, blog) and gain access to a lot of their tools. Some of the tools you can access for free include basic SSL certification, blogging tools, design tools, and advanced site stats.
There are two main disadvantages of the free pricing tier that Weebly offers.
1. They will run ads on your website (whatever ads they want)
2. You have to use a Weebly sub-domain. So, your domain will actually look like this when it is online:
yourdomain.weebly.com
From here, it will cost you more money the more advanced you want to get and the more you want to unlock.
For example, if you want to use a custom domain name on your site (yourdomain.com), then that will cost you $6 per month.
That being said, Weebly will still run ads on your website. If you want no ads running, you have to upgrade to the "professional" or "Performance" plan.
These plans come in at $12 per month and $26 per month. Now, that does include everything on the Weebly website building platform. This means you will have unlimited hosting, all your tools, unlimited storage, and more advanced functionality.
It should also be noted that if you pay month-to-month, the plans cost more. There is an option to pay yearly, so if you can afford it, then that is the way to go.
One final thing. The real cost will come in the form of extensions for your site. Weebly has around 60 available extensions on its platform. The extension fees range from one-off fees to monthly and can cost anywhere from $5 to $50, depending on what you want to get.
WordPress Pricing
WordPress pricing is set up much differently. It is totally free to download and use, as we discussed above. However, you will want to factor in the cost of a hosting platform.
Prices vary based on what you need, but most hosting companies offer something in the neighborhood of $3 per month and up. Remember, hosting fees will get pricier as you scale.
You also need to factor in the cost of the yearly domain name registration. That usually runs around $15 or more every 12 months. This cost will also be based on the domain name extension you use, as some cost more than others.
Another major pricing option to consider with WordPress is the cost of themes and plugins.
Yes, the free library of WordPress themes and plugins is massive. That being said, there are a lot of paid themes and plugins that you may choose (or need) to buy when you are building a website.
Themes and plugins have all sorts so of price ranges, but oftentimes you will be looking at anywhere from $30 up to $200 in some cases for themes.
Weebly or WordPress for SEO?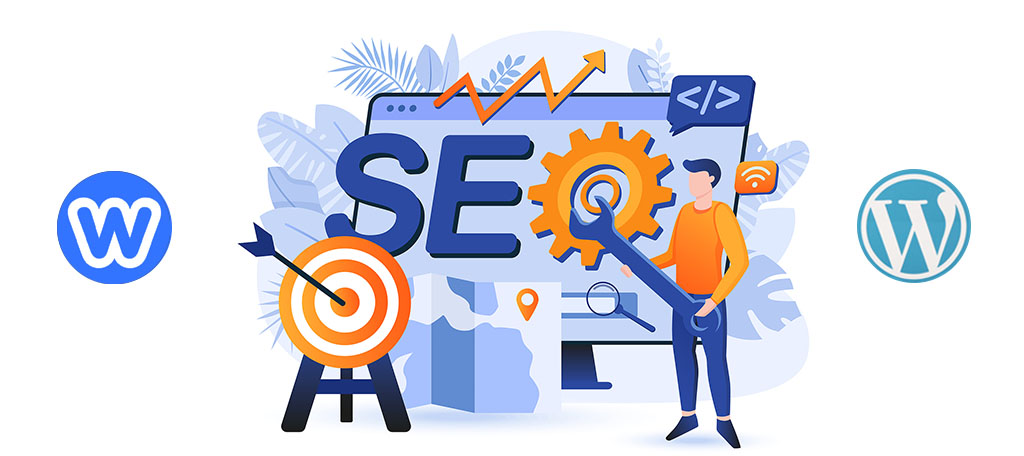 Aside from pricing, one of the most debated and thought-about topics in regards to website building is SEO. It is important to know how Weebly and WordPress stack up against one another when it comes to search engine optimization.
Let's take a quick look at what they both offer in this area.
Weebly SEO
The Weebly website builder platform allows you to perform basic SEO principles. This includes giving you the ability to create titles, meta descriptions, and custom URLs that help your posts and pages perform better in search results.
You can also use any one of the available Weebly mobile-friendly templates to build a site that is optimized for mobile viewing. Beyond that, Weebly comes up short when it comes to more extensive SEO options, including content choices.
There are roughly 10 SEO-related extensions located in their marketplace. However, if you view the ratings, you can see that the overall scores and comments show that they are average at best.
If you are performing SEO on your Weebly site, then make sure all the basics that they offer are covered.
WordPress SEO
WordPress is actually one of the best platforms when it comes to overall SEO standards. The free WordPress platform is built on strong code that is SEO-friendly. Most WordPress themes are mobile responsive and ready to roll right out of the box.
Like Weebly, WordPress allows you to easily create titles, meta descriptions, and custom URLs. However, the themes themselves also have built-in SEO options for headings and other things that you can set and adjust.
All that being said, what really sets WordPress apart in the area of SEO is that they have some of the best SEO plugins in the world available for download.
This includes Yoast SEO, which is the standard for SEO and WordPress. You can do everything imaginable with Yoast. And you can do most of it for free.
Conclusion
WordPress and Weebly could not be more different from one another. Honestly, the only thing that the platforms really have in common is that they both give you the ability to build a website.
Weebly is fairly popular because it offers people a very simple way to build a website. It is an intuitive platform that does have quite a few tools available if you are willing to pay for them.
WordPress is the biggest CMS in the world, running 40% of the website online today, and is an open-source platform that gives you full control of every aspect of your website imaginable.
For this reason, along with several others mentioned in the article, I believe that WordPress is the clear winner here for people that are trying to make the choice between the two.