Social media can do wonders for virtually any website. According to statistics from Social Media Today, a website dedicated to the growth and development of social channels, there are more than 2.2 billion active social media users on a global scale. Whether you're trying to boost traffic or looking to make a few sales through eCommerce, integrating these social media platforms into your WordPress website may help boost your success.
1. Social Media Buttons
Many themes are designed complete with automatic buttons for social media. For the most part, these can be accessed from the "Customize" screen. An example of this is through the free "Color Mag" theme. All that is required is the URL of your social profile and the template will automatically place the corresponding social button.
You can also hard code these buttons onto your pages if you have experience with site development. However, many people will utilize various plugins that will add social media to WordPress sites without extensive coding. This is often one of the easiest methods if your theme doesn't already support social engagement.
2. Sharing Plugins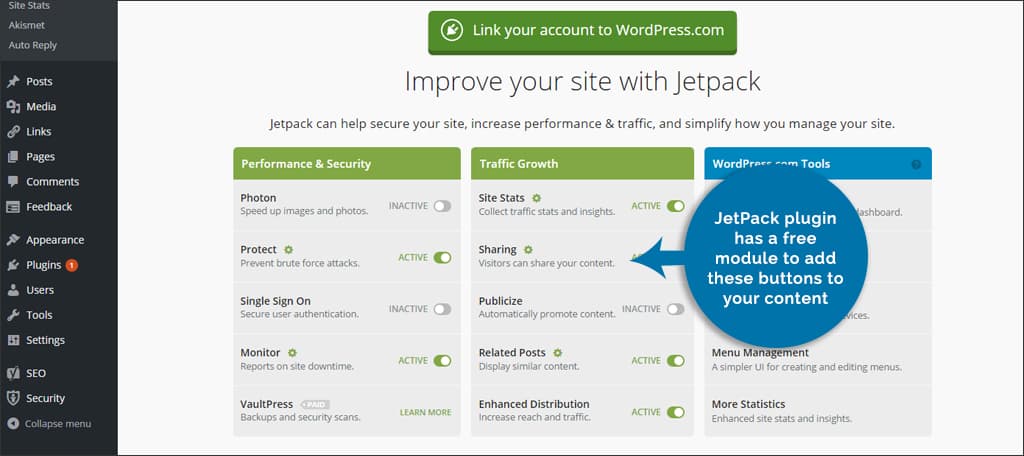 Sharing your posts on social media can bring in visitors from those sites. This works by giving a visitor a button to click on that allows him or her to share the page on their social profiles. Once friends and family see the link, they may click on it to visit the actual site – the page your visitor shared.
Although the JetPack plugin has a free module to add these buttons to your content, there are many plugins available which add several designs to the sharing buttons. Many of these are free to use and often come with extensive pallets for paid versions.
3. Copied Code
A lot of social sites offer a code that you can copy-and-paste into your WordPress site virtually anywhere. For example, the Twitter feed will display your "tweets" in real-time right on your website. All this takes is a quick copy of the provided code into a text widget, page or post. YouTube can be used in the same manner by using the available "Embed" code the site provides per video. This allows you to connect the videos you create with your website almost seamlessly.
4. Social Login Plugins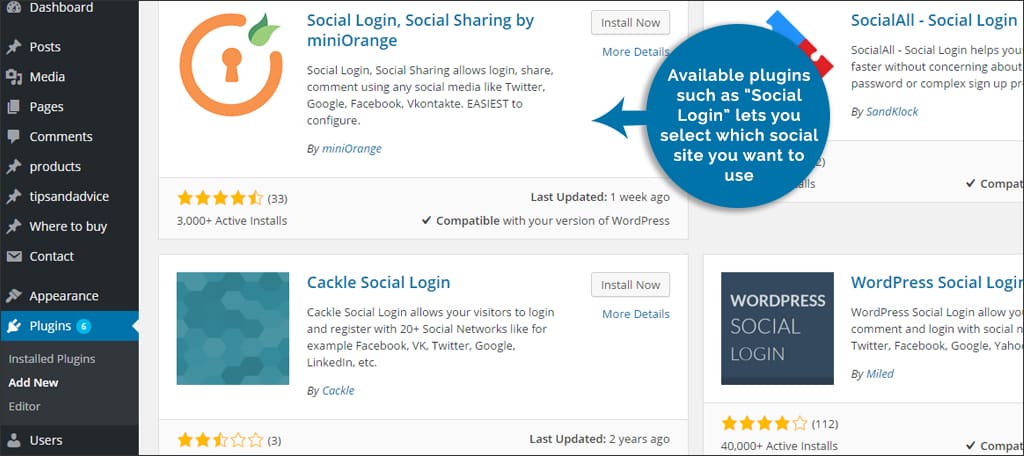 Many people are more trusting of a website that allows social login capabilities. It can also reduce the amount of spam you receive while making the registration of your website simple for the average user. You may have seen these kinds of logins before when you visited a website and it presents a "Login With Facebook" button. Available plugins such as "Social Login" lets you select which social site you want to use ranging from Facebook to Pinterest.
5. Profile Widgets
Profile widgets lets you display your social profile while giving the visitor a chance to follow or "like" the account directly from your website. This helps you build an intricate web between the site and the profile while displaying your popularity. An example of this is using the "Facebook Like Box" module in the Jetpack plugin. Some social sites will simply provide the HTML code to copy into a text widget in WordPress such as Pinterest and Twitter. However, you might want to refrain from sharing all of your profiles from social media in WordPress widgets. It could get quite crowded and take away from the visitor experience.
Between the extensive number of plugins available (Learn about The Top 3 Pinterest WordPress Plugins) and the constant features of social media channels, integrating these accounts with your website can be easy to accomplish. In many situations, it's merely a code you copy and paste into any part of your site in seconds. Give your website a boost and connect your social media to WordPress. It may be one of those features that enhances your online reputation.
What social media sites would you like to integrate with your WordPress platform? Do you take the time needed to strengthen your social presence in the digital world?