Losing a password to an email address has potential to become quite problematic. For instance, what if a person operating an eCommerce site was unable to access an address used for processing shipments?
Luckily, it's easy to reset email passwords in cPanel. All it takes is a few moments and the account is back to being active.
In this tutorial, I'm going to quickly show you how to change an email password in cPanel. It's a time saver in the event something happens and you're unable to access important messages.
When Should You Change Your Email Password?
A lot of people often need to change passwords simply because they forgot it. Not everyone has these phrases written down on a sticky note plastered to the desk. Simply forgetting what special character was used can prevent access to messages.
Another popular reason why people change a password is if the account was hacked. If the criminal element gains control of your email address, they can wreak all kinds of havoc with spam and malware. In many cases, the domain itself becomes blacklisted by services like Spamhaus, which prevents any email from being sent.
Spamhaus isn't the only system that can blacklist a domain. Suspension of hosting accounts can also be a result of hackers spamming from your domain.
Fraud situations like these can cost a business a lot of time and money.
Changing the Email Password
In the cPanel dashboard, go to the Email section and click "Email Accounts."
Find the address you want to change and click "Password." For this tutorial, I am editing the "sales" address in my list.
A new window will drop down where you can insert the new password. Personally, I would advise using the Password Generator. It's a good way to create an amazingly difficult password for the account. If you would rather not us this, there are plenty of easy tricks to develop strong passwords.
Click the "Change Password" button once you are done editing.
Once you click that button, the changes are committed. Your account is now ready with a fresh new password.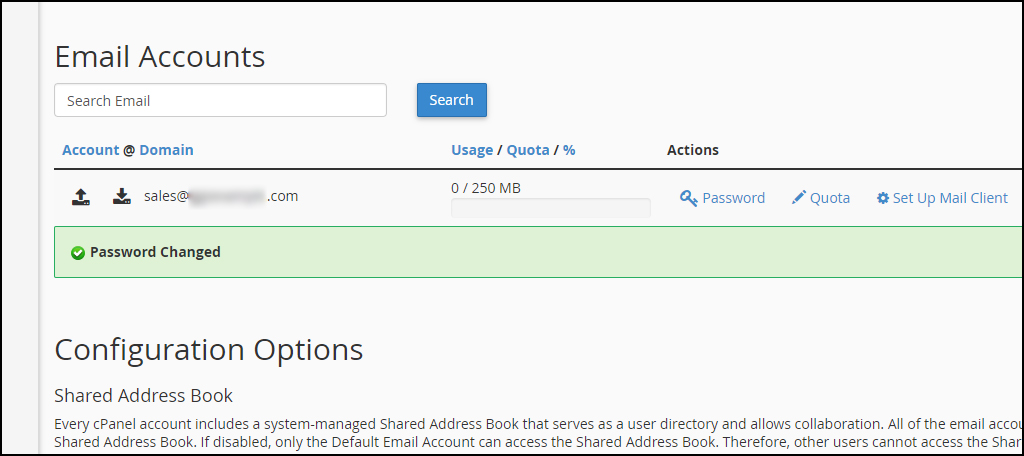 Always Keep Your Messages Safe
Many experts attest to changing the password of email address frequently. This makes it far more difficult for someone to have access to an account. Always make sure your passwords are difficult to guess. The last thing you want is someone gaining access to vital and confidential information about yourself or the business.
Chris is the Support Manager at GreenGeeks and has been with the company since 2010. He has a passion for gaming, scripting and WordPress. When he's not enjoying his sleep, he's working on his guitar skills and fiddling with 3d printing.