Do you want to display your eBay listings in WordPress? You can with the Auction Nudge plugin and it can help boost sales and auction participation. And most importantly, it's really easy to use.
All you need to do is install the plugin, change a few settings, and link your eBay account. On a popular website, you can get a lot more attention on your auctions to help raise the price, especially if the item relates to the website's theme.
Today, I will demonstrate how to use Auction Nudge in WordPress.
Why Display an eBay Auction in WordPress?
I think the real question is why not?
Putting an item up for auction on eBay is risky business. You could easily end up selling it for less than you expected if not many people see it. Instead, the best outcome is to have a lot of people see and interact with the auction.
However, unless someone is specifically looking for the item during its auction time, you might not get a big turnout.
One way to fix this problem is to showcase the auction on a dedicated website. For instance, let's say you collect vintage video games. If you have a website dedicated to it, adding an auctions page with your latest listings will get enthusiasts looking.
And hopefully bidding. After all, if it's an item they want, and it's hard to find, people are willing to pay especially if they are beating someone else.
How to Use Auction Nudge
Step 1: Install Auction Nudge
Auction Nudge allows you to display an auction or listing from eBay in WordPress. It works for select international eBay sites, so be sure to check the plugin page to make sure your country is supported.
Not only can you view eBay listings, but you can also see feedback from the seller. This helps with customer trust as many try to avoid sellers with bad feedback and ratings. It's one of the most comprehensive eBay plugins for WordPress.
Note: If you use adblocker, you will see a warning message that Auction Nudge will not load all information.
Let's start by clicking on Plugins and selecting the Add New option on the left-hand admin panel.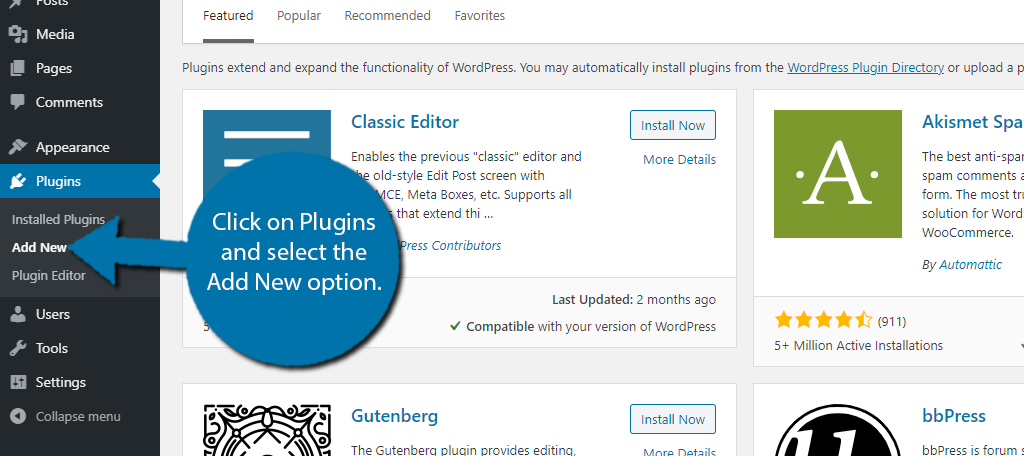 Search for Auction Nudge in the available search box.
Scroll down until you find the Auction Nudge plugin and click on the "Install Now" button and activate the plugin for use.
Step 2: Settings
The first thing you need to do is go through the settings. This is how you connect your WordPress website with your eBay account. You will need access to the eBay user name and password before going any further.
And yes, this means you cannot list other sellers on your website.
On the left-hand admin panel, click on Settings and select the Auction Nudge option.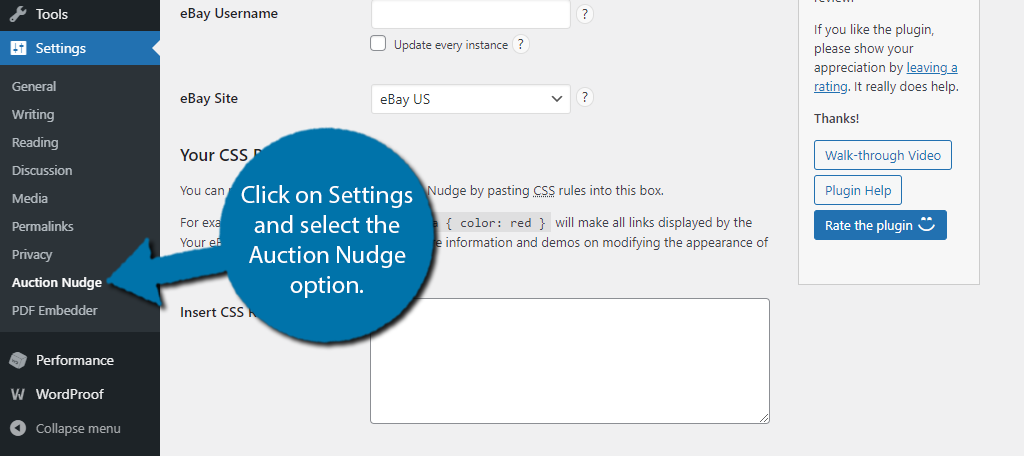 Enter your eBay username into the appropriate textbox. Underneath it, you can check the box to automatically update it in case you change your username.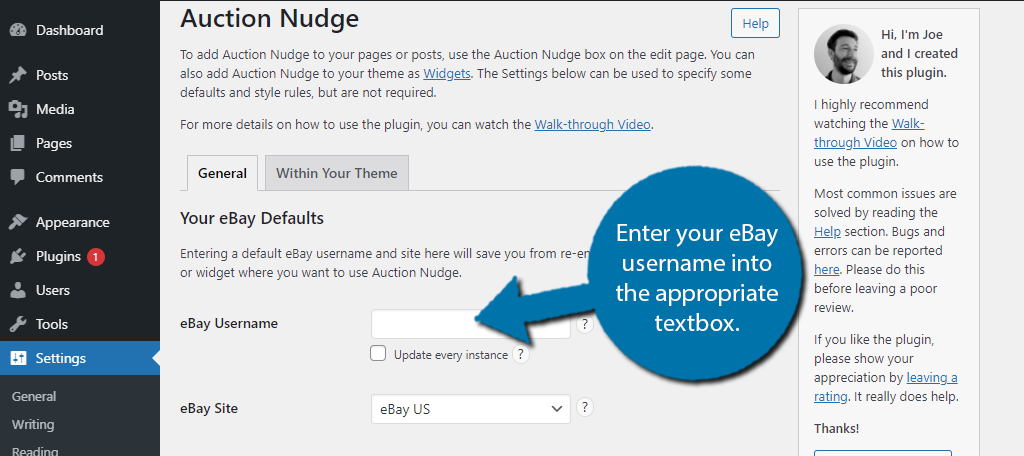 Next, you need to pick which eBay site your username is for. Again, not every eBay site is supported, so if you do not see your country, this plugin is not for you.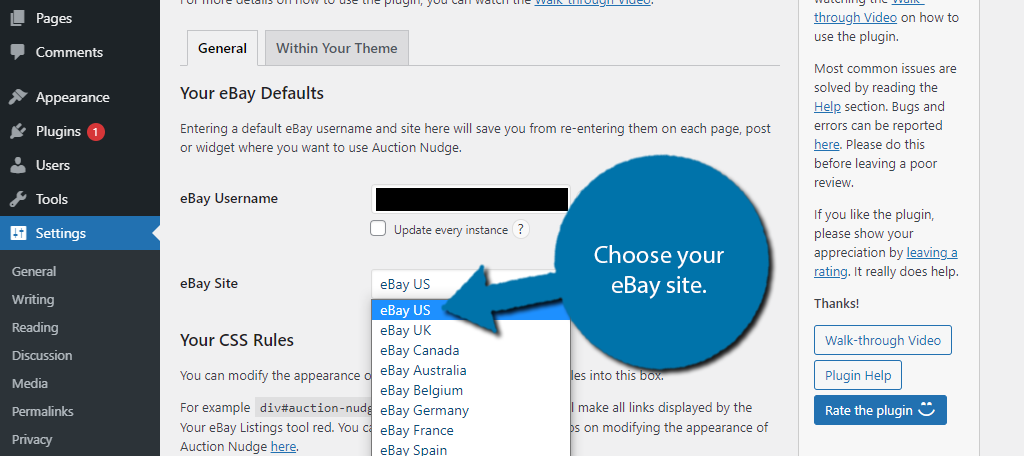 Below this, you will find a text box that allows you to enter CSS rules. You can do some pretty cool things with this plugin and for more information, I highly suggest checking out the plugins information page for CSS.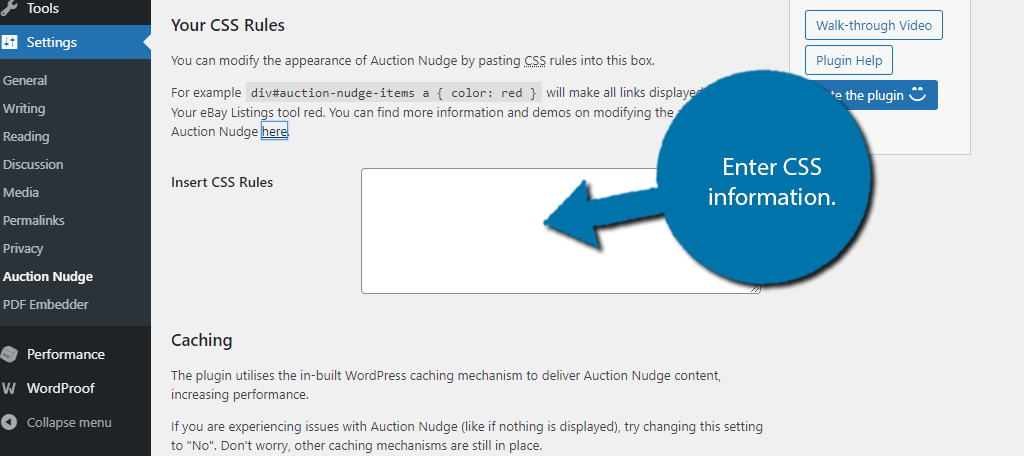 Finally, you can choose the caching options, which essentially means turning on or off the WordPress cache.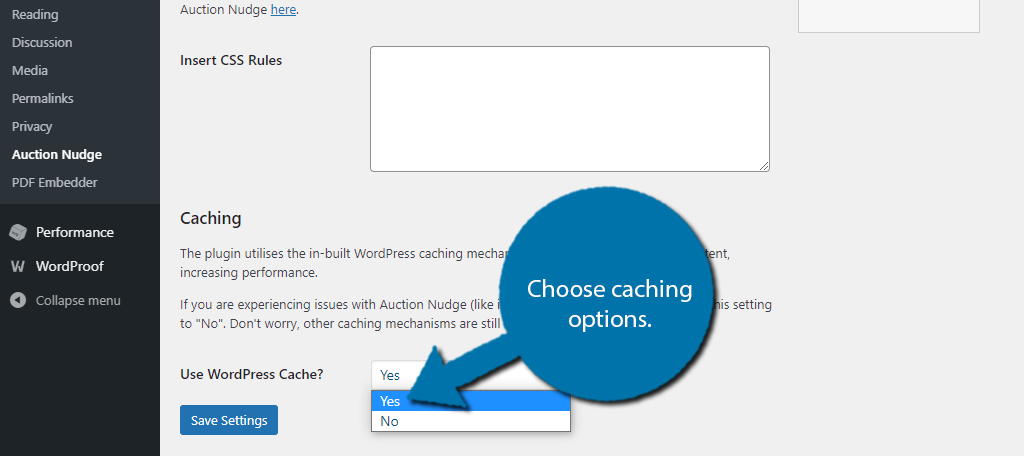 Click on the "Save Settings" button to finish.
Note: You might have noticed the "Within Your Theme" tab. This tab allows you to edit the PHP of your theme and is only recommended for advanced users. It is also highly recommended to create a backup before doing this.
Step 3: Adding eBay Listings in WordPress
With the settings taken care of, it's time to add listings in WordPress. The good news is that this is pretty simple to do, but just remember if you do not have any listings, you won't be able to see anything.
Go to any post or page that you want to embed eBay listing on your website. Scroll down to the bottom to view the Auction Nudge section.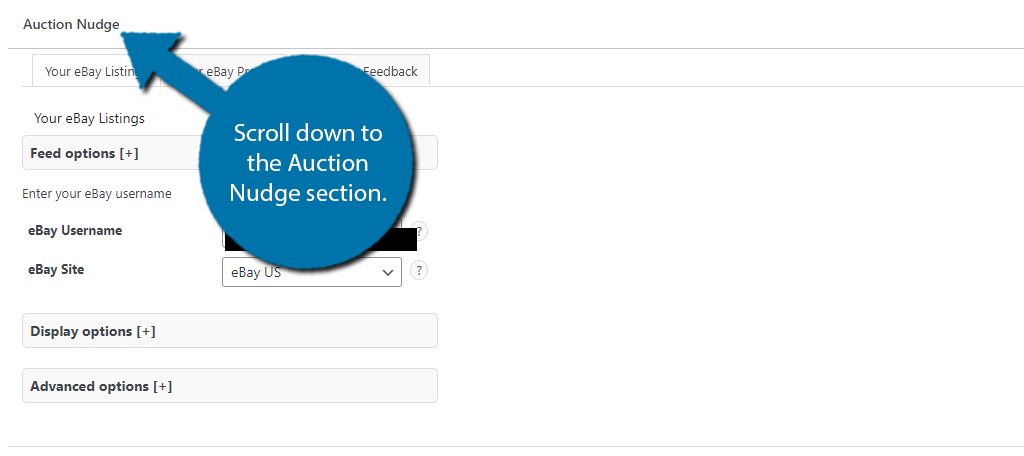 Here, you will find even more settings to configure. It's broken down into feed options, display options, and advanced options. Feed options simply contain your username and eBay site. This was selected in the last section and can be left alone.
Click on the Display options to view more settings.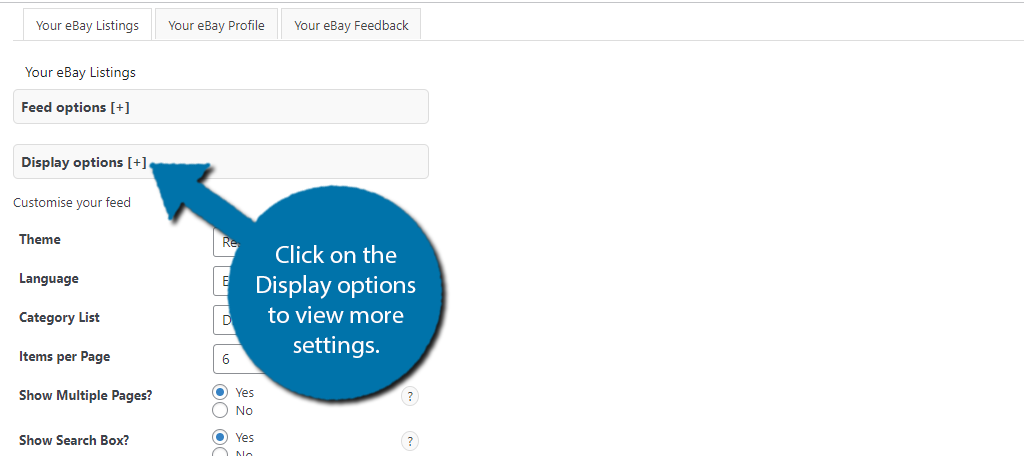 Here, you can select which theme (layout) to use, the display language, category display, the number of items displayed, and quite a few other options.
Go through these settings and pick the best options for your website.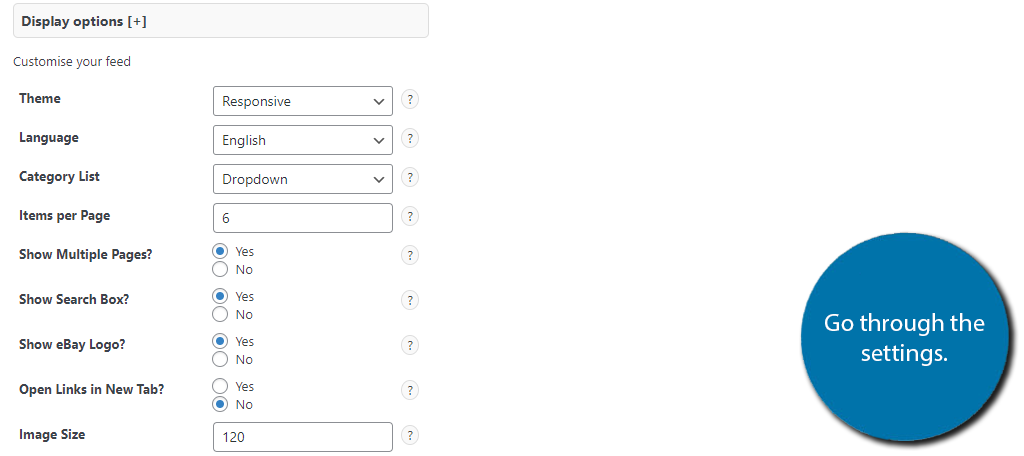 Click on the Advanced Options. In this section, you will find sorting options, listing types, keyword filters, and category ID filters. Fill in the information as you see fit.
You might have noticed some other tabs at the top of this section: Your eBay Profile and Your eBay Feedback. These have more settings to configure, and I recommend you do so.
This is to give the section a more personable feel while offering clarity of who you are as a seller.
When you are ready, add a shortcode block to the post or page and paste the following shortcode:
[auction-nudge tool="listings"]
Note: This shortcode does not work in a text widget.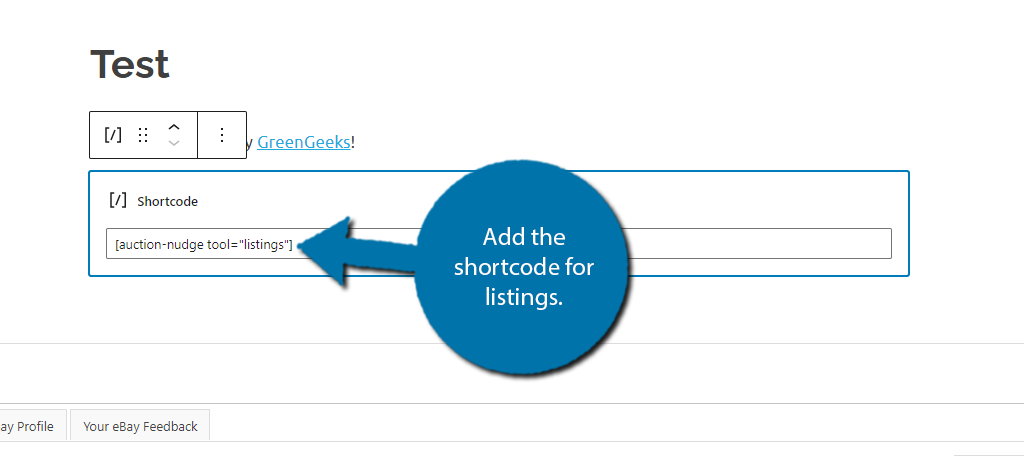 If you save the changes to the post and view it, you should now see the listings. Just keep in mind that you need to have a listing for the plugin to actually display them.
Adding the shortcode without a listing on eBay will result in a "No items found." message.
Note: If you are running an adblocker extension through your web browser, it may be interfering with Auction Nudge. You may need to whitelist the website to see the results. And yes, this applies to visitors as well.
Congratulations on setting up the Auction Nudge plugin.
Match Listings With Your Website's content
Adding an eBay listing to a WordPress website can have some amazing results, but it could also do nothing if the two are not related.
For instance, if you run a blog about lawn care and decided to add an eBay listing for a computer, that probably won't go over well. It has nothing to do with the subject matter of the blog. Thus, there's no reason for an average visitor to care.
Now if you decide to sell some homemade fertilizer through eBay, that might catch the audience's eye.
However, at that point, you might just want to create your own online store to sell products to customers. After all, asking customers to buy something on eBay through another website isn't the most popular option.
Make Sure Visitors Know About eBay Listings
Even if the listing matches your website's content, you still need to make sure they know it exists. Be sure to add it to your navigation menu, mention it on social media feeds, or even make a blog post about it.
That said, don't go overboard. It's easy to scare visitors away from a blog if they think you're just trying to sell them something.
Have you noticed more active auctions on eBay since adding the listing to WordPress? Do the listings match your website's content?