Do you want to start a cooking blog but worry about competing with high profile chefs or professional sites?
You don't have to be Mario Batali, Eddie Huang, David Lebovitz, or the late Anthony Bourdain to write about food. And you don't have to have the resources that food blogs like Serious Eats, Eater, or The Sporkful have.
Maybe you want to blog about food for a small circle of friends and family. That's just as valid and easily attainable. But whether you're aiming for the stars or the local neighborhood, the foundation is the same.
All you need are a few tools, which I'll show you, and the desire.
What You Have to Bring to the Table to Get Your Cooking Blog Started
An Angle
You can certainly start a general-interest food blog. But if you specialize or focus on one area, it will be easier to build an audience. Are you interested in vegetarian food? Deserts? Zero-waste cooking? Slow cooker recipes? Start with a narrow focus; you can always branch out once you're established.
A Home for the Blog
Meaning website hosting and a domain, which we'll talk about in a minute. I recommend staying away from the point and click website building services or free blog space. It's tempting to want to get started for free, but later down the road, you'll wish you hadn't.
When the time comes to expand or make technical improvements (and it will), moving the blog can be costly—both in time and resources. Start with the right host, and you'll save yourself a lot of frustration and trouble in the future.
A Good Camera and a Light or Two
A cooking blog is a visual thing. Your visitors want to see the food you're describing. If you're posting recipes, they want to see the finished product. Sure, you can use the camera on your phone. But to set yourself apart and project a professional presentation, get serious about the quality of your pictures.
There may be a learning curve and an investment, but it will pay off. You can't audition for the philharmonic with a plastic ukulele. When you come across as a professional, the world sees you as a professional (and an authority).
Does a Professional Website Require a Professional Website Developer?
There was a time when it did, but not anymore. Listen, I'm not going to lie to you. A $50,000 website is usually going to look and work better than something you or I can build.
But we're talking about starting a cooking blog, and spending money to have a developer build a blog is unnecessary. There's technology available to you right now (for free) that puts sophisticated blog construction within everyone's reach.
Let's Talk About Where Your Blog Is Going to Live
I mentioned that it's best to use hosting for your blog rather than using a free platform or site builder. And I think the ideal host for your blog is GreenGeeks.
Here at GreenGeeks, we're WordPress hosting specialists, and in a minute, I'm going to recommend WordPress for your food blog. The GreenGeeks support staff is friendly and knowledgeable. They're available around the clock to answer your questions or lend a hand.
And it's not just our name that's green. GreenGeeks is the most eco-friendly web hosting company on earth. How? We match every kilowatt of power we take from the electrical grid with three times the amount in the form of renewable energy via the Bonneville Environmental Foundation.
Affordable, reliable, green – GreenGeeks is a home that can grow along with your blog.
When You Say Blog, I Say WordPress
The reason I said that it's unnecessary to hire a developer to build a blog is that we have WordPress. WordPress was built for blogging, and it's been around forever (well, technically, since 2003, which is pretty much forever in the grand scheme of the Internet).
It's grown into much more than blogging software, but it's still free to use. There's really no other reasonable choice for a blog.
And as roughly a third of the Internet is powered by WordPress, it goes to show how much trust the platform has from people and big-name brands alike.
Some Food and Cooking-Related WordPress Themes
The appearance of your WordPress blog is derived mainly from the theme. There are tens of thousands of themes available; many of them are also free. I've gathered a few of those free options here.
Bayleaf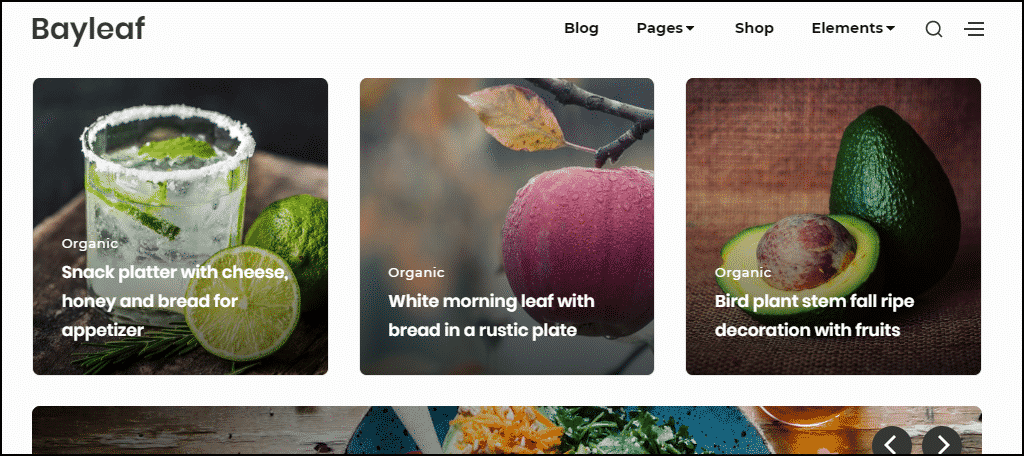 The Bayleaf WordPress theme boasts an elegant visual look and feel. Modern and minimalist, it comes complete with color scheme customizer and home page widget areas. It's a clean design that stays out of your way with enough features to build a beautiful website.
Recipe Lite
Recipe Lite is another free WordPress theme created and designed to cater to a food blog. Responsive and modern, it has everything you'll need.
VW Bakery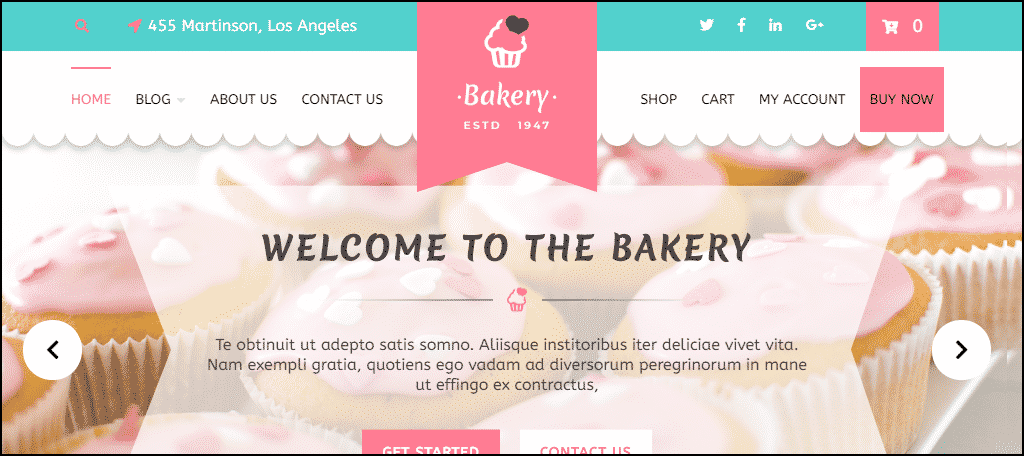 VW Bakery is eye-catching, simple, and manageable. Its friendly user interface includes both the front and back end (admin area). With a sleek design and all of the essential features of a modern website, it will serve you well.
Bakers Lite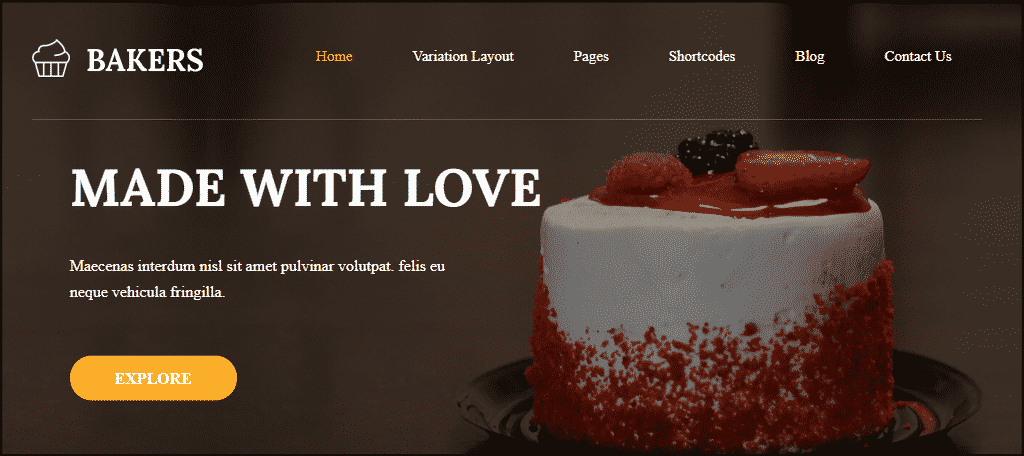 Bakers Lite is a well-designed theme with professional features and visual appeal. It includes all the prerequisite modern website features, responsiveness, flexibility, and SEO enhancements.
Full Page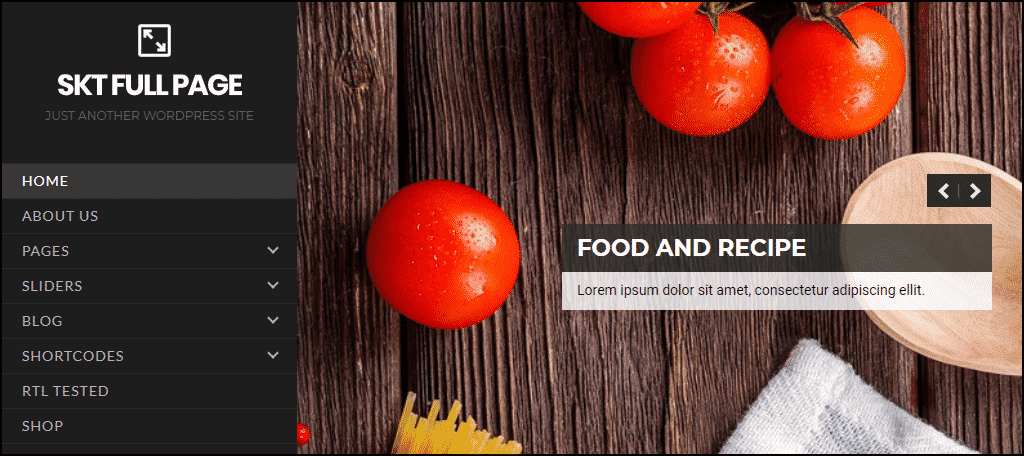 Full Page is a full-width page layout that's simple, flexible, and easy to use. It is WordPress Gutenberg editor compatible and WooCommerce friendly. If you intend to make sales from your blog, the WooCommerce integration is essential.
WordPress Plugins for a Cooking Blog
Themes control how your blog looks, but plugins provide functionality. They extend the default WordPress software to provide extra goodies. Here are some that you might consider adding to your blog.
WP Recipe Maker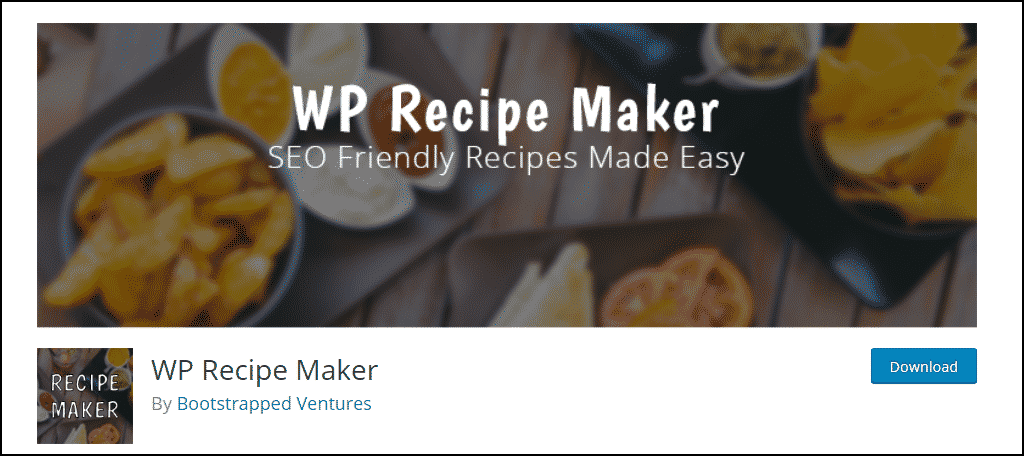 WP Recipe Maker is the easy recipe plugin that anyone can use. It allows you to add recipes to any post or page with automatic metadata for your recipes. Metadata will improve your SEO and get you more visitors.
Meal Planner Pro Recipes
Meal Planner Pro Recipes lets your readers take action on your recipes. They can save recipes, create shopping lists, add to a meal planning calendar, see nutrition info, and more.
Rate my Post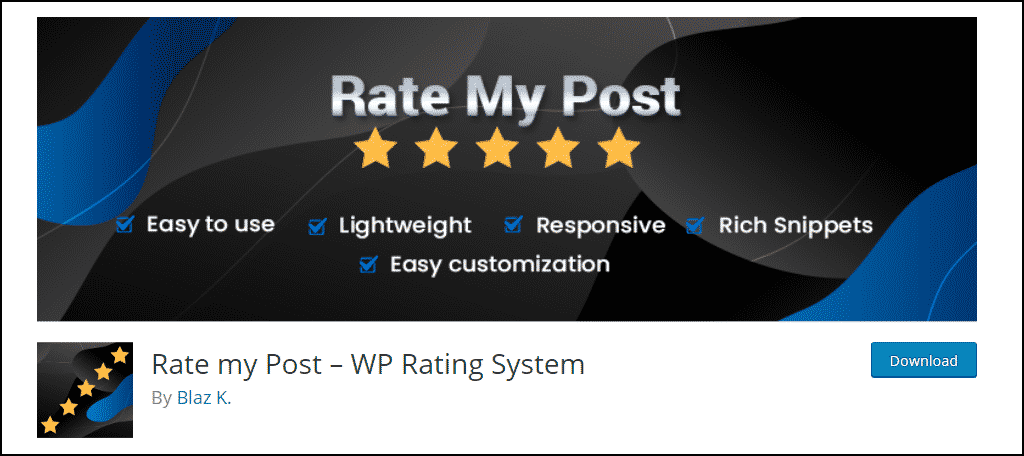 Rate my Post allows you to add star ratings to your WordPress posts and pages. Visitors can rate your recipes or articles and even send private feedback. It's simple to use but doesn't skimp on performance. Star ratings have a positive impact on visitor engagement.
Pin It

I guess they can say "Pinterest" in the plugin description, but I can. Pinterest! The Pin It plugin lets visitors pin your posts, pages, and images to their Pinterest account. Whether you plan to use Pinterest yourself or not (spoiler alert: you should), provide this tool so your visitors can spread the word for you.
Newsletter

The Newsletter plugin doesn't have anything to do with a cooking blog specifically. But it's essential in building an email marketing plan for any kind of blog. And your blog will definitely benefit from email marketing. It's very full-featured for a free plugin. It will do everything you need a newsletter program to do.
Sharing and Finding an Audience
Letting the world know there's a new cooking blog in town requires some promotion. Here are some of the most effective ways to go about it.
Instagram
Instagram is the prime spot for any food blog to spread the word. That is one of the reasons I recommended investing in a camera and lights. Instagram is all about the photos, so successful Instagrammers don't slack when it comes to visuals.
Pinterest
The same can be said for Pinterest. It's a visual social media site, and your food blog should maintain a strong presence on it. Instagram and Pinterest are the two platforms where you'll get the highest return on your time investment. This is because many people love images of food and how it's prepared.
Free Recipes
Recipes are one of the most searched categories on Google. Posting free recipes can quickly gain your blog a lot of traction and attention. Post recipes that relate to every season, special occasions, and holidays. You might even try topical recipes related to what's happening in the world at any given moment.
Befriend Influencers
Working with food blog influencers can help you gain access to new audiences. Working with a popular food blogger or influencer can convert their readers to being your readers. They may even share your content with their social channels.
Ello
Ello is a social media site geared toward visual artists. But its format emphasizes images, which makes it a fertile outlet for any food blogger who's handy with a camera.
How to Earn an Income With a Cooking Blog
What if you could grow your food blog into a career? If you're ready to put in the time and effort, here are the main ways food blogs create income. Of course, the more visitors you can attract, the more income you can generate.
Affiliate Links
Plans like the Amazon Affiliate program can earn money for you every time one of your readers clicks a link. If you include reviews of cooking tools on your food blog, affiliate links can be lucrative.
Website Ads
Google AdSense is an excellent place to get started with on-site advertising. Google does a good job of matching ads to your site content. It's easy to set up, and you can get started right away. As your blog becomes more popular, advertising opportunities will come to you.
Sponsored Blog Posts and Social Shares
This is the number one income stream for a lot of bloggers and influencers. Most brands won't pay for your posts until you have at least 40,000 Instagram followers. And of course, the higher your follower count, the higher the fees. But that's an attainable number if you put the work into your social media.
Okay, Let's Plate This Article and Get It Onto the Table
If you've always wanted your own food blog, I hope I've provided you with some tools and ideas. Doing something well is never easy.
But the construction and maintenance of a blog don't have to be complicated. WordPress has you covered there. And GreenGeeks has you covered when it comes to the hosting side of things. We're here to help you succeed.
Good luck and bon appétit!