The final goal of every website is to make money. It might start out as a hobby or a fun way to pass the time, but eventually, you may want it to become a full-time career. The good news is that it is easy to make money with a website.
Today, I am going to go through the steps necessary to build a website and the best ways to make money with one.
How to Build A Website
The good news is that building a website from scratch is pretty much the same regardless of what type of website you want to build. The main difference is usually the content you produce and the tools you choose to use.
We will do an overview of the major steps.
Step 1: Decide on the Website Type
While the steps are mostly the same, deciding on a website type needs to happen before you begin building. The type of website you build will also determine the monetization option at your disposal.
One of the biggest mistakes is assuming that only eCommerce websites can make money. Trust me, that could not be further from the truth. Blogs can also earn a lot of money, especially with the lucrative affiliate plans out there.
Thus, the first choice is to actually decide what type of website you are going to make and what the main focus will be.
Once you decide on a website type, also come up with a few ideas of what the website will look like and the type of content you reproduce. This is assuming you will release content.
If not, then think about the products or services you will provide.
Have a good mental image and understanding of the website you want to build before going forward.
Step 2: Pick a Web Host and Domain Name
With all of that in mind, the first real step of building any website is deciding on a web hosting company. A web host is responsible for renting out a web server for your website and maintaining it to operate 24/7.
Every time a visitor connects to your website, they are really connecting to that web server. The good news for you is that web hosting is extremely competitive, which has driven the price down considerably since the early days of the web.
However, this is also a curse, because all web hosts are not equal. And that's a big problem because a web host determines your website's performance.
Here at GreenGeeks, we strive to deliver the best experience possible, which is why we were recently recognized as one of the top web hosts in the industry. This is because the services and support we offer customers are unmatched.
What really separates us from the competition is our commitment to the environment. For every customer that signs up with us, we plant a tree. And most importantly, we carefully calculate the energy each website uses and purchase three times that in renewable energy.
Thus, the websites we host are actually carbon-negative.
You will also need to select a domain name. This is the URL of your website, and it should be short, easy to remember, and catchy. Some web hosts will charge extra for the domain name, but we offer it for free for the first year.
Step 3: Choose A CMS (WordPress)
Now you need to choose a platform to build your website on, and while there is a lot to choose from, there is one that stands above the rest: WordPress.
WordPress currently powers over 40 percent of the internet. Or in other words, 40 percent of all websites are made with WordPress. And the only way this platform could achieve those numbers is if it really works.
And trust me when I say, it really does.
Unlike most CMS, WordPress does not require a single line of code. Instead, the theme and plugins you choose do all of the heavy lifting. Most of what you will do includes changing settings and creating content.
Most importantly, WordPress is flexible enough to build any kind of website and has the tools you need to do it. For instance, if you want to build an eCommerce site, the WooCommerce plugin will take care of everything.
Due to its customization, ease of use, and the fact that it is free, it is the best choice.
Step 4: Choose a Theme and Plugins
I mentioned that the theme and plugins you choose will do most of the work for you, and now it's time to choose which ones to use.
A theme is a collection of style sheets and templates that determine the appearance of your website. In the past, this would consist of complicated code and would require hiring a developer to do it, assuming you do not have the knowledge yourself.
In contrast, all you need to do is pick a theme and your website's appearance will change instantaneously without editing the code. That said, there are a lot of customization options available.
A plugin is a small software package that adds specific functionality to your website. The best analogy for them is that they are the equivalent of apps for your smartphone. And there is one for just about anything.
Now normally, I would suggest which plugins to install, but since the type of website you choose to make will determine the tool you need, the best advice I can give is to search for what plugins your website type needs.
For example, it wouldn't make much sense to install WooCommerce if you don't plan on setting up an online store. Choose plugins and themes that fit the plans you have for your website.
Step 5: Market Your Website
One thing that should be obvious about your website is that you cannot make money without visitors. This is why every website invests money into a marketing strategy, and starting a website is the most crucial time to do so.
For instance, let's say you run a blog. The truth that no one wants to admit is that you could spend months or even a year without making a single penny. This is because growing organically takes a lot of time and a lot of content.
Marketing speeds up the process and can help give your website a running start.
The good news is that there are a ton of ways to market your website, and many of them do not cost anything. For instance, consider the 20+ social media networks out there. You can build a profile on each one to help promote the site.
Share it with friends and family, and you might build up an initial audience that much quicker.
You can also take advantage of paid options like Google Ads or Facebook Ads. While this can be more expensive, they also offer some free credits that you should take advantage of.
The bottom line is you need to get the word out about your website. In not, it will be exceedingly difficult to make money with a website.
How to Monetize a Website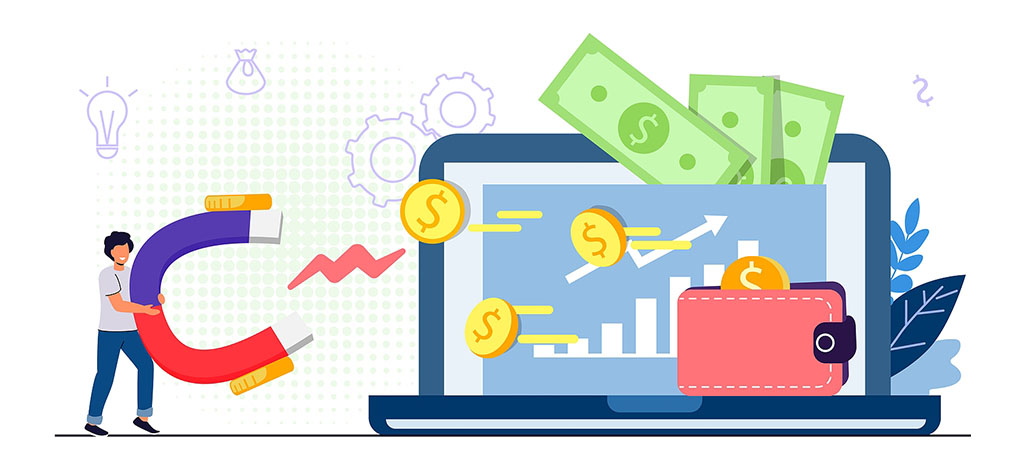 Now with your website built up and ready to go, it's time to start thinking about how you can earn some money. The good news is that the number of monetization options for websites is staggering.
The bad news is that many of them require a solid amount of web traffic.
This is the main issue new websites face. They need to build a community and can barely make a few dollars a month in the meantime.
Let's take a look at four of the easiest ways to make money.
1. Advertisement
If we're talking about the easiest methods, running advertisements is as easy as it comes. All you need to do is place the ads on your website and you will begin earning money, with a couple of caveats.
The real money does not come from visitors seeing the ads. It comes from them interacting, or more specifically, clicking on the ad. This is why running ads that match your visitor's interests matters.
It's one of the main reasons that Google Adsense is so successful. The algorithm uses search history, along with other information, to display advertisements that visitors are interested in.
Thus, the platform increases the click-through rate (CTR). This helps you as well as Google make more money.
However, many visitors today will use adblockers on their browsers. This will make it impossible for them to see the ad. While larger websites can make thousands from ads, new websites will be lucky to make a penny a month.
2. Affiliate Programs
Larger companies are always looking for shoutouts. And this has essentially become its own business in the form of affiliate programs. These programs pay you to link to a product or service, and if a sale is made, you get a small commission.
This can be extremely lucrative if you can combine a good affiliate deal with a popular topic. And it's completely possible to quickly make a lot of money if you have the visitor traffic.
And large websites like Amazon have made that even easier.
For instance, let's say you start a blog about video games in which you review them. You could sign up for the Amazon affiliate program and start including affiliate links to the games that you review.
This allows you to create content for your website while enticing visitors to buy a product that you can profit from.
3. Dropshipping (eCommerce)
Running an online store is the first thing that people imagine when they think of ways a website can make money. It can be extremely profitable but calling it an easy way to make money is a bit of a stretch.
It takes a lot of effort to successfully manage an online store more than most people realize. But there is one way to make it much easier, and that's creating a Dropshipping business.
Dropshipping is essentially an online store where you do not have to actually purchase any of the goods you sell until a sale is made, or deal with shipping and handling.
Essentially, you are the middle man.
Your website sells products that a distributor carries, and when a sale is made, the item ships from their warehouse.
4. Donations
Odds are if you visit a lot of blogs, you might have seen it mentioned that they accept donations. This can be in the form of a Patreon subscription or a "Buy Me A Coffee" button, and the truth is, it can really help your financial situation.
Newer websites often fail because they cannot make a profit even if they produce great content. With a small donation from visitors, they can help support a website creator and inspire him or her to continue developing great content.
Of course, the term donation is often misused in these cases. For instance, take a Patreon account. Most of these typically offer patrons rewards or access to content earlier. Perhaps the creator offers locked content for supporters.
Thus, the donators are actually getting something for those contributions.
And it's not just blogs, either. Look at your favorite content creators on YouTube or streamers on Twitch. Viewers are happy to donate a small amount of money to content creators they enjoy.
It helps buy better equipment and support future content.
Final Thoughts
Starting a website to make money is normal, and you can find a lot of success. However, you need to be prepared for an uphill battle. I assure you, your website is not going to be making money for a few months.
In most cases, you will lose money.
However, if you stick with it, your website could end up netting returns tenfold or even a hundredfold. The earning potential from a website is huge, and your website can definitely achieve success as long as it produces solid content.
How do you plan to monetize your website?