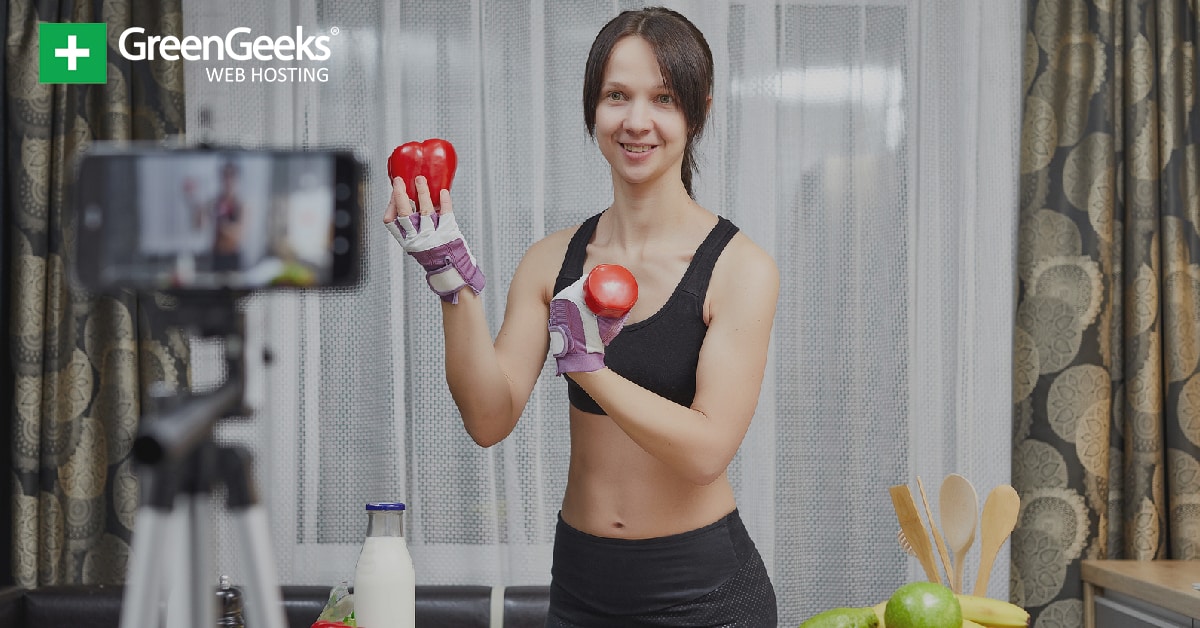 Do you have what it takes to start a fitness blog? If you have a personal story that incorporates health or fitness, you have what it takes.
If you're a trainer, motivator, yoga instructor, nutritionist, gym owner, there's room for you in the fitness blog world. Maybe you want to track your personal progress on a blog. That's perfect.
You don't have to be a fitness professional to create a fitness blog. The interest in health and well being is everywhere. We're not talking about a specific type of person or demographic.
When it comes to our health, everyone is interested in what they can do to improve it. In North America, the fitness industry creates 32 billion dollars in annual revenue and grows more than 4% a year.
That's a broad, diverse audience. If you capture a tiny corner of it, your blog or website can be a success.
Anyone Can Start a Fitness Blog, Here's All You Need
Passion
It's an overused term, but a significant factor in a lot of fitness activities is motivation. Most of us can do the work when we're motivated to do it. Otherwise, it becomes easy to skip a day of exercise or eat an entire pizza while binge-watching Stranger Things.
If you want to instruct or inspire others, you have to be excited about what you're doing.
A Different Point of View
If you start a fitness blog that's similar to a lot of others, you'll have a hard time attracting readers. The established blogs that are like yours will have your potential audience wrapped up.
But if you bring something fresh to the table, people will notice. If you can provide something no one else can, you've got it made.
That "something different" can be an approach to fitness, a philosophy, or your personality. Focus on what's unique and different about you or your story.
Tenacity
The mechanical parts of starting a blog that we'll cover here are essential. But promoting your blog is what requires the most work. Especially when you're starting from scratch.
It's easy to be excited about promoting a new project, but successful site owners remain excited about promotion. Or at least they have a positive outlook about the work involved.
You don't need an advertising budget, but you'll have to budget your time and invest some of it in promotion.
How to Make a Fitness Blog
There are specific steps to follow to build any website. But there are some differences when it comes to a fitness blog. Here's what you'll need.
Every Blog or Website Needs a Domain Name
I don't want to say that coming up with a killer fitness blog name is crucial to your success. But the right name can contribute to it. In the end, it comes down to finding something that resonates with you and your audience.
Don't limit yourself. What I mean is, don't name your website "30 Days To Slimmer Thighs" unless that's all you intend to do. Use something universal that doesn't pin you down to a specific subject. That's assuming your domain name is going to match your blog name, which it should.
Consider using your name in the blog name and domain. The odds are YourName.com won't be available (if it is, register it now!). But your name, followed by a word, is an ideal way to find an available domain. BeckyBarnesFitness.com, RobRangleWorkouts.com, EatMeatWithPete.com – you get the idea.
When choosing a blog name, always check the social media sites you plan to use. Make sure your name (or a variation of your name) is available as a username. You want a close tie between your blog name and your social media usernames.
Every Blog or Website Also Needs a Host
Where your blog is going to live is a significant decision. You need a high-quality host that wants to be part of your success. So allow me to extol the virtues of GreenGeeks hosting.
First, the platform is optimized for WordPress, which we're going to talk about in a minute. Also, GreenGeeks will pay for the first year of domain registration when you set up a hosting account.
There's one less cost you have to worry about.
Finally, GreenGeeks is the most eco-friendly web hosting company in the world. You're into personal fitness, so I'm going to assume that you are also concerned about the resources your website uses. Our fitness is intertwined with the earth's fitness, after all.
At GreenGeeks, we match every kilowatt of power we take from the electrical grid with three times the amount in the form of renewable energy via the Bonneville Environmental Foundation.
That's green. That's healthy. Hosting with GreenGeeks shows that you care.
Why WordPress Should Power Your Fitness Blog
Your blog has to run on blogging software. And when it comes to blogging, WordPress is the choice of millions of users for a reason. It's quick to set up, it's easy to use, and many of the tools are free. You can do it yourself, right now, today.
And there's no need to worry about maintenance. That's easy too. You can even automate updates.
When your WordPress installation is up and running, the first thing you'll want to do is choose a theme. The theme controls the appearance—and some of the functionality—of your blog.
WordPress Themes That Reflect Fitness and Health
Fitness Hub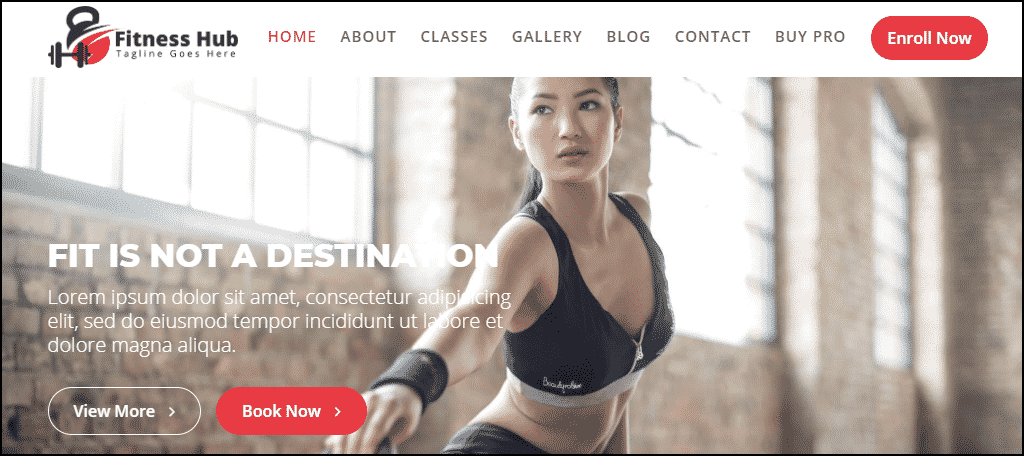 Fitness Hub is a flexible, modern fitness and gym theme. It's responsive, which means it looks great on smartphones, tablets, desktops, and any other devices. It integrates with WooCommerce, which is a big plus if you intend to open an online store.
Some other typical theme features include an image slider, custom sidebars, logo, layout and color options, and social media integration.
VW Yoga Fitness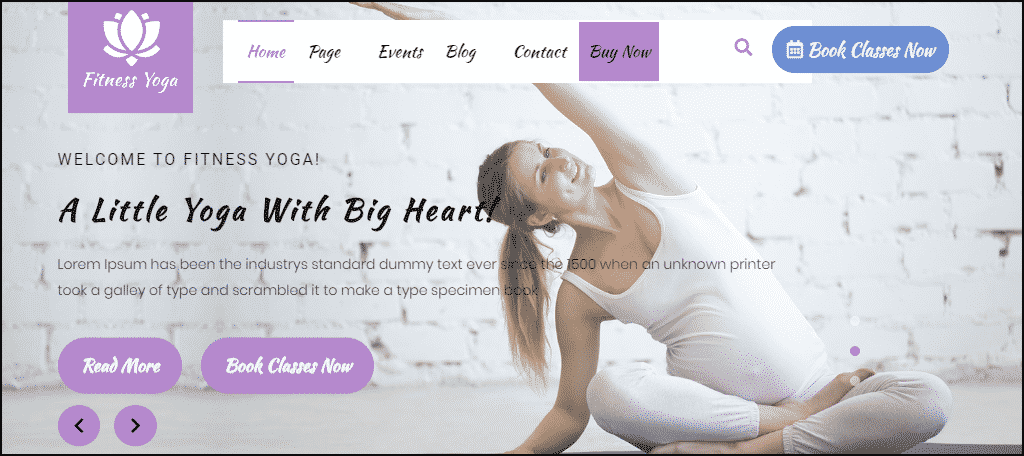 Yoga. As a path to physical fitness, there's nothing that's been around longer. If yoga is your thing, the VW Yoga Fitness theme is for you. It's elegant and versatile, perfect for yoga classes.
But it can also be used for fitness, aerobics, gyms, even spa or massage centers. Customization is easy. You can change the logo, colors, fonts, menus, backgrounds, and all of the other elements.
Gymzone Fitness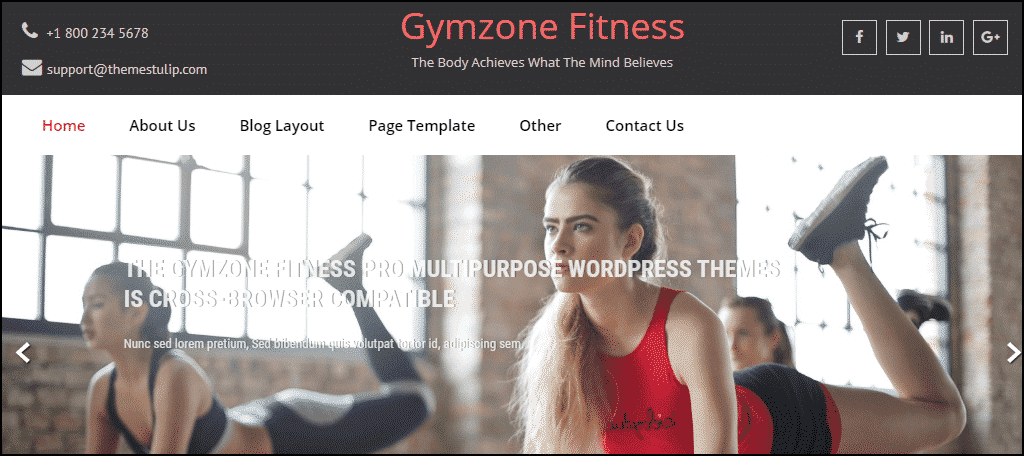 Gymzone Fitness is a good multi-purpose theme. But it requires no coding skills or web developer to shine. It's SEO-friendly, which you need, and includes social media integration, another essential feature.
The layout is responsive, so it's ready for desktop, smartphones, and tablets.
Fitness Park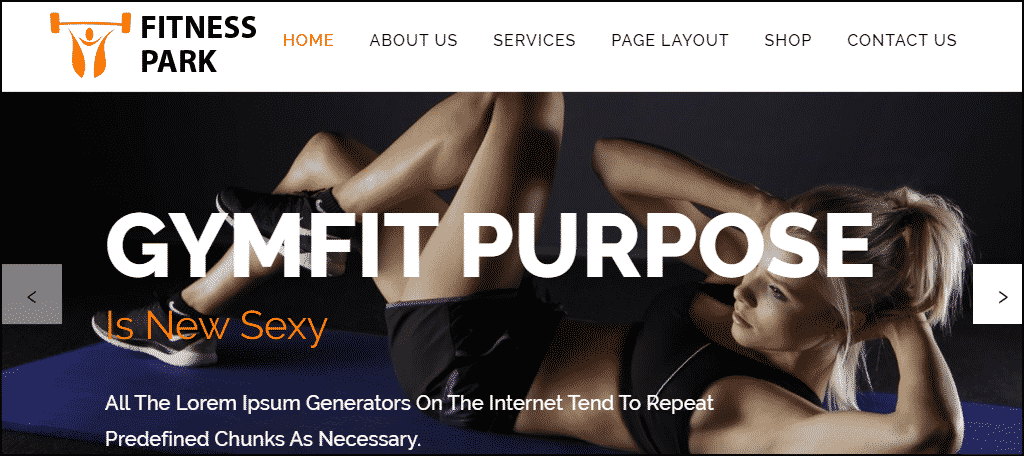 An ideal theme for a fitness trainer blog, Fitness Park is user-friendly and has all the features you'll need. It's the perfect foundation for developing a modern-looking website. It has something I really like, which is a one-click demo data importer.
Sometimes when you install a new theme, it's hard to know where to start. With demo data, you have that starting point built-in. You can see the theme's possibilities and move forward quickly with the changes that will make it your own.
VW Fitness Gym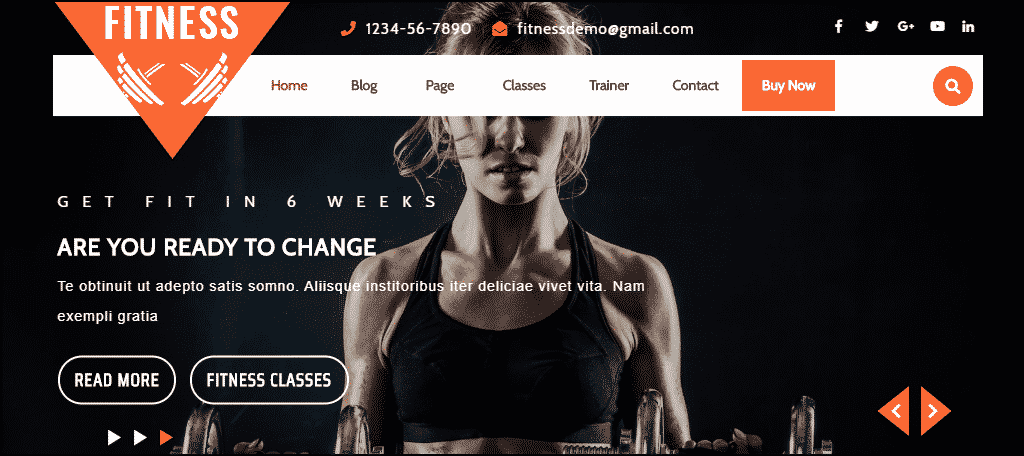 The VW Fitness Gym theme is widely used by fitness bloggers and enthusiasts. It's built on the Bootstrap framework, which may not mean anything to you now, but it's a good thing.
Flexible and responsive, Bootstrap was built by Twitter developers to creates sites that look good regardless of the devices they're viewed on. VW fitness gym is SEO friendly and Gutenberg editor-ready.
WordPress Plugins Add Functionality
While the themes dictate your blog's appearance, the plugins are what makes it tick. Here are a few that can add some tremendous fitness-related functions to your blog.
Fitness Calculators Plugin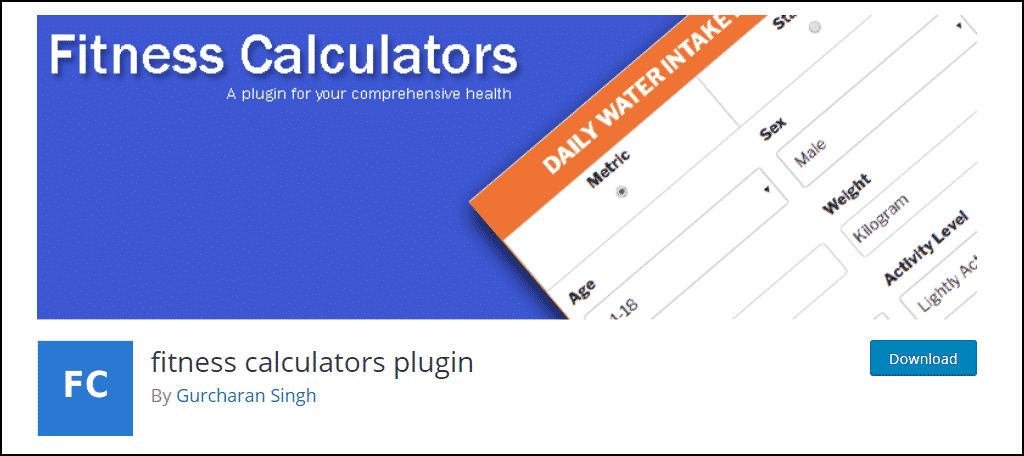 Tools and calculators are an effective way to attract visitors. The fitness calculators plugin provides several useful tools, including water intake, BMI, protein intake, and BFP calculators.
BMI is your Body Mass Index, and BFP represents Body Fat Percentage. Both numbers are commonly used when planning nutrition and exercise. The calculators can be added to individual pages and posts using shortcodes or added to your entire blog as widgets.
Bookly
Bookly, a WordPress online booking and scheduling plugin is useful if you need a booking calendar. It can be used to book clients in a physical space, or for online training or seminars. It's fully responsive, so your customers can book an appointment using any device.
You specify the dates and times that you're available, and the booking system offers available time slots. It can send email and SMS notifications and reminders.
Gym Studio Membership Management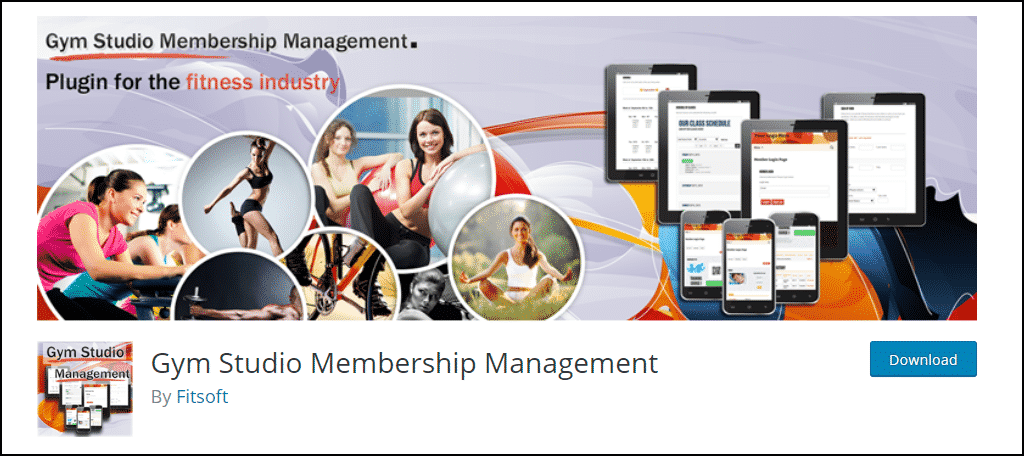 The Gym Studio Membership Management plugin is similar to Bookly, but it provides a few different functions. You can create a member login area, and even do live chats.
There's even an optional "floating widget" that will always be visible, regardless of where the visitor goes on the site. It also does newsletters, invoicing, and can even manage recurring payments.
Meal Planner Pro Recipes
The Meal Planner Pro Recipes plugin is ideal for any fitness blog that includes recipes. Google has a specific layout, or schema that it uses to display recipes in search results. Meal Planner Pro automatically formats your recipes using that schema.
It can also provide nutrition from ESHA Research. Another Google SEO advantage it provides is recipe ratings. Star ratings can show up in search results and attract visitors to your blog.
LifterLMS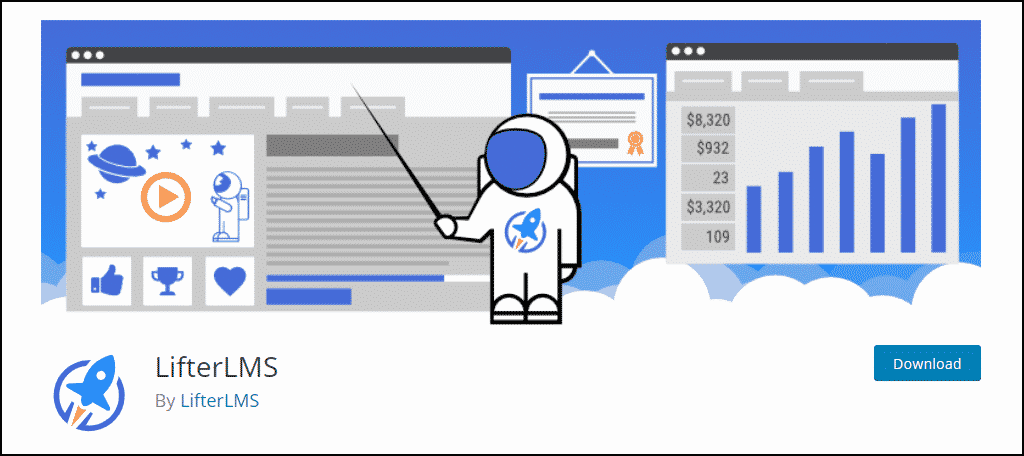 The LifterLMS plugin is a Learning Management System. If your fitness blog will include any online courses or training, this plugin is a must-have. Create classes, engage your students, and even offer memberships.
If you haven't considered a form of online teaching, you should. Including it as a service you provide can set you apart from other health-related sites, and generate income.
How to Let the World Know You've Arrived
Once you've established your blog and are ready to open the gates, it's time to promote it. When we talked about tenacity earlier, here's where it comes into play. Here are a few ideas for blog promotion.
This should be your priority when you're getting started, and it should remain a priority for the long run. The best way to attract visitors to your blog is by being visible and engaging.
Post on Instagram, Twitter, and Facebook and link back to your site. And don't just post and walk away. Nurture those sites and the connections you make there. Start a dialog on the social sites, but continue it on your blog.
Forums
There are a lot of health and fitness forums out there. Find places with members who are in line with what you're doing and establish a presence among them. Discussion forums like Reddit can drive considerable amounts of traffic to your blog.
Conduct a Webinar or Workshop
We talked about online courses or training, and a one-time webinar or workshop can lay the groundwork for that. Invite your social media followers and forum friends. Offer it for free. You'll learn what people want and what interests them.
Then, when it's time to start charging fees, you'll have a head start on content. You can do webinars for free on many services, though the features, number of attendees, and time may be limited.
Get Your Real-Life Friends Involved
Social networks are an excellent way to connect with people. But real-world connections are also useful when building a blog. People you already know are likely to be on your side and want to help your site grow. They're a useful resource for spreading the word.
Reach Out in Your Local Community
If your business (or potential business) serves a local community, get out into the community and make it known. Consider advertising in local businesses or sponsoring local meet-ups.
Offer a free session or training for locals. Fostering local connections can help bolster your online presence with reviews and testimonials.
What a Fitness Blog Can Do for You
Your goal may be to help others become healthy, but you can also benefit from the process.
It Can Be an Outlet for Your Ideas and Philosophies
Not trying to sound too grand about it, we all have ideas and philosophies. We all believe that we know a thing or two that can make people's lives better.
After we've repeated those things to our friends and family, we've pretty much exhausted our reach. Unless we start a blog. 😉 The ability to find like-minded people online is the internet's greatest achievement.
You Can Learn From Others
None of us knows everything. Even the experts among us. Interacting with your visitors or customers will increase your pool of knowledge. As you teach, you can also learn.
You Can Earn an Income
If you're persistent and hard-working, your blog can be the starting point for a business. Keep feeding new content to your visitors; keep promoting what you do. Work on developing online teaching, as we talked about.
Build a reputation, and you can build an income.
The Fittest of the Fit
If you want to join the world of fitness bloggers, I hope this article has been of some help. It can seem like there are a lot of moving parts to get a blog off the ground. We've broken the process down into steps that should be easy to follow. Concentrate on one thing at a time, and before you know it, your presence will be felt!