Feedburner is one of those elements on the Internet that doesn't receive much in the way of development from Google. Because it's so integrated with other online systems and thousands upon thousands of websites, Google cannot kill it. As a result, many still use it to share their posts with readers. But what happens when the WordPress RSS feed is not updating?
One method of content marketing involves the use of Really Simple Syndication, or RSS. Essentially, your website connects with other platforms on the Internet to share your content. Feedburner is just one of those tools. And although many assume the system is dead, it's still used by many.
Today, I'm going to show you a few things to try when your WordPress RSS feed is not updating in Feedburner. Unfortunately you're limited in the amount of things you can try as Google only fixes something on the site when it's broken.
However, these methods often resolve updating issues.
Is Your Cache Plugin Causing Issues?
In some situations, caching plugins can prevent external services from operating correctly. For example, how your site saves these caches can disrupt how Feedburner collects data.
If this is the case, you'll need to empty the current cache.
If you use something like W3 Total Cache, go to Performance and click, "Page Cache."
Click the "empty cache" button to clear the data.
Keep in mind that not all caching plugins will be exactly the same. However, most will have an option available to empty the cache of pages. This is a feature you'll have to find if you have something other than W3 Total Cache installed.
Using PingShot
One reason why an RSS feed appears broken is because Feedburner doesn't know when a new post is created. A way to get around this problem is to activate PingShot. This tool will notify the feed any time you create a new post to index.
Go to your Feedburner account and click, "Publicize."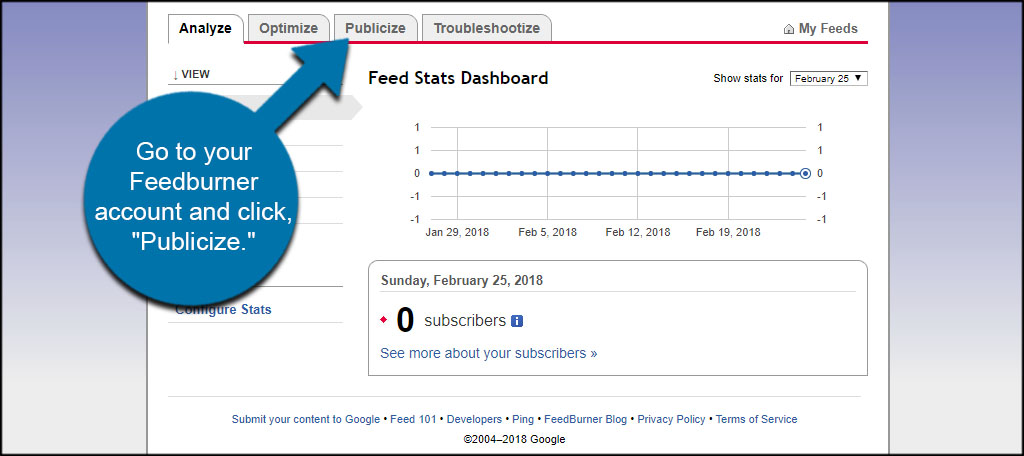 Click the "PingShot" tool on the left.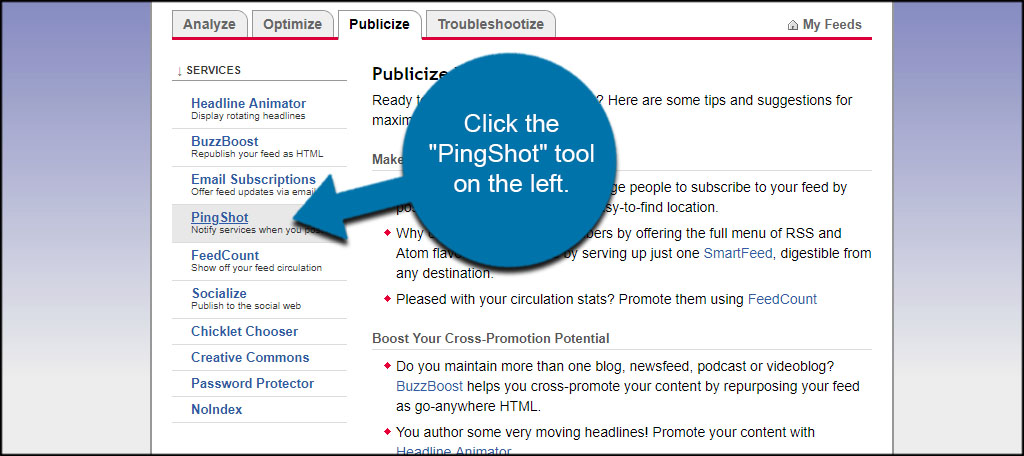 Click the "Activate" button.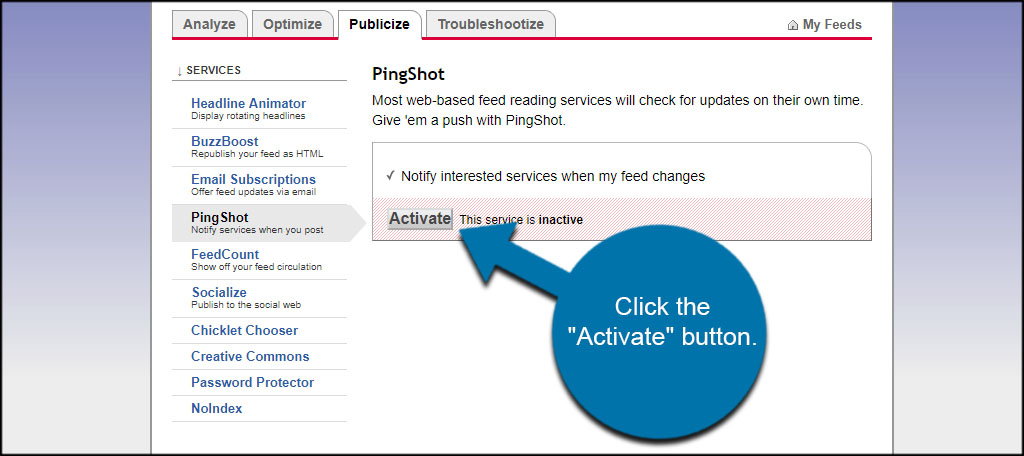 The service will now be activated. New updates should start to appear in your Feedburner account.
Resync Your Feed
Resyncing your feed should be your last resort. It will clear the cached data from your site to repopulate the content. This means anything that is currently accessible will be removed. This is why Google calls it the "Nuclear Option." It completely removes the site from Feedburner to refresh the posts it collects.
It's kind of like hitting the reset button on your computer if it's frozen. It'll get the computer operational in most cases, but you'll lose your unsaved work.
To access the resync tool, click the "Troubleshootize" tab in Feedburner.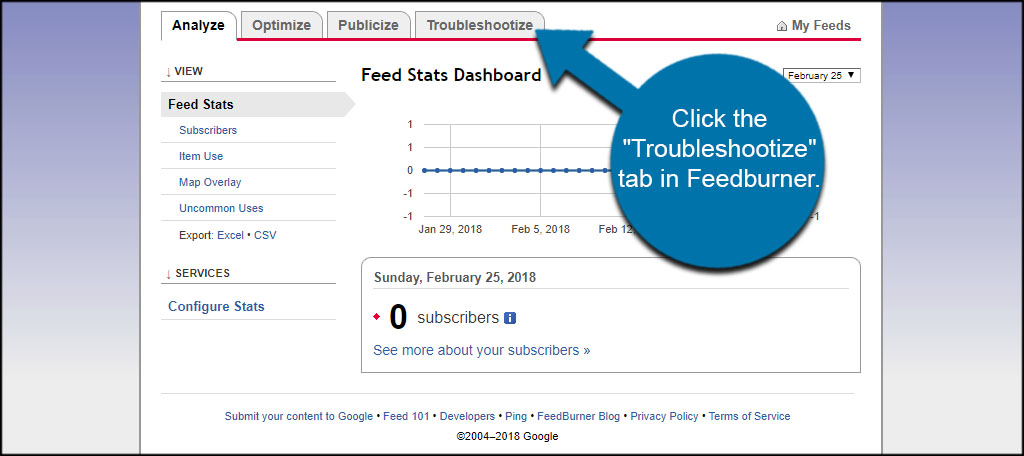 Scroll down and click the "Resync Now" button.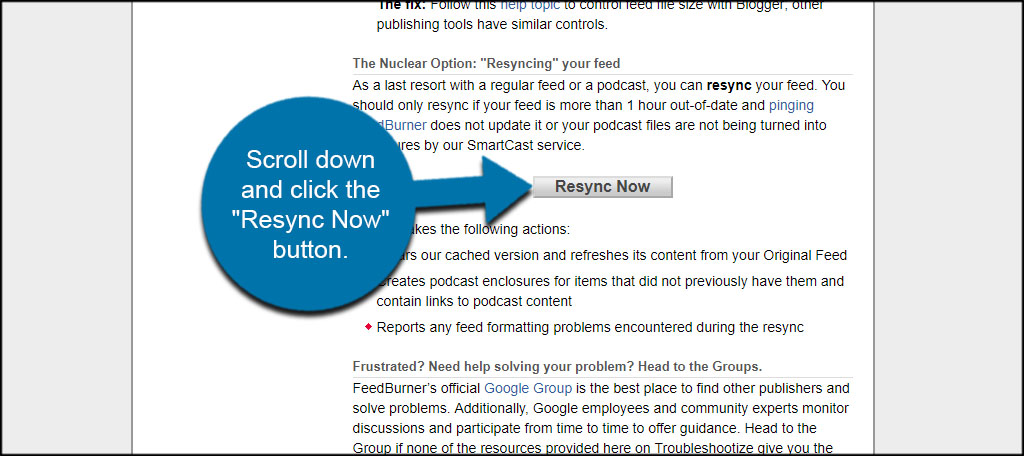 Taking a Look at Troubleshootize
Outside of the resync tool, Troubleshootize is a section of Feedburner that is loaded with information. It includes possible problems as well as the fixes that may work for you.
Although this section doesn't cover every possibility in Google Feedburner, it is a good place to start when all else fails.
Just keep in mind that since Google doesn't offer any solid support, it may take a bit of effort to fix the problem. Luckily, Troubleshootize has many options available and is relatively easy to follow.
Sometimes You Have to Troubleshoot
It would be nice if everything worked as it was intended. Unfortunately, there will be times when you have to roll up your sleeves and tackle some of the most common problems in WordPress. If your Feedburner is not updating, don't panic. Just dive into some of the above solutions. They may offer some valuable insight into your problem.
How often do you share RSS feeds from your website? What's your favorite tool for managing RSS posts within WordPress?