Are you looking for a way to improve the quality of your content? If so, you should try using Grammarly in WordPress. Grammarly is a popular browser extension that will check your writing for grammatical errors.
It is the perfect tool for professional writers. This helps you catch those pesky typos before it goes to an editor, or even worse, your visitors.
Today, I will demonstrate how to install the Grammarly's Google Chrome extension and how it works in WordPress.
What Does Grammarly Do?
Grammarly is a free online grammar and spell checker that you can install on multiple web browsers. It utilizes a powerful AI to find common mistakes and spelling errors.
Grammarly states that the check includes subject-verb agreement, article use, and modifier placement, common spelling mistakes, and irregular verb conjugations.
On top of this, Grammarly can also suggest synonyms to improve the readability and quality of your writing.
What is the Grammarly Extension?
The Grammarly extension checks almost everything you write inside of the web browser for spelling and grammar errors. This includes post and page content in WordPress.
Grammarly is very popular and as you would imagine, can be used on multiple browsers. The extension is compatible with Google Chrome, Apple Safari, Mozilla Firefox, and Microsoft Edge.
On top of browser extensions, you can also use a downloadable version of Grammarly. In this version, you can drag a document into the program and it will be proofread by the AI.
While you may be thinking this is just for work, you can use it to benefit your writing on any website.
For instance, if you find yourself constantly writing long Reddit posts, this is a great tool to make sure you avoid simple mistakes.
It is completely free to use, but there is a Pro version available for upgrade.
Installing Grammarly on Google Chrome
While it can be added to other browsers, this tutorial will focus on Google Chrome. Google Chrome is the most popular web browser with a 63% market share.
The first thing you need to do is visit the Grammarly extension page and click on the "Add to Chrome" button.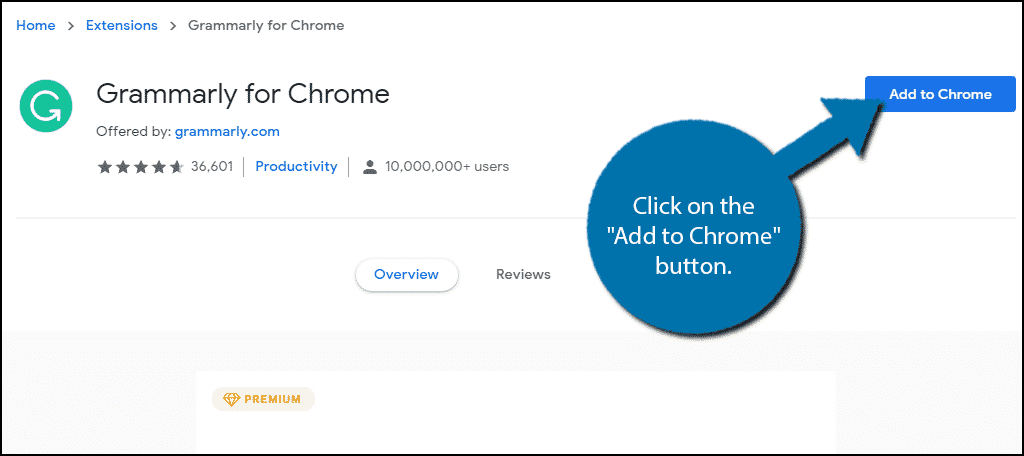 A popup will appear notifying you of what the extension can do. Click on the "Add Extension" button.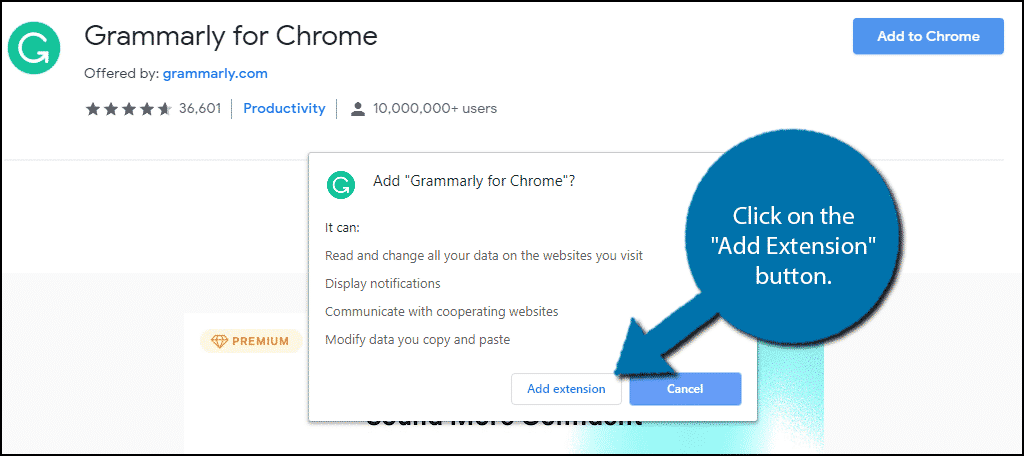 A new tab will open up on the Grammarly website. Here you can sign up for a free account that unlocks all of the free features of the extension.
Simply enter your email into the box to create an account. Alternatively, you can create an account by clicking on the "Continue with Facebook" or "Continue with Google" link.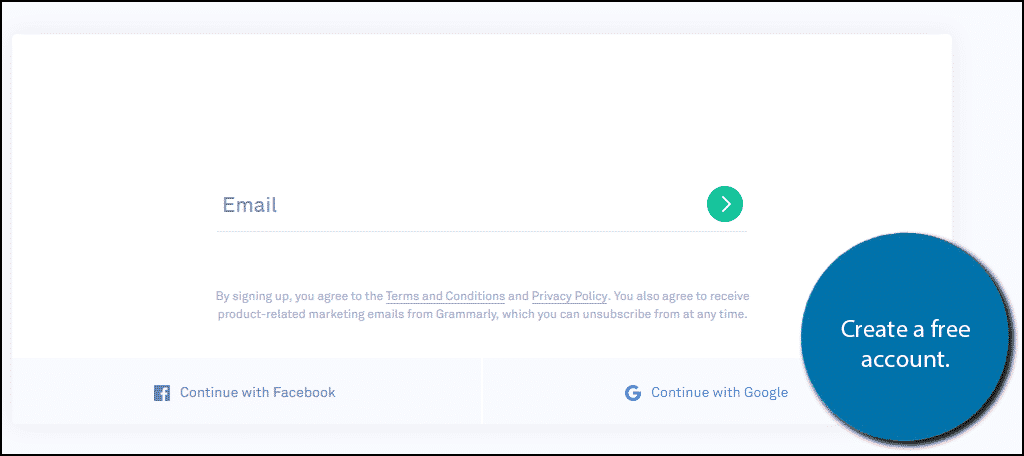 Your Grammarly Chrome extension is now ready to use!
Using Grammarly in WordPress
Grammarly will now be working on your Chrome browser. It is essentially a Chrome spell checker and works on almost any text entry field.
Go to your WordPress website and open any existing page or post. Alternatively, you can create a new one.
You can tell if Grammarly is working if the icon is visible in the text area. If the icon is Green, the content is clear of errors. However, if the icon is red, there are mistakes.
When the Icon is red, there will be a number located in it. This represents the number of mistakes it found.
The mistake will be made visible by a red line underneath.
When you hover your mouse over the word, Grammarly will explain what it thinks is wrong and offer a correction.
You can click on the suggestion and Grammarly will correct it.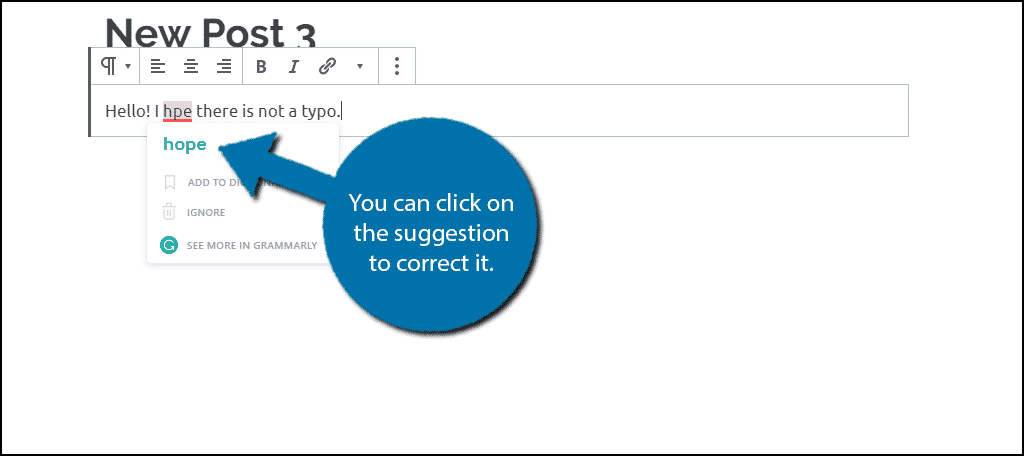 Alternatively, you can click on Ignore. In many cases, Grammarly may be wrong about the correction it is suggesting. This will happen for a variety of reasons, but it is important to remember that no checking system is always right.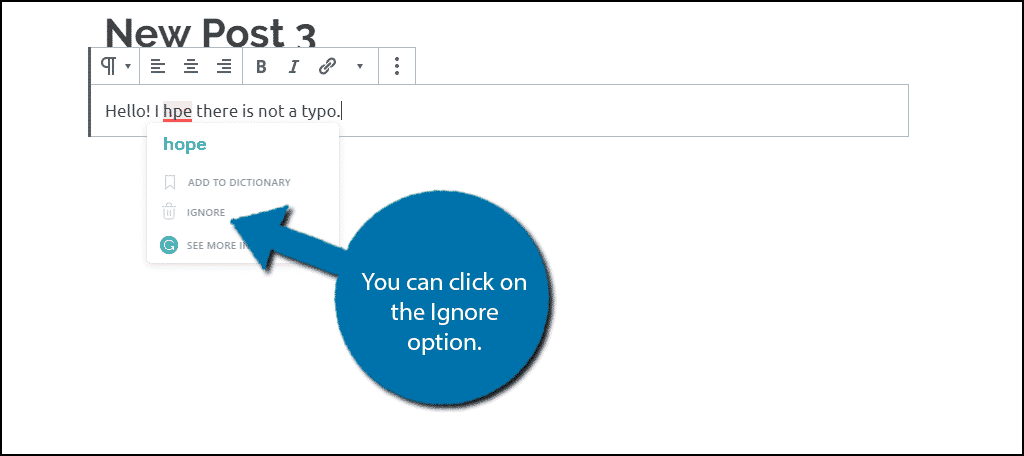 You can use this tool to go through your website and fix mistakes and improve the quality of the content you deliver.
Grammarly is Not Always Right
While grammar and spell checkers have come a long way over the years, they are not perfect. Just because Grammarly tells you there is a mistake, does not mean that it is actually wrong.
One of the most common mistakes Grammarly makes is spelling errors. In many cases, unique names or phrases that involve two words without space will be considered a typo.
For example, there is a cool game plugin called Chessgame Shizzle. However, Grammarly will label each use of Chessgame as a typo because it does not have a space in it. Since this is how the plugin creator named it, it is not incorrect.
Spelling is not the only time Grammarly is wrong. In some instances, the phrasing of certain terms may also throw errors even if they are grammatically correct. It really depends on the situation and what you're trying to convey.
Thus, it is important to use your own judgment about what is grammatically correct.
Which web browser did you add the Grammarly extension to? Does Grammarly help you write better content?