WordPress and its plugins are always adding new features through updates, but sometimes it's very hard to keep up with them all. Currently, you should see all of your update notifications in the admin panel, but that can get quite messy and really build up if you don't check them regularly. A better alternative is setting up email notifications for WordPress.
Of course, with the rate updates occur in WordPress you should consider creating an email solely for updates to prevent your personal email from being spammed. This will also allow you to check what updates happened on the go through your mobile phone. Today I will demonstrate how to add email notifications for WordPress updates using the WP Updates Notifier plugin.
Why Getting Email Notifications for WordPress Updates Can Help
WordPress has a lot of updates but they do not occur at the same time. WordPress plugins updates vary depending on when they are released. It is important to know when they are available because most updates either add new features that you may find useful or fix bugs that may have plagued your website. The same can be said about WordPress theme updates, but these can pose compatibility issues with the plugins you are using. It's crucial to be aware when updates are available and what they do.
Of course, not only do plugins and themes update, but the core of WordPress is always improving. This is the most important update for your website as it affects almost every aspect of it. These core updates improve things like security, features, performance, bug fixes, and compatibility between the plugins and themes you have installed. In fact, failure to update while continuing to update your plugins and themes can cause your website to stop working because of compatibility issues and setting up email notifications is a great way to stay on top of it.
How to Add Email Notifications to Your WordPress Page
Today I will demonstrate how to add email notifications for WordPress updates using the WP Updates Notifier plugin. This plugin was specifically designed to send email notifications. You can choose how often the plugin checks for updates and if it finds one, you will be notified by email.
Let's start by clicking on Plugins and selecting the Add New option on the left-hand admin panel.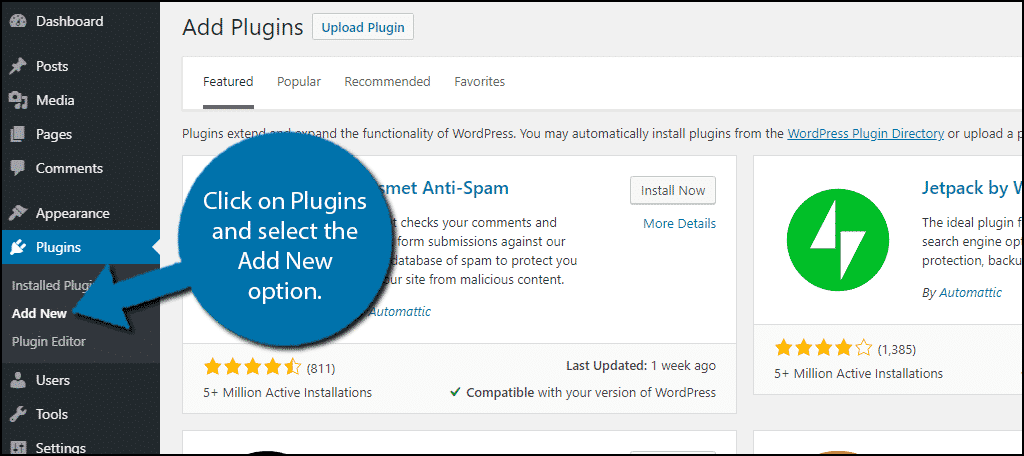 Search for WP Updates Notifier in the available search box. This will pull up additional plugins that you may find helpful.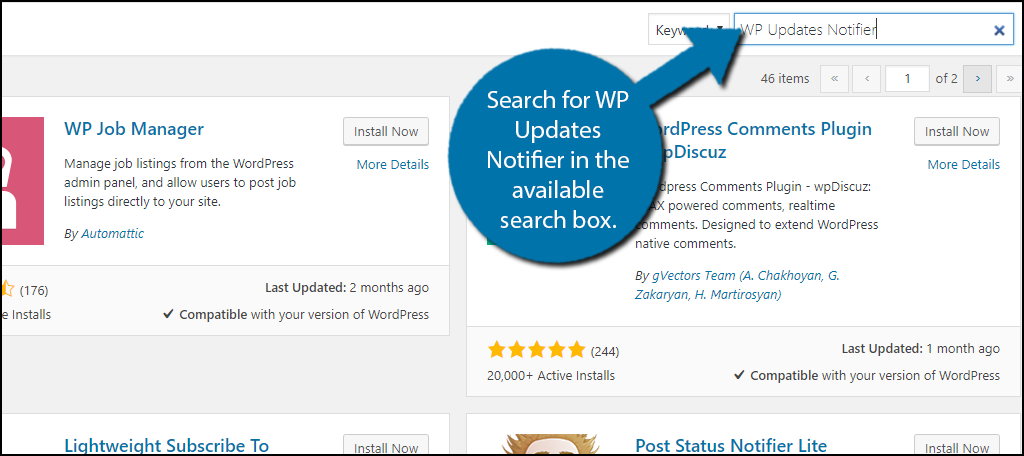 Scroll down until you find the WP Updates Notifier plugin and click the "Install Now" button and activate the plugin for use.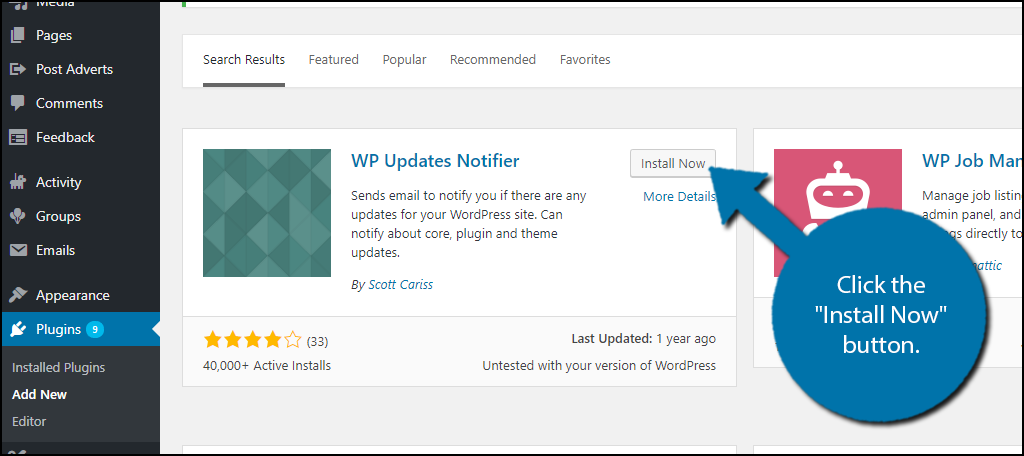 On the left-hand admin panel click on Settings and select the Update Notifier option. This will pull up the main settings page.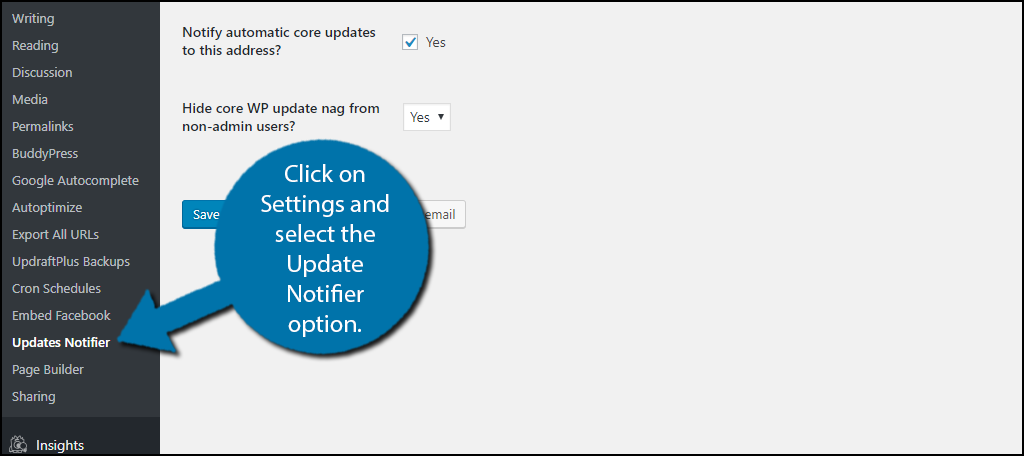 The settings page is extremely simple. You select the frequency that you want the plugin to check. Then input as many emails as needed. This is great for larger development teams. You may want to include the staff in charge of themes and plugins, as well as the administration. Remember to separate the emails with a comma to get it sent to multiple emails. You will then be able to select which updates you would like to be informed about. I highly recommend checking the boxes for all plugins and themes that are currently installed, as well as the WordPress core updates.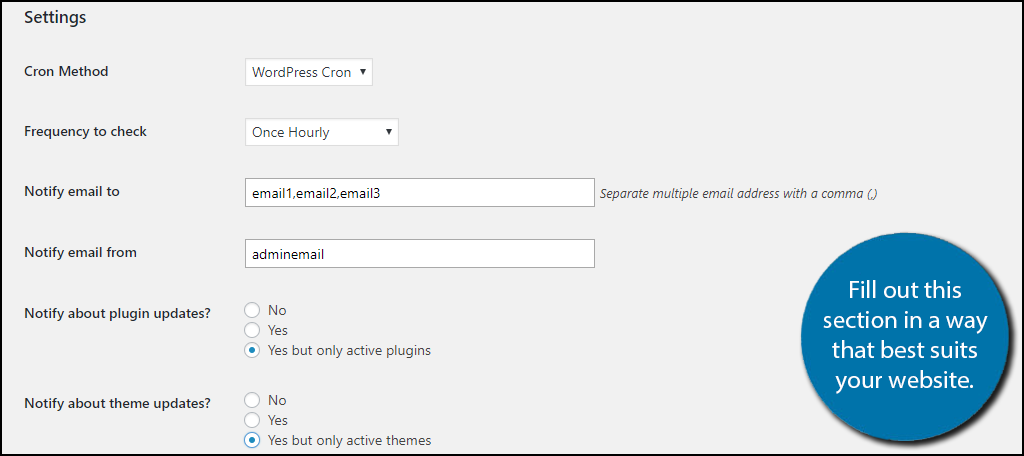 Once you have inserted all of the emails and have checked all of the options you want notifications for, click on the either the "Save settings" or "Save settings with test email" buttons. The test one will just send out a generic email to all of the emails you have set up to receive notifications.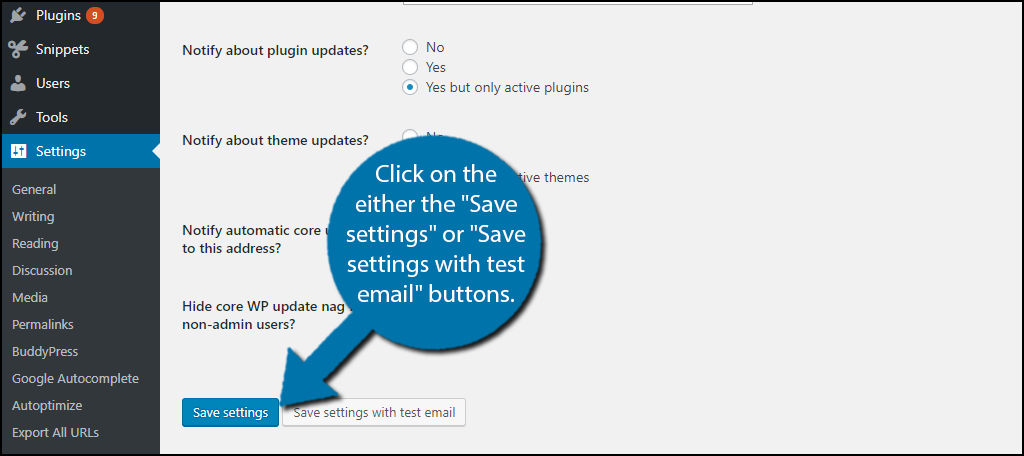 Congratulations, you have successfully set up email notifications for WordPress updates using the WP Email Notifier plugin. You can access this page at any time to change the frequency that updates are checked for and who receives the emails. I would highly recommend creating work emails to check these to avoid your personal emails from being spammed with updates.
Additional Plugins
Notifications are a crucial thing to keep track of. They allow you to know when updates are happening but they include more than just updates. For instance, notifications can be sent when event pages, posts, or blogs are published on your website. Here is a really handy plugin to use when you want a wider variety of notifications.
Better Notifications For WordPress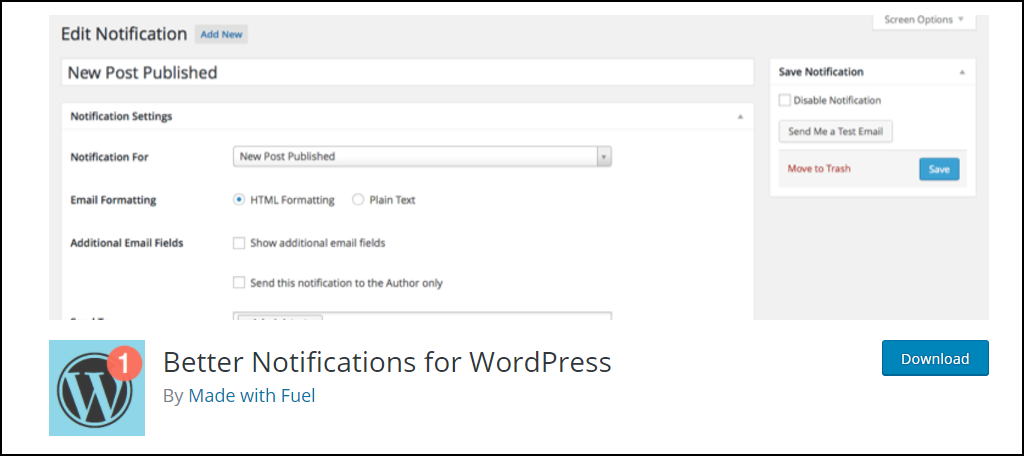 Better Notifications for WordPress is a great plugin to set up on your website. It can notify you about WordPress core updates and when your posts and pages go live on your website. Not only can you set it up for your staff members, but you can also set it up for your subscribers. This will require you to be extra careful when you are deciding how often to send notification emails out because you can easily and unintentionally spam your staff and subscribers emails. Make sure you are not sending update notifications to your subscribers, they will not be pleased.
Keep Your Website Updated
The main reason for being informed about available updates is to actually do those updates. Your website needs to be updated regularly and you need to be aware of what these updates do. In fact, sometimes it's best to rollback to older versions if an update would cause compatibility issues with other plugins or themes on your website.
Make sure the staff you send emails to are going to check them and update regularly if that is their assigned role. Not updating can have serious security concerns because many updates focus on patching security breaches that have been exploited already. Always be aware of what an update does and update once you are sure there will be no compatibility issues.
How often do you set the frequency of the plugin to check for updates? How many staff member emails do you want to be notified about available updates?