Sometimes external links have crucial information, sponsored content, or social media, but have you ever wondered how to track the traffic you're sending their way? This is extremely important to know to understand how good your affiliate deals are working out and it is quite easy to check. Affiliate deals are not just great for your website's growth, but also provide great deals to your visitors.
Great deals are just one of the many benefits that visitors love to receive information from you. Keeping your visitors happy is the key to building a loyal fanbase that will visit regularly. Thankfully, Google Analytics was created to make tracking this information easily. Today I will demonstrate how to track external links in WordPress using the MonsterInsights plugin.
Why Track Outgoing Links in WordPress
External links are used differently for every website, but tracking them is no less important. If you are tracking outgoing links, then you are aware of what your visitors are clicking on. This gives you a clear message about what your visitors are interested in and it allows you to try and find similar or create similar content for them to enjoy. Keeping your visitors happy should be your biggest priority because without them your website wouldn't exist.
Affiliate deals are also a very big marketing deal and can bring in a lot of extra revenue. Tracking this information is crucial because you may have worked a deal out with a fellow retailer and your compensation may be based on how many visitors you send their way. Even if you don't set up a deal that way this is valuable information to use for discussing future deals. It really helps a website sell themselves when they can say x number of visitors clicked on our affiliate links.
How to Track Outbound Links in WordPress
Today I will demonstrate how to track external links in WordPress using the MonsterInsights plugin. It's a very popular plugin with over one million active installs. This plugin allows you to easily connect to your Google Analytics directly from your WordPress Dashboard and edit the settings. You should be able to track everything using the free version, but there is a Pro version you can upgrade to if you really need those pro features.
Let's start by going to the plugins area of WordPress and click on the "Add New" button.
Search for MonsterInsights in the available search box. This will pull up additional plugins that you may find helpful.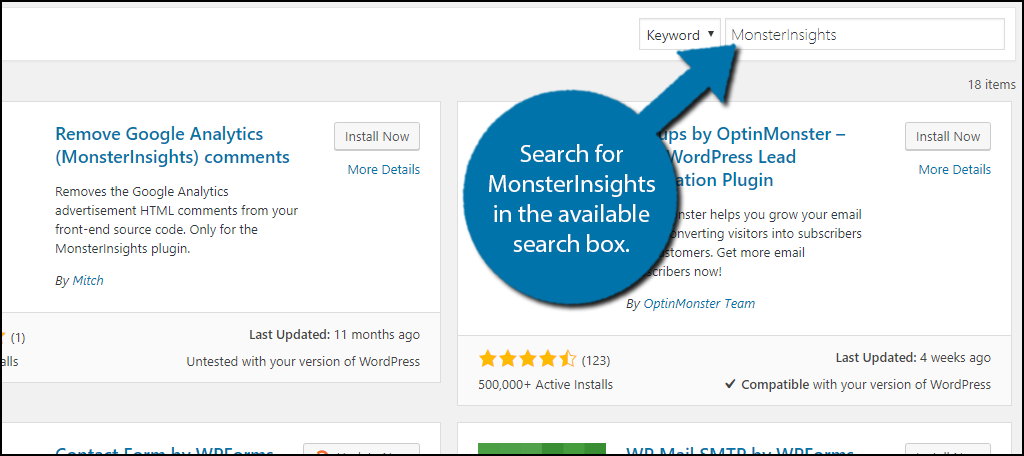 Scroll down until you find the Google Analytics for WordPress by MonsterInsights plugin and click the "Install Now" button and activate the plugin for use.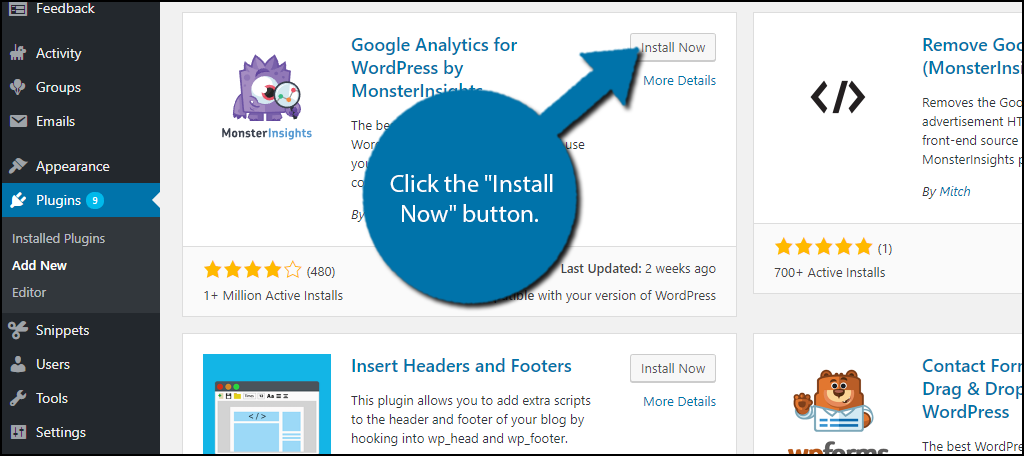 On the left-hand admin panel click on Insights and select the Settings option. This will pull up the main settings page. Remember you will need to create a Google Analytics account to actually view the data collected.
Click on the "Tracking" tab on the top left of the page. This will give you lots of options to tweak Google Analytics tracking settings to track what's most important to your website.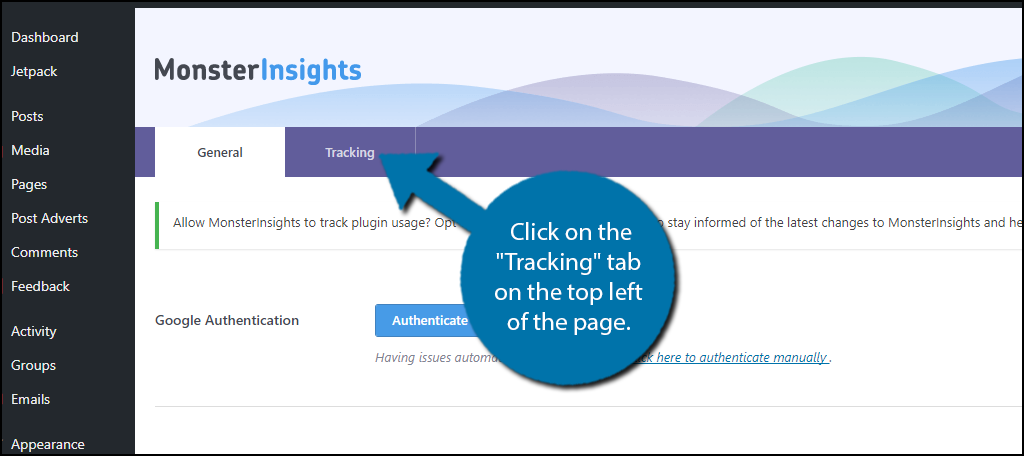 You will see two sections under the Engagement section. You should see "Track outbound clicks and download links" and by default, it should have the Using Javascript selected. Make sure that Using Javascript is selected.
This enables WordPress external link tracking, but affiliate links will not be tracked using this method. This is because of the affiliate link URLs format, but it's not a problem. There is a separate section for Affiliate links. Click on the Affiliate Links option.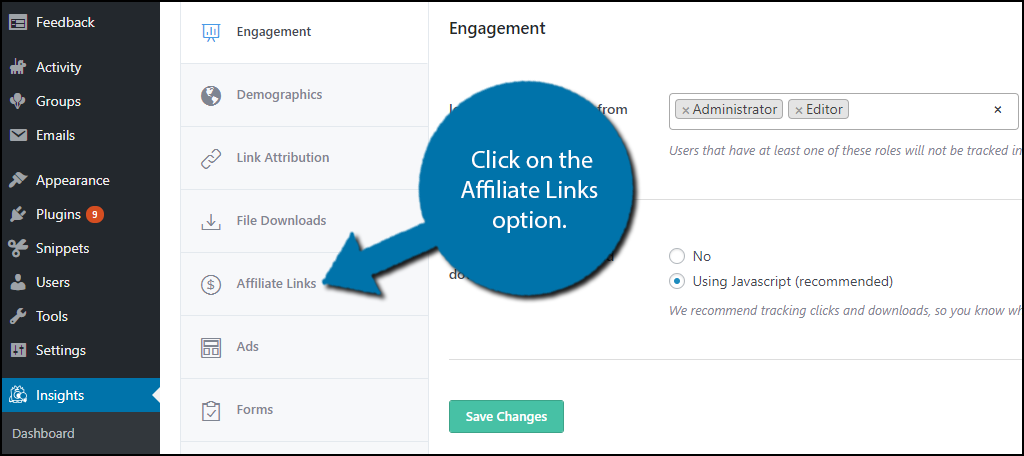 All you need to do to be able to track these is set a path and create a label for these links. It is very important to make the label easily identifiable because this will be used to view all of the information for affiliate links. Once you have created the Path and Label make sure you click on the "Save Changes" button.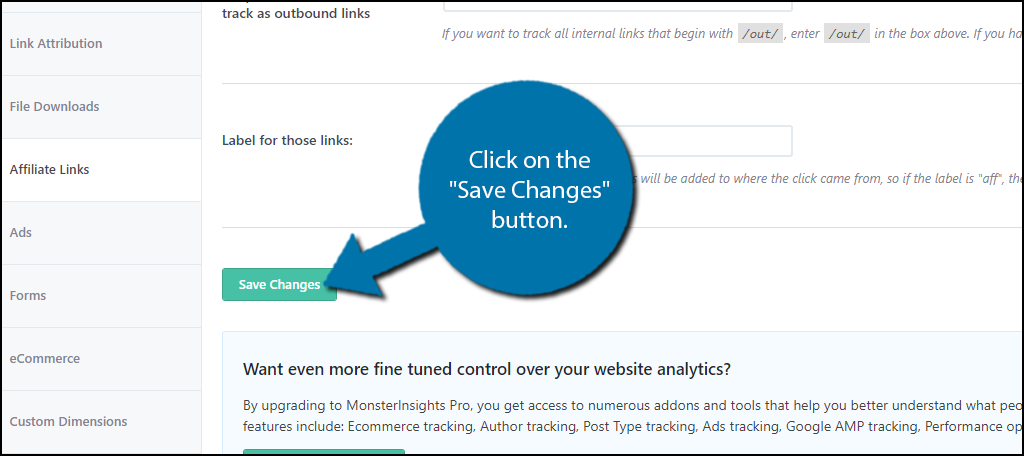 Now that all of your outgoing links are being tracked, it's time to actually view them. Unfortunately, if you have just installed this plugin it will take 24 hours for Google Analytics to collect the data. If your website is also very new and you don't see much traffic you may not actually see any activity, but don't get discouraged, it is quite difficult to grow quickly.
Unfortunately, you cannot view this information inside WordPress. Sign into your Google Analytics account or create one if you do not already have one. If this is your first time setting up an account it is very easy, but you may need to contact your web hosting provider for specific instructions concerning you. Once inside click on Behavior followed by Events. Finally, click on the Top Events option.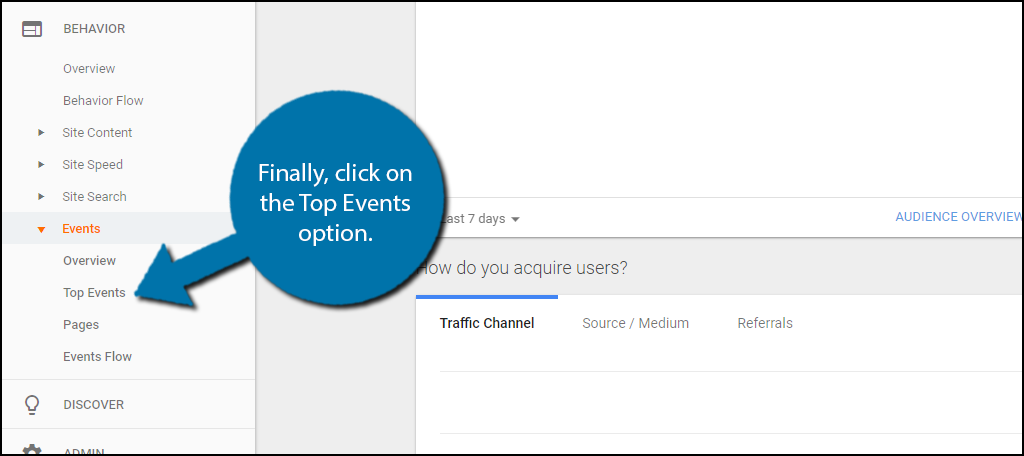 Remember, you will not see any data if you set this up today or there is no data to show if you are a brand new website. You should see Outbound-link and be able to view your outbound clicks. You should also be able to locate your affiliate URLs by selecting the label you created for them.
Congratulations, you have successfully setup the MonsterInsights plugin and can view all of your external links traffic. This is very valuable information and you can use it to show potential partners that your site generates a lot of traffic for affiliate links. What's even better is showcasing great deals for your visitors that are relevant to them.
Additional Plugins
Google Analytics is extremely important to website developers to help track their websites information. Many plugins have been created. If MonsterInsights does not do everything you need I highly recommend trying the following plugin.
Google Analytics Dashboard for WP (GADWP)
Google Analytics Dashboard for WP (GADWP) is another extremely popular Google Analytics plugin with over one million active installs. It offers many of the same features that Monster Insights offers but has a stronger offering than their free version. This is a great alternative plugin to try if you were not happy with MonsterInsights.
Make Your Website an Investment Opportunity
If you want to partner up and have affiliate links, your website needs to have value to your potential partners. Think about it, would you want to invest your money into a new and very basic website using default images, themes, etc? I know I wouldn't, that's why it's very important to make your website look and run well. Use social media networks to build your websites presence on the Internet.
Not only does social media build up the traffic to your website, but it also helps you keep track of what your community is into. This is important because you don't want affiliate links that are not relevant to your community. It looks bad if your website is not generating a lot of traffic for your partners. Remember you need to keep updating your website with great content to be successful.
How many clicks are your affiliate links getting per month? Has your external link traffic surprised you in some way? Do you see your own website as a place you would want to advertise your products?