Many companies use invoices to track the goods they sell while giving the customer an itemized account of what they bought. They can be incredibly useful for a variety of purposes.
If you operate a business from your website, your customers may find it valuable to download a digital copy of their purchases.
Today, we're going to show you how to create those digital invoices directly from WordPress.
Why You Would Want to Create Digital Download Invoices
A digital method for creating invoices can have a wide range of uses. Here are just a handful of the more practical.
Readily Available
A digital copy of a client's invoice is always available with a click of the mouse. He or she may be comforted by the thought that this information is always accessible from the website. This is one of those nuances that improve how customers view your brand.
Saving Time
Without an automated invoice system, invoices could be easily misfiled or misplaced. Should a customer or client require a copy, it could take some time to find it. Digital copies that are immediately available may improve the efficiency of the business in this matter.
Paperless System
Among other benefits of adopting green technology, a paperless system can save the company money while being more eco-friendly. This can save on paper, ink and also be a more efficient way of doing business.
Step 1: Installing Easy Digital Downloads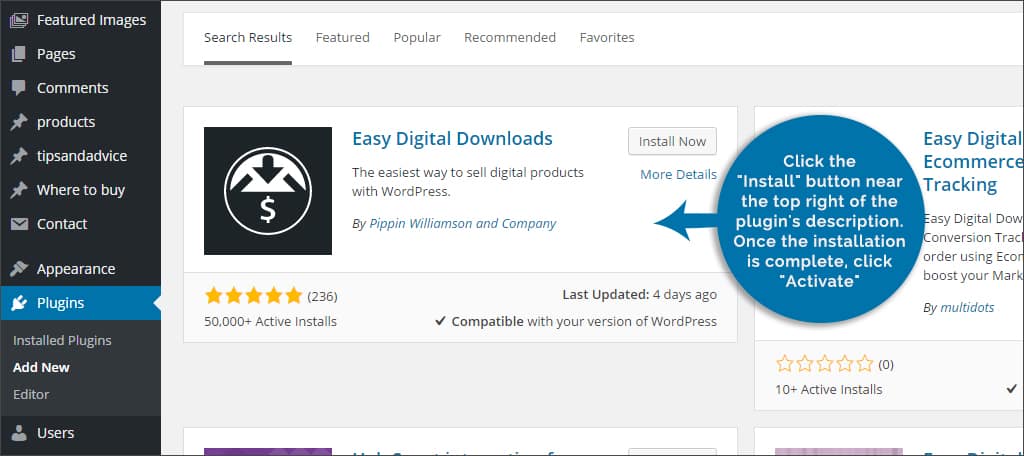 For this tutorial today, we're going to use Easy Digital Downloads to set up online invoices. This tool has a lot of features that go beyond invoicing, but we're only going to focus on the invoice portion.
NOTE: The invoice extension is a premium feature. However, you will have access to a variety of tools such as templates and customization of the online invoice if you buy it.
To find and install Easy Digital Invoices, go to the "Plugins" area of the WordPress dashboard. Click the "Add New" button that is near the top left of the plugin screen. Once it's loaded, you'll see the text search bar on the right side. Simply type in the name of the plugin into this field. WordPress will automatically find any files related to this search.
The plugin should be the first one in the list. Click the "Install" button near the top right of the plugin's description. Once the installation is complete, click "Activate."
In reality, there is no limit to how many plugins you can install. However, you want to make sure that they are all compatible. Not all plugins will play nice with each other and could cause the site to break.
Step 2: Setting Up a Page
After activating the plugin, EDD will automatically add several new pages to your website. These include things such as "Checkout" and "Payment." However, it does not have one available for invoices. To do this:
Go to "Pages" in your WordPress dashboard.

Click on the "Add New" button on the top to create a new page.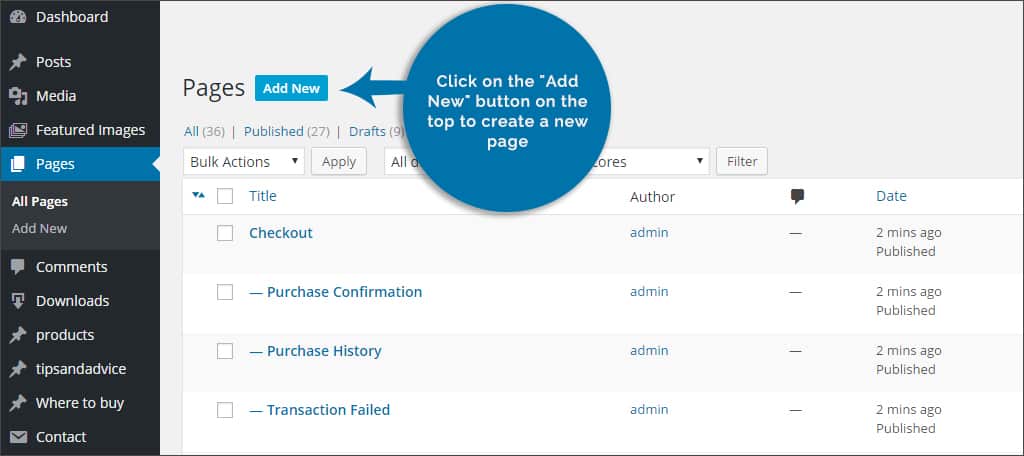 After the editor loads, enter in a new name for this page. We suggest that you use something logical, such as "Invoice." This makes it easy for everyone to find on your site.
In the text area of the page, place the shortcode, "[edd_invoices]"
After you activate EDD, a new control will appear in the WordPress dashboard. You may see "Downloads" somewhere under the "comments" area on the left hand side. Once you find the link, give it a click.Under the downloads control for EDD, you'll see a link for "Extensions." Once you click this, you'll see a page that has a long list of things you can add to the plugin. Scroll all the way to the bottom until you see "PDF Invoices." Click the "Get this Extension" button. This will take you to the plugin's homepage where you can purchase the extension.When you buy the extension, you'll receive a ZIP file that can be installed and added into WordPress.The PDF Download extension will add a new feature to EDD. After installing the file, go back to the "Downloads" control for Easy Digital Downloads. You will now see an additional setting to control your invoices.At the top, there will be a drop down window next to "Invoice Page." Click the arrows in this box and find he page you created in Step 2.You should also see a variety of fields for your company information. Make sure this is all filled out before saving. You should also note that you can add your custom logo to the invoice by pasting the URL of the image into the field for "Logo URL."Once all of the fields are complete, click the "Save Changes" at the bottom left.That's all there is to it. Now, online customers can easily access their invoices and download a PDF with a click of the button.
Other Plugins of Interest
You don't have to settle for buying the Easy Digital Download extension. WordPress has access to a variety of different methods for online invoicing. Here are just a few of the ones we've found.
Sliced Invoices
The Sliced Invoices plugin has several features that may be of interest, such as auto increments of invoicing numbers and automatic integration with emails. It has several controls for customization as well as being able to import from CSV files.
Sprout Invoices
If you need client management and with an integrated payment option, Sprout Invoices can help. This plugin features multi-currency support, customizable notifications for both text and HTML and also comes with advanced reporting abilities. The premium version integrates with some of the most popular form plugins for WordPress.
Ultimate PDF Invoice
If you use the WooCommerce platform for selling goods from WordPress, Ultimate PDF Invoice may be perfect for you. It uses live template editing, attaches PDF invoices to emails and has a customizable template. However, this system is specifically designed to be used with the WooCommerce plugin.
Integrating a way for your customers to access a digital copy of their invoices can easily play into customer service. It's one of those pleasant features that contribute to how a customer views the brand. Give them a reason to appreciate your online business while improving the efficiency of the business.
What kinds of things do you add for your customers in WordPress? What kind of amazing features does your current invoice system give your website?