Good spelling and grammar are vital when creating high-quality content. Poor writing skills look unprofessional and may affect how a person views your brand. Luckily, it's not all that difficult to add spell check in WordPress.
With a quick click of the mouse, you can scan your content for the most common grammatical errors and spelling mistakes. It can turn an otherwise horrible looking post into a masterpiece of content. And like most things in WordPress, this can be achieved with a plugin.
Today, I will demonstrate how to add a spell check in WordPress with the WP Spell Check plugin.
Why Add A Spell Check in WordPress?
Let's face it, everyone makes mistakes. The English language is particularly complicated to master, but you can make it easier by using a spell checker.
These tools help you identify both grammatical and spelling errors in your content. This in turn dramatically improves the quality of the content you produce. Thus, making your content look more professional.
This point is extremely important as the level of professionalism your website displays can affect future offers and collaborations in your field.
On top of this, there are many instances where a spelling or grammatical mistake can make something confusing to the reader. This is especially important when you are trying to teach something.
How to Add Spell Check in WordPress
Step 1: Install WP Spell Check
The WP Spell Check is a WordPress spell check plugin that allows you to proofread your entire website in just one click. This includes spelling and grammatical mistakes, broken shortcodes, empty SEO fields, and more. This means that this plugin is more than a simple spell checker.
However, one thing that it does not do is catch mistakes before they happen. This plugin will not help you catch simple mistakes on the fly. Instead, this plugin is aimed at bulk proofreading your website.
Let's start by clicking on Plugins and selecting the Add New option on the left-hand admin panel.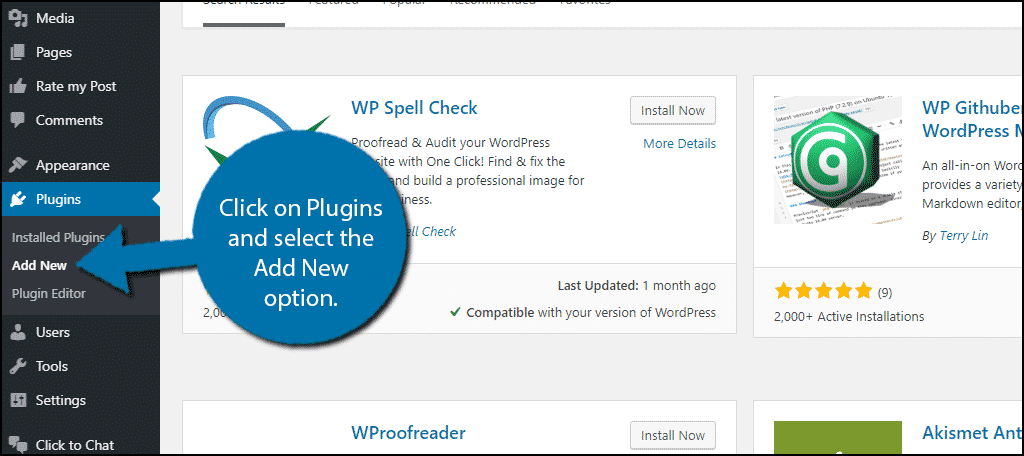 Search for WP Spell Check in the available search box. This will pull up additional plugins that you may find helpful.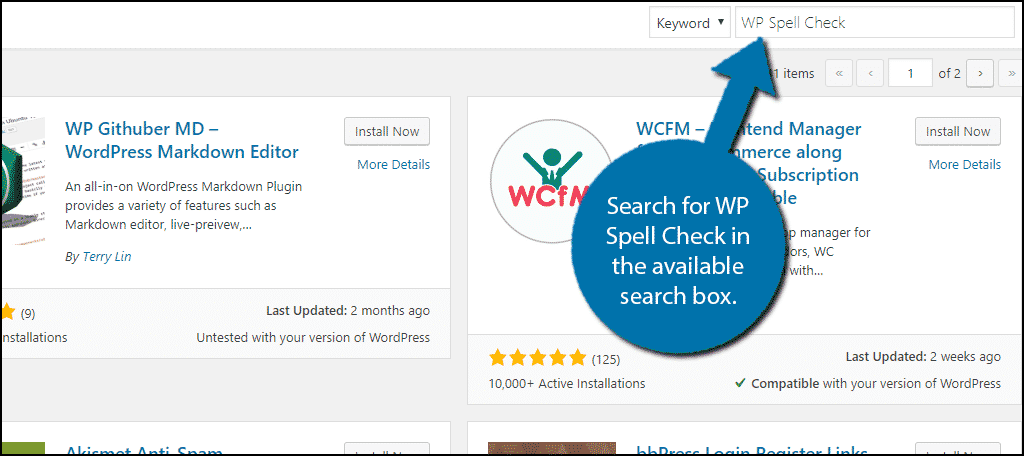 Scroll down until you find the WP Spell Check plugin and click on the "Install Now" button and activate the plugin for use.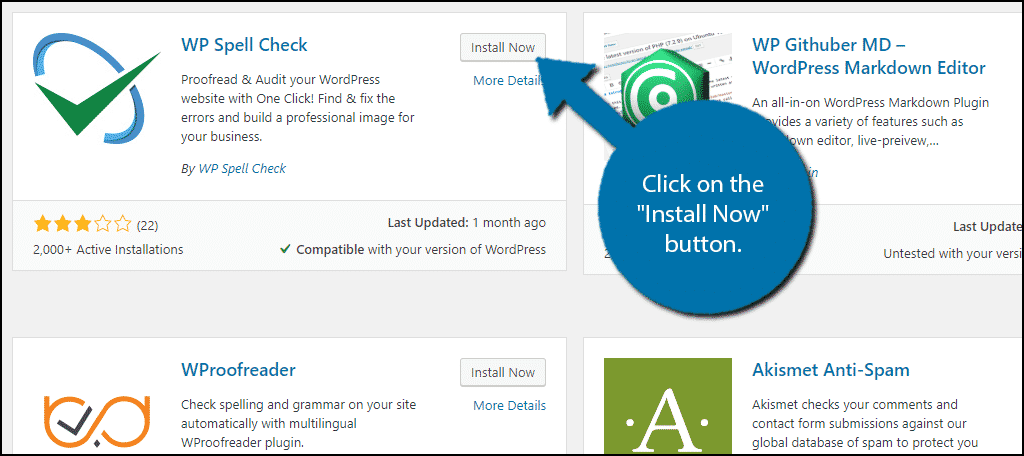 Note: Before going forward, it is important to understand that spell checking software can only go so far. It is very likely that not all of the recommendations it makes are correct. Make sure to use your own judgment when making changes. Review the entire sentence after you make a change to ensure it is grammatically accurate.
Step 2: Using WP Spell Check
Luckily, this plugin couldn't be any easier to use. Simply click a button to scan your website and view it's recommended changes. Simple and straight to the point.
On the left-hand admin panel, click on WP Spell Check and select the Spell Check option.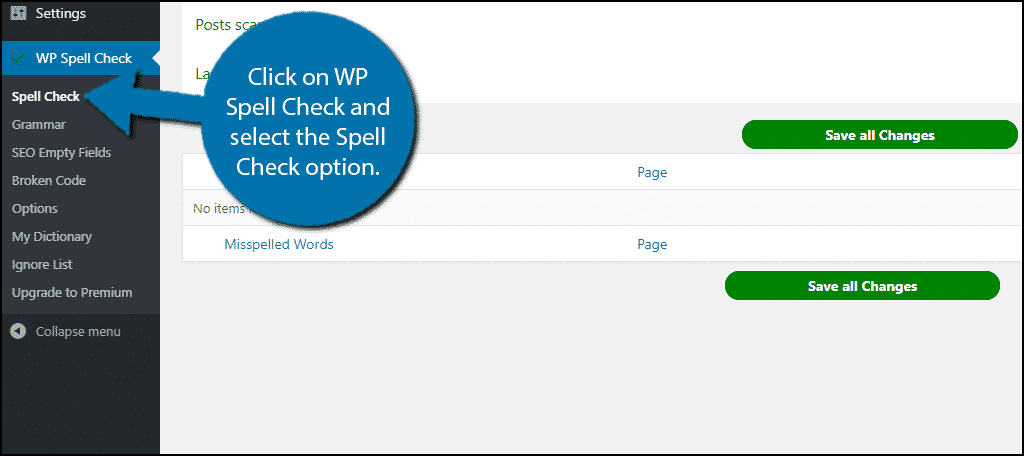 The plugin does a terrific job of not only making the process easy to do but also provides videos that demonstrate how it all works.
You will see four tabs at the top of the page including Spelling, Grammar, SEO Empty Fields, and Broken Code. Each tab is almost identical to use. You will find buttons that will scan specific parts of your website.
For example, on the Spelling tab, you can select to scan the entire website, posts, pages, or content by a specific author. Simply click on the button and the plugin will begin the scan. However, be warned if you have a very large website as the scan can take some time.
Click on the scan that best suits your needs.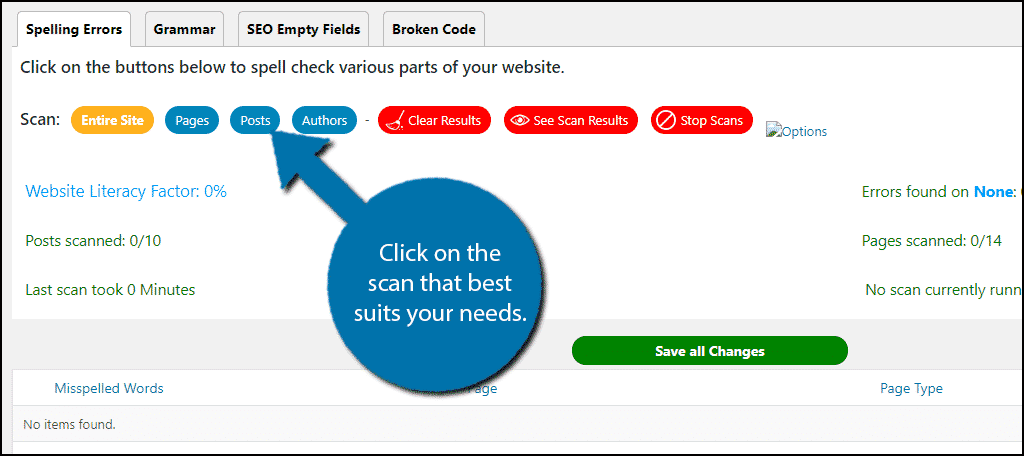 The plugin will begin the scan of the option you clicked on. Once complete, you will see a list of errors the plugin has found.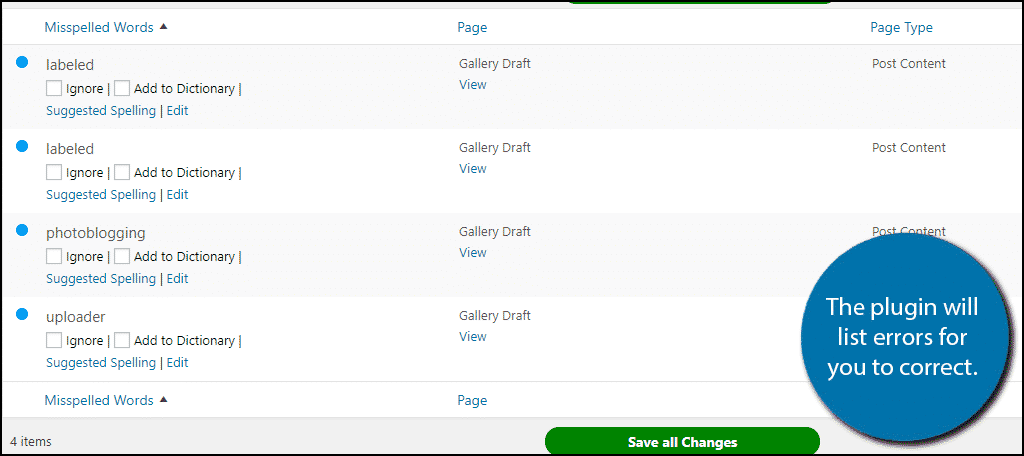 Underneath the error, you will have a few options. You can choose to ignore the error or add it to your dictionary. These are ideal for names and terms that the plugin doesn't recognize.
You can also click on the Suggested Spelling option to see what the plugin suggests. If you do not like that option, you can click on the Edit option to manually replace the word with what you want.
Once you are done making changes, click on the "Save all Changes" button.
Congratulations, you have successfully learned how to use the WP Spell Check plugin. Adding spellcheck to your website is a terrific way of improving the quality of the written content you deliver to visitors.
Need Spell Checking While Writing?
While this plugin allows you to check for mistakes across your website, it does not provide any help in catching the mistakes early. If that is your goal, I strongly recommend using the Grammarly browser extension.
This extension will catch mistakes while you write them and it isn't just for WordPress. You can use it to improve your grammar on every website including social media platforms like Facebook, Twitter, and Reddit.
Not only does it catch spelling errors, but it can also identify grammar mistakes. Just keep in mind that not every recommendation it makes is always right.
The Grammarly extension is currently available on Google Chrome, Safari, Mozilla Firefox, and Microsoft Edge web browsers.
It is a great tool that can significantly improve the quality of your content. And one of it's latest features will correct spelling mistakes as you are typing.
What About Passive Voice?
While using a passive voice is necessary at times, especially when talking about past events, it is best avoided entirely when possible. This is because it makes your writing less clear and harder to understand for the average reader.
After all, the average reading level of adults in the United States is only the eighth grade.
Thus, you need to keep it simple.
This can potentially hurt your website's search ranking, but there is a great tool to help you. The Yoast SEO plugin will help whip your website into a lean, mean, high-ranking machine.
This plugin will highlight these instances and even tell you if your writing is hard to read for the average visitor. It can also catch when you start consecutive sentences with the same word, which is absolutely something you should avoid.
And as its name implies, it offers a variety of SEO tools to help boost your website's search engine rankings and drive traffic.
Good Content is Legible Content
Misspellings and grammar problems often lead to poor content delivery and cause reader confusion. On top of this, it will make your entire brand look unprofessional, which is unacceptable in most fields.
In some cases, the mistakes that slip through can be taken out of context and damage your reputation as a whole. Using a spell checker can significantly reduce these types of mishaps, but they are not perfect.
One of the biggest misconceptions is that a spell or grammar checker is always right. They aren't. There are plenty of instances where their recommendations are just outright wrong. Always make sure the change is what you intend before making it.
Thus, manually proofreading your content is still necessary.
What kind of tools do you use to fine-tune your content? How long do you spend proofreading your post content in WordPress?