WordPress has a great deal of flexibility when it comes to making money online. One method many people dive into is using a learning management system, or LMS. This is when you set up a platform to teach students virtually any course you can think of.
Online learning is a very common practice today. As long as you can demonstrate a high level of competence for what you're teaching, people will give money to know what you know. This is when a WordPress LMS comes into play.
In this tutorial, I'm going to show you how to sell courses with WordPress and what you can do with your new educational platform. Regardless of the industry you're in, there is always something to teach.
Using the LearnPress WordPress LMS Plugin
Today, I'm demonstrating the LearnPress plugin. It's a free system that can get you started while offering a premium plan to expand. It's also one of the more current updated LMS plugins available on WordPress.
Go to the Plugins section and click, "Add New."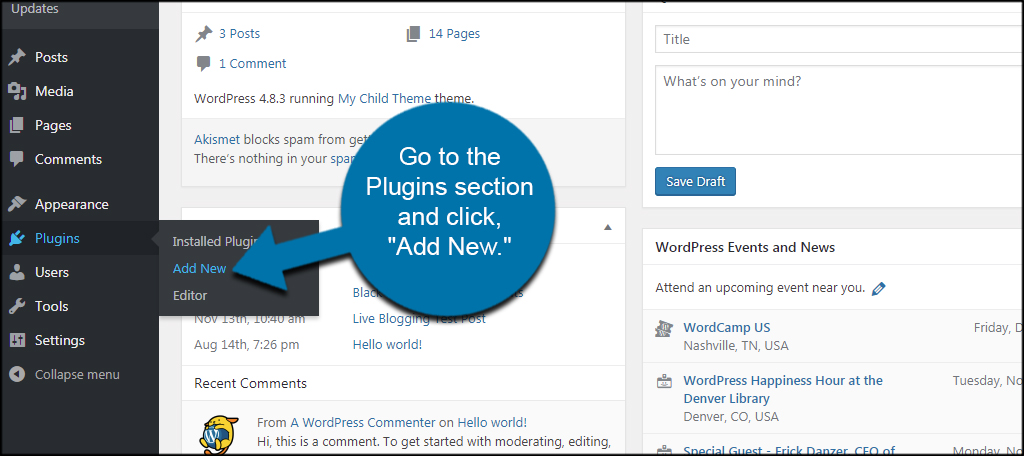 Install and activate the LearnPress plugin. Use the search field on the top right. Make sure you install the correct title. There are several extensions available that expand what LearnPress can do. But you'll still need the actual plugin to use them.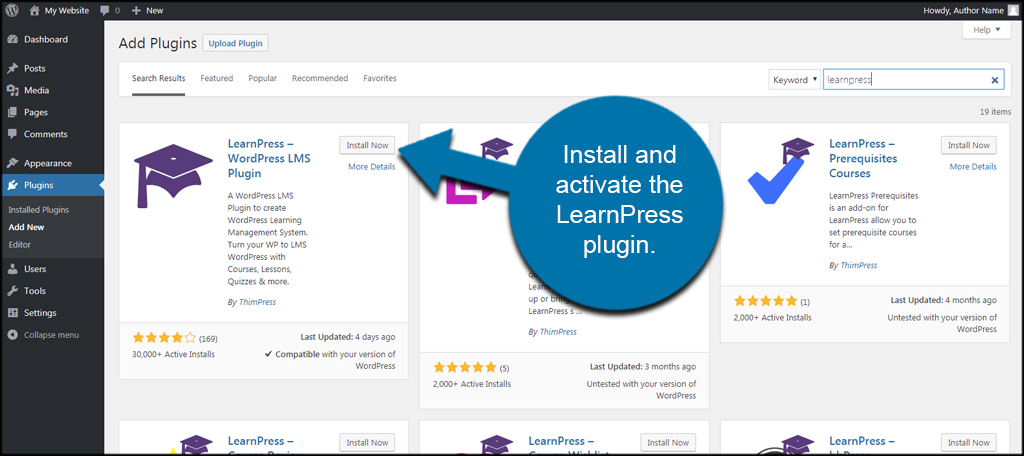 Let's go over the basic features of LearnPress and how you can use them.
Course
Click the LearnPress function that is now available under Dashboard. The list of your courses will be the default page for LearnPress.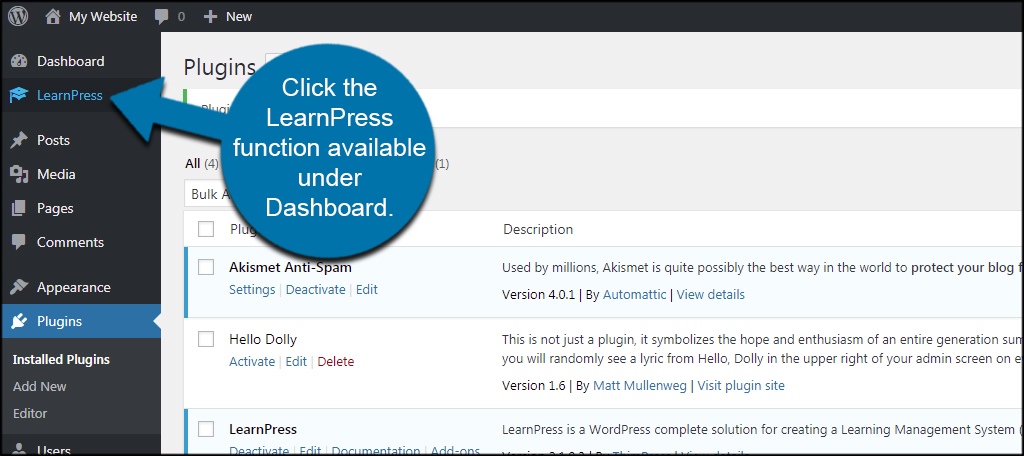 This is the list of courses you currently have available, students, price and the course category. This means you can offer a wide range of courses with varying difficulties, prices and different authors.
Lessons
Click the Lessons link in the left column.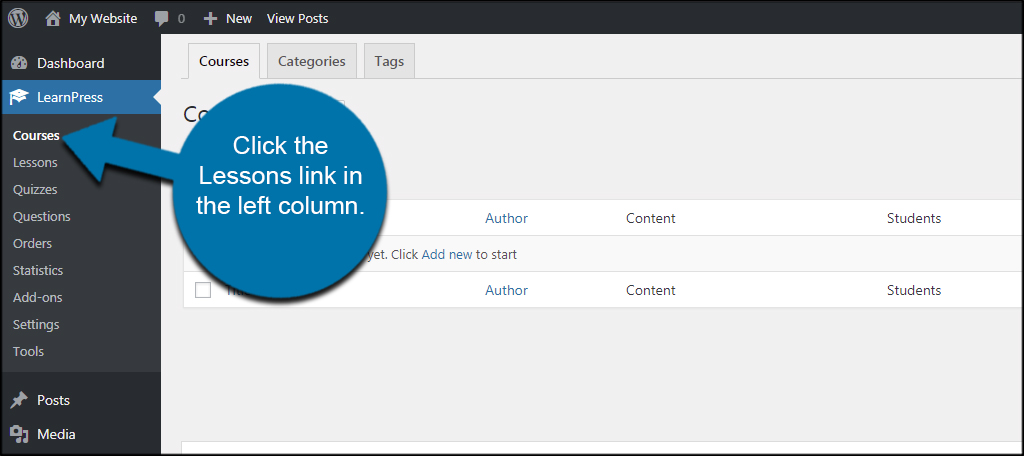 In this section, you can add new lessons to the courses you create. Essentially, it's like creating a post in WordPress with the addition of being able to set lesson duration and previews.
Because LearnPress uses the editing system in WordPress, you can easily add a variety of media to your lessons including embedding videos from YouTube with a simple copy-and-paste.
Quizzes
Click on the Quizzes function from the left.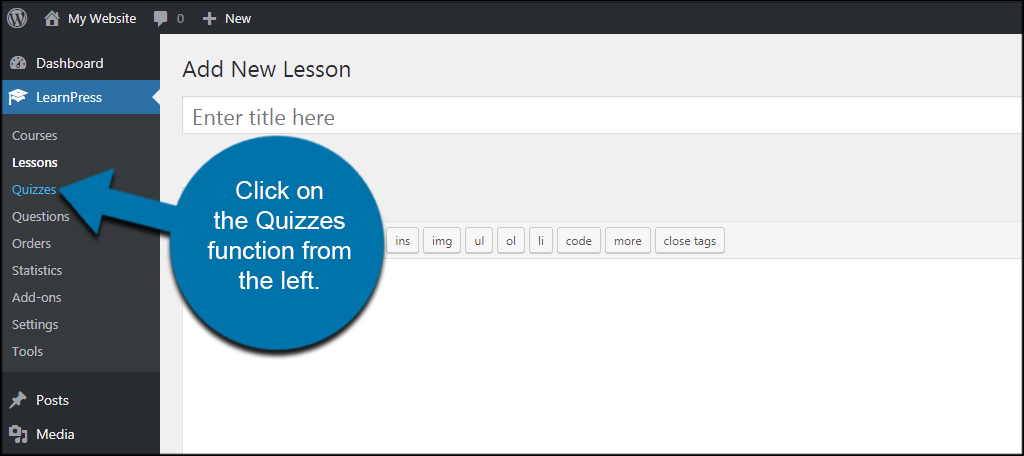 No educational site would be complete without quizzing your students. After all, you need to make sure they learned something from your lessons. Quizzes are set up as easily as any other form of content in WordPress.
When adding questions, you can set them up as multiple choice, true or false or single entry. You can then choose to show the questions or hide them until the quiz begins.
Your grading options include a passing percentage or point-based system. This is completely up to how you want to structure your course.
Another option you may want to consider is the "Re-take" function. This will let you set the number of times a person can retake the quiz should he or she fail. You can also show hints or show the correct answer after a choice has been selected.
You can develop quizzes in a number of ways depending on what you're trying to teach the student.
Questions
Click the Questions option from the left.
Think of the Questions section as like a database of quiz material. This lets you add a question relevant to your course without directly tying it to a quiz. This can be helpful if you want to use the same questions for different courses or preparing the quiz material before actually building the quiz.
You can even assign how many marks or points correctly answering the question is worth. For example, you could make a very difficult bonus question worth more points than something that should be easy to answer.
Orders
Click the link for Orders from the left panel.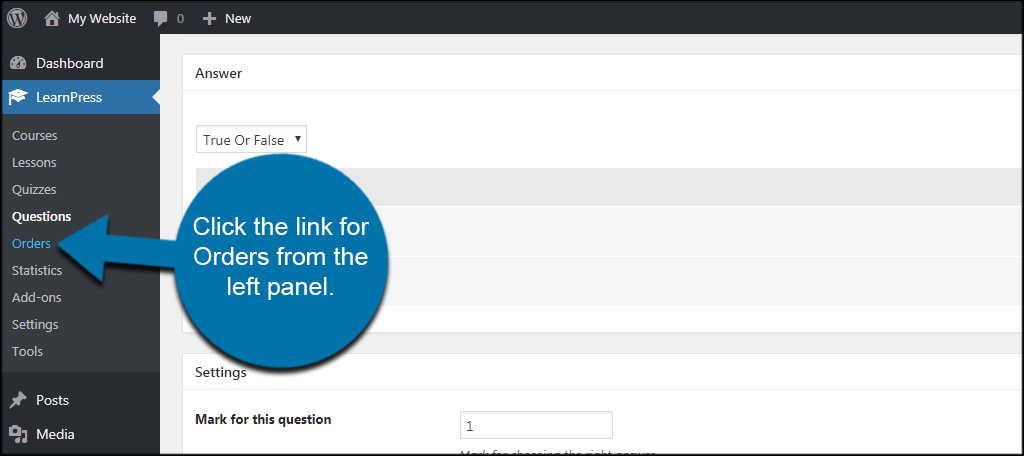 The Orders screen is a display of students and what has been purchased from your site. This includes the date, totals and status of the order. From here, you can add single or multiple users manually. Customers are based on the registered user roles in WordPress.
Statistics
Click the option for Statistics on the left.
The Statistics screen is where you can see just how popular your courses are. You can select from General, Users, Courses and Orders. This is helpful when you're developing a strategy for future courses as it can help you determine what people are most interested in.
Add-ons
Click the Add-ons option from the left panel.
The Add-ons screen is a list of any additional components you have installed for the LearnPress system. From here, you can access modules and themes related to running your own WordPress course.
Most of the add-ons for LearnPress require a purchase. If you want to add more functionality and features, it's going to cost a bit extra. For instance, adding the 2Checkout payment gateway has a current price tag of $29.99.
Settings
Click the Settings option under LearnPress.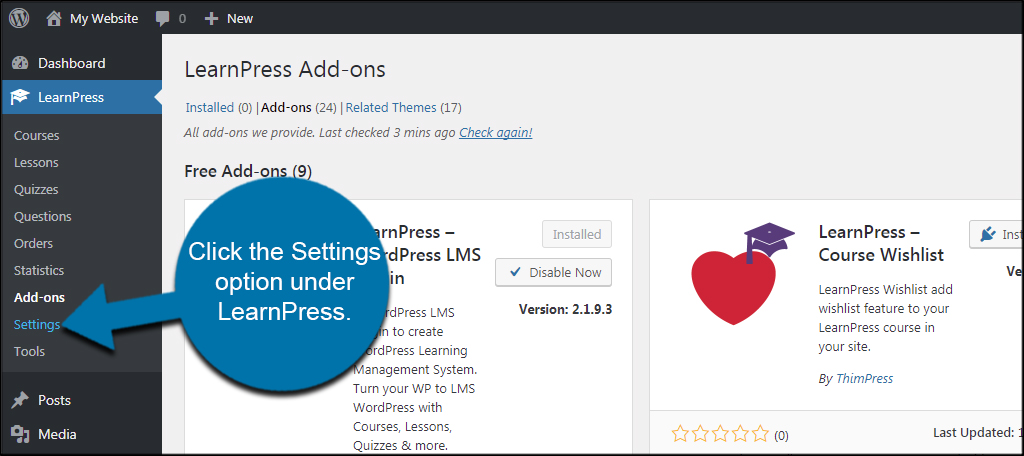 This section is the basic settings of how LearnPress behaves in WordPress. You can set general options such as currency types, logout page function, how courses are displayed and much more. It's probably a good idea to go through this area thoroughly before going live with your courses.
LearnPress has PayPal built directly into the plugin, so you can easily start accepting payments today if you already have an account set up.
One section you need to pay close attention to is the Email portion of settings. This is where you can customize messages for new orders, courses, approvals and updates. All of these elements are customizable to suit your specific needs.
Tools
Last but not least, click the Tools function from the admin panel.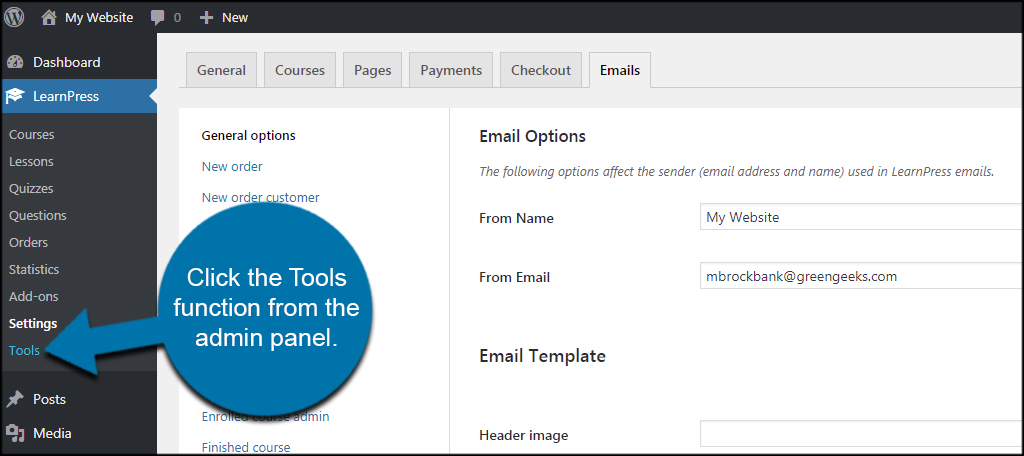 From the Tools area, you can upgrade courses, remove all current data or remove outdated information. You also have access to manage child themes should you have any installed for your online course.
LearnPress Pages in WordPress
Click the Pages area of WordPress.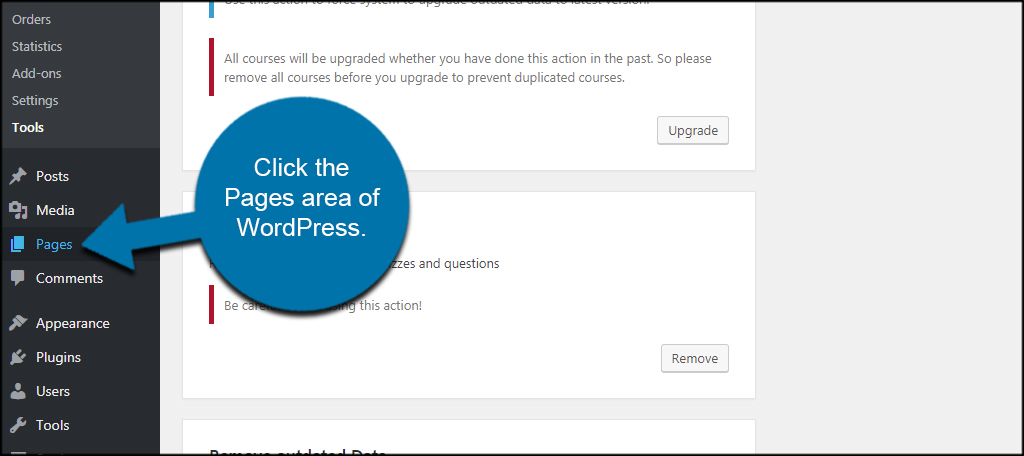 LearnPress comes with default pages in WordPress for running your online course. You can create your own and assign them to be used in the Settings portion of LearnPress.
These pages are identified with the "LP" in front of the title.
Many Possibilities
Selling courses with WordPress has a lot of potential to generate extra revenue. If you can build the business up as a reputable source, there's really no limit to the expansion of your business. Even the small business can teach classes relevant to their industry.
For example, a lawn care business can develop courses for yard care and horticulture. Maybe a health supplies store can promote cooking courses or other fitness content. All it takes is knowledge, attention to detail and a good WordPress LMS plugin like LearnPress.
What kind of courses would you teach from your website? How much money have you made from your sites in the past?