A website is a great platform for cross-promotion. It's easy to connect various social accounts as a sidebar widget to promote those elements. It helps drive follows and often inspires people to become fans of a brand. This is part of the reason why many display their Google+ profile page in WordPress.
Although not as popular as Facebook, Google+ is still a viable social media hub. The site has nearly 400 million active members and receives more than 47,000 visits per hour on average.
In this tutorial, I'm going to show you how to add a Google+ profile WordPress widget to the sidebar. It's a quick and simple process that has great potential to help boost brand reputation and awareness.
Using New Google Plus Badge Widget
In some cases, installing new themes gives you access to include social elements for the site. Usually these are social sharing buttons. However, a few might include the ability to show social profile pages. However, we'll focus more on showing your profile in the sidebar in this tutorial.
Today, I'll demonstrate the New Google Plus Badge Widget. It's one of the more popular plugins for placing a Google+ profile in WordPress. It's easy to use and takes seconds to set up.
Install and activate, "New Google Plus Badge Widget."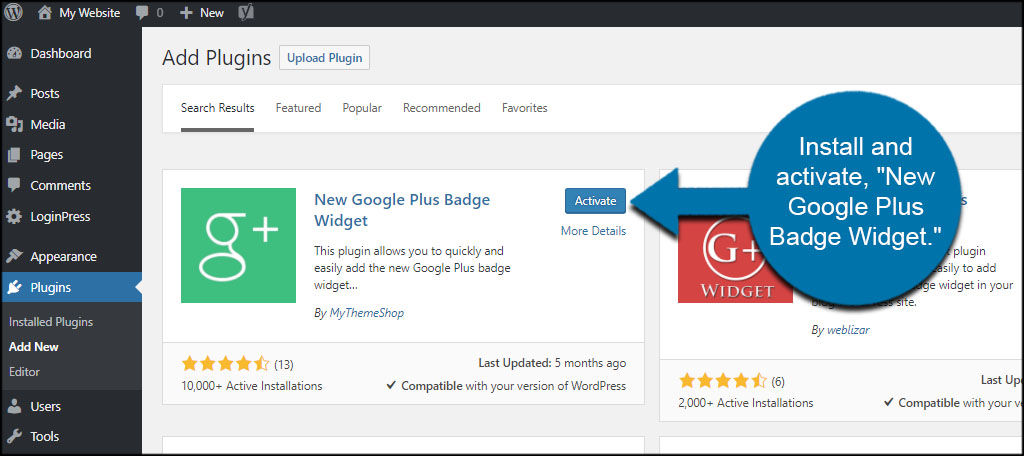 Go to Appearance and click, "Widgets." This plugin does not install settings to use in WordPress outside of the widget panel. Everything is controlled from that one area.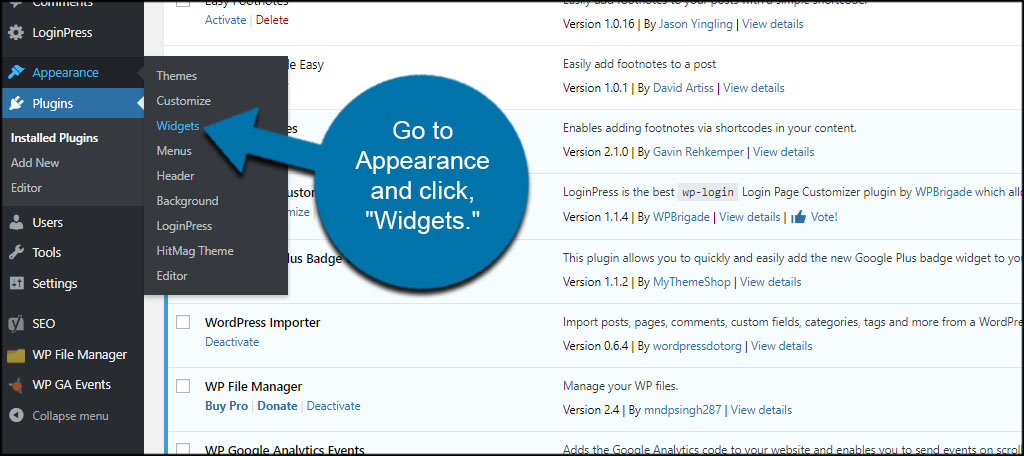 Drag and drop the "Google Plus Badge Box" into a sidebar.
Choose which type of page you are showing. Is it a profile, business page or a community? This is determined when you set up your Google+ profile and information.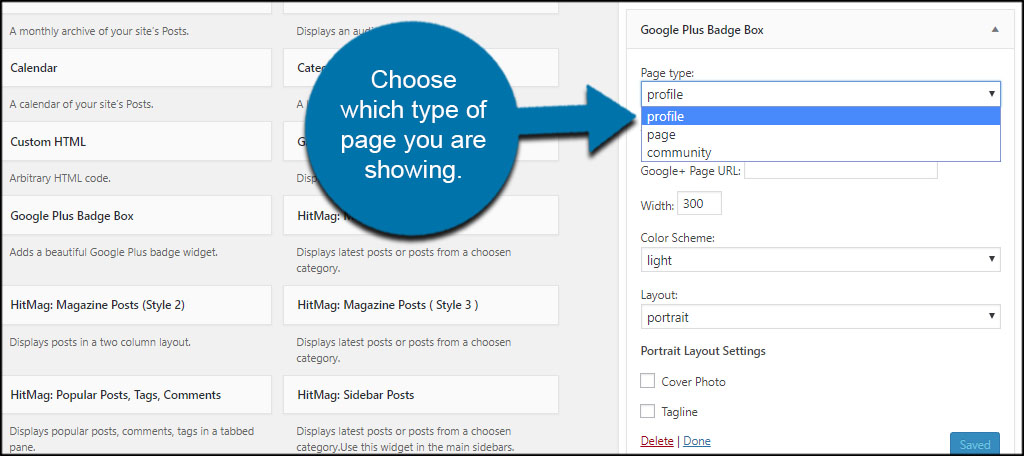 Change the title of the widget. This is the label that appears above the badge box in your WordPress sidebar. For this example, I'm just going to leave as its default.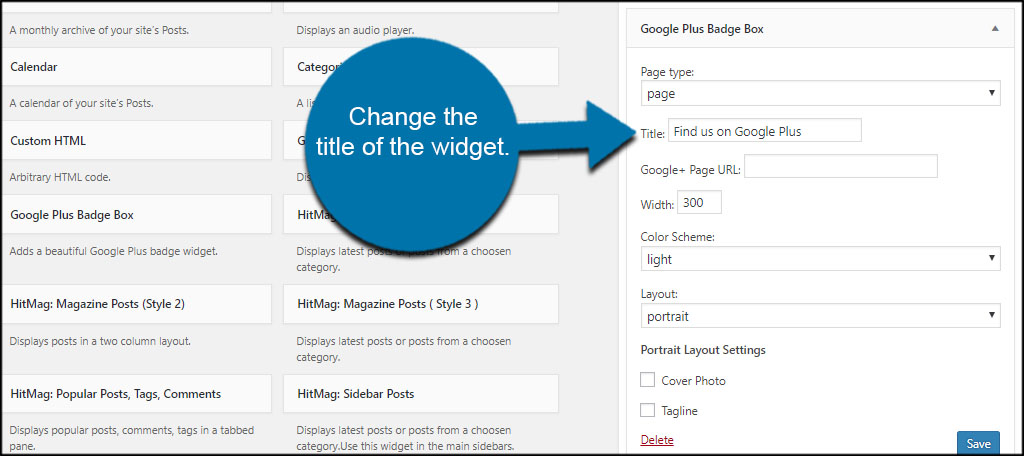 Input the Google+ Page URL of the profile. This is the URL in the address bar of your web browser.
Select the width of the Google+ profile widget. Because I know my particular theme has 300-pixel-wide sidebars, I'll leave it as "300." However, you may want to resize this according to your own theme as it will help the badge fit better on your site.
Choose to have a light or dark color scheme. Try to match it as close as possible to your site's appearance.
Choose whether you want the widget to show in portrait or landscape layout. For this tutorial, I'll leave it as "portrait."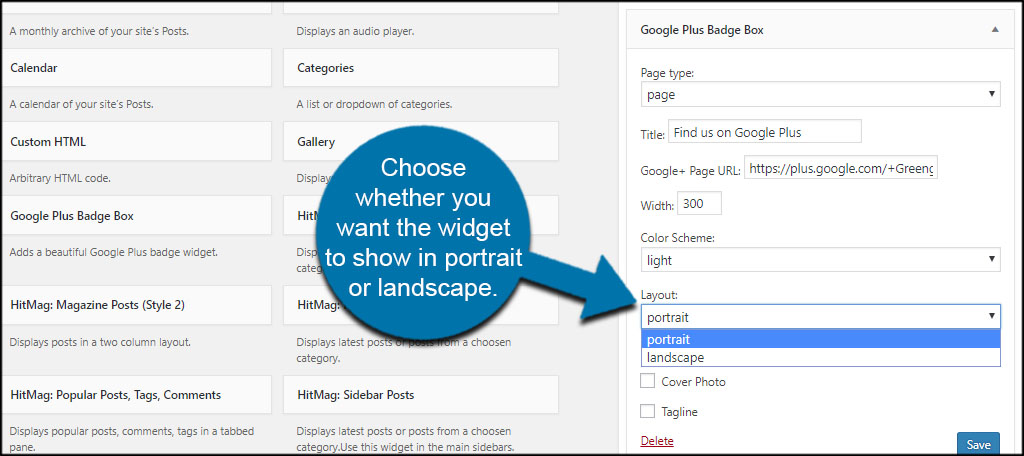 Use the check boxes to include the cover photo and tagline if you wish. This information is pulled directly from Google+.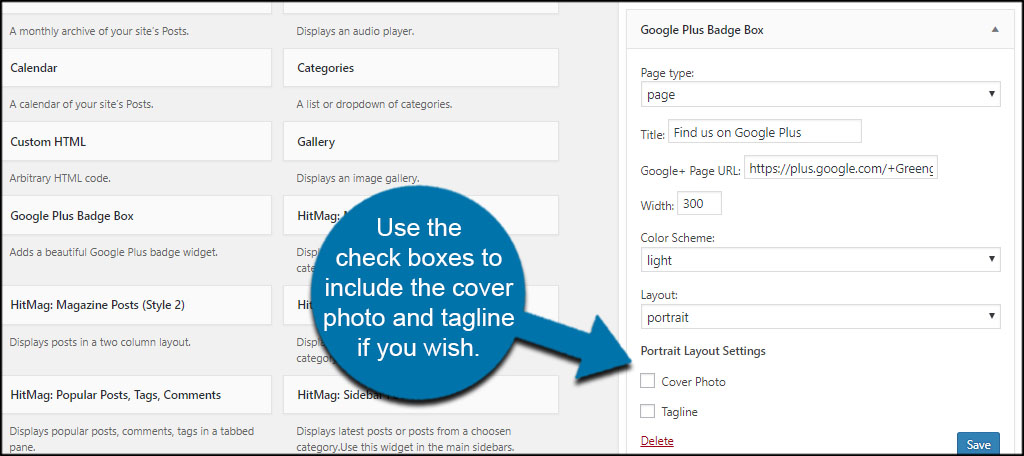 Click the "Save" button on the widget to commit your changes.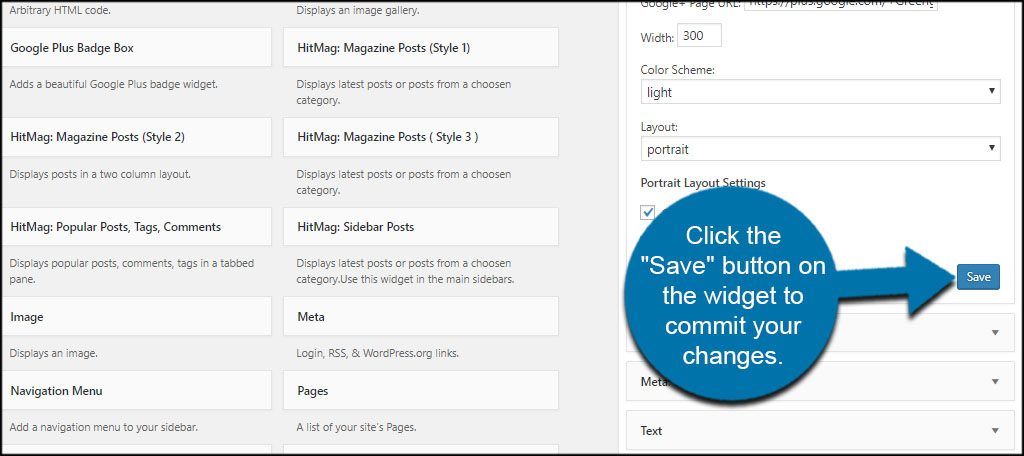 Your Google+ profile will then appear in the WordPress sidebar.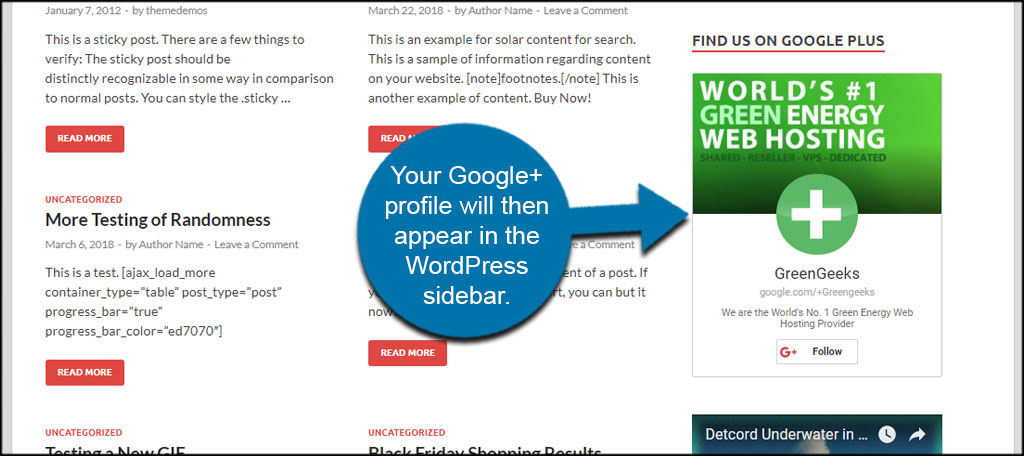 Can you show any Google+ profile from your site?
This widget works by taking data directly from Google+ and showing it on your website. This means you don't have to own or operate the profile page to show it. You can create a fan page while helping to promote a company, brand or celebrity you endorse or otherwise support.
What if your widget is blank on the website?
When setting up the widget, you need to make sure you have the correct page type selected. For example, I used the GreenGeek's business page in Google+ in this tutorial. If I changed the page type to "profile" in the widget, it would become blank. This will depend on how you set up the Google+ profile in the beginning.
Other Plugins to Consider
While this is certainly one of the best Google+ profile WordPress widgets available, there are more you can choose from. Find one that fits the best with your site's theme and design ideas. Here are a couple you can select.
Weblizar Google Plus Badge Widget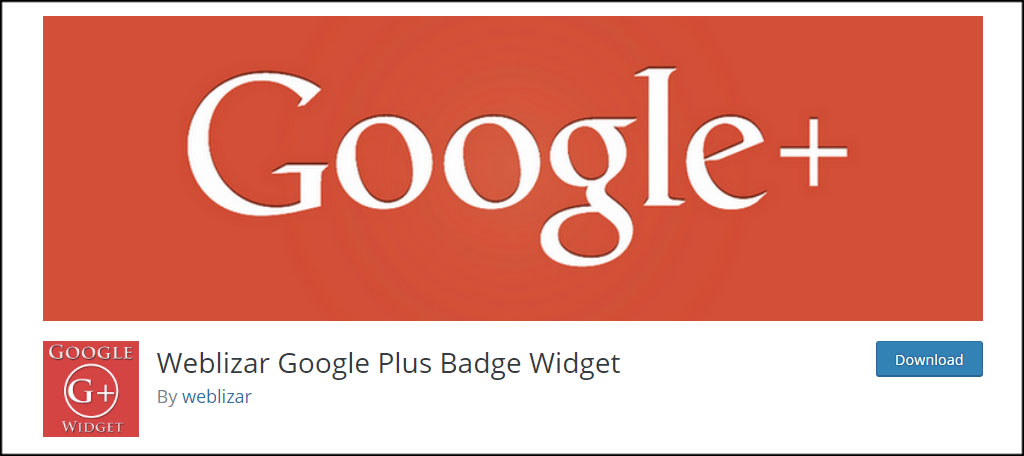 The Weblizar Google Plus Badge Widget is another exceptionally easy tool to install in WordPress. It has pretty much the same basic settings to control how the profile is displayed on the site with the exception that it creates a setting function in the left control panel.
Badge Widget of Google Plus
The Badge Widget of Google Plus is another plugin that is nearly identical to the one I featured above. It has all the same settings only in a different layout. According to the developer, the widget itself is responsive, which allows it to resize itself on mobile devices.
Building an Intricate Web
Social media marketing is an important facet to engaging an audience and potential customers. Adding your profiles to your site helps others recognize your brand while inspiring them to follow. Expand your network and create an intricate web of connections online.
What social elements do you use in conjunction with your website? How often do you post new messages on platforms like Facebook and Twitter?