When using any content management system like CubeCart, there will be a time when you need to upgrade it. This will keep your site protected as many updates are meant to seal up any security holes that are discovered.
In this tutorial, I'm going to cover how to upgrade CubeCart to the newest version. It's worth the effort to keep your online store safe while discovering new features.
Backup Your Site Files
Anytime you're about to make changes to any website file structure, it's always a good idea to create a backup. Although we all hope for the best when performing these kinds of operations, it's better to be safe than sorry.
Besides, a backup gives you the capacity to quickly restore the eCommerce site in any situation whether it's a corrupted upload file or an attack from a bot or hacker.
You can also use the "Backup" options from the "Maintenance" screen in CubeCart. This is often the easiest and fastest method for keeping a copy of your website.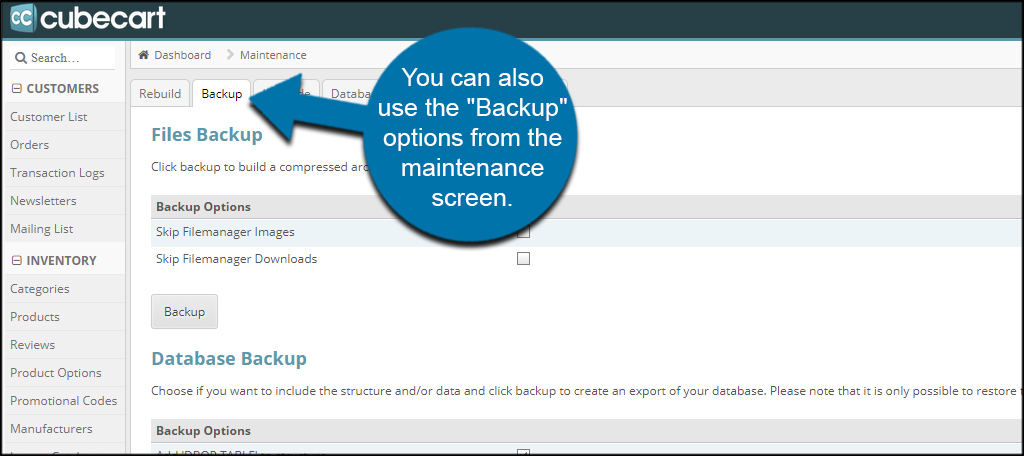 Updating CubeCart
You have a couple options when upgrading CubeCart. You can download the latest version and upload the files using FTP programs like FileZilla, or use the automated process. For this tutorial, I'm going to show you where the Upgrade automation is located. It's easier and faster than direct FTP.
In the CubeCart dashboard, scroll down to the Advanced section and click, "Maintenance."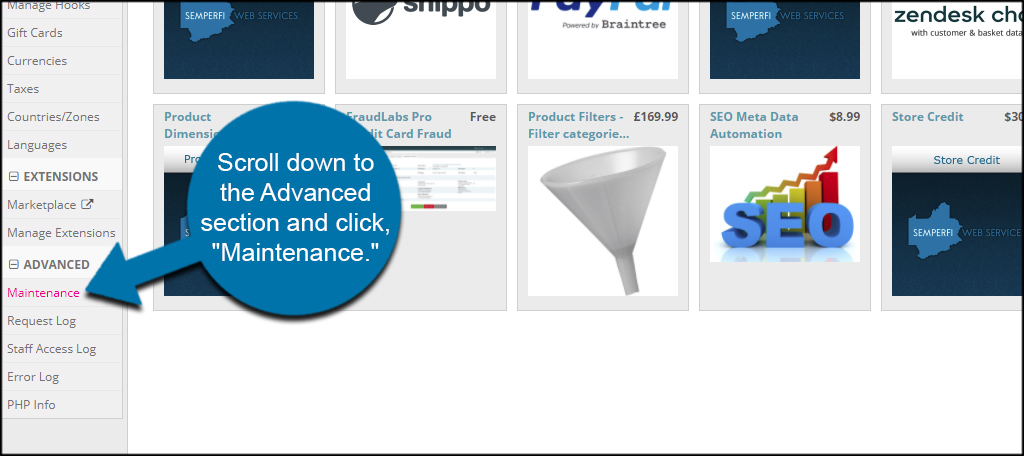 This is where you would go to perform all kinds of maintenance on your website. Cache, logs and even rebuilding the sitemap can all be done from this first section. As I mentioned above, you can also perform site backups quickly from the Maintenance screen.
Click the "Upgrade" tab along the top.
If you had an upgrade available, there would be a button located in this screen. You would click the button and follow the instructions from CubeCart. It's an automated process and doesn't take long to perform.
Below the button, you'll see an upgrade history of your website.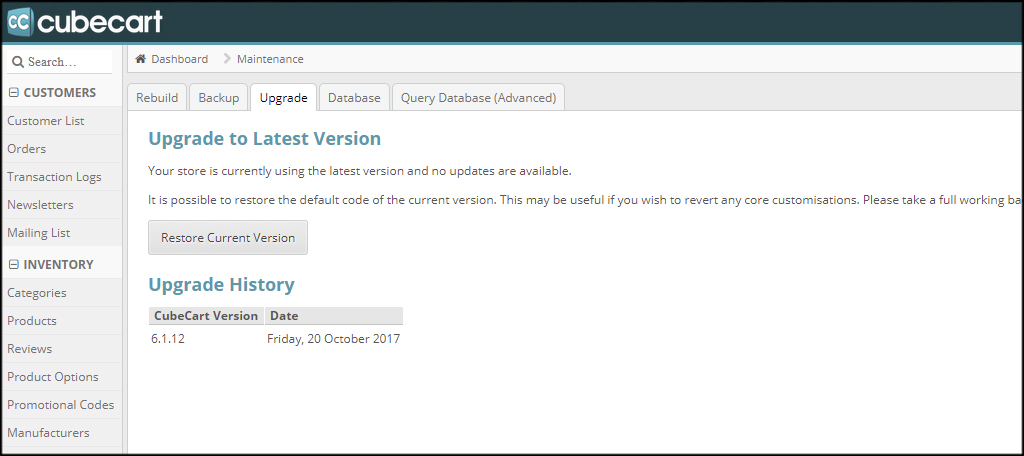 Keep It Current
Regardless if you use automatic or manual upgrading, it's prudent to keep your files current. Not only will it protect the site from coding exploits, but sometimes a new version of software can include a new tool or feature that may be useful. This is especially true after installing payment gateways. Keep it all updated and your site will perform brilliantly.