Unfortunately, osCommerce doesn't make upgrading very easy. It's not like some systems that have automatic file patching available. It's more involved and often requires direct modifications for files to work correctly.
Each upgrade to osCommerce will come with specific instructions depending on what modifications are required. These instructions are within the new version of the osCommerce Zip file available on its website.
Today, I'm simply going to show you where to access these upgrade instructions.
Upgrading osCommerce
Before any update, it's always a good idea to create a current backup. This lets you perform a quick recovery should anything go wrong.
Go to the osCommerce download page and get the new version. You will need to change the drop down window to the "Update Package" of the version you want. Currently, osCommerce displays only the most recent update files available.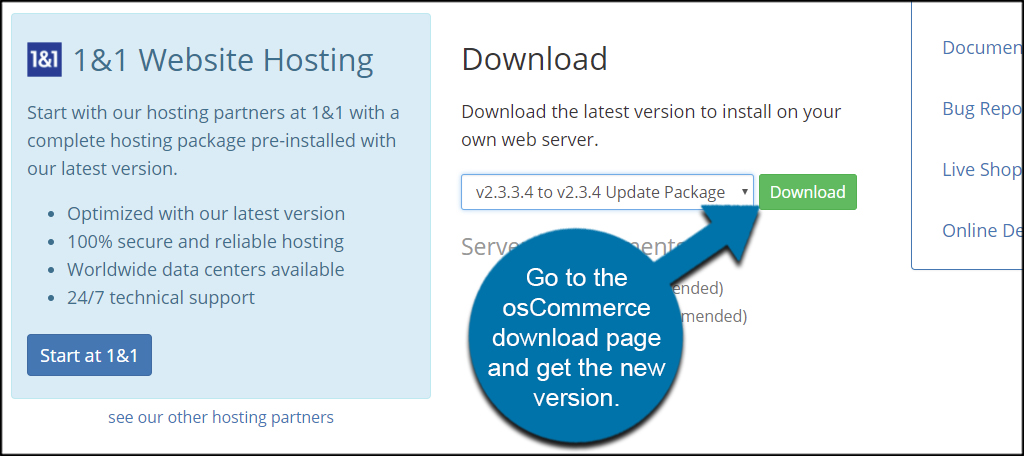 This will open your browser's download screen. Save it somewhere you'll remember. Personally, I like to save things like this to the desktop so I can find them easier later on.
Open the Zip file and extract its contents.
Open the folder and click on the "docs" directory.
Sometimes, there will be a specific "update.pdf" file giving you instructions on how to safely upgrade osCommerce. In this update, we see a release_notes.pdf file. This file actually has changes available for osCommerce.
It's important to note that you may have to make edits in code to the files in question. For the most part, the developers will show you what lines need to be changes and give you a section of code you can simply paste into the site's file. It's not a difficult process, but it's very time consuming.
In some instances, you can use an FTP program like FileZilla to upload all of the updated files directly to your website. You will overwrite any files on your site with the new updated ones from the Zip file you downloaded.
It all really boils down to how the developers of osCommerce release the update to the public. Some changes are fairly easy while others are more convoluted. However, products and user information will remain on the site regardless as those elements are stored in the SQL database. This is accessible through phpMyAdmin.
It's unlikely you will perform an update that will ruin those components.
It's Worth the Trouble
Keeping your site's software up-to-date is one of the easiest ways to protect it from hackers. Most updates are released to perform two main things: seal up exploits and add new features. Although updating an installation of osCommerce is quite involved, the end results are often worth the effort.
Keep your site safe and secure by making sure you're running current versions of everything.