Are you looking for a way to export and import WordPress users between sites? It is becoming more common to run multiple sites, which makes exporting and importing tools extremely important. They allow you to move content from one website to another in just a few clicks.
Today, I will demonstrate how to export and import WordPress users using the Import Export WordPress Users plugin.
Why Import WordPress Users To Another Website
There are multiple reasons why a WordPress developer would need to import and export WordPress users. Profiles contain important information like email address and social media URLs. As you have probably found out, it is difficult to get this information from users.
One of the main reasons you will need to export and import user profiles is to merge websites. If you are running multiple websites or are in the business to buy websites, you want to consolidate your user base.
You will get better results from one larger website than multiple smaller ones.
Not only does it make sense financially, but it is convenient as well. It's hard enough to get someone to sign up once, let alone ask them to recreate their user profile on another website. A lot of people would leave for a competitors site if asked to do so.
Remember when I said the user profiles contains email addresses? You can use their profiles to create an email list for your customers. This makes it easy to send out promotional material if they opt into your email subscription.
Installing Import Export WordPress Users
The Import Export WordPress Users plugin makes the process of consolidating your user profiles easy. Not only does all of the information in the profile transfer, but also the user role they were assigned.
However, it is important to keep in mind that you need to install this plugin on every website involved.
For example, if you want to export user profiles from 3 websites and import them into another, you will need to install this plugin on all 4 websites. Thankfully, installing a plugin only takes a few seconds.
Let's start by clicking on Plugins and selecting the Add New option on the left-hand admin panel.
Search for Import Export WordPress Users in the available search box. This will pull up additional plugins that you may find helpful.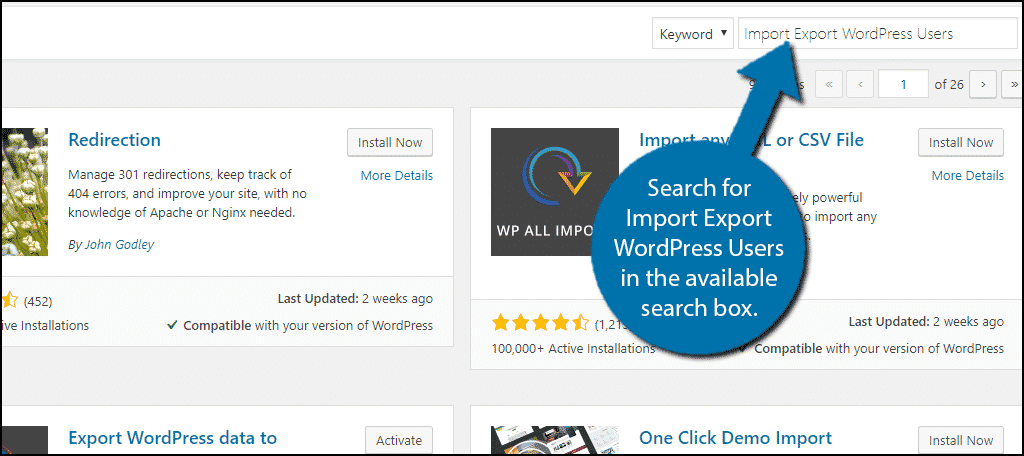 Scroll down until you find the Import Export WordPress Users plugin and click on the "Install Now" button and activate the plugin for use.
Export WordPress Users
To begin, you need to first export your user profile data before you can import it. You will need to repeat the following steps on every website you wish to export information. Luckily, this plugin makes the process very quick.
On the left-hand admin panel click on Users and select the User Import Export option. This will pull up the main settings page.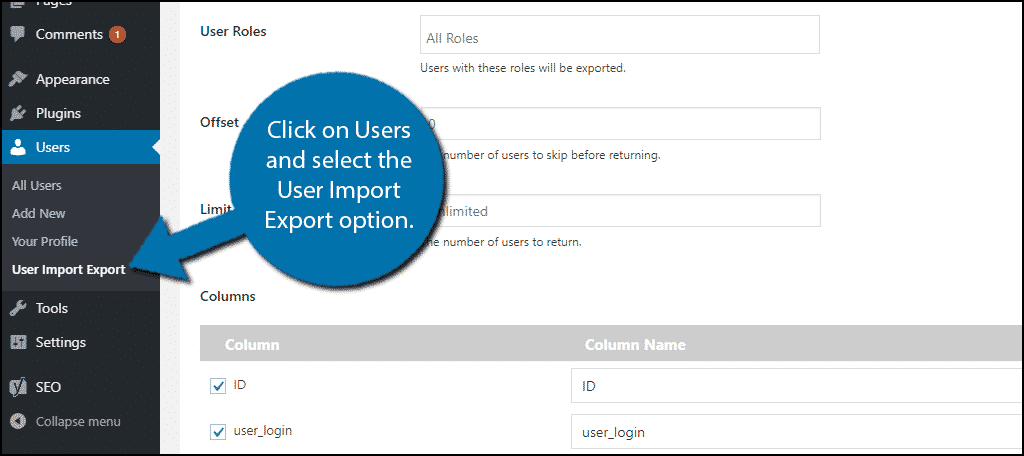 This plugin is divided into two main tabs. User/Customer Export and User/Customer Import. For this section of the tutorial, make sure you are on the User/Customer Export tab.
By default, all user roles will be exported, but if you would like to exclude certain roles, you can. Simply select the user roles you want to export in the user role box.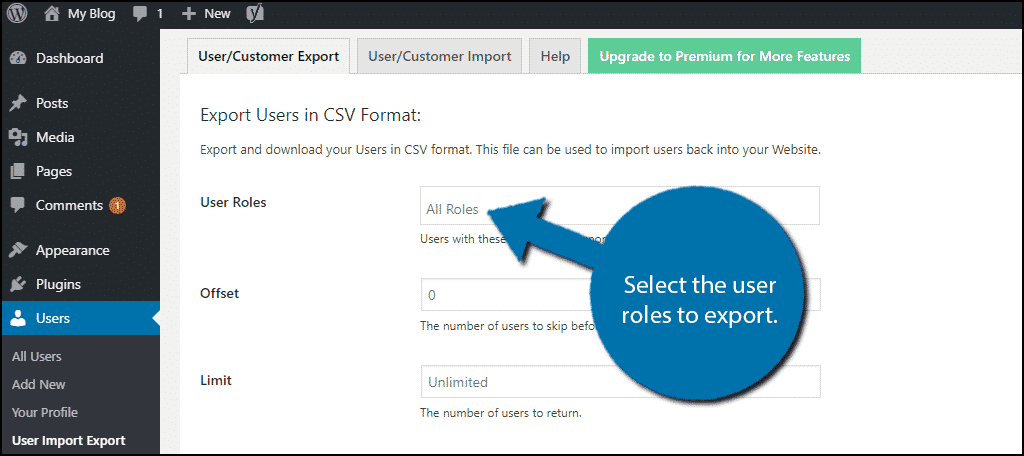 Scroll down and select what information you want to export. By default everything is selected.
Review all of the information and click on the "Export Users" button.
A CSV file will be added to your download list. You will need this to import your information. Repeat this on every website you want to export users from.
Import WordPress Users
If you thought exporting profiles was easy, wait until you start importing them. Click on the User/Customer Import on the website you want to import your user profiles to.
Click on the "Choose File" button.
A new window will open. Your export files will be in your computers Downloads folder. Click on the folder and locate the file. It should be named "Custom-Export" with the date and time.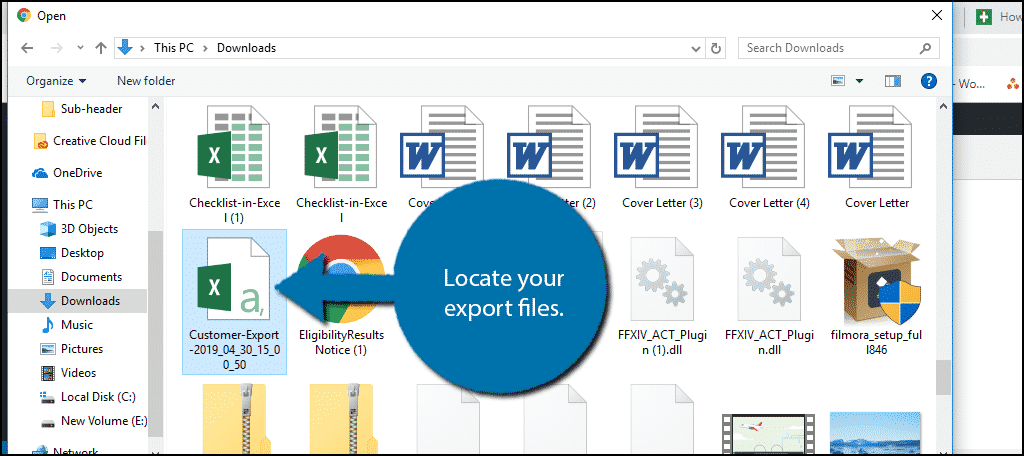 Click on the "Upload file and import" button.
The plugin will now import all users contained in the file. When it is complete it will say, "Import complete."
Congratulations, you have successfully exported user profiles from one website to another.
WP All Export as an Alternative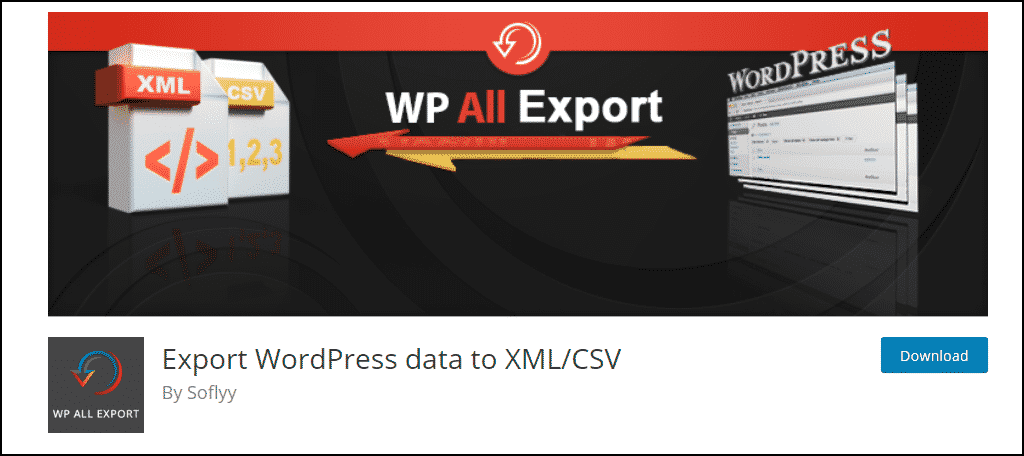 The Export WordPress data to XML/CSV plugin is a great alternative to choose. It offers the ability to export and import WordPress users on top of many other features.
However, it should be noted that this is a premium plugin. Although it does have some good functionality in its free version, you get far more flexibility by paying for the tool.
If you are looking to merge websites together, this is the plugin that will make it easy.
Consolidation Is Important
Running multiple websites is challenging, but consolidating their content into one site is better for multiple reasons. One of the key factors is having to cater to one large community instead of multiple smaller ones.
Even if your intention was to attract the same type of visitors, it rarely works out that way.
Instead of creating content for each website, where smaller audiences will read it, putting the same amount of content on a bigger website will generate better results.
How easy did you find the Import Export WordPress Users plugin? How many websites did you export from?