There are several ways to actually set up a podcast in WordPress. That being said, what if you already have one set up somewhere else and you want to import that podcast into your WordPress website?
Truth be told, when people think of trying to move a lot of media, oftentimes they get a little nervous. There is no need to be, as today I am going to show you how easy it is to import a podcast to WordPress using a great plugin tool that will handle all the heavy lifting and formatting for you.
Let's take a look at the plugin in question and see all that it has to offer.
Podcast Importer SecondLine
Podcast Importer SecondLine is a Plugin that will help you quickly and easily import a podcast into your WordPress website. The plugin will give you the ability to import your show into a regular post, or a custom post type (that you already have) that you choose.
One of the highlights of the plugin is that it is fully compatible with all the popular WordPress podcasting plugins like Seriously Simple Podcasting, PowerPress, and Simple Podcast Press.
Once this WordPress podcast plugin has been activated, you will have the ability to import episodes of your podcast into existing custom post types. You will also be able to assign categories, import featured images set multiple import schedules, and import separate podcasts from separate feeds.
The plugin is easy to install and very simple to use, as we will see below. It comes with a lot of functionality. While it is lightweight and doesn't conflict with other plugins, it still comes with plenty of functionality for importing a podcast.
Last but definitely not least, the plugin supports the automatic import of embed audio players from over 15 different podcast hosting providers. Some of the main ones include:
Buzzsprout

Megaphone

Pinecast

Captivate

Transistor

anchor.fm

Simplecast

Podbean

Whooshkaa

Omny
Basically, if you have an existing podcast and need to import it to your WordPress site, then this plugin is definitely the one to have.
Let's take a look at how to get it all set up.
Import a Podcast Using Podcast Importer
It isn't a difficult task to set the podcast importer plugin up and then start importing podcasts.
Step 1: Install and Activate Plugin
In order to import a podcast and set it up on your WordPress website, you first need to install and activate the plugin. You can do this by clicking over to the Plugins page inside the WordPress admin dashboard.
Just use the field to search the plugin by name. When it pops up, install and activate it right from there.
Step 2: Access the Import Podcast Configuration Through Tools
Now that the WordPress podcast plugin is installed and activated, you want to access the page where you can enter the info and start importing your podcasts.
To do this, click on Tools > Podcast Importer. This is located in the left side menu area of your WordPress admin dashboard.
You will notice that this is now an available option after you activate the plugin for use on your website.
Step 3: Import a Podcast
At this point, you are on the main page for the plugin. The setup is simple and easy to use. It is a one-page layout and all you have to do is enter all the relevant information requested in order to import a podcast.
At the top of the page, you see the first few configuration settings requested. These include:
Podcast Feed URL

Post Type (if you have custom post types they will show in the dropdown menu)

The Post Status

Post Author

The Post Category (all the categories on your site will show here)
Go ahead and fill in all the relevant information as it pertains to the podcast you are trying to import. After that, you can select the "Ongoing Import" option, as well as choosing to include all the featured images from past episodes. Finally, choose whether or not you want to embed a media player.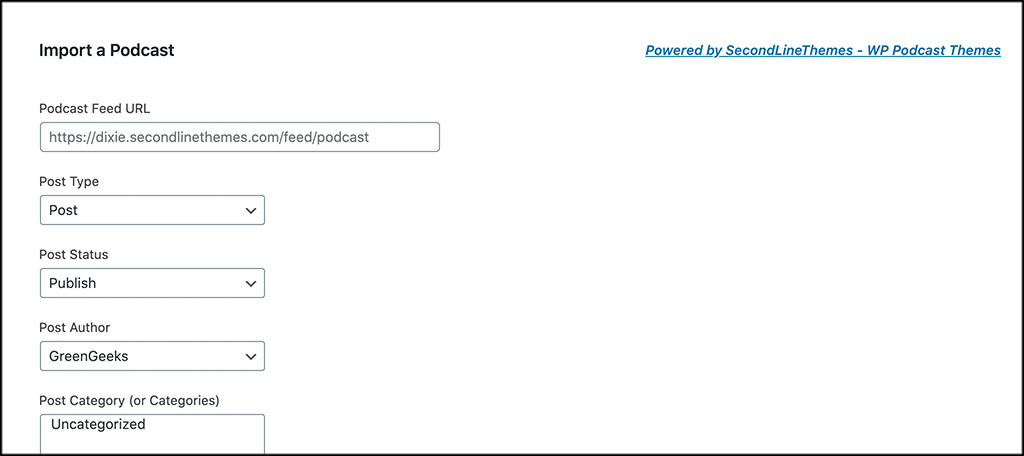 Now scroll down just a little and fill in any "Advanced Options" you may need. This includes content tag options, as well as titles and other elements.
Once all the info you want is filled out, simply click on the "Import Podcast" button and you are all set.
The info you filled in will be used and the podcast will automatically import to your posts and publish them according to your setup.
Common Issues You Might Face
If something goes wrong or you feel you haven't imported a podcast correctly, chances are it is an easy fix. Here are some issues you may face and how to deal with them.
The Import Failed
If the import failed or is taking too long to process, then try running it again, and double-check your settings. You can run the importer multiple times. Once episodes are imported, they will not be duplicated. Only future ones will be imported if you select the "continuous import" checkbox option.
Does the Plugin Support Any Host?
All types of podcast feeds may be imported as long as they are in RSS/XML format. If you think you are missing something, you can reach out and contact the plugin developers.
The Import Is Not Working From Your Podcast Feed
There are two main things you want to look at here. First, make sure the URL you are filing in is valid. Second, and oftentimes most overlooked and important, make sure your server is running PHP 7 or above. Otherwise, it won't work.
Podcasting Benefits
Podcasting gives you the ability to reach an audience and share your passions on a different scale. There are several outlets you can post a podcast on for download. This gives you a great option to gain new followers.
Furthermore, starting a podcast can really benefit your business if handled correctly. You can position your business for more clients, and more possible sales if you create and publish a solid, well-rounded show.
Final Thoughts
Podcasts have become very popular over the last few years. All the big companies are extending their podcasting platforms and buying up content all the time. For this reason alone it is a good idea to have a podcast.
I hope this tutorial showed you how easy it actually is to move a podcast and get it imported into a website that you want. You don't have to perform a lot of complicated tasks, simply use the plugin above and you will be good to go.
What tools have you used in the past to start and create your podcasts? Have you tried importing podcast episodes using a different technique?