Having a good keyword research tool is a huge part of putting together good content and making it relevant and searchable based on your particular website's niche. This, along with other relevant SEO practices, will help your site move up the rankings in Google and other search engines.
There are a few different ways you can perform keyword research. A lot of the tools you will see are paid plugins and websites that can help provide you the information you need for both short and long-tail keyphrases.
However, what if you wanted something that is both high-powered and free to use? Today, I am going to show you how to perform keyword research in WordPress using a solid plugin I found. 
What is Keyword Research?
Keyword research is a process that SEO specialists use to find relevant search terms when building and writing content. The idea is to find the best keyword for the product, topic, or article at hand. 
They then take the best keywords they find and apply them to the content that is being produced. The idea is to use them in a way that makes the content most relevant for search engines.
There are two main types of keywords, Short-Tail Keywords, and Long-Tail Keywords.
Short-Tail Keywords: These types of keywords are the most commonly searched words and have a lower conversion rate because they are too generalized. A good example of a short-tail keyword is "movie theaters."
Long-Tail Keywords: These types of keywords have a much higher conversion rate because they are more specific to a user's search. They have less web traffic associated with them, but the conversion rate is what website owners really want. These are more detailed and are usually longer in word-count. A good example of a long-tail keyword is "movie theaters Los Angeles."
There are a lot of different keyword research tools available out there today. Let's take a look at the plugin we are going to use for keyword suggestions in WordPress and see what it has to offer.
Keyword Research Tool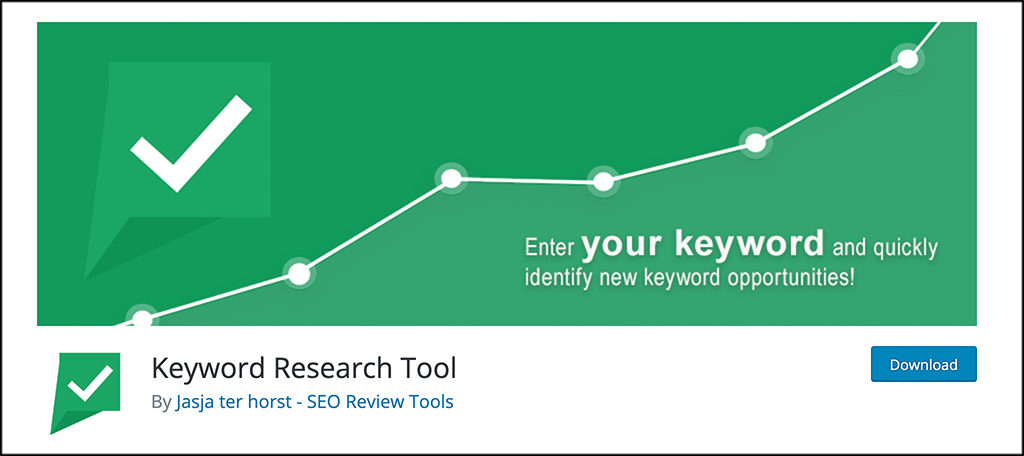 Keyword Research Tool is a plugin that gives you the ability to search for long-tail keyword suggestions right from the dashboard of your WordPress website. The tool gives writers and content creators the chance to improve the overall visibility and search results of their content simply by using the suggestions given by the plugin.
You simply enter the focus keyword you are trying to rank for in something like Google. Keyword research tool takes the focus keyword that you put in and generates a list of related keyword opportunities for you to select and implement.
The plugin is very straightforward and easy to use. All you do is enter your focus word and the tool generates a list of suggested keywords. You simply select from the list of keywords generated and use them to create amazing content.
The best thing about the tool is that it is free to use and it is supported in a number of countries including:
United States
Canada
United Kingdom
Netherlands
Belgium
Germany
France
Denmark
Ireland
Italy
Spain
Portugal
Australia
New Zealand
All-in-all, the plugin makes it easy to search for long-tail keywords right from the comfort of the WordPress admin dashboard.
Let's get Keyword Research Tool installed and set up so that you can start creating great content.
How to Set Up Keyword Research Tool
Step 1: Install and Activate the Plugin
In order to start using the Keyword Research Tool, you first have to install and activate the plugin. You can do this by clicking over to the Plugins page of the WordPress admin dashboard.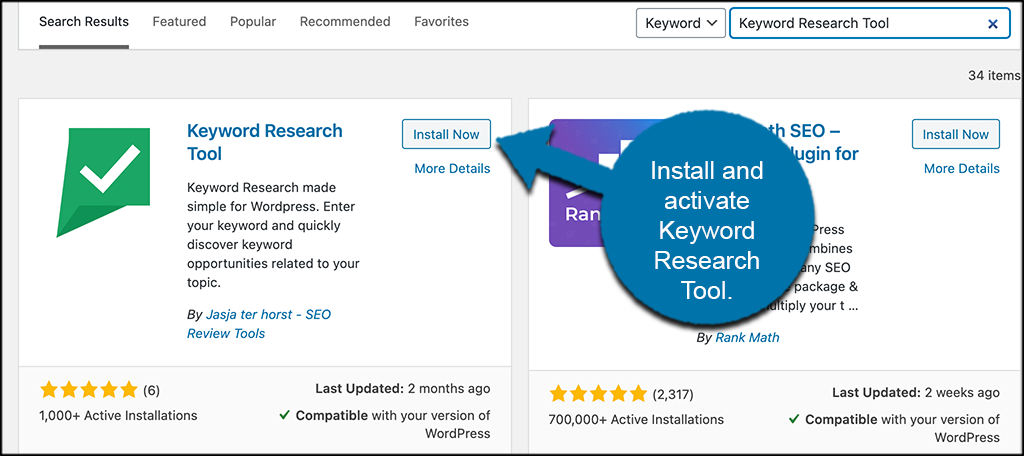 Simply use the available search field to search the plugin by name. Once you see it pop up, install and activate it right from there.
Step 2: Go to the KY Research Tool Page
Now that the plugin is installed and activated, you want to head over to the main Keyword Research Tool page. To do this, click on "KY Research Tool," located on the left side menu area of the dashboard.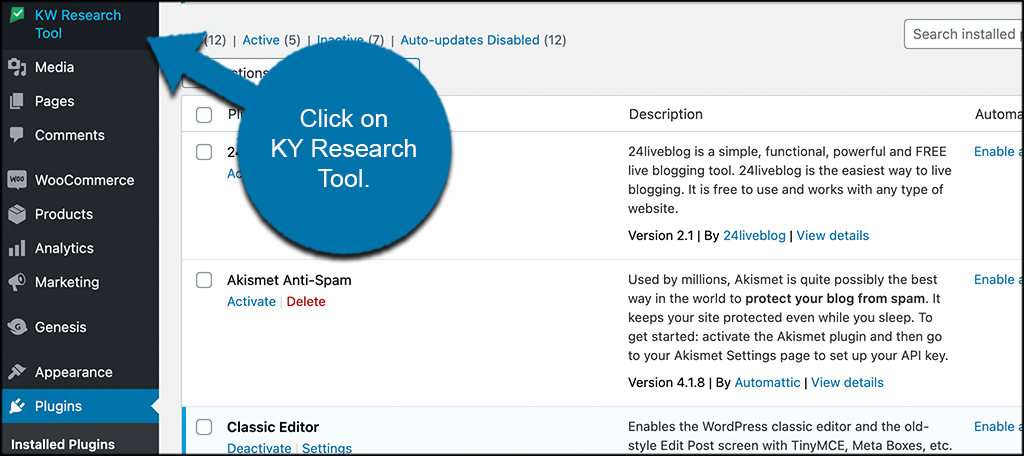 You can see this option has now appeared because you activated the plugin for use.
Step 3: Enter a Keyword and Country
At this point, you are on the main page for the plugin. Here is where you will use the tool to generate the long-tail keyword suggestions that display from your searches.
Go ahead and enter a keyword in the search field provided and then pick the relevant country you want. In this case, I am using the term "web hosting" and simply picking the United States.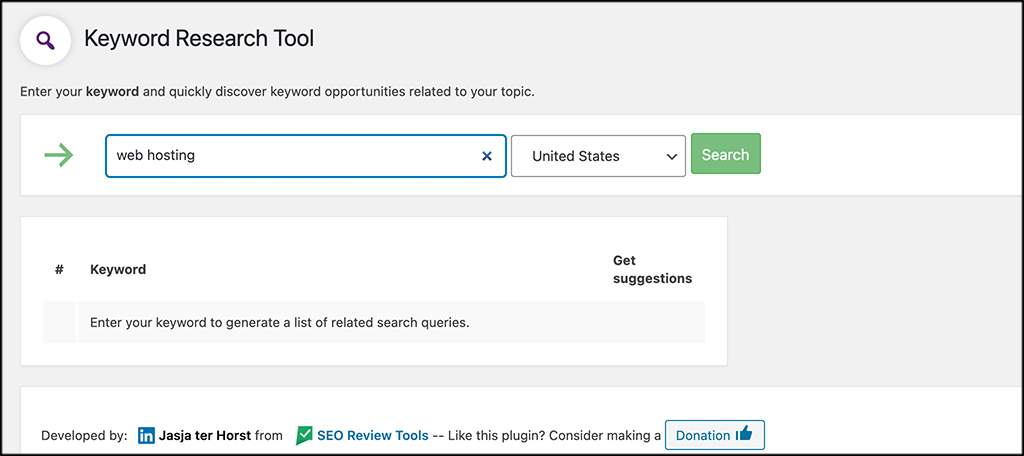 Once you are ready, click on the green "Search" button next to the country field. This will start the search function that is provided in Keyword Research Tool.
Step 4: Select the Long-Tail Keywords You Want
The plugin searches for the most relevant long-tail keywords based on the term you input into the field. When the search is finished, you will see a long list of available results.
The size of the list will vary. There could be 20 results, or there could be 50 or more available. It all depends on the popularity of the keyword and what the tool is able to identify and generate for you.
Go ahead a click the checkmark boxes next to the terms you want to use in your content. This automatically puts them into the selected keyword content box on the right side of your screen.
Step 5: Copy the Selected Keywords Text
When you have selected all the relevant long-tail keywords you want to use in your next piece of content, go ahead and click on the "Copy Text" button located underneath the keyword content box.
Step 6: Paste Keywords in Editor or Document and Start Writing
When the keywords have been copied, go ahead and paste them wherever you want. For example, maybe you write all your content in a document first before plugging it into your WordPress editor.
Or, you can simply write directly in the block editor and just paste the long-tail keywords there to reference and use them.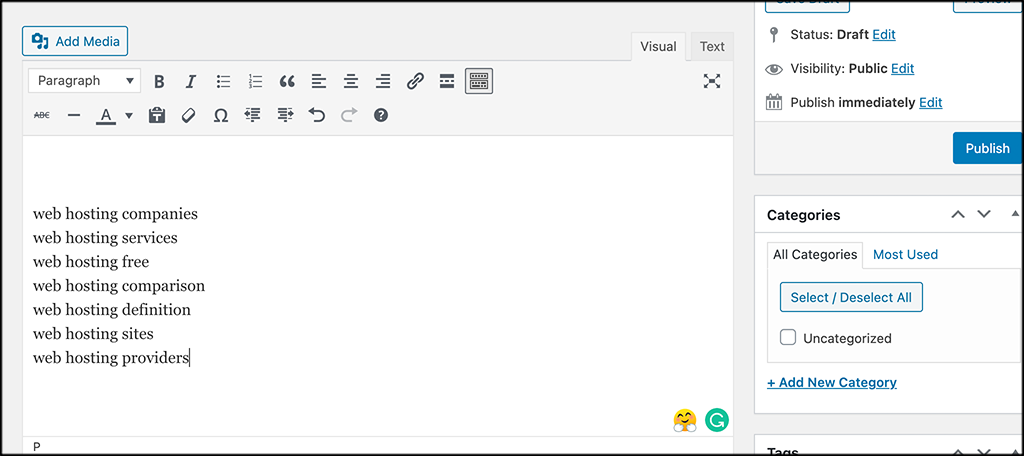 That's it! Your setup and configuration are all complete. You can use Keyword Research Tool over again and repeat the process above. This will help you write better content and can be used as one part of the SEO process.
FAQs
There really isn't too much to explain about the plugin. That being said, there are two main questions that get asked quite a bit. Here are those answers for you.
Is Keyword Research Tool Free?
Yes, the plugin is totally free to use. And as far as I can tell, there is no paid version of it either.
Are There Daily Keyword Research Limits?
No, there aren't. You are able to perform as many daily search queries as you would like, so have at it.
Final Thoughts
Keyword research can be taxing and frustrating. Sometimes it is difficult to find the right tools and then even more difficult to learn how to use them properly. Having a plugin like Keyword Research Tool allows you to search for and use relevant long-tail keywords that will help your content pop.
I hope this tutorial was able to show you how easy it is to search for relevant long-tail keywords right from the comfort of your WordPress admin dashboard. Good luck and happy writing!
Did you find this plugin to be useful and user-friendly? Do you prefer a different third-party keyword research tool?