Selling physical and digital goods online has never been easier than it is with WooCommerce. The plugin allows for a ton of functionality and possibility. One of the great things you can add to the WooCommerce plugin is the ability to set up wholesale pricing with B2BKing.
While there are other great ways to show wholesale pricing in WooCommerce, the B2B solution is perfect if your online store is a fully functioning wholesale or B2B website.
What is B2B Wholesaling?
Wholesaling, in general, simply means to sell something in quantity at a lower rate to an intermediate for resale. This can be done on a small, consumer-based level or on a B2B (business-to-business) level.
B2B wholesaling companies sell products in bulk to other companies. The company that is buying the product is looking to turn around and sell that same product on an individual level, making more money off it and either plugging the original company that sells the product or white labeling it for themselves.
B2B wholesale pricing is a little different than regular pricing. Usually, the business selling the product in bulk is offering wholesale pricing at a lower cost per product because the intermediate company is buying in large quantities. This means that both companies are positioned to make more money from just a single sale.
In order to create B2B wholesale in WooCommerce, you first need to find a tool that will allow for that type of functionality. Sure, you can try to code everything and build it yourself, but that could take a lot of work and burn valuable time you might not have.
Today I am going to show you how to set up a WooCommerce B2B solution using a great plugin I found. Let's take a look at it and see all that it has to offer.
B2BKing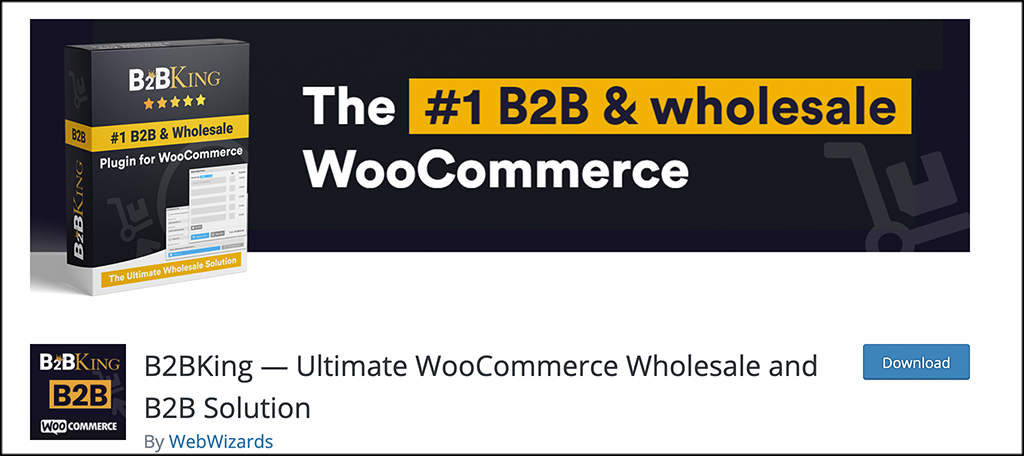 B2BKing is a WooCommerce ad-on plugin that provides a complete platform for running a B2B wholesale solution in WooCommerce. The plugin really does have it all. While being packed full of features, it won't slow your site down, works seamlessly with WooCommerce, and does not conflict with other plugins.
The B2BKing plugin looks to take care of everything related to wholesale selling and wholesale pricing on your WooCommerce store. From hiding prices for guest users to more complex features like tiered pricing structures and tax exemptions, B2BKing has all the tools you need.
As I said above, the plugin is packed with features and functionality. Some of the highlights include:
Set different wholesale pricing for the same product
Control available payment methods
Set different shipping methods for different groups
Automatic or manual registration approval
Registration review process based on role
Unlimited registration roles (reseller, factory, distributor, etc)
Dynamic rule for discount amount
Dynamic rule for discount percentages
Works with any theme
Tons of different email notifications
And that is really the tip of the iceberg. Basically, B2BKing gives you everything you need and more to run a fully functional B2B wholesale site using WooCommerce.
Let's get the plugin installed and set up together.
Note: There is a pro version of this plugin. It does offer quite a bit more functionality and it might be something you need so feel free to look into that. The rest of this tutorial is based on the free version of the plugin, and it assumes you already have WooCommerce installed and set up on your site.
Set Up B2BKing Wholesaling in WooCommerce
Step 1: Install and Activate the Plugin
In order to start running a B2B solution from WooCommerce, you first need to install and activate the plugin. You can do this by jumping over to the Plugins page in the WordPress admin dashboard.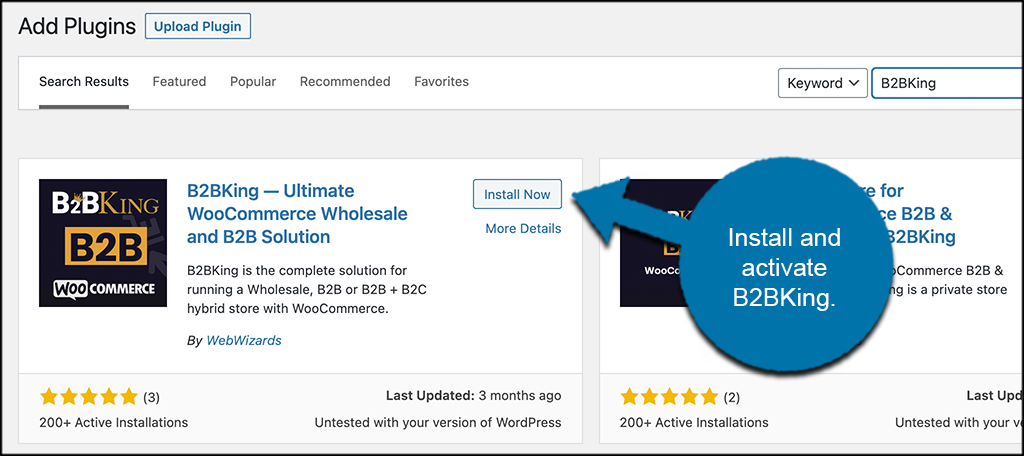 Simply use the available search field to look for the plugin by name. Once you see it pop up, go ahead and install and activate it right from there.
Step 2: Access the B2BKing Settings Page
Now that B2BKing has been installed and activated, you need to head over to the main settings page. You can do this by click on B2BKing Lite > Settings, located on the left menu area of the WordPress dashboard.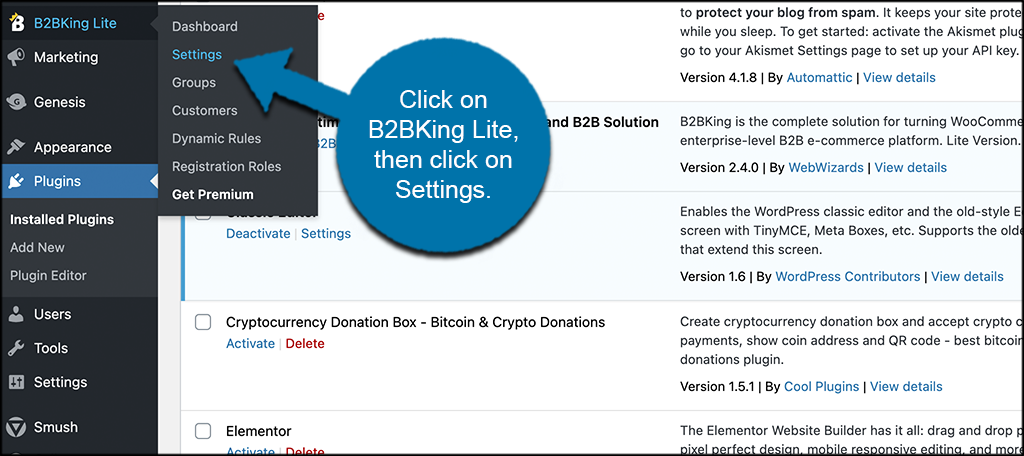 You can see this is now an available option because you activated the plugin.
Step 3: Configure the Plugin Settings
At this point, you have arrived on the main settings page for the plugin. There isn't too much to configure here, but let's go through it together real quick. You will see three main side tabs. These include:
Main Settings

Registration
Upgrade to B2BKing
Main Settings
The main settings tab has three functions. You can enable/disable the plugin, then enable or disable the other option available based on your needs. Make your choices and let's move on.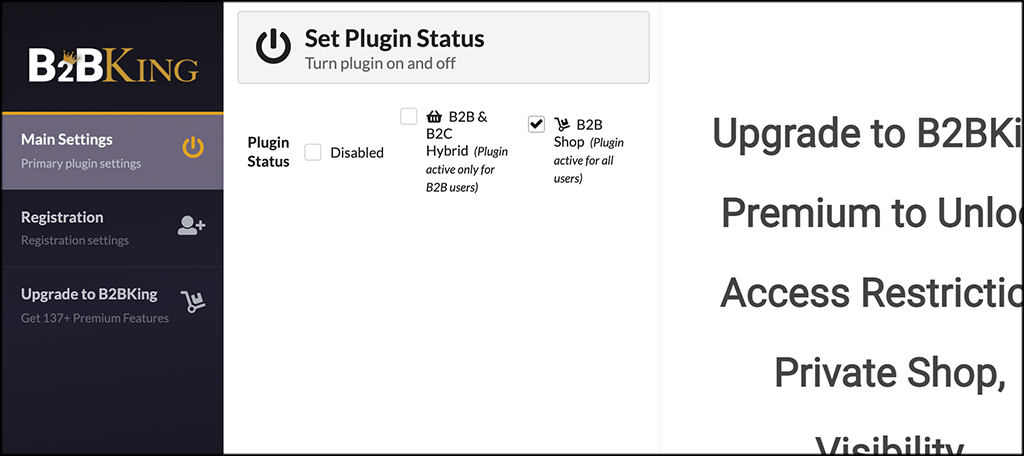 Registration
The registration tab allows you to select some built-in registration settings. Go ahead and select the options you want here for registration.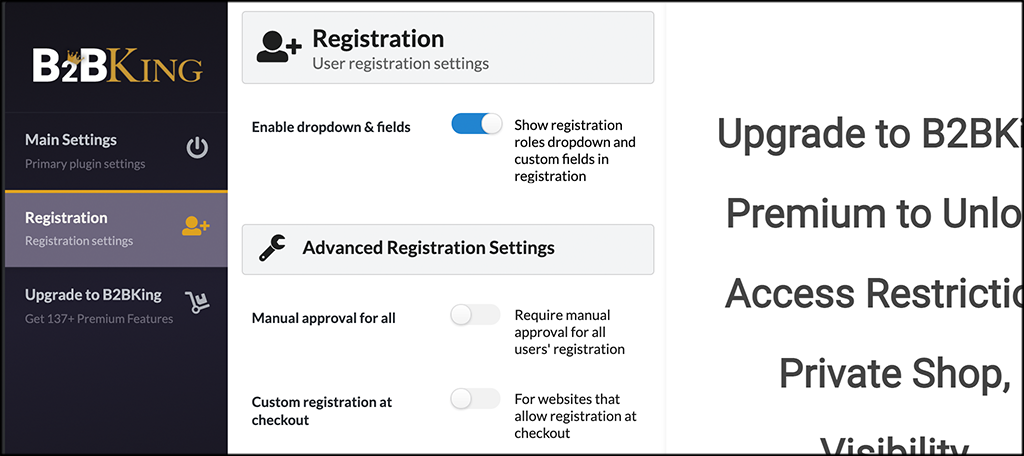 Upgrade to B2BKing
Technically, right now you are running B2BKing Lite. If you want to check out the upgrade options and see what all the pro version of the plugin allows for, then check this tab out.
Step 4: Customize Registration Roles
Now that the plugin configurations are in place, let's set up a few more things that are needed. We first start with registration roles. Go ahead and click on the "Registration Roles" link tab on the left menu area.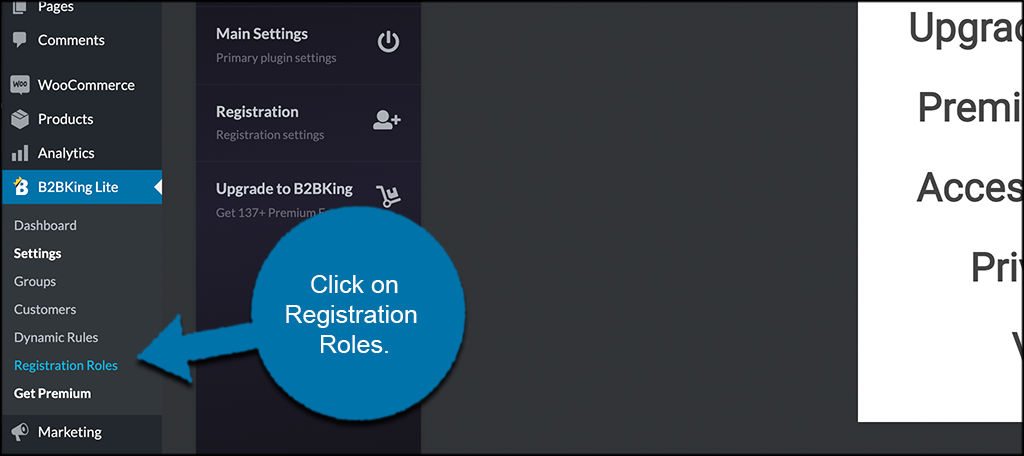 Here, you will see two main roles that are available with the free version of the plugin. In order to configure or edit either of them, simply click on the edit button.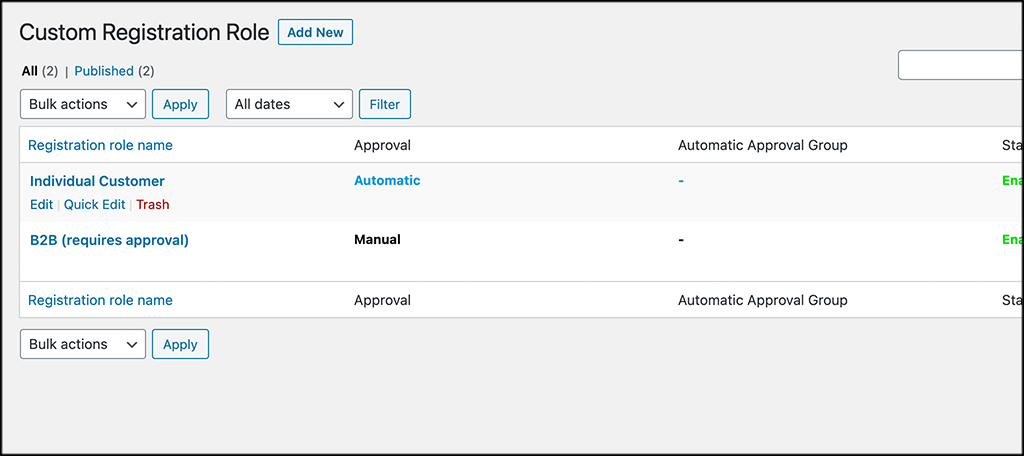 Once the editor pops up, you can then control all the registration role settings you want.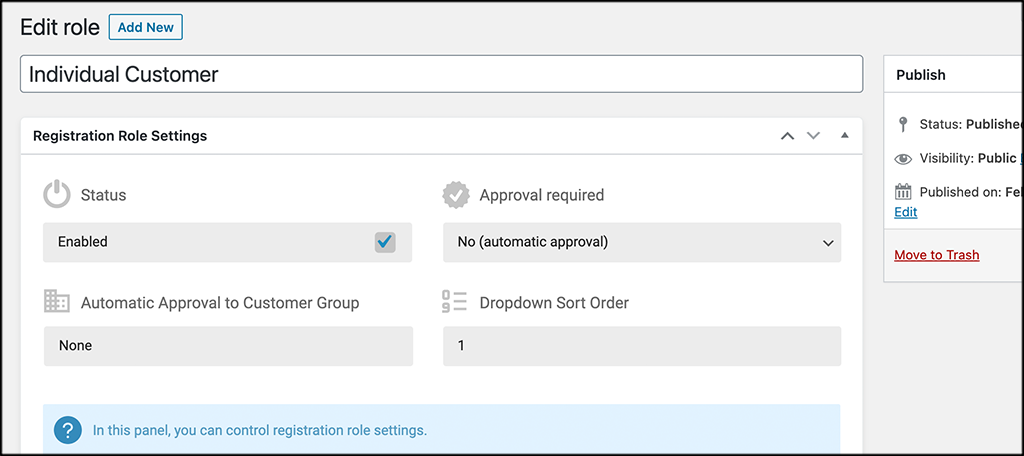 Make sure to click the "Update" button if you add or subtract anything.
Step 5: Create Dynamic Rules
Now, click on the "Dynamic Rules" link tab on the left menu area.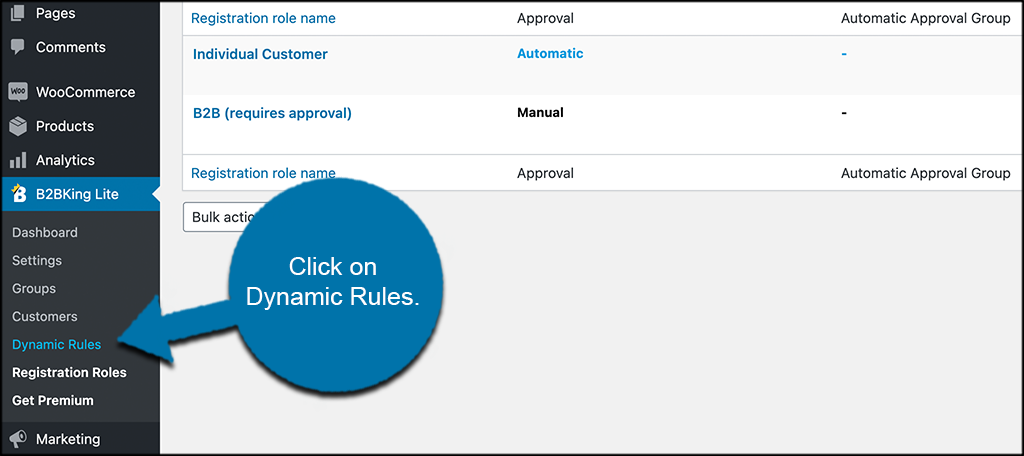 Here, you will be able to create dynamic rules based on what you want to happen. Click on the "Create New Rule" button at the top of the page to create a new dynamic rule.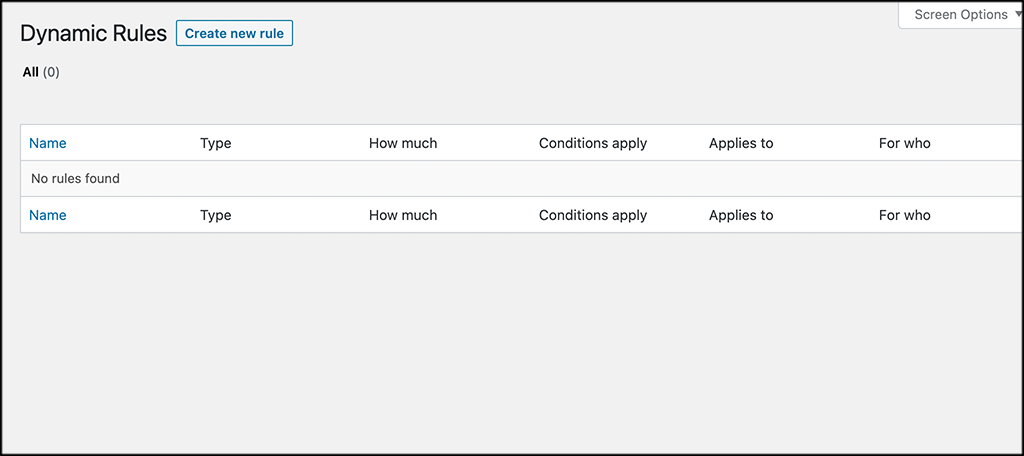 From the editor, you can now create the rule you want and put it into place. Feel free to create as many rules as you want based on the setup you are trying to get.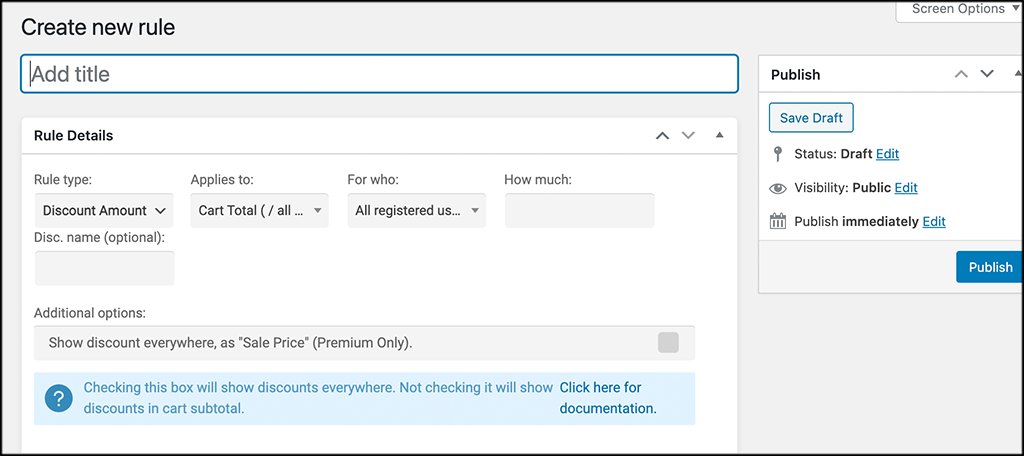 Don't forget to click on the "Publish" button to publish the rule you create and make it live.
Step 6: Configure Groups and Control Payments and Shipping Methods
Click on the "Groups" link tab located on the left menu area just like the other links above.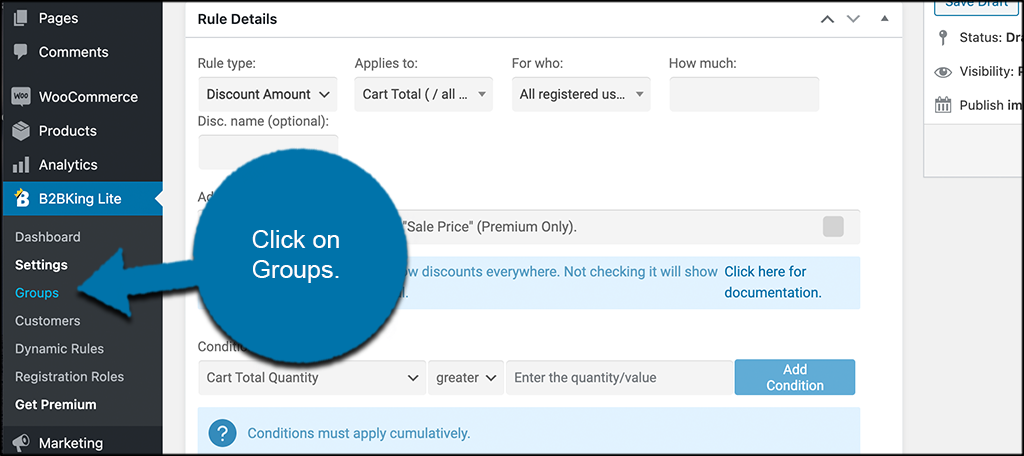 This takes you to the "Groups" configuration page. Here you can configure groups, and then control payments and shipping methods for those groups. Simply click on either "Business Groups" or "B2C Groups" to get started.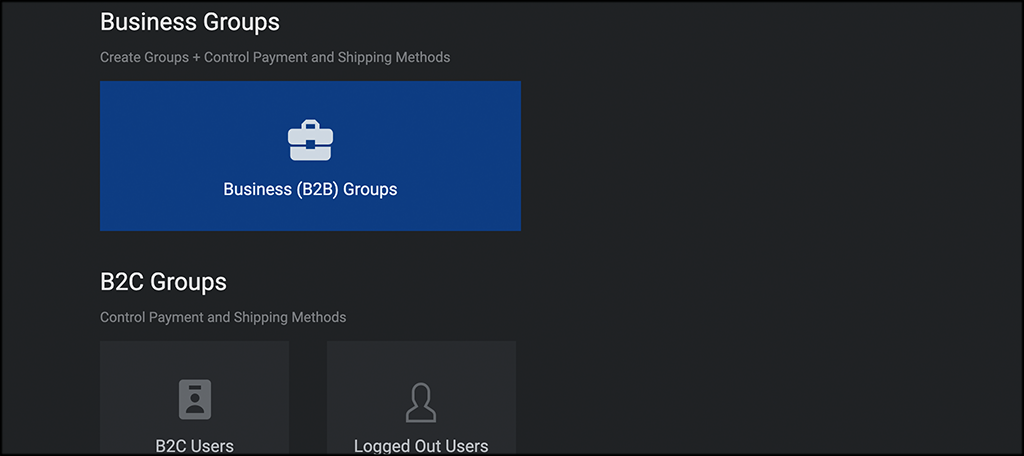 In the screenshot below, I went ahead and clicked on the Business-to-Business (B2B) Groups box. From here, if you want to edit or create a new group, simply click on the edit or the "Create a New Group" button.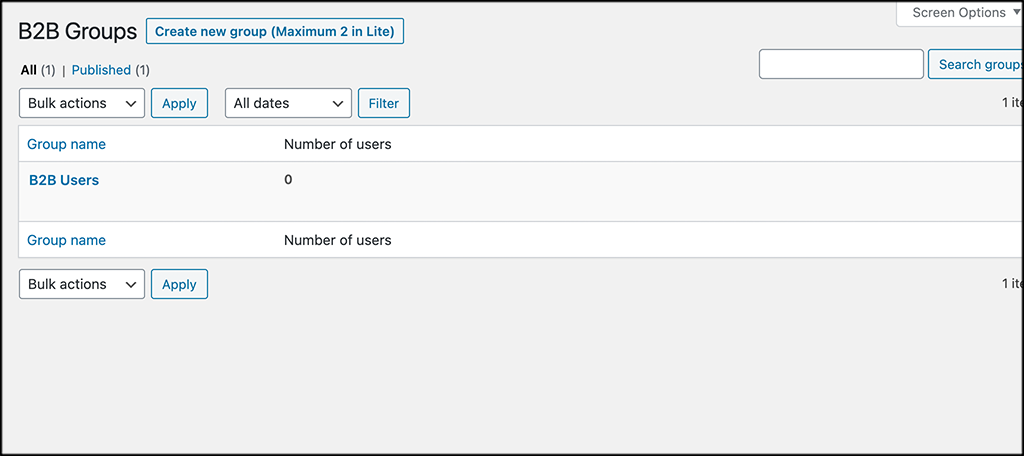 Note: You can see that with the "Lite" version of the B2BKing plugin, you will only be able to create a maximum of two groups.
If you are creating a new group, then the editor will have all the options available. Just configure them how you want.
Again, don't forget to "Update" or "Publish" your new group.
Step 7: Set Wholesale Prices for Products
The last thing you want to do to complete your initial setup of B2BKing is to set the wholesale prices you want to be displayed for your groups and wholesale customers.
To do this, click on any existing product you have that you want to set wholesale pricing for. Conversely, you can also set wholesale pricing for new products, as the method is the same.
Inside the product you select, scroll down to the main "Product Data" box. You will see that there are pricing options available to fill out for B2B users.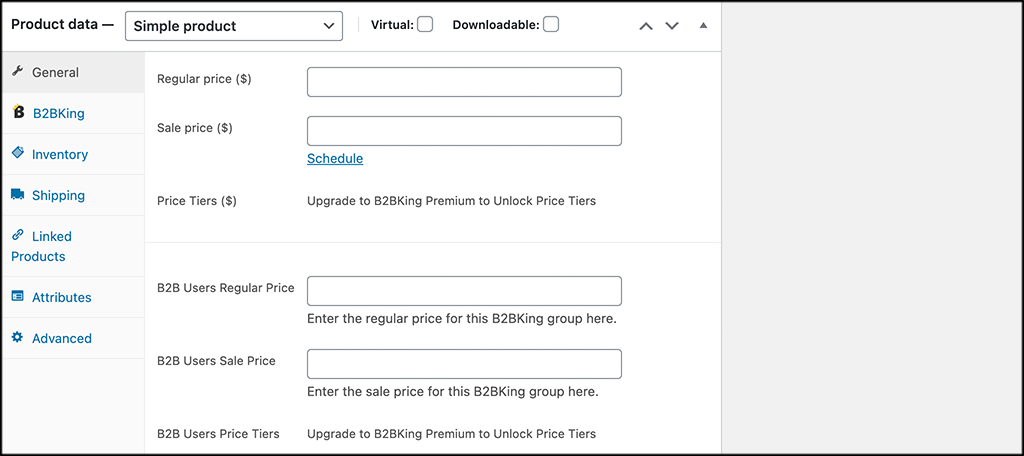 Go ahead and fill those out how you see fit and then update or publish your product to have those wholesale prices take effect.
You will also notice that there is a B2BKing tab. If you are running the pro version of this plugin, then a lot more options will be available in that area. If you have the lite version of the plugin, then that tab will look like the screenshot below.
That's it! You are now up and running with the B2BKing plugin and have set up the entire platform. Feel free to explore anything else on the free version, or make new rules and groups whenever you want.
Final Thoughts
Running a BSB wholesale setup in WooCommerce does not have to be a difficult process. You simply need to have the right tools and know-how to set those tools up for success.
Using the B2BKing plugin will allow you to configure and run the entire wholesale process right for your WooCommerce setup.
What other B2B wholesale options have you come across? Do you prefer another setup or doing this process in an entirely different way?