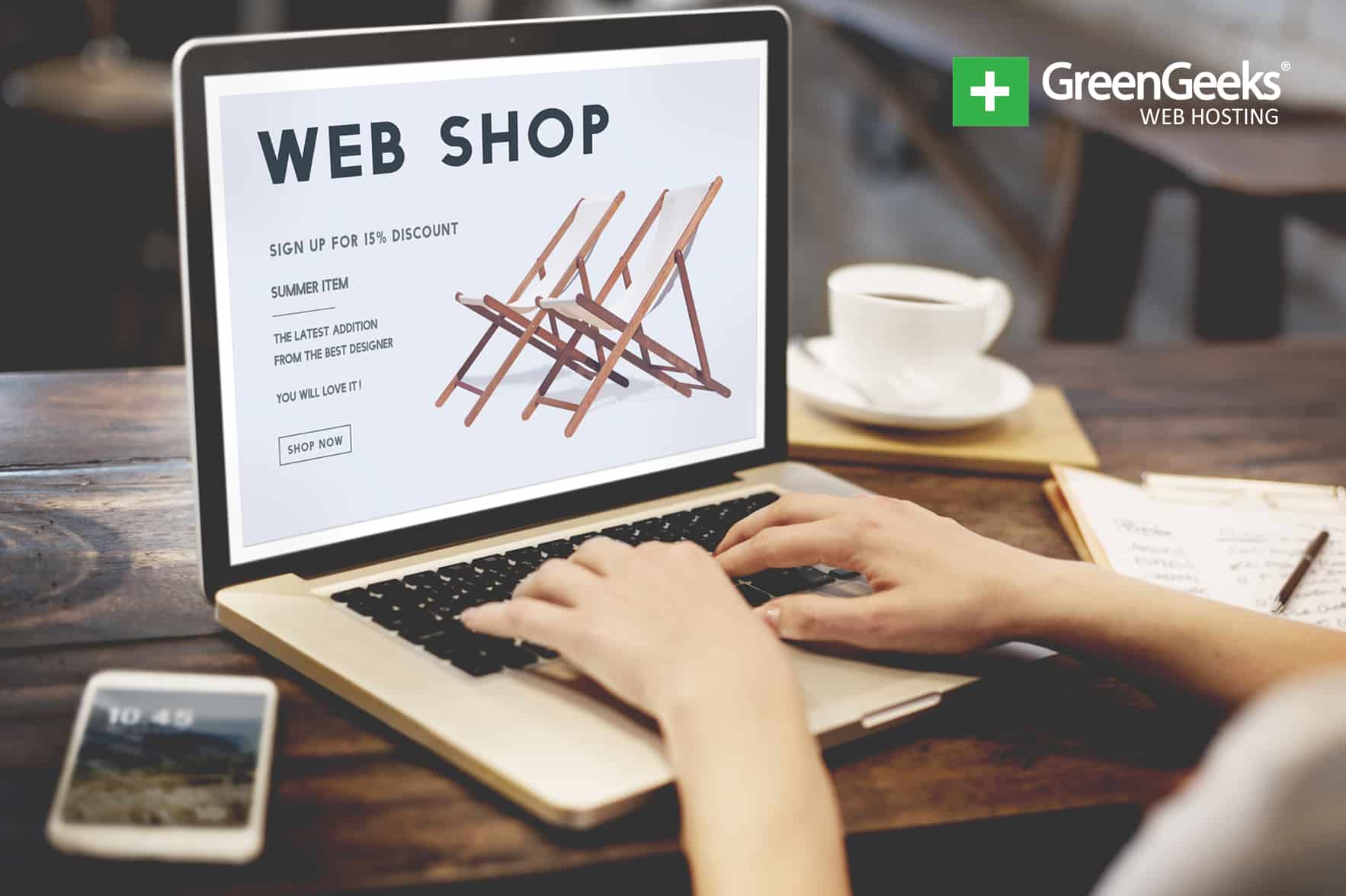 Woocommerce is one of the most popular online store plugins for WordPress. Even though it's a powerful tool for making sales, the appearance and layout of your eCommerce site will influence shoppers. Because of the impact a certain look makes, you'll want to use the best Woocommerce WordPress themes.
More than one-third of online shoppers will leave a website if they find it unattractive. Without a good look and feel, you could easily lose a large portion of potential sales. This is why it's vital to find the best WordPress themes for your niche.
Here is my list of 50 Woocommerce themes that have great potential to deliver what you're looking for. This list is a mix of the best free and premium layouts I've found on the Internet. Some of them are just simply amazing to look at.
1. Storefront
Let's start with something easy and free. Storefront is one of the more popular themes on WordPress and developed by those who created the core files for Woocommerce itself. This free theme has a variety of layout options as well as widget regions to help you make good use of web space.
2. Digital Pro
Digital Pro gives you the option to control headers, three widget areas and many options to customize the experience. It's ready for mobile devices and uses a lazy loading platform for images and content on hand-held units, which makes it faster than other responsive designs.
3. ProShop
ProShop is available directly from the Woocommerce website. It works as a child theme for Storefront and delivers a texture-rich layout perfect for various products and services. Each item in the store has its own zoom capability and the theme comes with social sharing options to help advertise.
4. Highend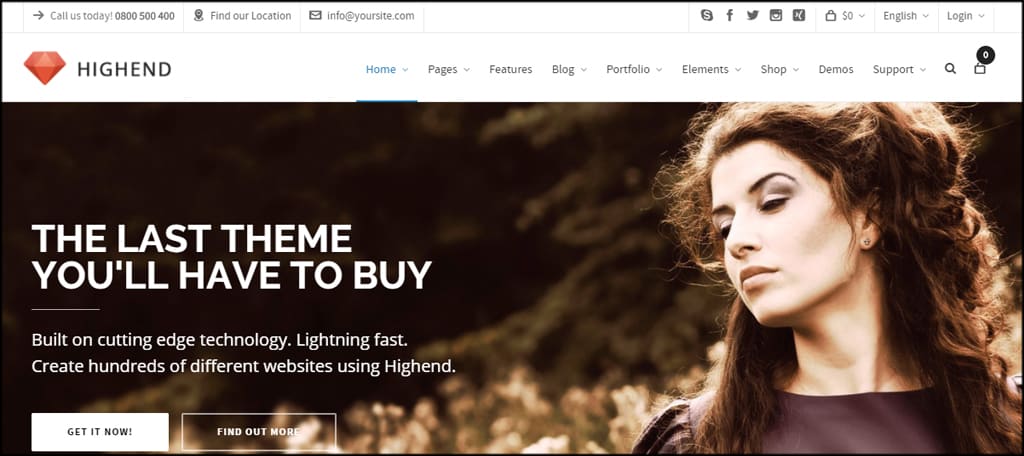 Highend is one of those themes that match its name. Not only is it an attractive and professional looking platform, but it comes with demo templates to help you design. Accompanied by premium themes such as Visual Composer and LayerSlider 5, you can easily set up the perfect look and feel for your business.
5. Eva
Eva is built with an off-canvas cart and menu, which makes it look separate from the rest of the site through an attractive pop-up-style window. It comes with Visual Composer, Revolution Slider, zoom-ready images and much more.
6. Shopoholic
Shopoholic is built with a pop-up view of the cart system and includes a vast array of plugins such as newsletters and tabbed widgets. It's fully compatible with some of the most popular tools such as W3 Total Cache and All in One SEO.
7. eStore
ThemeGrill makes a lot of very nice and attractive free and premium themes. The eStore layout is yet another example of a free platform rich with features and custom widgets. If you buy the Pro version of the theme, you expand your functionality with things like the Footer Editor and advanced typography editing.
8. Gecko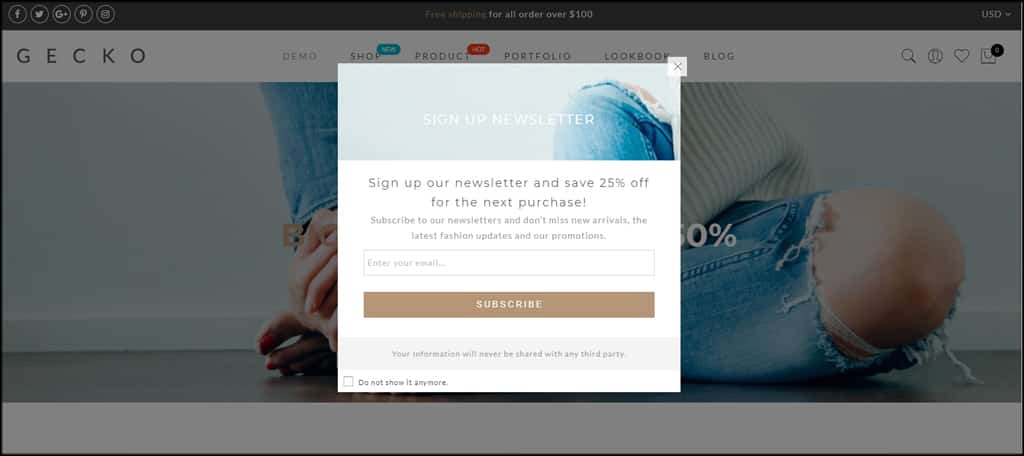 Gecko is full of AJAX support, a drag-and-drop builder, video thumbnails for products and supports Mailchimp integration. It also implements an Instangram feed to pull pictures directly from the popular social media app to further engage your audience.
9. Hestia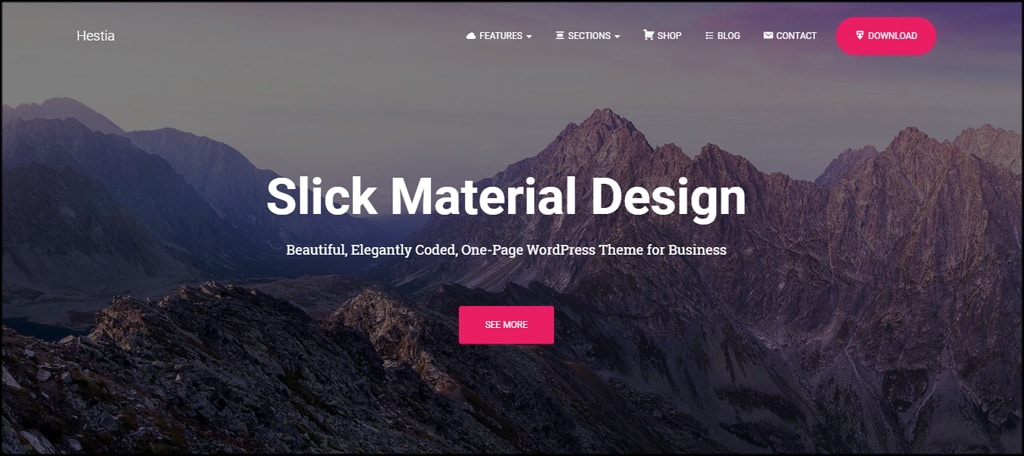 Hestia is completely compatible with most page builders giving you even more control over what guests will see. It's optimized for speed as well as SEO, comes with access to in-depth video tutorials and features a Live Customizer to see your changes on the site as they happen.
10. Mesmerize
Mesmerize is another great free theme you can install right now to take advantage of five header designs, 30 sections for content and an array of visual customization options. Of course, you'll need the Pro version to get most of the more engaging tools, but you can still start today for free and determine if it's something you want to explore.
11. Shoppe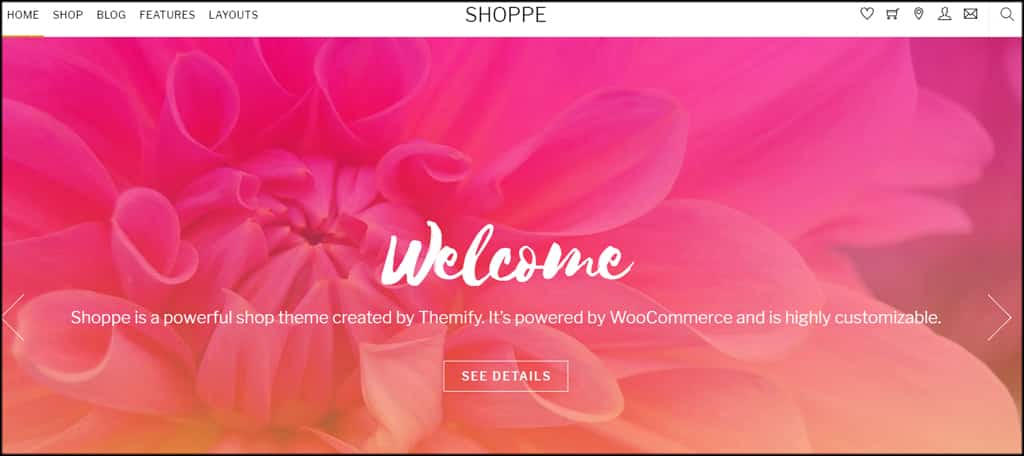 Shoppe is an elegant theme available from Themify. It uses a drag-and-drop builder, comes with more than 60 layouts, and a slew of features perfect for creating a wide range of store types.
12. Revo
Revo is one of the more popular layouts on Themeforest.net. It has import functionality, a vast number of options for layout and color schemes and supports Mailchimp integration for email marketing campaigns. For those who use Visual Composer, Revo is compatible with version 5.1.X.
13. Hugo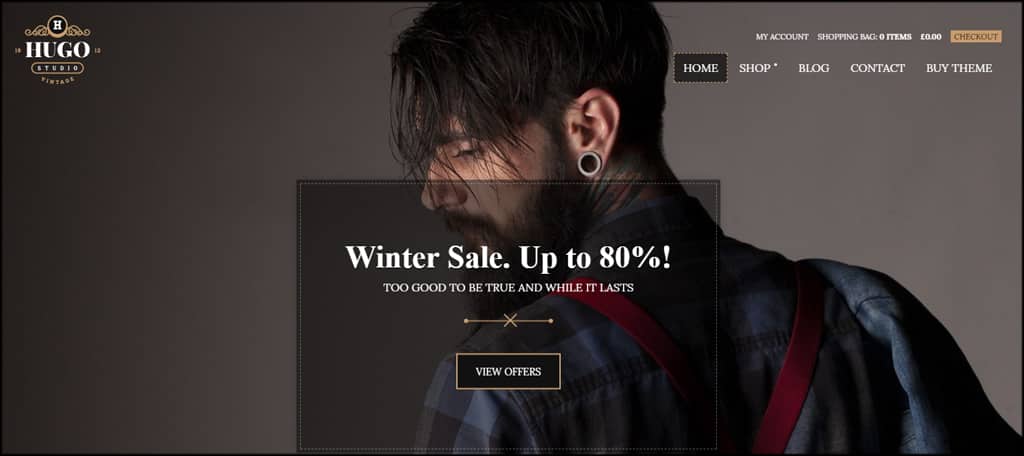 Hugo is simply an attractive theme for those who want to add style to their layouts. Complete with social buttons, drag-and-drop building, widgets and more, it's easy to get set up and running in little time. It's also compatible with various page builder tools like SiteOrigin.
14. ToyShop
ToyShop is a child theme for Storefront located above and adds an engaging element for those selling to parents. Of course you can take it a step further and customize it to fit nearly any product or service. ToyShop comes with Powerpack, which gives you the ability to customize much of the site from header to footer.
15. Flatsome
Flatsome boasts more than 300 pre-defined designs to choose from prior to customizing your site. It's designed as more of an all-in-one solution that is usable by nearly any business from most industries. The design also makes it one of the fastest themes you can install for Woocommerce.
16. Furniture
Don't let the name fool you. Furniture is a great choice as a multi-purpose layout for Woocommerce. Although it was originally intended for home decor, the overall layout and functionality make it a good option for any other product or service you want to sell. Forms, blog widgets, sliders and more are available in this theme.
17. Amaryllis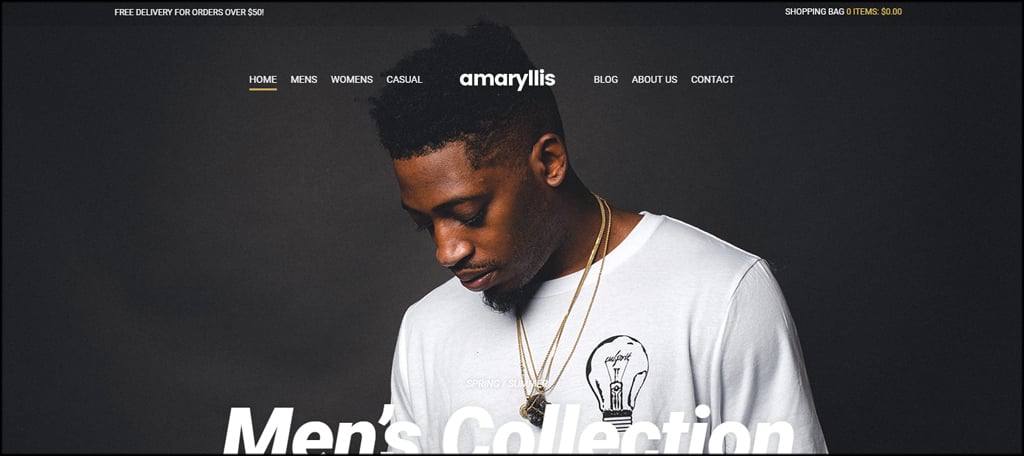 Amaryllis is an easy to use Woocommerce theme complete with custom widgets, drag-and-drop homepage builder and support for the Jetpack plugin. It's optimized for speed while keeping functionality of the website easy for guests.
18. InVogue
Visual Composer is included with inVogue to give you a quick and easy drag-and-drop builder from the front end of the store. It comes with pre-designed demos to customize and delivers a clean, basic layout for easy navigation. If you love fonts, inVogue comes with more than 700 of them from Google.
19. Merchandiser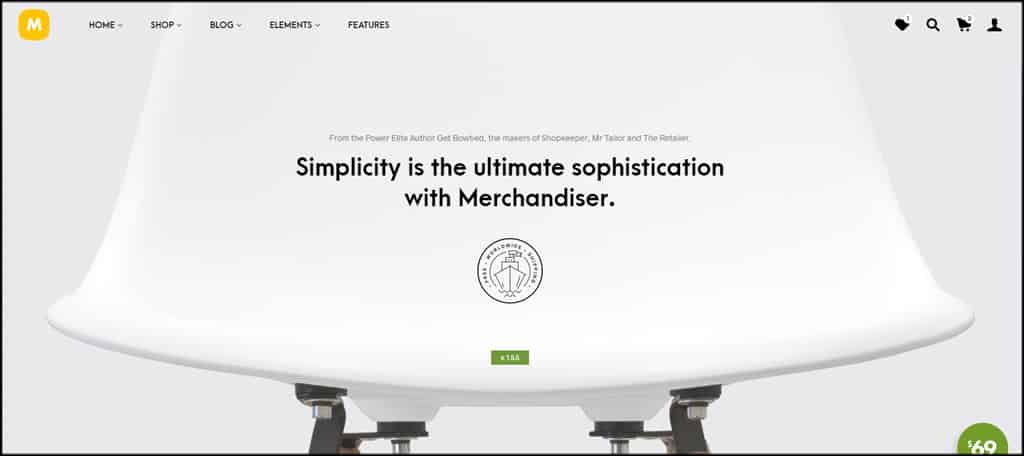 Merchandiser is a minimalist-lovers dream. Because it's designed with fewer elements, it's a fast loading platform that functions exceptionally well. Users are able to use infinite scrolling, pagination or use an option to load more products. Merchandiser also includes pop-up shopping carts and product views.
20. Homestore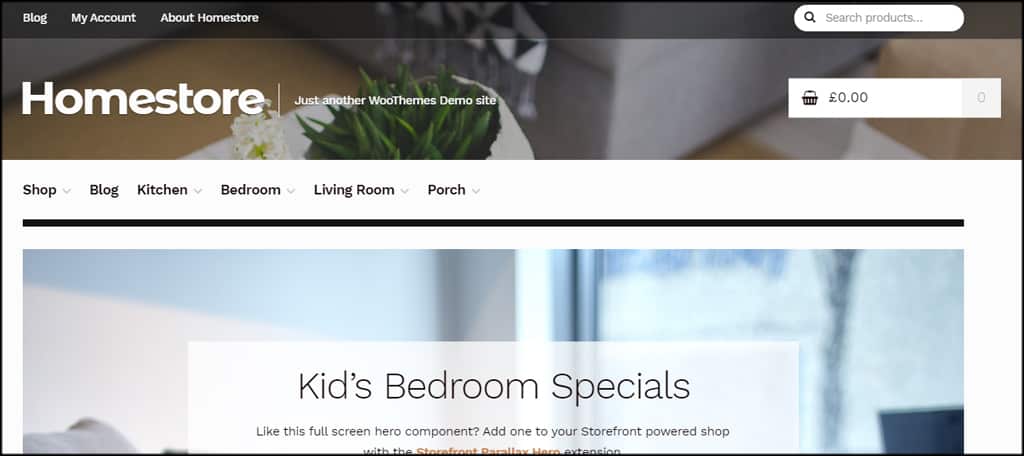 Homestore is a child theme for Storefront from Woocommerce. It delivers a simple, yet effective, layout which benefits from everything the parent theme includes as well as full support for various Woocommerce extensions. One reason to consider this layout is that it's nearly half the price of other premium themes.
21. L0ge
One of the nice features of L0ge is how well it integrates with builder platforms such as Elementor. Optimized for speed, ready for search engines and compatible with many different plugins, it's a good choice for those who like a more integrated approach to design.
22. Shopkeeper
Shopkeeper has a flat home page while housing an elaborate layout for eCommerce. It's powered by Lightbox while allowing users to easily zoom into an image to see a product more fully. It also comes with blog layouts that are modernized and ready to draw visitors from search engines.
23. Hotel
For those who are building a site for a hotel or other service-related business, Hotel from Woocommerce has a lot to offer. It uses a parallax layout and auto-zoom imagery. This is a child for the Storefront theme listed above.
24. Indigo
Indigo includes built-in modules to customize the theme instead of installing various plugins. It's optimized for mobile devices while offering a sleek parallax layout. Indigo is also ready for language translations for those who want to reach a worldwide audience.
25. Depot
If you're looking for elegant and simple, Depot has a nice contemporary style that sets it aside from others. It comes with plugins such as Visual Composer and Contact Form 7 while giving you the ability to quickly establish a blog and a portfolio in the same website.
26. Basel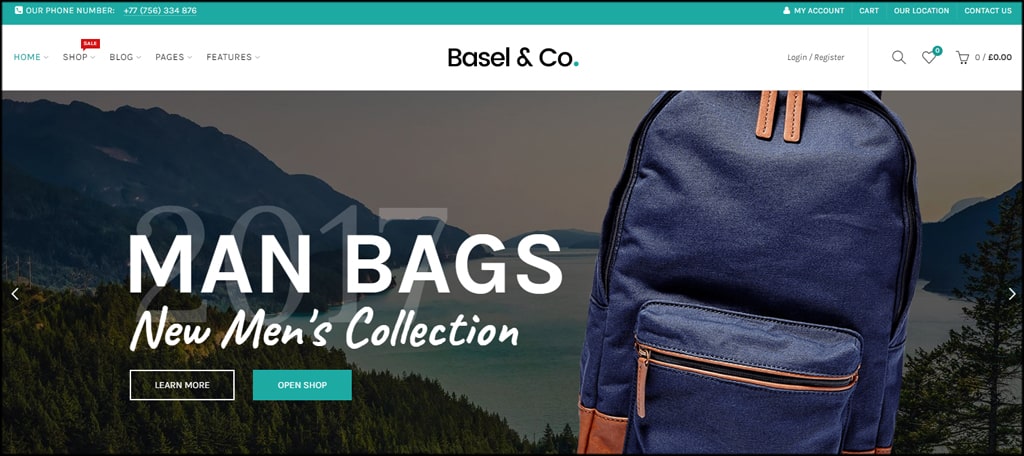 Basel has more than 35 pre-defined layouts available to customize, which may help reduce the time it takes to find the perfect look and feel for your business. It also supports a variety of header variations, AJAX filters and 360 degree image view for guests.
27. Idyllic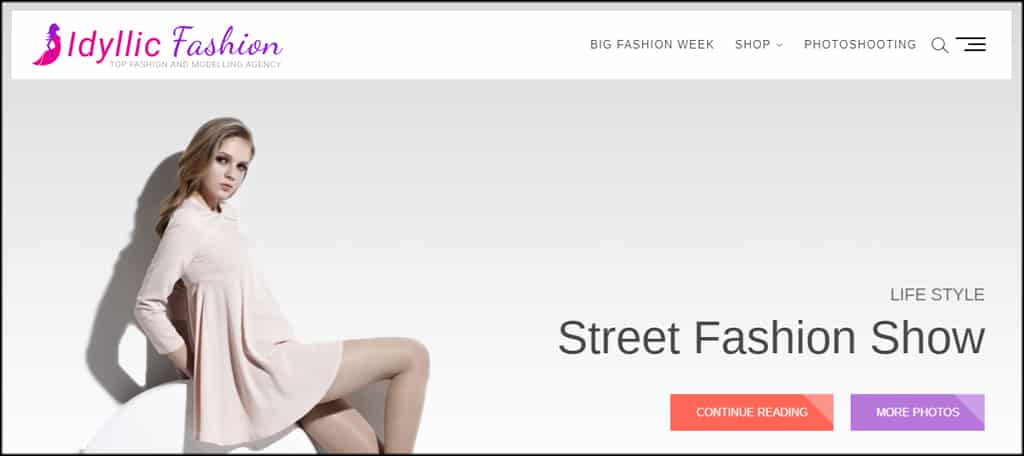 Idyllic is another free theme that comes packed with exceptional features. Multiple homepage sections, social menus, color options and more give you control to create the perfect ambiance for your site. It also comes with several templates such as a "contact us" layout as well as an image gallery.
28. XStore
One of the things that sets XStore apart from others is the list of video tutorials to help guide your development. It has one of the largest selections of pre-designed demos to choose from while giving you access to modify any element. As an added bonus, XStore comes with an array of premium plugins to help drive your success.
29. Aurum
Aurum is a Woocommerce theme developed for simplicity while hosting multiple variations. This gives you an idea of what kind of store to build by using pre-designed elements. It's optimized for touch displays, comes with a mega menu and fully optimized for search engines.
30. Peak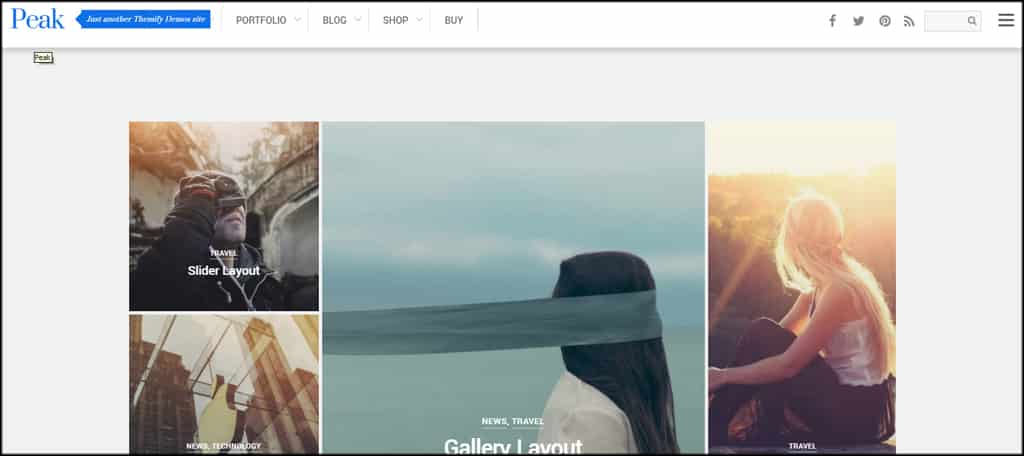 Peak is designed with a modern grid visual appeal, much like you'd see in social sites like Pinterest. It's a tile layout that can easily adjust for any screen resolution. You can also adjust the appearance to show images in a grid format if you don't like that sort of design. Portfolios, drop caps, slide-out widgets and more are also available.
31. Ultra
Ultra comes with several themed skins including restaurant, fitness, games and more. It also has a myriad of add ons such as maps, progress bar, pricing tables and other elements. This means you install fewer third-party plugins for those additions.
32. Jevelin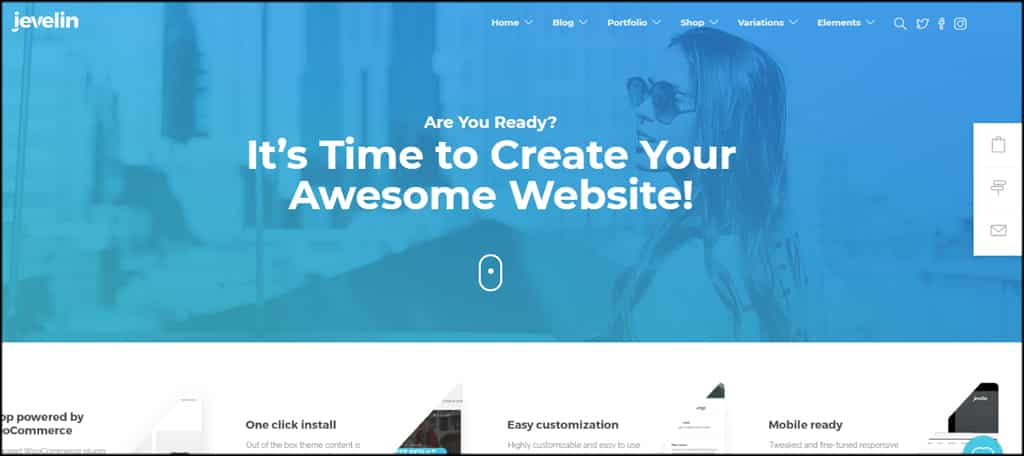 Jevelin comes built with an easy to use element editor that gives you the ability to change headers and text quickly. It can adapt to a variety of styles ranging from basic layouts to more complex appearances. Sliders, contact forms, custom shortcodes and a drag-and-drop builder are only a few features in this amazing theme.
33. Lenscap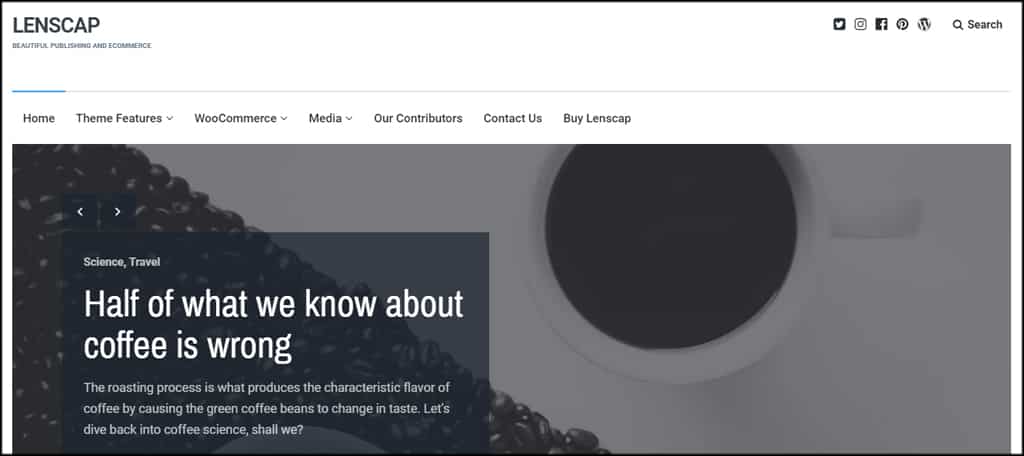 Lenscap comes with a customizable carousel for content to engage the audience. It also comes with an extravagant lightbox perfect for images and videos to further entice buyers. With a wide range of options available, you can create a design perfect for your industry or business needs.
34. Arcade
If you plan on selling games of any kind, Arcade may be a good theme to try out. This child theme for Storefront has a nice flow and consists of all the elements you'll need to sell entertainment of various kinds. From board to video games, it's a simple layout that has potential.
35. Sober
Sober has several pre-defined homepages ranging from parallax layouts to full-screen image headers. Like many others in this list, it comes with Visual Composer which allows for easy page building. Portfolios, blogging and full typography control help you deliver more to guests than just a place to buy something.
36. Savoy
For those who like the appearance of modern minimalist, Savoy is an attractive theme to keep things simple. It's fully AJAX enabled, optimized for speed and SEO and is ready for mobile sales with lazy loading and Retina ready displays.
37. MultiShop
MultiShop is fully responsive and ready for mobile device shoppers. It's optimized for use with page builder apps such as Visual Composer, AJAX filters, drag-and-drop catalog development and item comparison features.
38. UX Shop
UX Shop not only comes with professionally designed templates, but it's also optimized for mobile shopping. Image sliders, a demo importer, Typekit integration and full-page cover control are just a few of the features in this stunning Woocommerce theme.
39. Walker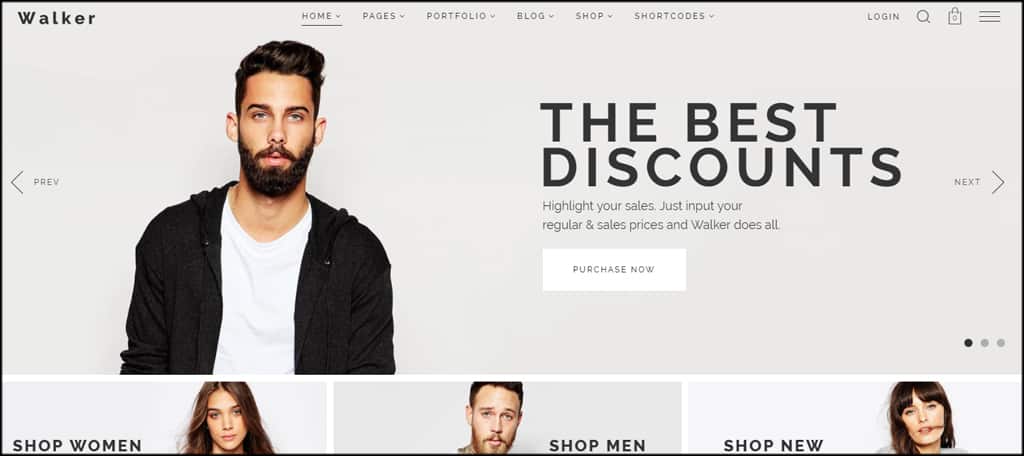 Walker features an array of samples you can choose from to customize, or you can easily modify the layout yourself. Dropdown carts, login widgets, subscription form pop-ups and other features are available to engage your customers. Buyers can also take advantage of the order tracking page as well as taking a look at the built-in blog and portfolio sections.
40. Corner
Corner has a minimalist layout and includes an unlimited number of color variations through hexadecimal control. Custom widgets, social integration and optimization for SEO are only a few reasons why you may want to consider this Woocommerce theme. You'll find it's about half the price of some of the other themes in this list as well.
41. Neto
Neto is integrated with Visual Composer as well as various other page builder plugins and tools. It also has an array of custom widgets such as social media integration as well as supporting a variety of shortcodes and other tools for developing a unique experience.
42. Claue
Claue is responsive and Retina ready, which means it'll look good on any mobile device. It's equipped with 10 demos so you can compare design ideas while coming with a variety of options such as drag-and-drop building and Ajax filters for images.
43. Presence
Presence is a theme that comes built with several demos to help decide which layout is right for you. It's one of the few in this list that has media options available such as music and video. Presence also supports using Jetpack Portfolio and various page builder platforms.
44. Creativo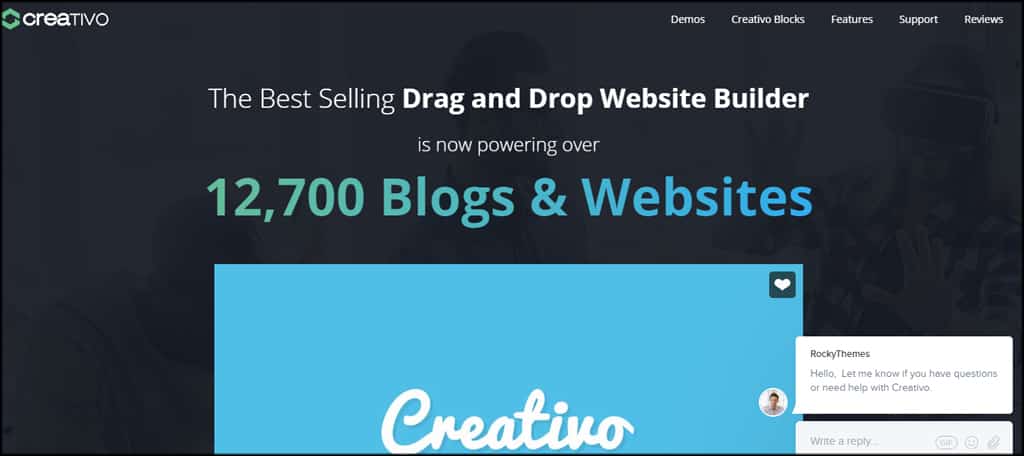 Creativo comes with a wide range of templates to use to help you build any kind of eCommerce site you can think of. Custom widgets, over 800 Google fonts, a live chat plugin and more are ready for your business. If you need help, you can access the video tutorials available from the developer.
45. Nitro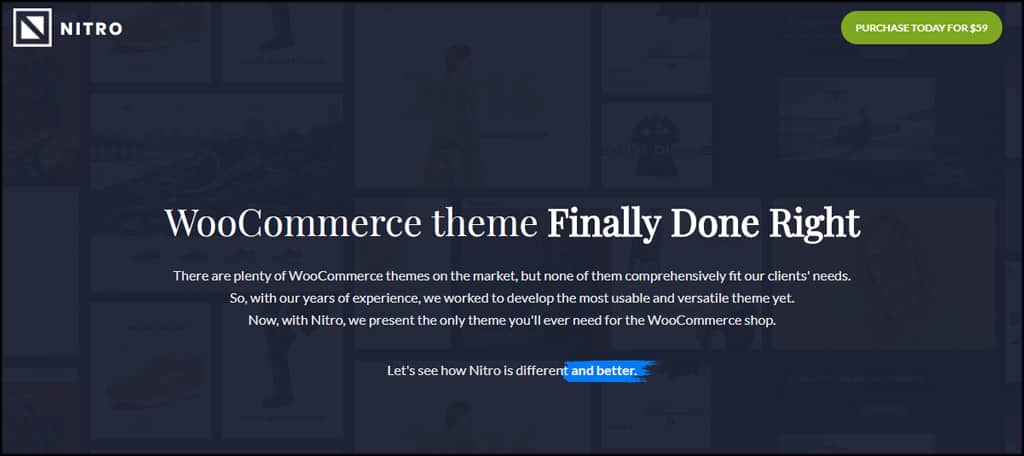 Nitro is another one of those themes that can easily cover a wide range of store niches. It comes with more than 200 layered PSD files for image customization, includes some of the most profound online store plugins and scores exceptionally well in speed tests.
46. Atelier
Atelier is another clean and minimalist design, which looks amazing on hand-held devices. It comes integrated with tools that give guests control over some of the layout functions, such as alignment and patterns of items on display. You can also take advantage of Atelier's animated headers and cart animations.
47. CupCake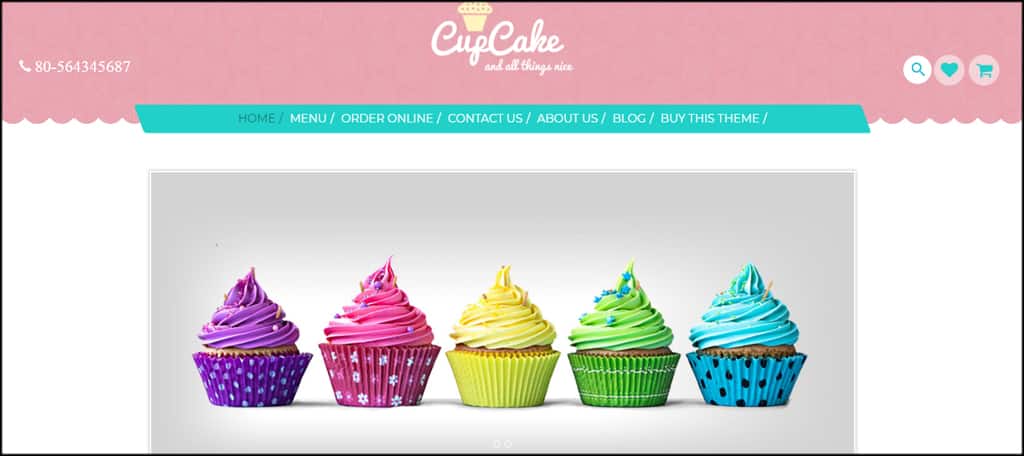 Although CupCake was designed for food businesses, its features can easily be converted to create other kinds of eCommerce sites. It comes with a lightbox portfolio tool, a section for easy testimonials and an array of elements you can use to customize the appearance.
48. The Retailer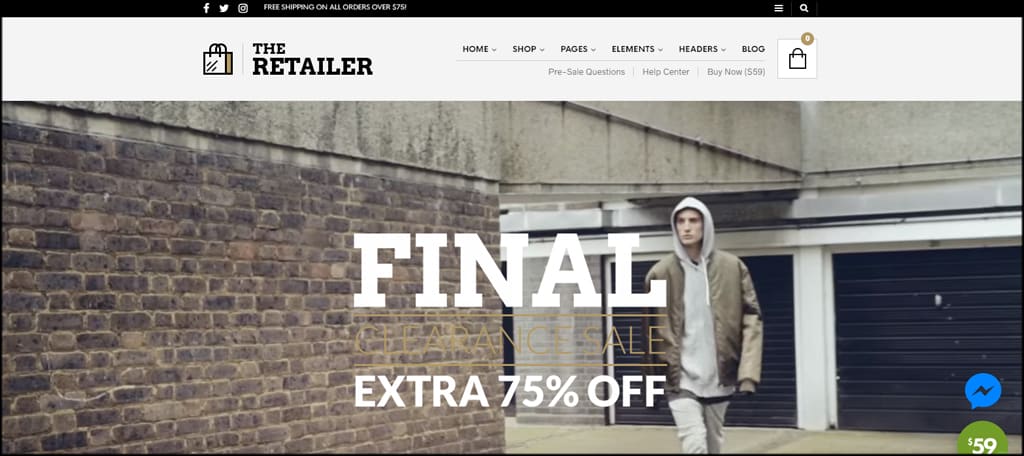 One of the first things that caught my eye from The Retailer was the full screen integrated video header for the online store. It comes with a wide range of tools that will help you sell just about anything including support for digital downloads. Reviews, payment gateways, pre-designed layouts and much more are rolled into this excellent theme.
49. Flash
You can try Flash out immediately as it has a free version ready to use. It's just a quick theme install in WordPress and you can sell items today. The free version comes with more than 18 custom widgets, more than six widget areas on the site, drag-and-drop page builder and a portfolio tool. Although Flash is exceptionally useful as a free theme, you can always upgrade to the Pro version and get things like advanced color options, custom widget areas and Google Map integration.
50. Latest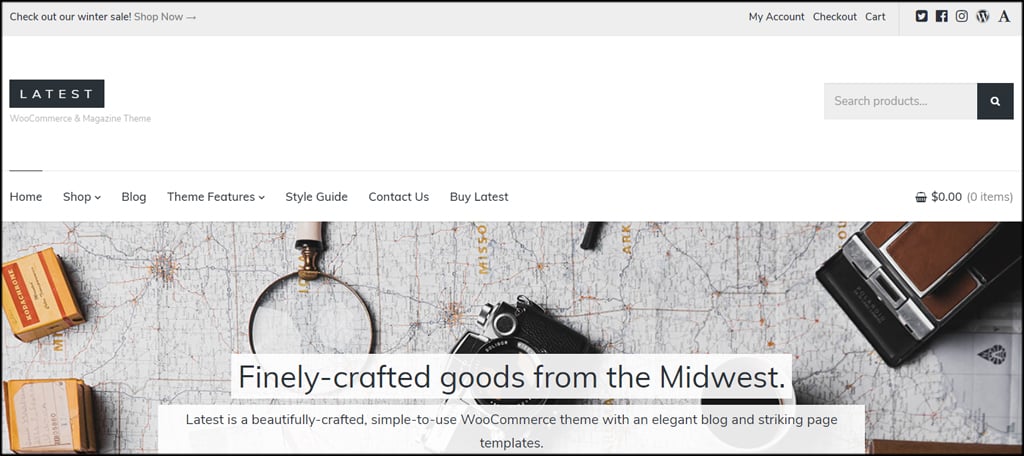 Latest is designed with several blog layouts in addition to eCommerce to further increase traffic. While it doesn't have a lot of the bells and whistles you'll find in more expensive layouts, its simple appearance is easy to manage and use from the visitor's perspective.
The Appearance of Your Store Matters
Think of how a store looks in the real world. Would you shop at a location that was difficult to walk through or had a confusing layout? The online experience is just as important. Woocommerce powers how you sell goods online, but it's the best eCommerce WordPress themes that give it a certain visual appeal. Make sure it's something memorable and easy to use.