Are you a die-hard sports fan who is interested in building your own sports club website? If you weren't sure how to do it before, hang tight. I am about to show you how to use the SportsPress plugin to build a sports website you can be proud of.
Sure, you can build a club sports website without the use of this excellent plugin, but SportsPress makes it much easier and quicker. It is filled with functionality and fairly simple to use.
By combining this with WordPress, you will be well on your way to create a social group surrounding your favorite hobby or pastime.
Let's take a look at how to build a league or sports website using SportsPress.
SportsPress
The SportsPress plugin is the best website builder for sports teams. Essentially, the plugin allows you to transform almost any WordPress theme into a fully customizable team, club, or league website.
SportsPress comes packed full of features and leaves little on the table when it comes to things you can accomplish. Some of the main features include:
Fixtures
Results
Automated Standings
Player Rankings
Individual Profiles for Players, Clubs, and Staff
With so many features and shortcodes built-in, it would be difficult to go over them all. That being said, for any type of website sports, sporting events, clubs, teams, news, and more, the SportsPress WordPress tournament plugin is top of the line.
The plugin also comes with a Pro Version, for even more functionality. Finally, it doesn't matter what type of sports club website you want to build. SportsPress has free plugin extensions for:
Baseball
Basketball
Cricket
Football
Soccer
Golf
Volleyball
Let's take a look at how to install and setup the SportsPress plugin so that you can get on the fast track to building your sports club website.
Install and Activate SportsPress
In order to use the SportsPress plugin, you have to install and activate it. You can do this by searching for the plugin in your WordPress admin dashboard.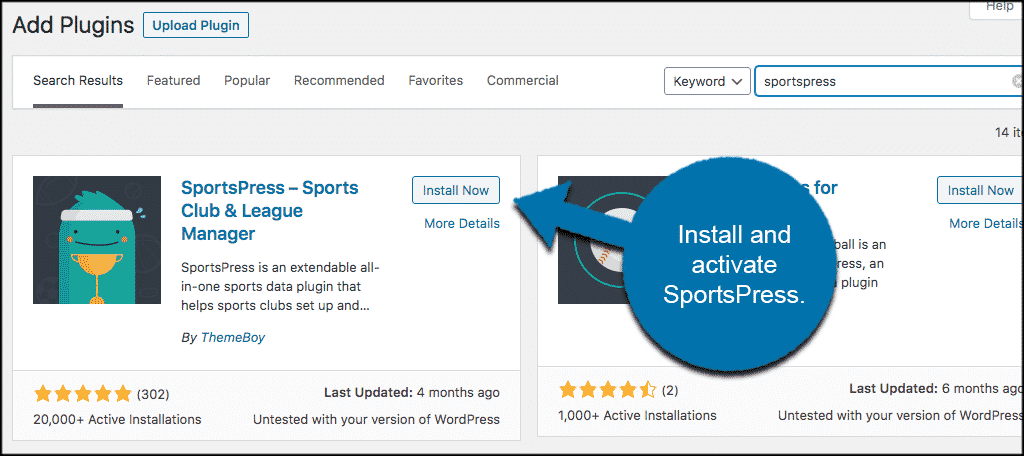 Once the plugin has been installed and activated, you will automatically bounce to the main "Basic Setup" steps. You will get a welcome message, and the plugin will take you through the easy-to-understand setup.
Click on the "Let's Go" button and let's setup SportsPress so that you can use it.
SportsPress Setup
The first setup box you see once you have clicked the "Let's Go" button is the "Basic Setup" box.
Basic Setup
Go ahead and pick your time zone, sport, and name your league. You can also enter the current year of the current season.
Team Setup
Click the "Continue" button and access the "Team" box. Fill this out how you see fit.
Note: You can add more teams later if needed.
Players and Staff
Moving on we come to the "Players and Staff" setup box. Go ahead and enter some players and staff. Again, just as above. You can add more players and/or staff later on when needed.
Venue
Next comes the "Venue" setup box. This is where you can name your sports team venue and also show location for everyone.
Pages
The SportsPress plugin will tell you what pages will automatically be created (if they do not already exist). You can manage all these automatically created pages from your WordPress admin dashboard once the setup is complete.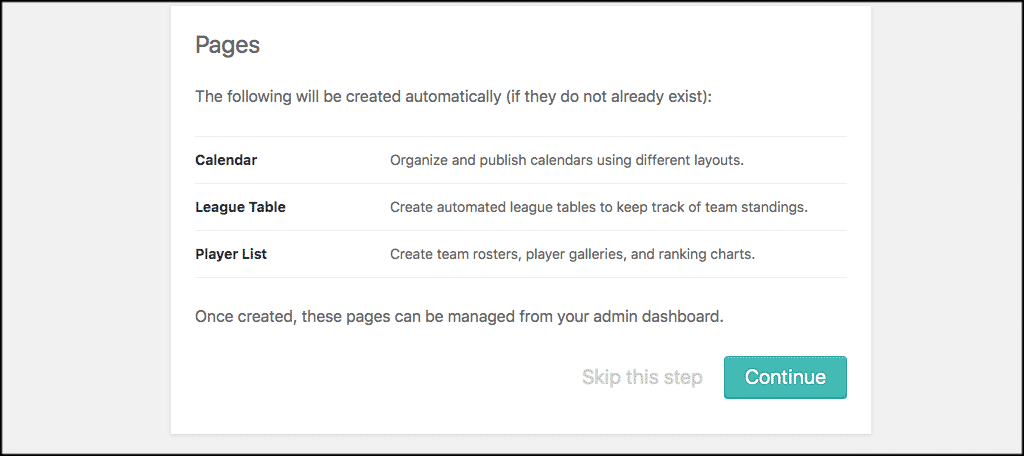 Ready
Once you click through the pages tab, you are going to get a "Thanks for installing" message. You have a couple of choices from here: start scheduling events, or go check out the pro version of SportsPress.
You can also just go ahead and return to your WordPress admin dashboard. Which is probably the best move. Then you can continue to build a sports club website.
Configuring SportsPress
After basic setup is complete, remember, you can access events, teams, players, staff, and more from the left menu in your WordPress admin dashboard.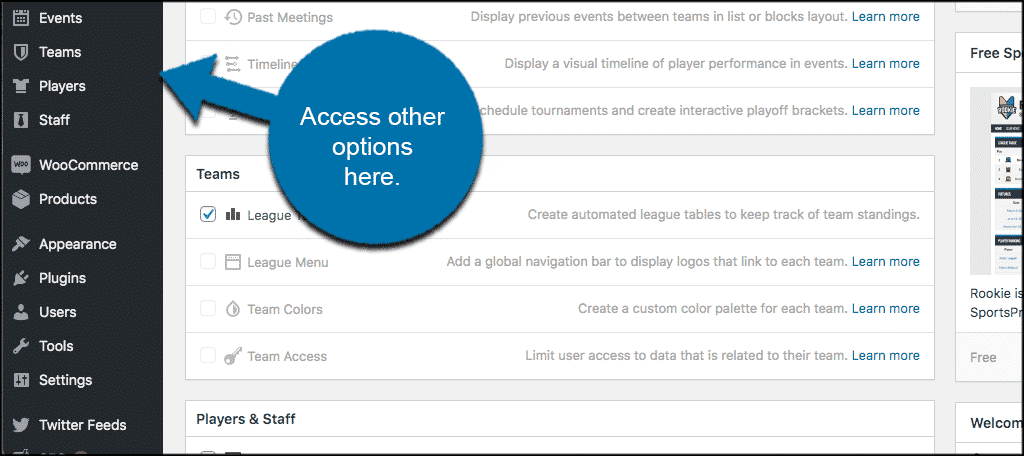 To configure all the main settings, look, colors, layout, and everything else, click on "Settings," located under the "SportsPress" tab.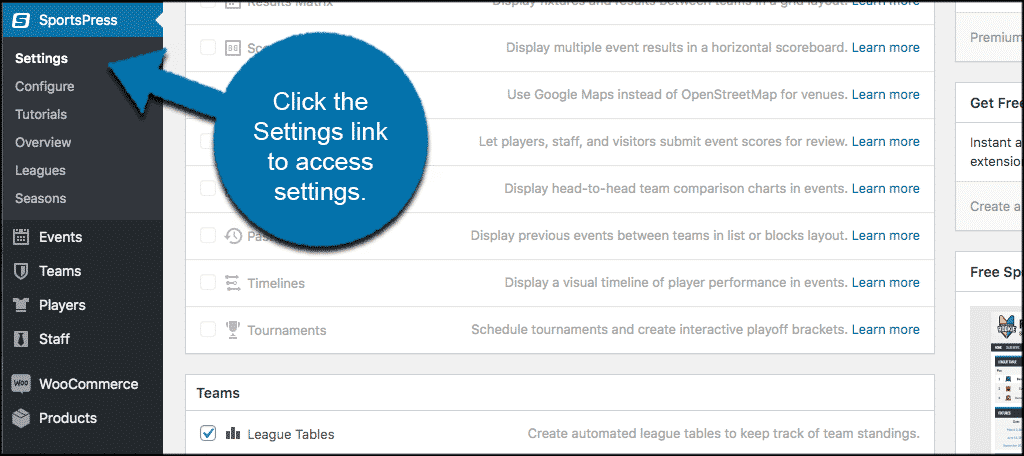 Here you will see 7 main tabs. Let's run through them together.
Modules
The "Modules" tab has all your modules within it. These include players, teams, dashboards, events, and more. Go ahead and go through these and configure them how you want.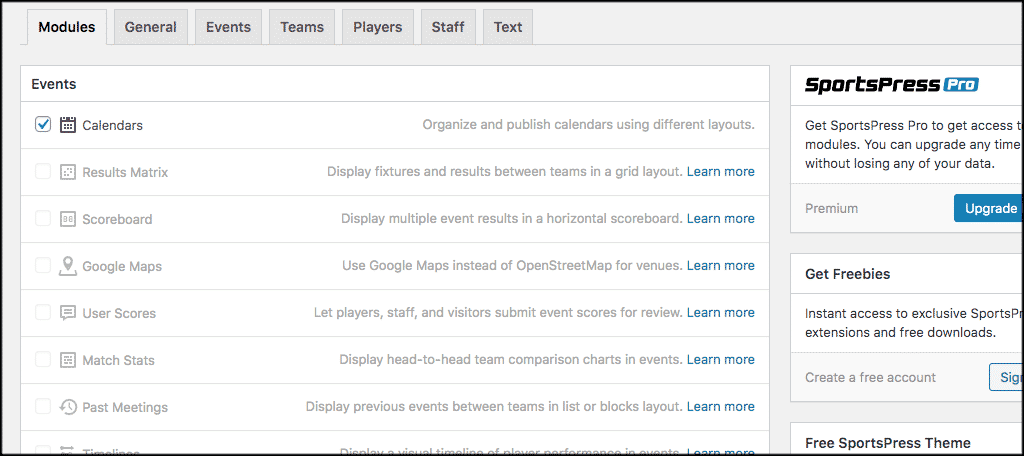 General
This contains general styling options like color schemes and alignment. If you know how to add Custom CSS you can do that here as well.
Events
This is where you will fill out and configure all your event options. There is quite a bit of detail to go through, so take your time and create events exactly how you would like.
Teams
You can customize all your team settings from here for all the teams you have added. Logos, profiles, site additions, you have access to a lot of things in this section.
Players
Create and configure all your player bios and more here. For instance, you can toggle on or off the player photo option from the switch in this section.
Staff
Create and configure all your staff bios and more here.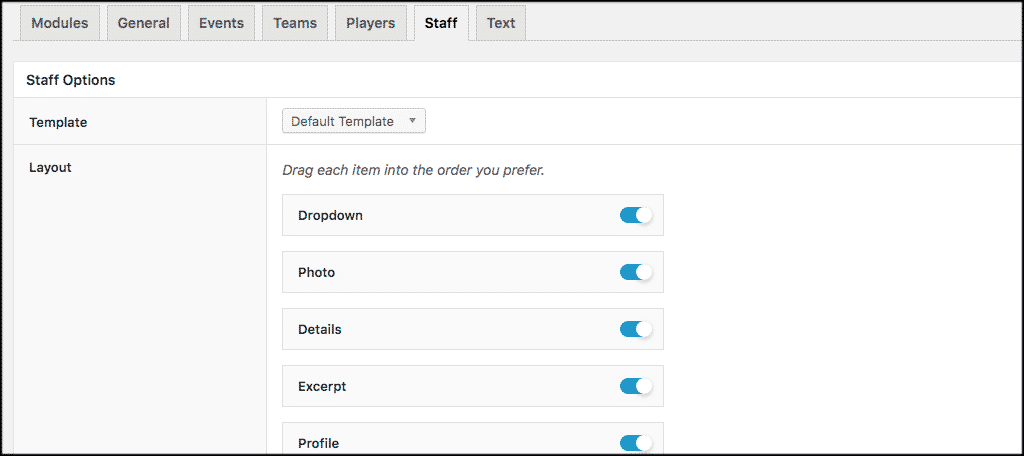 Text
Fill your text boxes out based on how you would like the text to display on the front end of the sports club website you are building.
That's it! You can continue forward with your configuration options however you would like. Remember, the SportsPress plugin is pretty in-depth, and will give you a lot of things to work with.
Just take your time going through everything until you feel you have exactly what you want.
WordPress Themes for Sports
SportsPress will work with any WordPress theme. That being said, here are three you may want to take a look at.
Rookie
Rookie is actually a free sports theme from ThemeBoy. This is the same company that makes the SportsPress plugin, so you know they will work perfectly together.
MH Sports Magazine
MH Sports Magazine provides you a fresh design, tons of color schemes, and a wide variety of theme options to work with. It will give you some really great layout options to combine with the SportsPress plugin.
Sporty
Sporty is a fully responsive and customizable WordPress sports theme. It provides you with a ton of options and configurations. Put together with SportsPress and you will have a very nice sports club website.
Final Thoughts
Building a good sports club website can be difficult if you do not know where to start. Using the SportsPress plugin and combining it with a solid sports theme will definitely get you on the right track. Before you know it, you will have an amazing sports website built and drawing a dedicated audience.
What other plugins have you used on your sports website? Have you found anything more comprehensive than SportsPress?