It's Christmas time and that means plenty of people are shopping for gifts for the holiday season. One of the best features to offer customers on your WooCommerce store is gift wrap. Not only does this make it easier for customers, but it can also give you a boost in revenues.
And with a staggering 93.72% market share on WordPress, WooCommerce is dominating the competition. Thus, I will show you how to add a WooCommerce gift wrap option in WordPress using the WooCommerce Gift Wrapper plugin.
Why Add a Gift Wrap WooCommerce Option?
Offering WooCommerce product gift wrap services is a great addition to any website. While you may be thinking that this is just a seasonal addition, it really isn't.
On top of the holiday season, there are plenty of events that warrant gift wrapping, such as birthday parties, weddings, anniversaries, graduations, etc. Christmas is not the only time of the year where gift wrapping is necessary, but it is the most popular.
Of course, gift wrapping is not a free service. You can charge a reasonable price for doing so. This can give you a nice boost in revenue during the holiday season.
However, make sure you are being competitive with the pricing because it isn't exactly rocket science to wrap a gift yourself.
How to Add A Gift Wrap Service
Step 1: Install WooCommerce Gift Wrapper
WooCommerce Gift Wrapper is one of the best gift wrap plugins available. It adds a gift wrap option to any WooCommerce product that you want.
Some of the basic features include setting your own prices, offering gift wrapping types (i.e wrapping paper, gift bag, etc.), display images of the gift wrap, allow customers to enter a message, and more.
Note: You must already have the WooCommerce plugin installed and activated to use this plugin.
Luckily, the plugin is pretty simple to set up, so let's get right into it.
Click on Plugins and select the Add New option on the left-hand admin panel.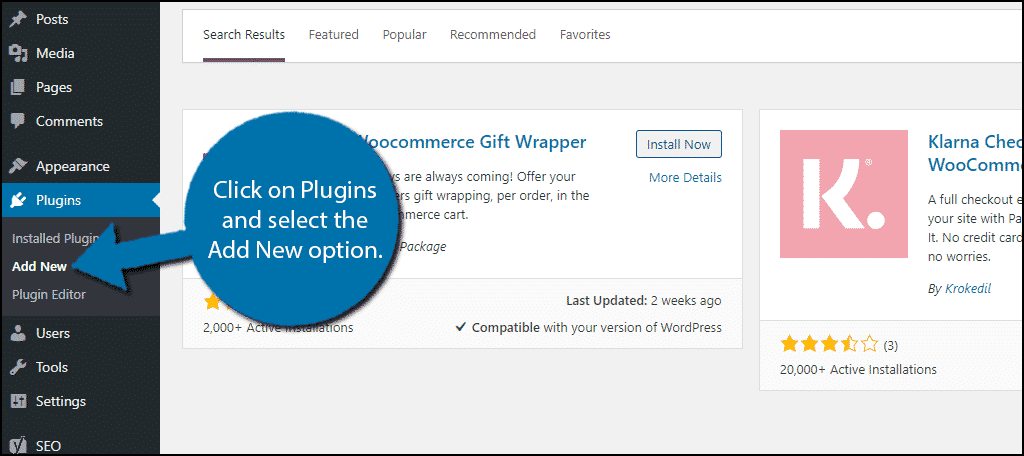 Search for WooCommerce Gift Wrapper in the available search box. This will pull up additional plugins that you may find helpful.
Scroll down until you find the WooCommerce Gift Wrapper plugin and click on the "Install Now" button and activate the plugin for use.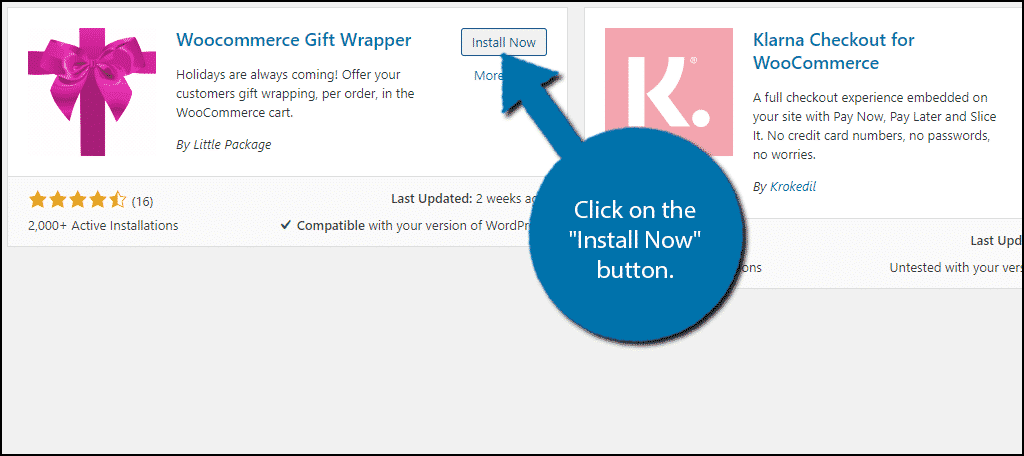 Note: If you click on the Settings option for this plugin when you do not have WooCommerce installed, you will a "Sorry, you are not allowed to access this page" message.
Step 2: Set Gift Wrap Options in WooCommerce Gift Wrapper
On the left-hand admin panel, click on WooCommerce and select the Settings option.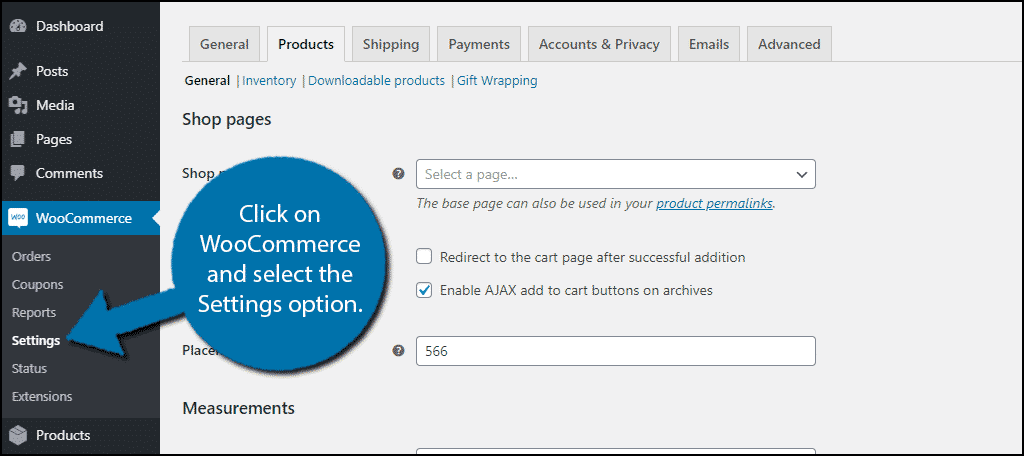 Under the WooCommerce Products tab, select the Gift Wrap option.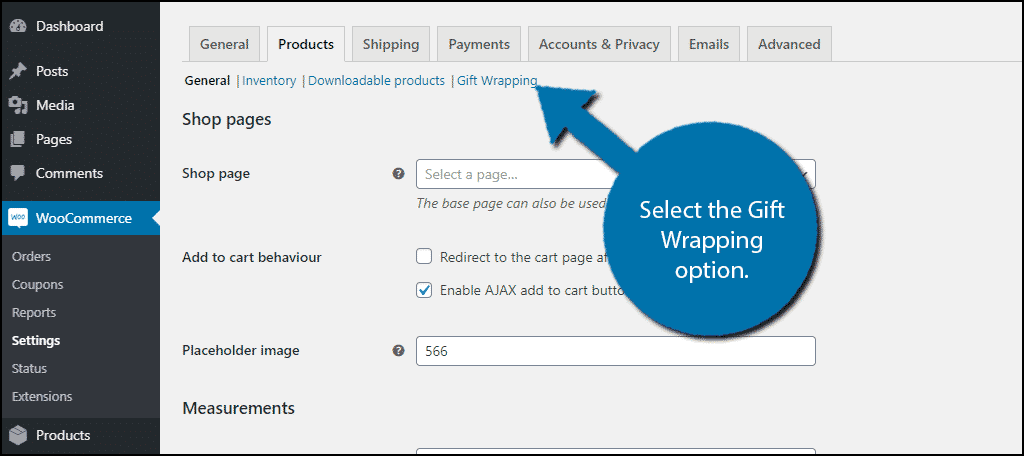 However, before you change any of these settings look at the top. The plugin tells you to do 3 things first.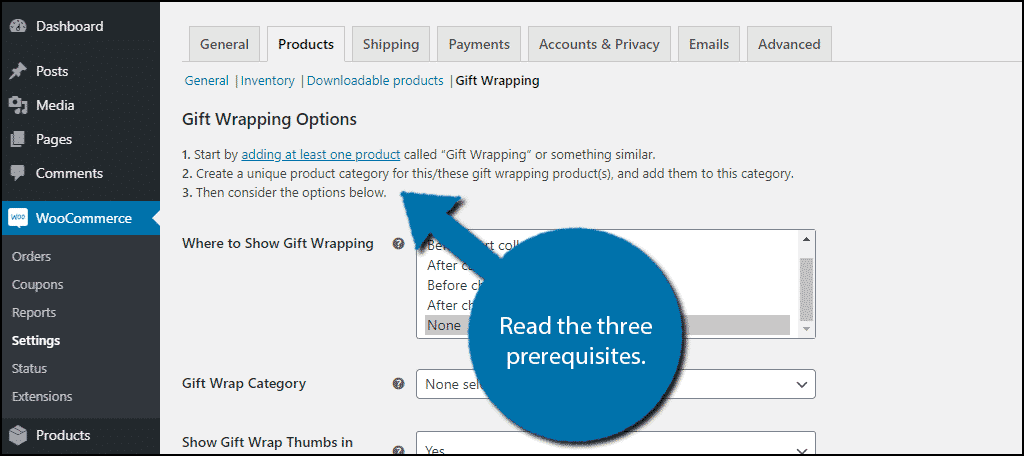 The first is to add a new product called "Gift Wrapping" or something similar. Just make sure you can identify it. The second is to create a product category as well.
Luckily, the plugin makes it very easy to do this. Just click on the text "adding at least one product" and it will bring you to the "add product" section.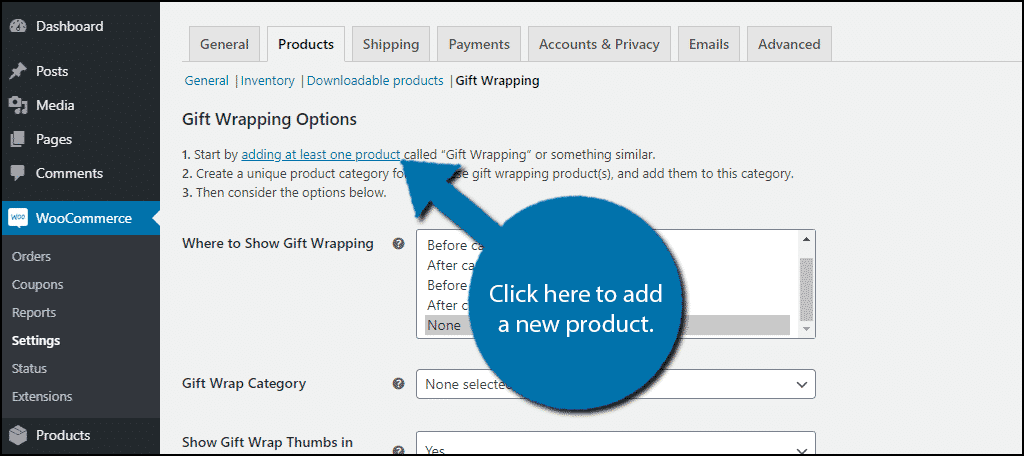 Once there, all you need to do is fill out the name, in my case, I will pick Gift Wrap. You do not need to add anything else to the actual product. To add a category, click on the + Add New Category option on the right-hand side.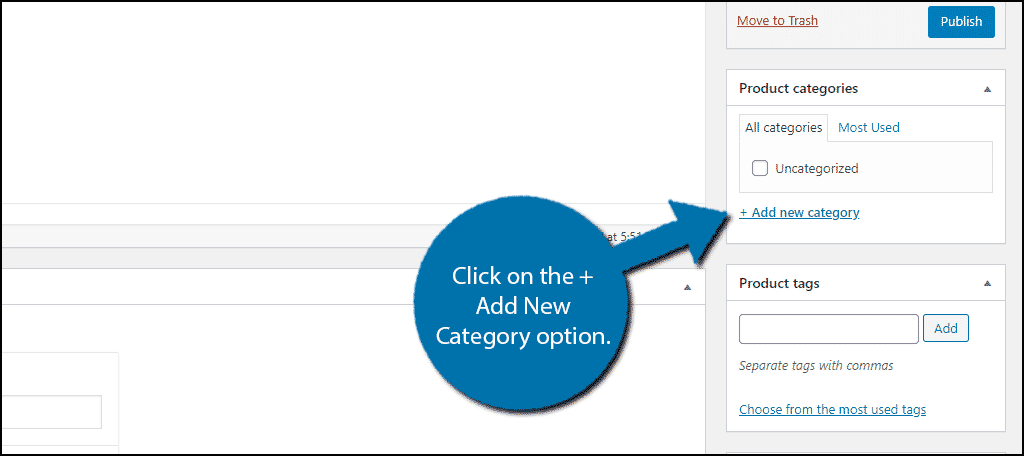 Add a category name and click on the "Add New Category" button when done.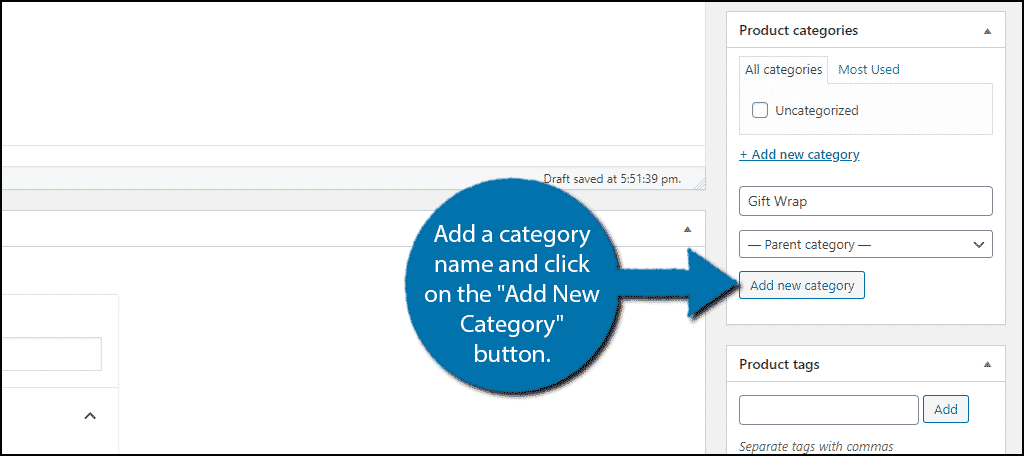 Click on the Publish button to save your work and return to the settings page.
With this done, you are ready to tinker with the settings.
Step 3: Modify Your Settings
Luckily, the settings themself are quite simple. It shouldn't take more than two minutes to go through them.
The first option is where you want the gift wrapping option to appear. Pick the one that best suits your needs.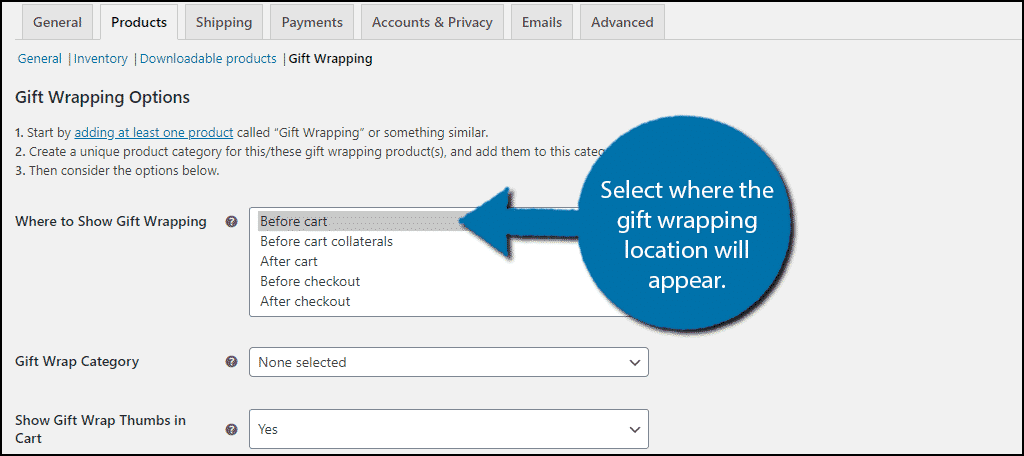 Note: If you select None, the gift wrapping option will not appear at all. This is ideal if you only plan to offer gift wrapping during the holidays.
Next, select the product category. This should be the one you created in the previous step. In my case, it was simply labeled, "Gift Wrap."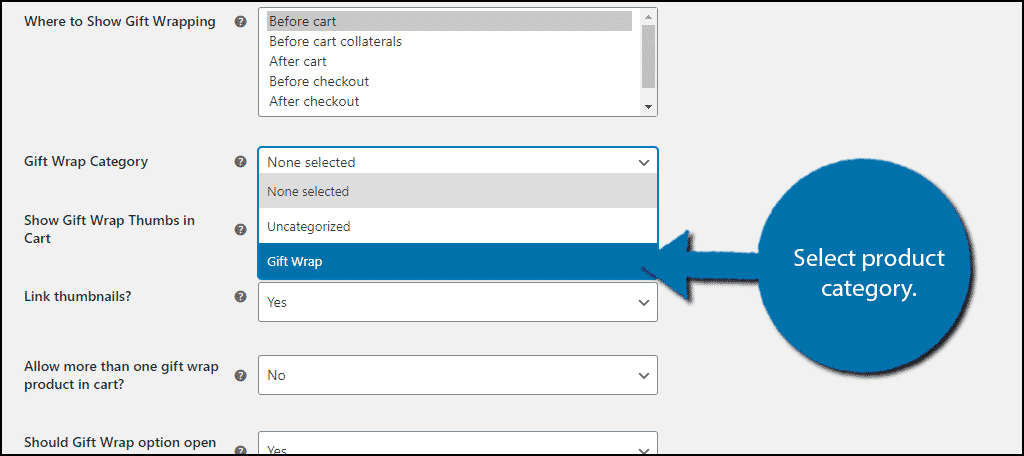 Note: You may need to reload the settings page if you do not see the category you created earlier. This will happen if you went through the process on a new tab.
The rest of the settings are very straightforward. Simply select Yes or No for each one. Enter a description of the gift wrapping and set how many characters can be in the customer's message.
Once, done, click on the "Save Changes" button at the bottom.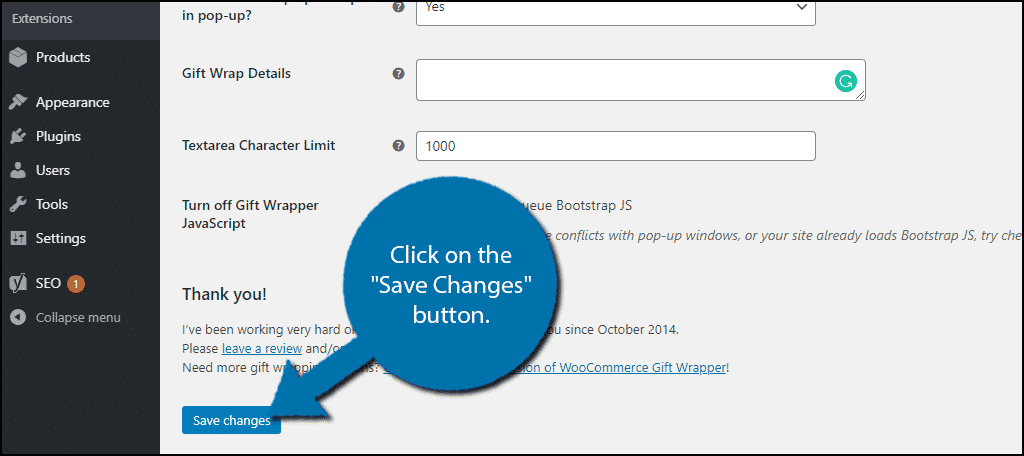 Now visit your store. You should see the gift wrapping option where you selected it to appear.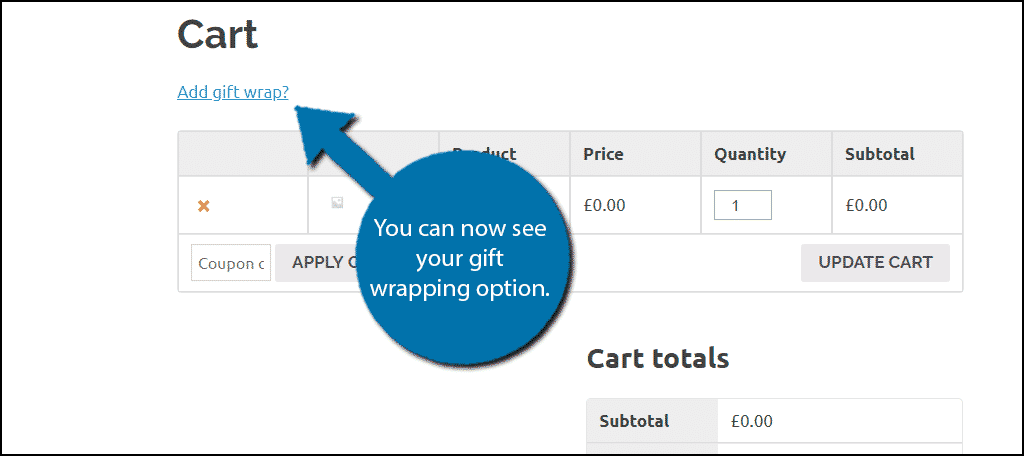 Congratulations on successfully adding a gift wrapping option to your WooCommerce store on WordPress.
Does Every Store Need Gift Wrapping Services?
It's important to understand that every online store might not need to offer a gift-wrapping service.
For example, let's say you sell used car parts online. That's not normally something someone would gift wrap. The same can be said for quite a few other types of products.
Thus, this feature isn't for everyone.
It's really intended for more retail-focused shops that focus on things like clothes, electronics, appliances, jewelry, and more. So before you add this feature, make sure you ask yourself if someone would really want their product gift wrapped.
Make Sure to Have Properly Themed Gift Wrap
If you are planning to offer gift wrapping all year long, it's important to realize you can't use Christmas wrapping paper for a birthday in the middle of July.
No, this is one time Santa just won't cut it.
Instead, you are going to need to make sure you are using an appropriate type of gift wrap for any occasion. In fact, you might want to even let the customer choose the type of gift wrap.
For example, wedding gifts are typically in white wrapping paper. Giving customers the choice will help enhance their experience and retain them as a customer in the future.
You can even go a step further and offer ribbons and name tags. There really is a lot of potential when it comes to gift wrapping. And the good news is that customers can provide extra details to make sure the gift wrap order is perfect in WooCommerce.
Add Gift Wrapping to WooCommerce Today
For many stores, both physical and online, the holiday season is a make-or-break time of year. Many stores only break even for the year thanks to the holiday season, so you need to ensure that your website has all of the Christmas spirit you can add. The more enticing you make it appear, the greater are your chances of making a sale.
However, it's important to remember that it's someone's birthday every day. This will make this feature useful all year round. On top of this, there are a variety of other events that call for gift wrapping like graduations, baby showers, weddings, and much more.
As a result, gift wrapping is a great option for every online store. And most importantly, it makes it even easier to make a profit.
Do you use a different gift wrap plugin for WooCommerce? Do you plan to offer gift wrapping all year long or only during the holidays?