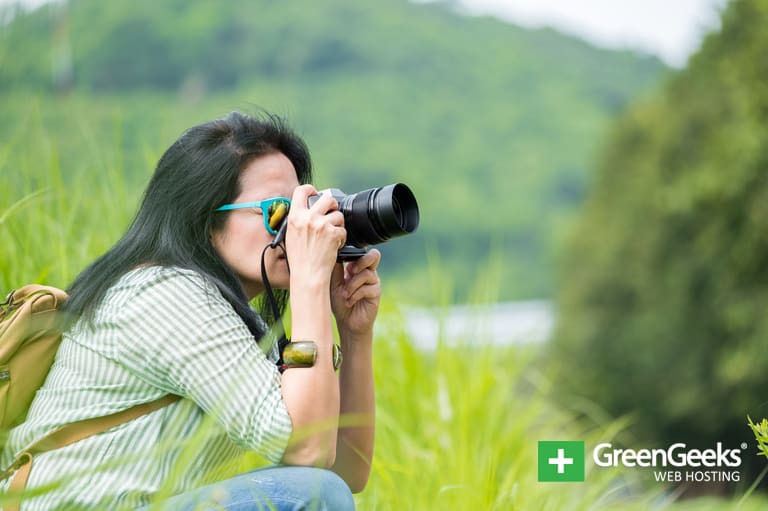 You want to make a photography website, but there are many different design and performance elements to consider. What's the best way to display my photographs? What kind of website theme is best for the job? How can I create a website for my photos that people will want to visit?
It can be a daunting task for a creative person who may not be terribly interested in all the technical aspects of the job. We've produced this guide to help you create a photography website that will be easy to build and manage but still stands out from the crowd.
Photography sites have to perform a bit of a balancing act. You want your images to be large enough to be appreciated, but you have to consider download times. We'll talk about the best ways to showcase your work while keeping your site speedy and responsive.
How to Create a Great Photography Website
You don't just point and click and wind up with a memorable photograph. Okay, sometimes we get lucky. But usually, you plan and compose and execute all the technical steps necessary to ensure a great result. Building a website is a similar process. Before you begin, make sure you have the pieces in place.
Digital Images
I know, it seems obvious. But if you work in traditional photography mediums like film and paper, you'll have to give some thought to digitizing images. Higher resolutions are suitable for printing, but unnecessary online. Remember, the higher the resolution, the larger the image file, and the longer the download time.
Most of your visitors will use displays that top out at 72 PPI (pixels per inch) resolution. So they won't be able to see the difference between a standard screen and a high-resolution image.
Retina displays pack more pixels into each square inch (300+ PPI in fact). But again, if you serve higher resolution images geared toward high-resolution displays, you are increasing download times.
And this will have a serious negative impact on site performance.
Have a Story to Tell
Your photographs tell a story, so should your website. A stark gallery with little commentary is a statement of a sort. But you can have a greater impact when you insert a personality into your website.
The stories your photographs tell can resonate with visitors. Your commentary or observations can turn that resonance into a personal connection.
Make a Place to Tell Your Story
There's no shortage of social media and art websites that are glad to show your work. They're fine for what they are, and you can certainly use them to expand your audience. But your work should have its own home as well.
A place that you control where your vision can become fully formed. That's where your personal website comes in.
Step 1: Get a Great Domain Name and Web Host
First thing's first; your new home on the web will need a domain name. If you already have the perfect domain, you're one step ahead in the game. If you still need to find a name, there are a lot of ways to brainstorm a good one.
As far as a home on the web is concerned, photography sites can grow larger than many other kinds of sites. With that in mind, it's in your interest to choose a host that can grow with you. The last thing you need is to be locked into a host that prevents you from flourishing. And yes, it does happen more often than you'd think.
Obviously, I think GreenGeeks is a great choice, but I'm not alone.
Step 2: Picking the Perfect Theme for Photography
A WordPress theme controls a good deal of the appearance and functionality of your site. When you're selecting a theme, you have the benefit of using one that was built to show off your work.
In the world of WordPress themes, there are free and paid premium themes. While paying for a theme might seem like an unnecessary expense when there are so many free themes available, oftentimes, the premium options provide a premium experience. Both for you and your visitors.
Thus, you are going to need a theme to make a photography website.
FabMasonry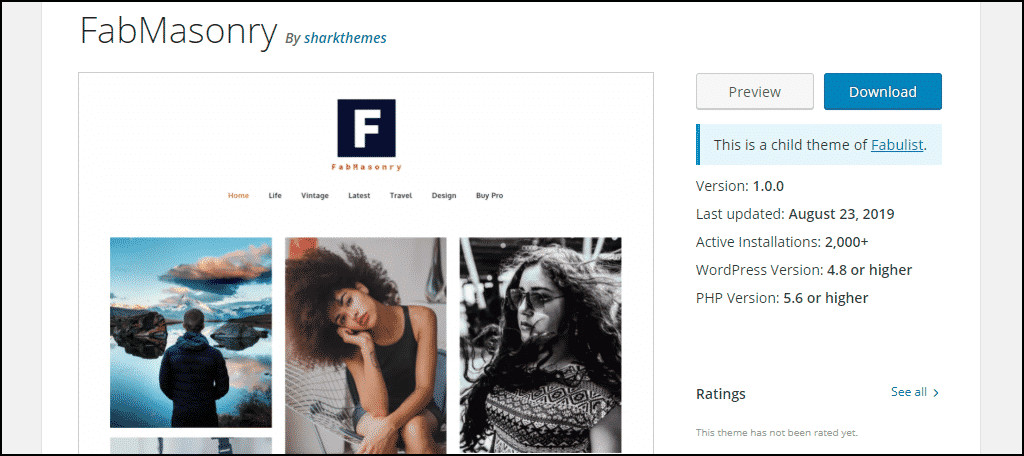 "Masonry" is the latest trend in WordPress theme layouts. FabMasonry makes great use of the Pinterest-like approach. One of the things I love about FabMasonry is the minimalist look of the homepage, but with the added touch of a very nice fancy-without-being-too-fancy mouse over that provides information and links.
A lot of photography themes use a similar grid layout for the homepage. But FabMasonry executes that particular design element very well, with great smooth transitions when the viewing area shrinks or enlarges for responsiveness.
FabMasonry is a child theme of Fabulist, which means you'll also have to install Fabulist before FabMasonry works.
VW Photography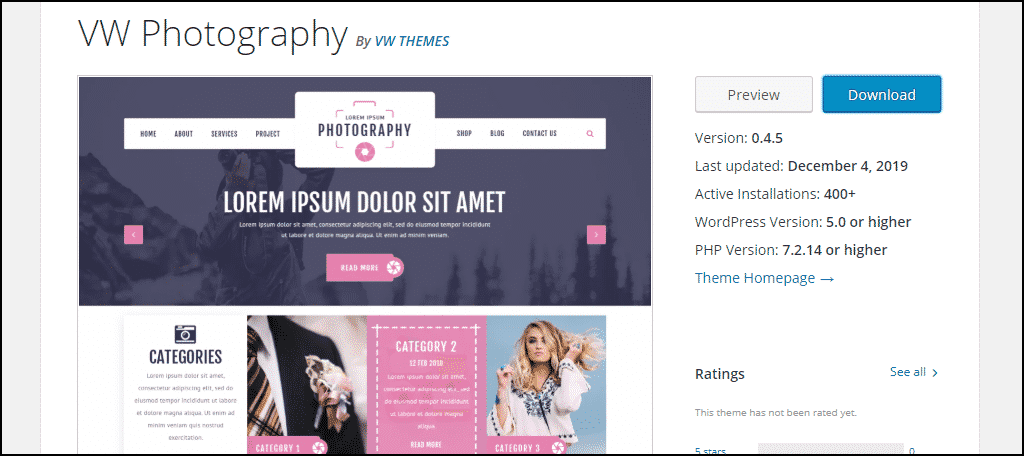 VW Photography provides more design around the images on the page. This one cannot be called minimalist. But if minimalism isn't your thing and you like the design they've come up with, it's an excellent choice for a free photography theme.
The demos and screenshots don't show it, but the theme can present left or right sidebars as well. And it's compatible with WooCommerce if you sell your photographs (or would like to start selling them!).
While VW Photography is free, there is a "pro" paid version that unlocks more tools that you might find useful. But you can try the free version on for size, and if it works for you, you can always upgrade to the pro version if you decide to later on down the road.
Daisy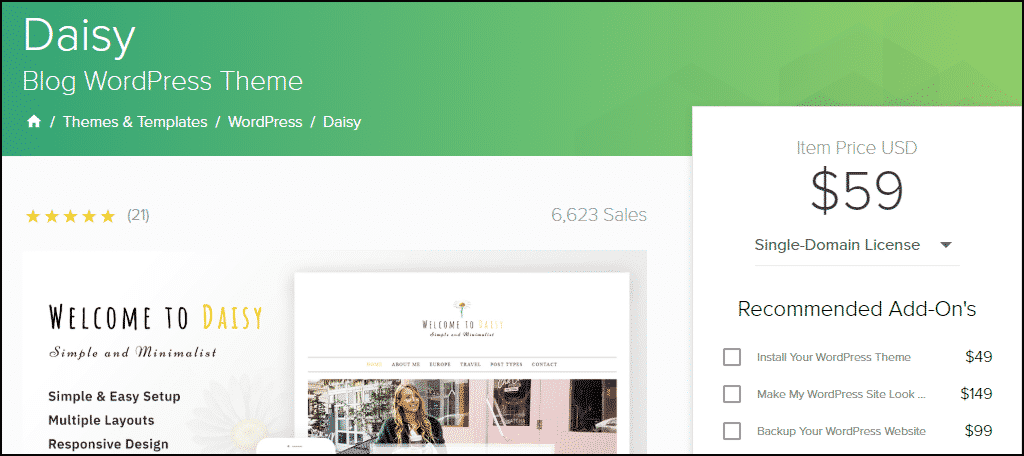 Daisy is a premium theme, but well worth the cost. Choose from different layout options, each nicely minimalist, beautiful, and refined.
If you're a visual learner, there are a series of short videos describing how to perform several essential tasks in the Daisy theme. That's a valuable resource that most themes (free or paid) don't provide.
There's also a live demo site that lets you preview the theme and see how it will look on different devices.
Lyrical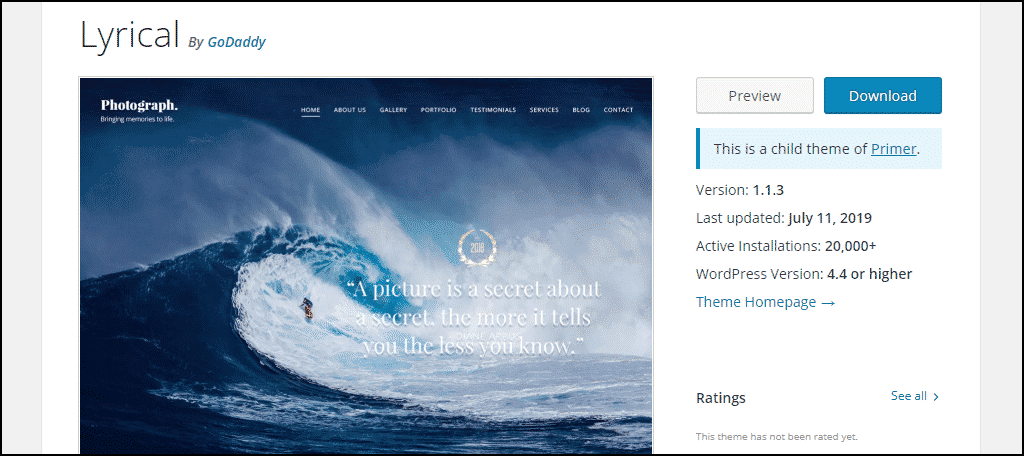 Lyrical has a simple, fresh design that emphasizes your photographs. It also uses fonts that you won't see on every other site.
If you want a clean look in a free photography theme, Lyrical may be for you.
Lyrical is a child theme of Primer, which means you'll also have to install Primer before Lyrical works.
Shape was made for photographers. Enjoy a choice of gallery styles, silky-smooth image transitions, and ready-made services, portfolio, and client sections that you can set up quickly.
The theme goes all out as far as features are concerned. There is built-in integration with all the top social media sites, a slick AJAX contact form, even a Google Maps integration that lets you enter an address to create a map. No need to get code from Google, or set up a developer API.
Shape is a premium theme, and there's not a downloadable "lite" version. But you can see a live demo to help decide if it's something you might want to use as a theme.
Step 3: Add Photography or Image Plugins to the Site
The number one thing you'll probably want to add to your site (if it isn't built into your theme) is a gallery. So the focus here is on galleries and other tools that can enhance the presentation of your photographs.
Thus, picking plugins is an essential step if you want to make a photography website.
NextGEN Gallery
NextGEN Gallery is one of the most popular WordPress image galleries out there. Use it to batch upload photos, sort and arrange images, import metadata, bundle galleries into albums, and edit thumbnails.
The free version of the plugin offers up a slide show, thumbnail, and image browser gallery styles, as well as compact and extended album styles. Each has a nice group of options that control the size, style, lightbox effects, and transitions.
Photo Gallery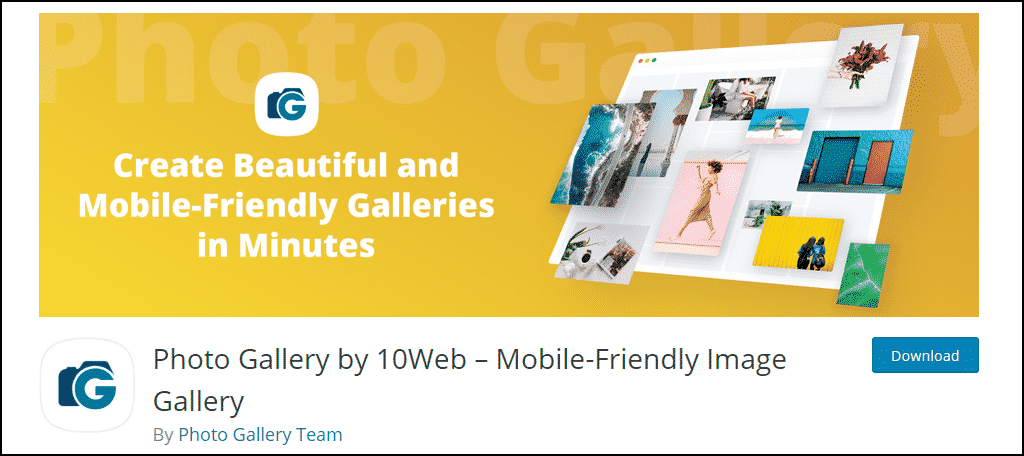 Another very popular WordPress image gallery is Photo Gallery.
Photo Gallery is focused on providing a responsive layout geared toward mobile visitors, and it includes widgets and extensions that many other galley plugins don't offer.
Image Watermark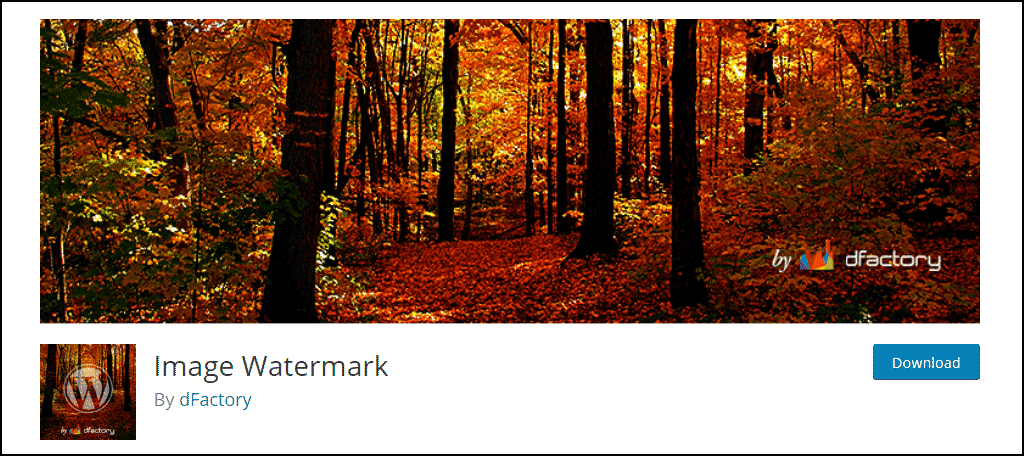 People "borrow" images on the internet. It's impossible to stop a determined image thief, but with Image Watermark, you can automatically add your URL to images. That way, the images always lead back to you.
A lot of photo processing and gallery plugins can also provide image watermarking. But if you want one small plugin to do this one task, here you are. It does what it says, and it does it well. Not every plugin can say that.
LiteSpeed Cache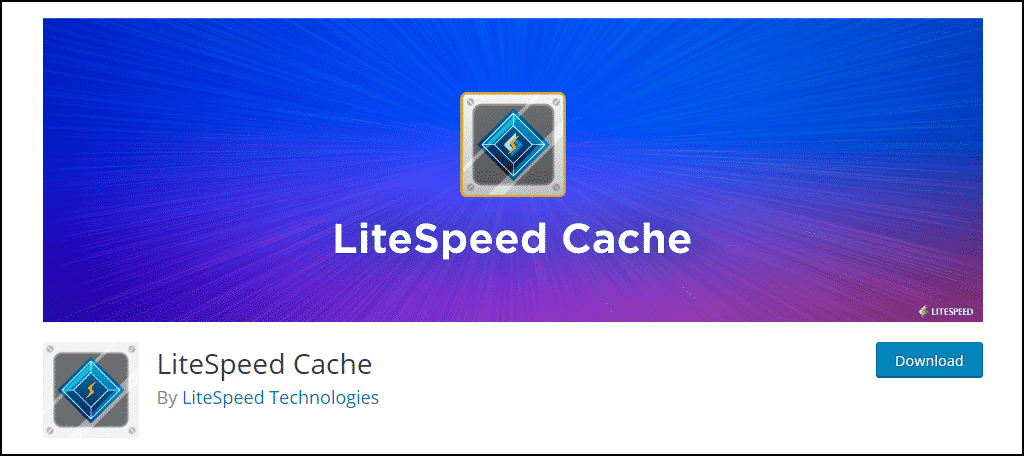 LiteSpeed Cache isn't a photography plugin, but it's an essential part of making WordPress speedy and responsive. Users aren't likely to stick around on a site where they have to wait for images to load.
Keep your pictures flowing and keep those eyeballs on your website.
Sunshine Photo Cart is all about selling your photographs.
Their cart system lets visitors add photos to a cart for purchase, and integrates check (offline) payments or PayPal. Create an unlimited number of galleries and even password protect them.
Step 4: Sharing Your Website With the World
Ello
Ello is the best social media site you've never heard of. Especially if you're a photographer or any other kind of visual artist. A format that emphasizes images, and a membership—and audience—of creative people lays the groundwork for the perfect photography promotional arena.
If you post there, people will visit your website. Which is more than you can say about most other social media platforms.
Instagram
An obvious frontrunner, Instagram is the granddaddy of photo-sharing apps. Since most of the posts on Instagram are candid (or supposed to be candid), photographers who post more thoughtful or evocative work can really shine.
Just make sure to link in bio!
Flickr
Yes, Flickr is still a thing. A couple of years ago, they stopped giving away vast amounts of storage space for free. And it caused a kind of exodus from the service. But the side effect of that was a lot of serious photographers stuck around.
Some say that Flickr was improved by decreasing its membership. How many sites can you say that about?
Work For Free
A lot of nightlife photographers became successful by taking pictures in venues for free, then letting the people who appear in the photos share the images. Of course, prominently displayed on those images was the photographer's website URL.
That's a very up-front approach. It's not subtle, but you can see how it could be adapted to work in other areas.
Make Google Work for You
SEO, SEO, SEO.
Did I say SEO? Search engine optimization can give your website an advantage over similar sites. If you do it right, it delivers a large advantage. For a photography website, not only can you leverage traditional SEO methods, but you can work the image searching elements of Google.
Concentrate on providing great image descriptions and metadata, and look at using descriptive naming for your image files. Google favors three-cows-in-a-field.jpg over P20191217001.jpg.
Why Build a Photography Website?
If it seems like there may be a lot of work involved when you make a photography website, the payoff can outweigh the effort. How?
It Can Provide Income
People buy photographs. If you can make yours available for purchase, you can earn money doing something you love. And there's nothing better than that.
People also hire photographers. If you want to become a working photographer or increase your existing customer base, your website is an essential tool. Getting work through word of mouth is nice, but expanding your potential audience by thousands or millions is even better.
It's an Outlet for Artistic Expression
Your photographs are art. And most artists are compelled to express their ideas, connect to the people who view their art, and generally let the world know who they are.
Your friends, family, and community are one audience, but what about an audience of billions? That's what your website offers to you.
It Can Be Your Digital Memory
As time goes by and your memories of things fade, looking at your photographs can transport you back to distant times and places. Even mundane things can be fascinating.
I had a photography teacher in high school who told us to take pictures of our bedrooms. At the time, I didn't see any point in doing that, but I did it anyway.
Looking at pictures like those now, or looking at pictures of your first apartment, or people who may no longer be in your life is a powerful experience. And one that is enhanced because it's visual.
Photographic.
A Picture Is Worth a Thousand Words
That may be true, but I believe that a picture can be worth a lot more than that. It can help you earn an income and establish you in a satisfying creative endeavor. Hopefully, I've helped you learn how to make a photography website, and made your path a little easier.