You have access to a myriad of ways to make money using WordPress. The hardest part is finding one that works best for you. However, many have found a lot of success making money from WordPress with affiliate marketing.
Once you find the perfect company to partner with, there is great potential for generating revenue.
Today, I'm going to go into detail about how using WordPress with affiliate marketing programs can generate a regular flow of income.
Now, I can't guarantee that you'll be rolling in the dough overnight. However, it's possible to generate a bit of cash from your site.
The amount of success you achieve is really up to the amount of effort you put into creating a popular website.
What is an Affiliate Program?
An affiliate program is a system the allows website owners to share in the sales of other companies using links and banners. When one of your visitors clicks a link on your website and is taken to a product page, you'll make a certain commission from those sales and leads.
Essentially, you're helping other companies sell products and services by advertising them on your website.
This works similar to how Adsense works in that you're showing advertisements. The difference, however, is the amount of money you stand to make.
Comparing Affiliates to Adsense
Using Adsense on your website can bring in a bit of extra money depending on the amount of traffic you receive. You earn a small amount of money anytime a visitor clicks the ad. This can range anywhere from $0.01 to more than $3.00 depending on the ad itself.
With an affiliate link, though, you stand to earn a lot more depending on the sales and commissions.
For example, if you have an affiliate who'll give you 20% of any sales you help generate and one of your visitors buys $150 worth of stuff, you'll make $30 from that one sale.
In many ways, affiliate marketing is far more effective than using Adsense alone on a website.
How Affiliate Marketing Works
In most instances, affiliate marketing requires the use of a tracking code specific to your account. This is part of the URL you're provided that allows the other company to track when visitors come from your site and make a purchase.
If the affiliated business detects a visitor from your website buys a product or service, you earn a commission.
Some affiliates, though, will pay for simply sending them traffic. This means you'll make money if someone simply clicks the link from your website to visit the affiliate. However, these are not all that common.
In any case, you need an affiliate tracking code to make sure you're credited with the sale or lead. These are often used as links within your content or banners you show on the website.
The Most Important Aspect to Make Money from a Website
Before you jump in and assume you'll make money instantly using WordPress with affiliate marketing, there is one vastly important aspect you need to consider: traffic.
If your website doesn't have a lot of visitors, you can't expect to quickly start making money. You need to keep in mind that only 0.07% of average users click on an advertisement. And not all of them are going to purchase goods.
This means you need a lot of visitors if you want to pull in a serious amount of money using affiliate marketing.
While there are ways you can increase the likelihood of getting a sale from your site, such as creating viral content, you need to keep your perspective intact.
I'm not saying you can't make money from a small WordPress website. My point is that you need to be realistic with goals and expectations. Some websites will generate about 250 visitors a day without receiving a single click on an affiliate link.
Where Can You Find Affiliate Networks
Because affiliate marketing is such a prominent and often successful way to make money online, you can go through a variety of platforms.
One thing you'll want to keep in mind, though, is how some will have restrictions about mixing affiliate networks. For example, some will say you cannot use another network on a single page of content.
Just make sure you read through the EULA of your preferred affiliate network. You don't want to get banned simply because you accidentally mixed networks on a popular blog post.
Here are a few of the affiliate systems you can use in any WordPress website.
ShareASale
ShareASale is a popular affiliate network which connects you to a vast number of businesses. You can sign up with a variety of companies to sell everything from clothing to toys.
Not only are you supplied with banners and links from those companies to use on your WordPress website, but you can also create your own if you want to link to specific products in most cases.
One of the things I like most about ShareASale is how you won't have an account closed if you haven't made a sale in a certain amount of time. Which makes it a great system for new site owners.
CJ Affiliate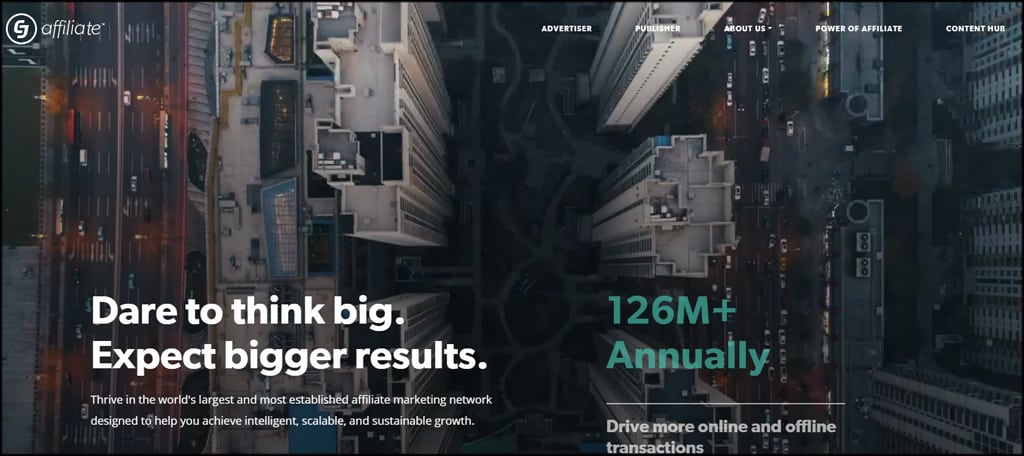 Also known as Commission Junction, CJ Affiliate is among the most popular platforms on the Internet. Some of the largest companies use CJ.com to connect with website owners like yourself for the mutual benefit of making money.
It also has quite a strict adherence policy. For instance, one of the stipulations of CJ Affiliate is you need to have active sales. Otherwise, the account is closed within a certain amount of time.
Amazon Associates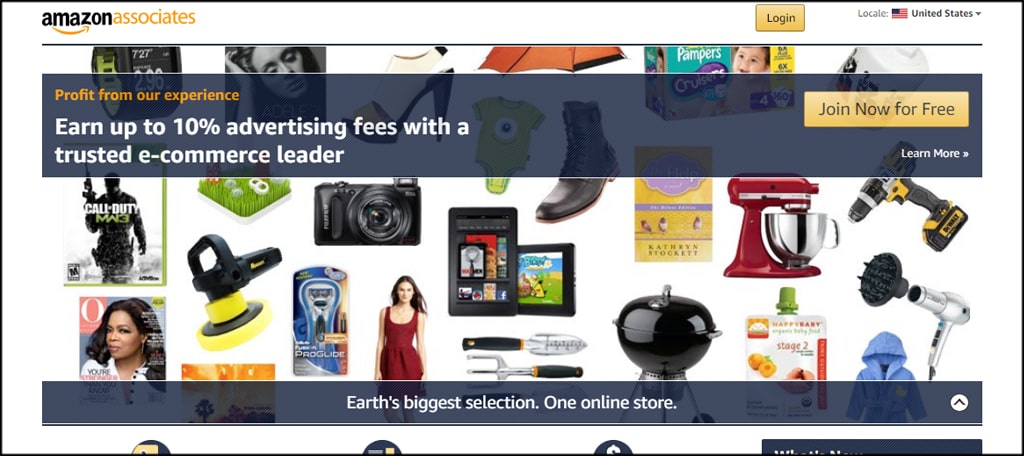 The Amazon Associates Program is a good one to get into if the site has a lot of visitors. It has one of the biggest collection of goods on the Internet and can easily fit into any website niche.
Amazon Associates is another platform that requires at least one sale within a specific time frame. But the access to so many products is what makes it attractive to many site owners.
The coding and widgets Amazon provides affiliates makes it very easy to add into WordPress post or sidebar widgets without using a plugin.
ClickBank
Many people have made a great deal of money using ClickBank as an affiliate network. Like the others in this list, it hosts a wide variety of products ranging from arts to travel.
Although ClickBank does have several filters you can use to find specific companies to work with, the searching ability is a bit lackluster compared to the others. However, you do have access to thousands upon thousands of affiliated partners.
Using Your Own Drop Shipping System
And lastly, there is nothing wrong with using your own external drop shipping website. Although this isn't technically an affiliate, I still wanted to mention it as the process works similarly.
The biggest difference is you only share the sale with the drop shipping company when linking your products.
A lot of people will use print-on-demand services such as Teespring to sell designs on shirts, coffee mugs and much more. By adding your own products and links, you could generate sales and earn money.
The reason I bring this up is because of how similar it can be when compared to affiliate marketing. You can use banners and links to promote your stuff all linking back to the drop shipping website.
You don't need to worry about tracking URLs.
How to Use Affiliate Marketing in WordPress
Once you've chosen an affiliate network, it's time to add your links and banners to WordPress. This can be done a number of ways depending on how you want the affiliates to appear in your content.
Here are a few of the more popular methods for sharing affiliate marketing programs in WordPress.
Pasting Affiliate Links in WordPress
Affiliate networks like ShareASale provide code to add to any website. Most of these networks require you do not change the code at all. So essentially, you can simply copy and paste the links into almost any section of WordPress including most custom post types.
How do you go about pasting the links into WordPress?
Use in a Sidebar
A common place for ads is the sidebar. You can use the Custom HTML widget and paste the code. You can then move the widget to various sidebar locations using the drag and drop feature in WordPress.
Use within Content
Most of the codes you get from affiliate programs are friendly to the WordPress editor. This means you can paste them directly into your content, whether it's an image banner or a text link.
When it comes to adding coded elements like affiliate links, WordPress is pretty versatile. You can place these almost anywhere on the website as long as it fits and looks right.
I mean, you wouldn't want your site to look horrible because a banner doesn't seem to fit the niche or visual appeal.
ThirstyAffiliates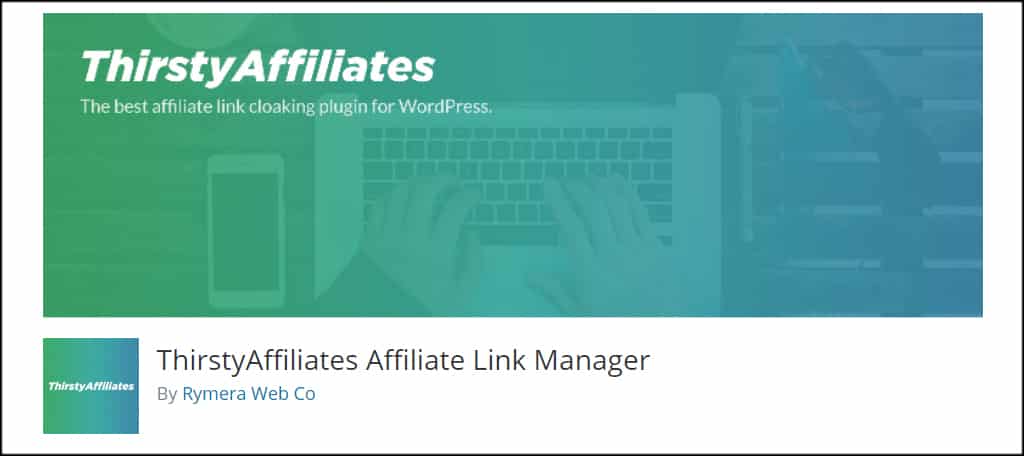 ThirstyAffiliates is a popular plugin for managing links. You have a variety of options to govern how these URLs behave on the site and can keep track of how often visitors click.
This tool also comes with shortcodes to use in WordPress, turning on nofollow links and allowing your own images for banners and ads. If you buy the pro version, you can even target certain ads to show to specific geographic locations.
WP Product Review Lite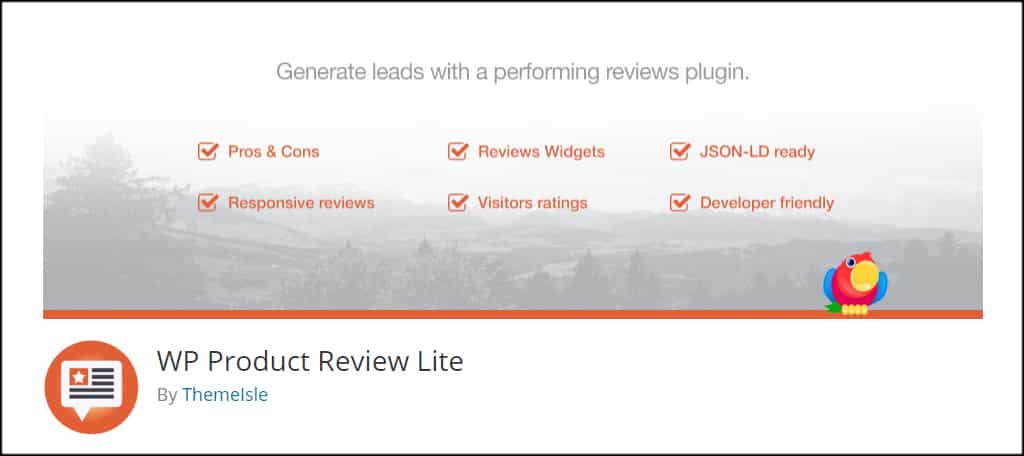 Writing reviews are some of the best content to drive traffic to your site. And WP Product Review Lite adds an attractive breakdown using pros, cons and a star system to show ratings to visitors.
Not only is this tool SEO friendly and uses rating markup schema, but it also adds an affiliate link section so your visitors can buy the item themselves.
This means the plugin helps you create a review to attract readers from Google as well as promoting an affiliate link for making money.
Amazon Auto Links
Should you decide to go with the Amazon Affiliate Program, you can always install Amazon Auto Links in WordPress. You can choose to select specific items to show to your visitors or let the system select goods for you.
One of the neat features of this plugin is its ability to scan through the text of your post and choose items best suited. This means you are more likely to gain a sale as the visitor is already interested in the content.
As an added bonus, you can also select certain items to be blacklisted from showing on your site from Amazon.
8 Affiliate Marketing Tips and Tricks
While it may seem simple to just copy and paste a link from an affiliate network into WordPress, there are a few ways you can maximize the experience. In reality, using systems like the above often benefit from marketing strategies.
Here are several tips that can help you get started:
Don't Saturate Your Posts or Pages
You don't want too many ads on any given page. In fact, a lot of affiliate networks forbid this practice. Your ads shouldn't take away from the visitor experience of your site.
Keep Affiliate Links Relevant to Your Content
You want to link to items that are relevant to the content of your WordPress post. If you're writing about chicken recipes, you wouldn't want to show an ad for computer hardware.
Use Review Posts in WordPress
Creating reviews are among the best types of content on the Internet. Use them to your advantage by selling the goods you review. This will drive search traffic and influence people to make a purchase.
Use Your Own Hosting for Images
Systems like ShareASale let you use your own images. This saves on bandwidth since you don't have to pull graphics from a third party. In other words, it keeps your site fast.
Pay Attention to Affiliate Link Placement
You may have to experiment where you place banners and links. Some areas are going to have more of an impact than others. For instance, placing an affiliate at the bottom of a post might be bad as fewer people actually read an entire article.
Pay Attention to Mobile Users
How many mobile users access your website? If you put an affiliate banner in the sidebar, those users may not even see the ad. This is because themes often shift the sidebar below the post for mobile device users. Make sure visitors using smartphones are still able to see the links on smaller screens.
Try Using a Landing Page in WordPress
A lot of experts will use landing pages specifically for WordPress and affiliate marketing. Some will even pay for Adwords ads to drive traffic to the page instead of the affiliate. This helps boost traffic and helps sales by giving you a platform to better describe the product.
Become an Influencer
By working to become an influencer, you can attract businesses. This means you can cut out the middlemen of affiliate networks and get paid directly from companies. Of course, this often requires a massive amount of traffic to the website.
Monetize with WordPress and Affiliate Marketing
As long as there is interesting content available, almost anyone can make money using WordPress with affiliate marketing. It's one of the easiest methods to generate cash online from a site.
But don't forget, it takes website traffic to increase potential. Offer amazing content and you could vastly increase your potential for income.