Many websites need a way to play audio files on their website, and the good news is that there are a ton of ways to achieve this. One of the best ways to do it is with the Music Player for Elementor plugin.
As the name implies, it is an add-on for Elementor and allows you to easily add an audio player to the pages you create. Thus, you will need to have Elementor installed to use this plugin.
Today, I will demonstrate how to set up the Music Player for Elementor in WordPress.
This plugin is for:
WordPress 5.9
Plugin: Music Player for Elementor v1.5.5
How Can I Use A Music Player in WordPress?
Music audio players are extremely versatile tools when it comes to usage in WordPress.
For starters, it is quite common for smaller bands to create their own website to promote their music. And to do that, you actually need to include your music, which is where a plugin like this comes into play.
You can easily upload your songs and cover art to the plugin and display them online in a professional way.
You might even be inclined to sell your own music, or just open up a music store in general. Well, don't worry, this plugin is fully compatible with WooCommerce. It makes an excellent upgrade to the default audio player it offers.
And just to be clear, audio players are not just about music anymore. Audiobooks and podcasts are some of the most popular content that you will see on various blogs and sites today. Therefore, these tools are incredibly versatile.
How to Set Up Music Player for Elementor
Step 1: Install Music Player for Elementor
Music Player for Elementor is a free add-on for Elementor Page Builder that adds a music player. It is accessible on any page you edit with Elementor, as such, Elementor is not optional. If you do not have it installed, you will see an error message.
In terms of features, it can do everything a music player should do, and most importantly, it is much easier to use. You can use the drag-and-drop interface Elementor is famous for to shift around audio tracks.
And there are no limits on the number of songs you can add. Let's get started.
Click on Plugins and select the Add New option on the left-hand admin panel.
Search for Music Player for Elementor in the available search box. This will pull up additional plugins that you may find helpful.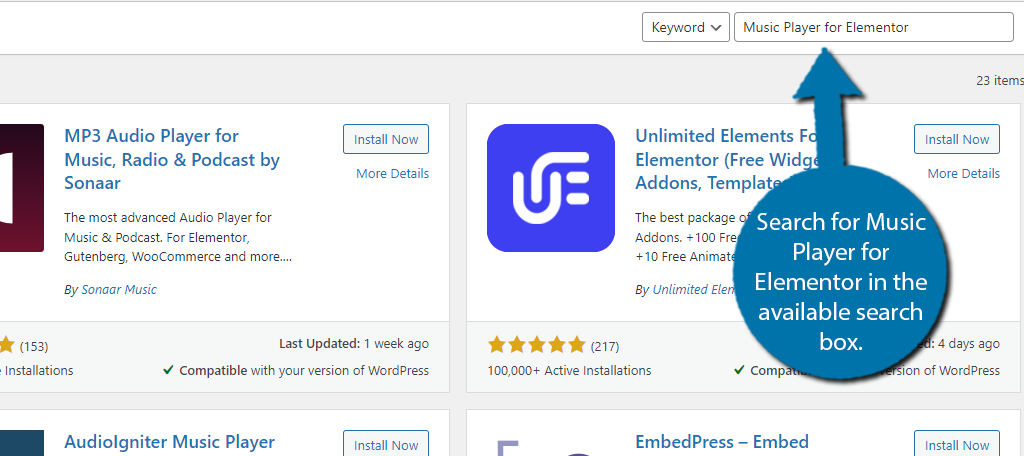 Find the Music Player for Elementor plugin and click on the "Install Now" button and activate the plugin for use.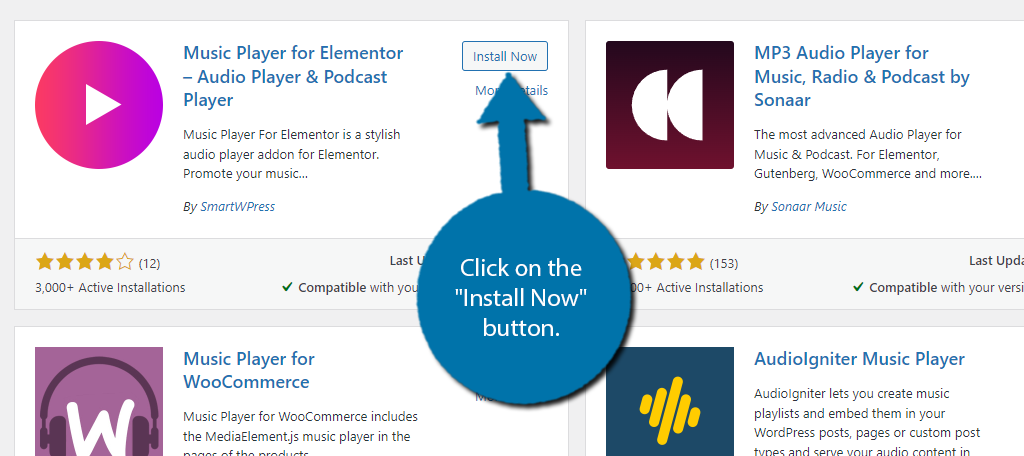 Upon activation, you will be asked if you want to receive updates about new features in the form of a newsletter. You can subscribe or skip this as it will have no impact on actually using the plugin.
Step 2: Add the Music Player To A Page
There are no initial settings that you need to configure. Instead, you can immediately add the music player to an Elementor page, so let's begin with that.
Go to any page in WordPress and click on the "Edit with Elementor" button.
Search for the Music Player widget.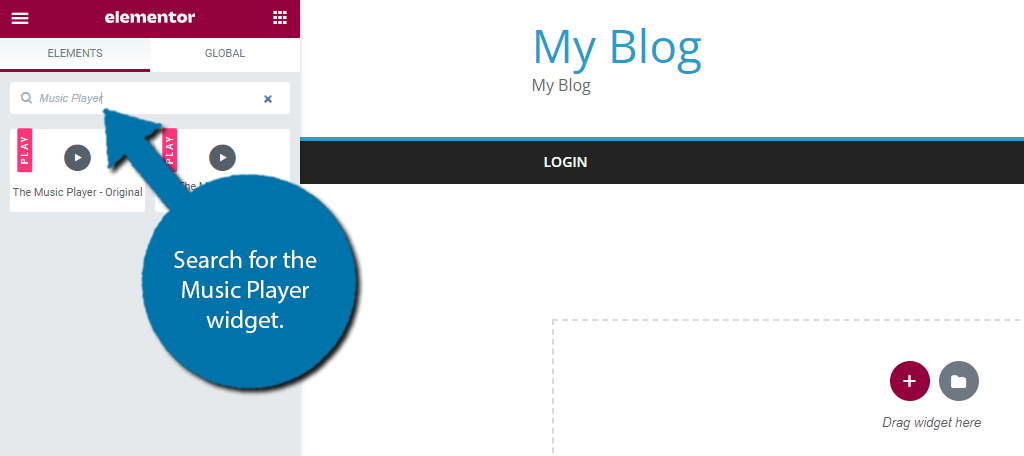 There will be two options that appear. The original and compact music player widgets. I will be using the original music player going forward, but there is not much difference between the two of them in terms of usability.
Drag the Music Player onto the page.
Note: You may need to perform an update in Elementor to support the font this plugin uses. A prompt will appear if you do, simply go through it to upgrade and you'll be good to go.
Step 3: Customize the Music Player
By default, the player is tailored for Apple Music. This can be a plus for some and a negative for others. In either case, you can freely customize the music player as you see fit. It is broken up into three sections: Backgrounds, Album Details, and Playlist.
Note: While this function is free to use, many features are locked behind the Pro version of the plugin.
Let's start with the Playlist because this is how you will add music.
First off, you will notice that autoplay is locked behind the Pro version. At the bottom, you will see Someone Like You as the default song. Click on it to change it. You can upload your own audio file and change some of the other settings if you desire.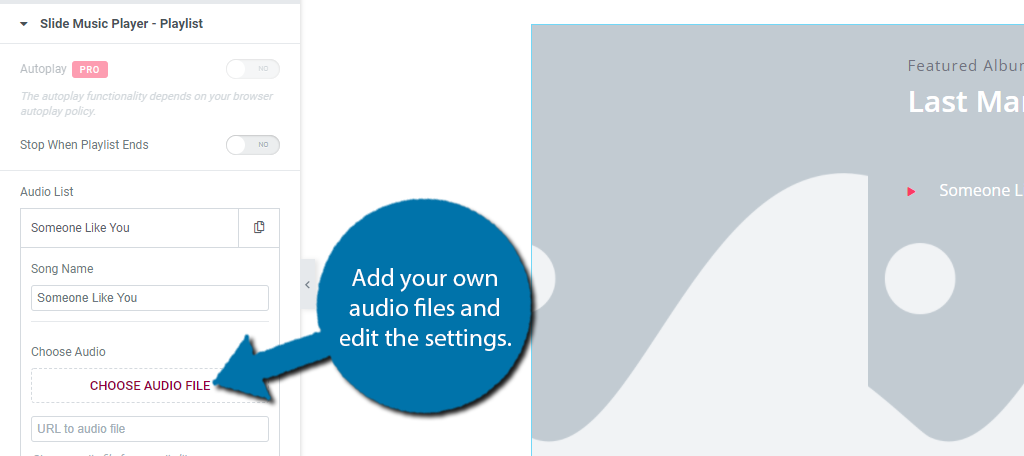 Use the "Add Item" button to add additional audio files to the playlist.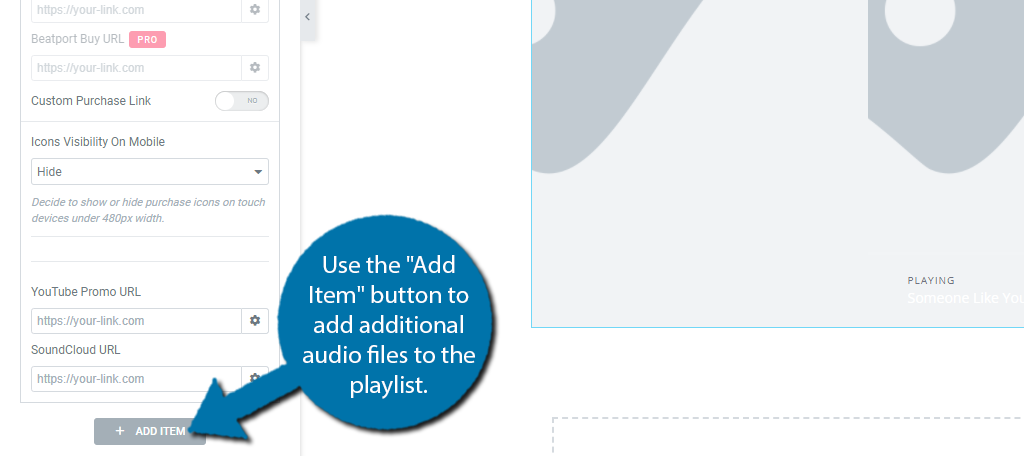 Next up, customize the Album Details section. Here you can add a logo, album title, featured text, and much more if you have the Pro version.
And lastly, there is the Backgrounds section. Here you can upload your own background image for the playlist you created. For music, this is the album cover, whereas if it's an Audiobook, it would be the book cover. Or it could even be the banner for your podcast.
Simply pick the images you want to use from the media library.
That covers everything you can customize about the audio player. Simply save the changes you made and use the preview option to make sure it works. Congratulations!
Make Sure You Have All Of the Necessary Permissions
It isn't a secret that media companies take the redistribution of their titles very seriously, and music may be the strictest.
Therefore, you need to make sure that regardless of what audio files you are using on your site, you have all of the necessary permissions to distribute that media, especially if you are selling these audio files.
Failure to do so could result in crippling fines and even jail time depending on your region.
Of course, it's not just big corporations that you have to look out for. Even taking content from smaller creators can have some serious repercussions if they file a DMCA on Google. Failure to comply could cripple your SEO rankings.
Not to mention their audiences will be sure to avoid your website in the future. TL;DR: Don't steal audio content.
Upgrade Your Audio Players On Your Website With Elementor Today
If you heavily rely on distributing audio files in WordPress, you need to make sure you are using a high-quality audio player. And the Music Player for Elementor is one of the best options on the market because it is free to use and offers you a ton of customization if you are willing to upgrade.
Having a dedicated music player for Elementor is extremely useful, especially when you combine it with other plugins like WooCommerce. The end result is a versatile website that can do just about anything in regard to audio files.
How easy did you find the Music Player widget to use? Has using this plugin made it easier to manage audio files?