The popularity of podcasts has grown substantially over the last few years. Now, just about everyone has a podcast of their own and you can easily share them on the WordPress platform. The Podcast Player plugin was made for this purpose, and it works wonders.
With it, website owners can display their podcasting feed on any post or page on the website. All it requires is the podcast URL, so it's easy enough for anyone to use. You can add any number of podcasts on your site, so it's a great choice for websites dedicated to marketing the feed.
Today, I will demonstrate how to use the Podcast Player in WordPress.
Why Podcasts Are Great for WordPress
A podcast is an audio recording of some type of discussion, conversation, or examination of a specific topic. If your website specializes in a certain topic, adding a podcast can grant you a lot of benefits.
For starters, having a podcast reinforces the idea that you are an expert or a fanatic on a specific topic. This can add a substantial amount of credibility to all of the content you create, while at the same time, providing new content for visitors to enjoy.
Podcasts often have guests on their shows from similar websites, YouTube channels, or industries. This makes them a great place to build partnerships and host collaborations with other content creators in your field.
Many content creators will include a podcast as an additional piece of content for patrons or member-only content. This is a great fit because a podcast doesn't require as much work as dedicated video content and it is also more personal.
Content creation can be extremely challenging, yet podcasts are some of the easiest pieces of content to make. Most podcasts will leave in any mistakes, unlike traditional content. With that said, it is a good idea to minimize these mistakes, otherwise, it could hurt your credibility.
How to Use Podcast Player in WordPress
Step 1: Install Podcast Player
Podcast Player is a WordPress podcast player plugin that allows you to display your podcast content on any post or page within WordPress. It's easy to use and only requires the podcast URL to get started. It also has a variety of customization options available.
Keep in mind that this plugin is only for displaying podcasts. To create a podcast, you will still need dedicated podcast software. And you will still also need to upload your podcast on an appropriate platform.
Thus, if you have not done this yet, you cannot use this plugin.
Let's start by clicking on Plugins and selecting the Add New option on the left-hand admin panel.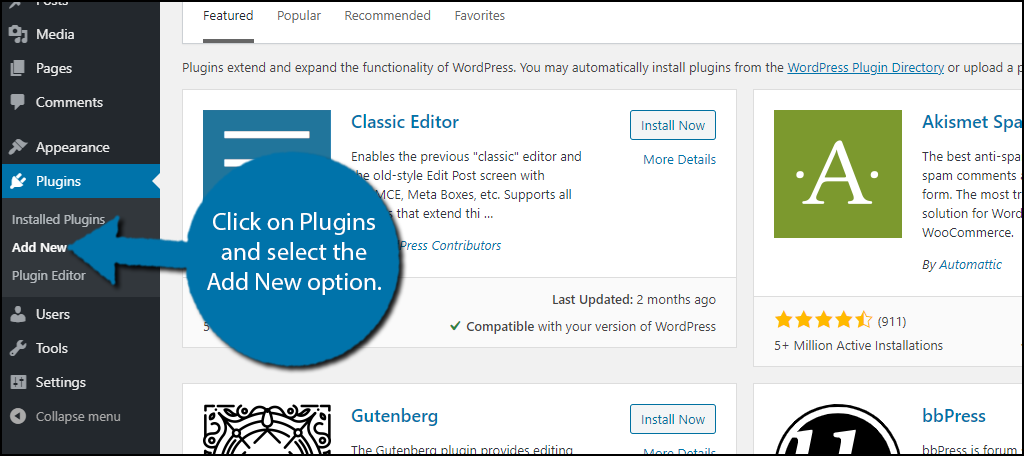 Search for Podcast Player in the available search box. This will pull up additional plugins that you may find helpful.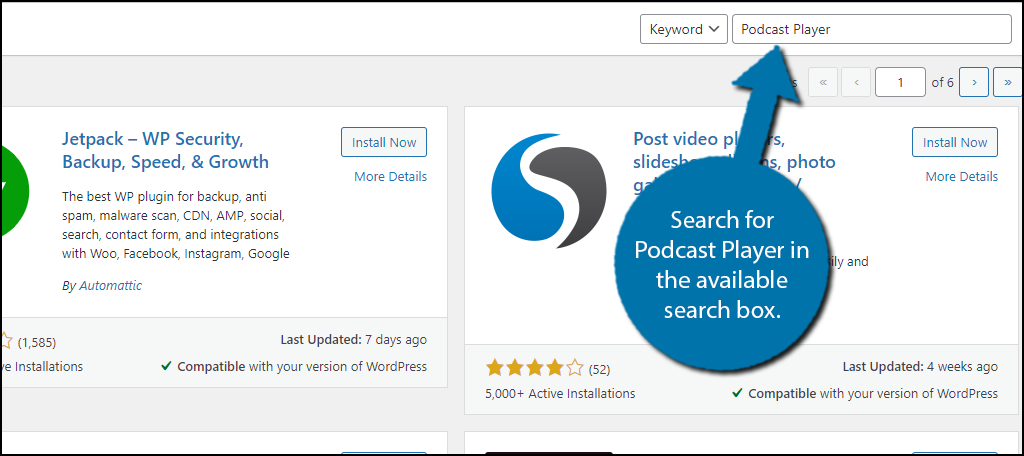 Scroll down until you find the Podcast Player plugin and click on the "Install Now" button and activate the plugin for use.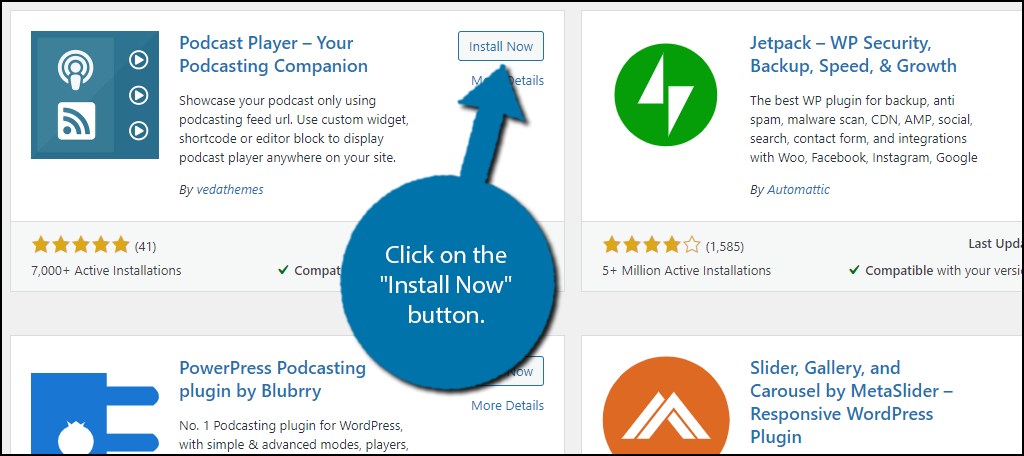 Step 2: Settings
The plugin is very easy to use and should only take a few minutes to set up. However, before you go through the tutorial, go to the platform you store your podcast and be ready to copy the URLs for each one you want to display on WordPress.
On the left-hand admin panel click on the Podcast Player option.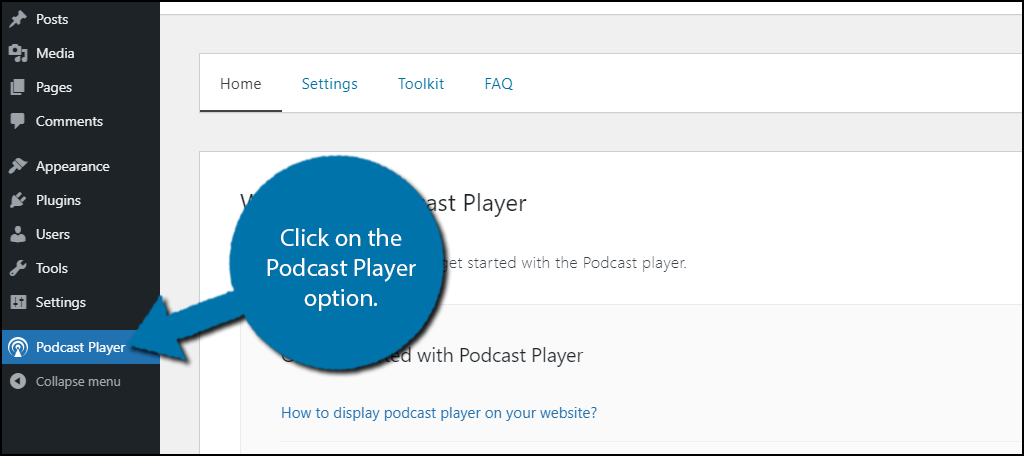 This area of the plugin allows you to adjust settings and view plugin information including an FAQ. I always encourage everyone to read all of the information in a plugin to make sure you're getting the most out of your new tool.
Click on the Settings tab.
Here you will find a few options that allow you to determine how often the podcast update interval is, minimize unintentional exposure of podcast data, optimize podcast images, and add rel (relationship in HTML) attributes.
There are also advanced options that allow you to keep older episodes, enable Ajax website compatibility, and set the timezone.
When you are done, click on the "Save Options" button.
Since you can have multiple podcast feeds with unique settings, you must apply the changes to a specific freed. To do so, click on the Toolkit tab.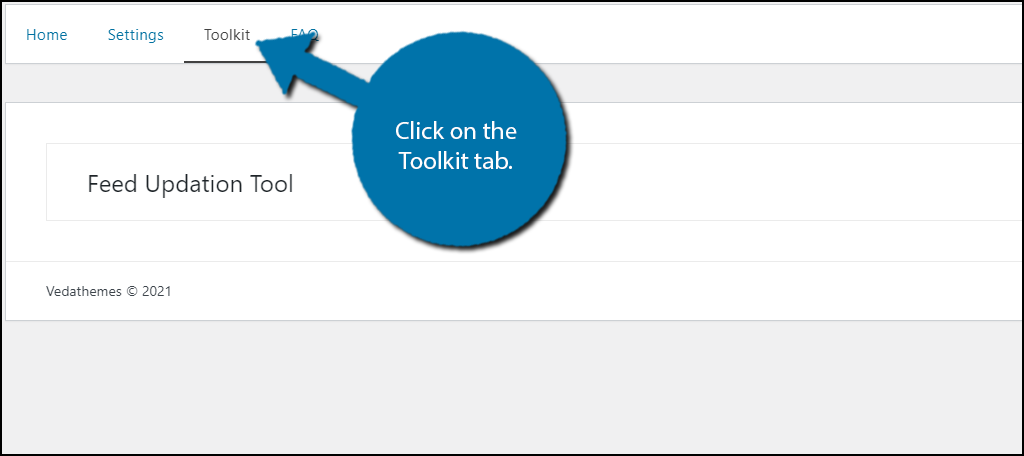 Here, you must enter your podcast feed URL to apply all of the changes you made in the settings. This will not display any podcasts, it only ensures that the podcast has the latest settings enabled.
Click on the "Update Feed" button when you are done.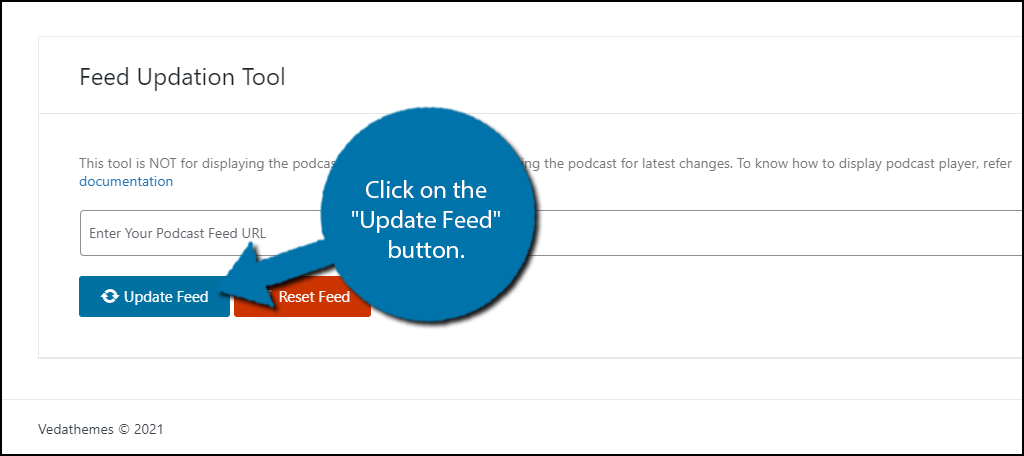 This concludes the settings portion of the tutorial. Now all that's left is to display the podcast.
Step 3: Display the Podcast
Podcasts are displayed by using the Podcast Player widget. Thus, they are accessible anywhere on your website.
Click on Appearance and select the Widgets option.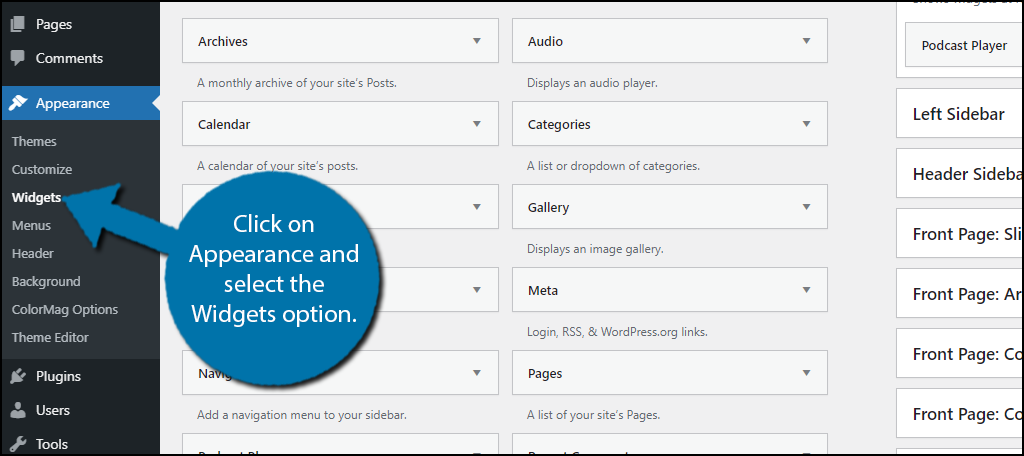 Locate the Podcast Player widget and drag it to the desired widget area.
Note: There are multiple plugins available that allow you to determine the visibility of widgets you add. Thus, you could display certain podcast feeds on certain pages within your website and give yourself great customization over how your content is displayed.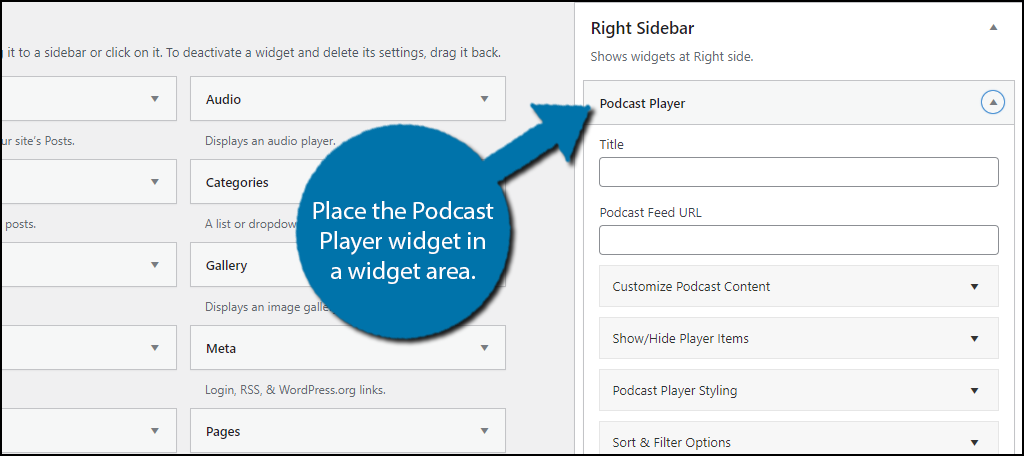 The widget is very straightforward to use. Simply enter a title, which will probably just be the name of your podcast, and enter the podcast feed URL.
Underneath these selections, you will find four sections of settings that include a wide variety of customization options. Go through each of these sections and pick the best options for your website.
Click on the "Save" button.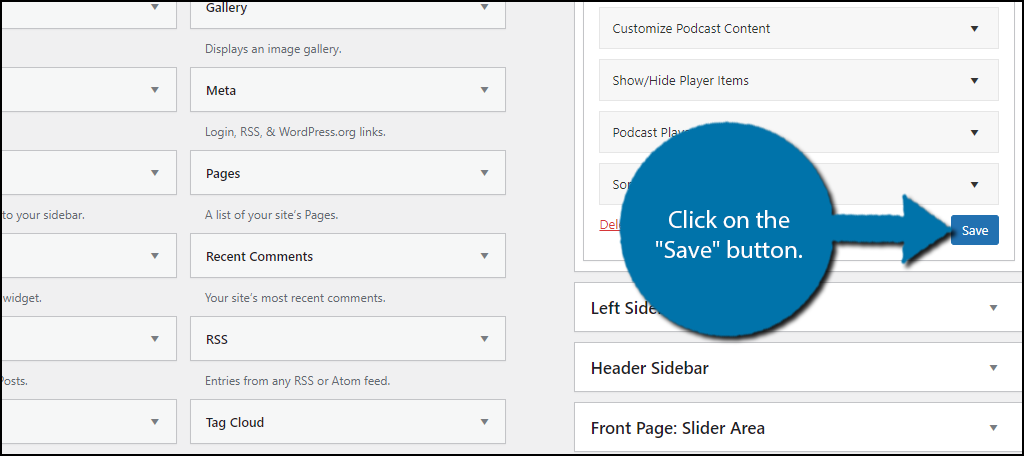 Note: Keep in mind that you can add multiple Podcast Player widgets if you have multiple podcasts you wish to share with your audience.
Congratulations, you can now view your podcast feed on your website. If it is not appearing, double-check that you have entered the correct Podcast Feed.
Display Your Podcast Wherever Podcasts are Available
Podcasts have become incredibly popular over the years and now, you can display yours on a variety of platforms that are dedicated to podcasts.
The more places you share your podcast on, the more listeners you will gain, which will ultimately mean more traffic for your website. Of course, this doesn't mean you should limit yourself to a dedicated podcast website.
For instance, YouTube is an excellent platform for your podcasts. You can use a still image (like your company logo) or series of still images for your podcasts. Thus, you don't need a very high production value.
Some visitors may even be interested in seeing you and a guest interact. In fact, there are many podcasts that exist only on the platform and some of them are even done via live stream on the platform or similar ones like Twitch.
Fully utilize every opportunity available to you.
Build A Podcast Today
Podcasts are a great way to engage with your audience. They can be accessed through multiple platforms and help bring in new traffic to your website or business. This is because they are easy to listen to and they can and can fit into anyone's schedule.
For instance, if you're working out, it's common to listen to music or a podcast while doing so. In this way, they are superior to video because you can keep focusing on the task on hand instead of looking at the screen of your computer.
Do you use another free podcast player in WordPress? How many podcasts do you display on your WordPress website?