Face it, more often than not, it is difficult to find images to use that are royalty-free. While there are dozens of websites that do offer excellent royalty-free images, visiting all of them to find the perfect image can be very time-consuming. That is where the Envato Elements plugin for WordPress comes in.
Important Note: While you can get royalty-free images with this plugin, it's important to say the images themselves are not free. You will need to pay for a subscription. Other features also require the Pro version of Elementor.
What is Envato Elements?
Envato Elements is actually an online platform that gives you access to all sorts of design and website services. From templates to images, there is just about everything you can imagine at your fingertips if you are a part of their subscription model.
That being said, they also offer a lot of stuff for free. While not everything within their platform is available for free, the stuff that is available in Envato Elements for free is solid and gives you a wide variety of options in WordPress.
To access the entire package, including the ability to import royalty-free images, you will need an Envato Elements subscription. We will talk about that a little more below.
Many website developers and graphic designers are starting to take this subscription approach to some models, as the fees are so low and the content is so vast that it makes it totally worth the investment.
Envato Elements offers something a lot of other things don't. Some of the main highlights of this include:
Unlimited Downloads for a Single Fee
Powered by Independent Designers
One Commercial License Covers Everything
Revenue Sharing For Developers
That being said, let's focus on how you can easily add royalty-free images to your WordPress website using a smooth plugin I found. This plugin integrates seamlessly and allows you to accomplish everything from the back end of your WordPress admin dashboard.
How to Get Royalty Free With Envato Elements
The Envato Elements – Photos & Elementor Templates plugin gives you the ability to easily import royalty-free photos from your Envato Elements account without ever having to leave your WordPress admin dashboard.
The plugin also comes packed with a ton of free-to-use templates that are compatible with Elementor and Beaver Builder.
So, if you install and activate this plugin, you can import royalty-free images. But if you are using Elementor to build a website, then you will also have access to tons of free template kits and blocks that you can use with the Elementor page builder.
Let's take a look at how to install and activate the plugin. Then we will go over how to use it together.
Step 1: Install Envato Elements
In order to use all the free templates and blocks, as well as easily import royalty-free images into your WordPress website, you first need to install and activate the plugin.
You can do this by going to the plugins page inside your WordPress admin dashboard and searching for the plugin name.
Once the plugin has been installed and activated on your website, click on "Elements." You will see that tab located on the left side menu of your dashboard. This will take you to the main setup and use area for the plugin.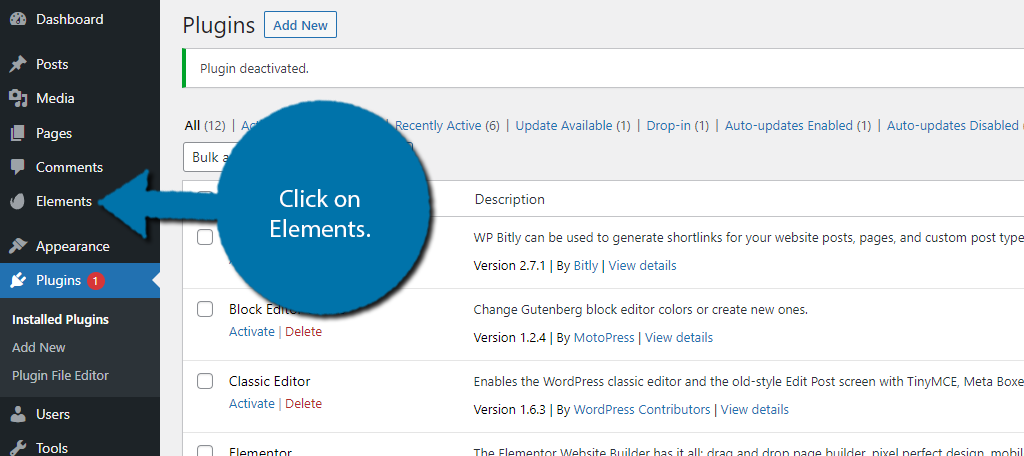 There are actually not many settings to go over, but let's take a look at what is included and how you use it all.
Step 2: Create An Account
At this point, you should be on the main page for the Envato Elements plugin. Here, you will see a couple of tabs. Let's go over how to enable the ability to import royalty-free images into your website whenever you want.
The first thing you will need is an active subscription. Without one, you can't get any images using this plugin. Here is how you sign up.
Go ahead a click on the "Photos" tab. This is located at the top of the main plugin page. You will see the photo section pop up with some information and a photo search bar.
Click on the "Get Started" button.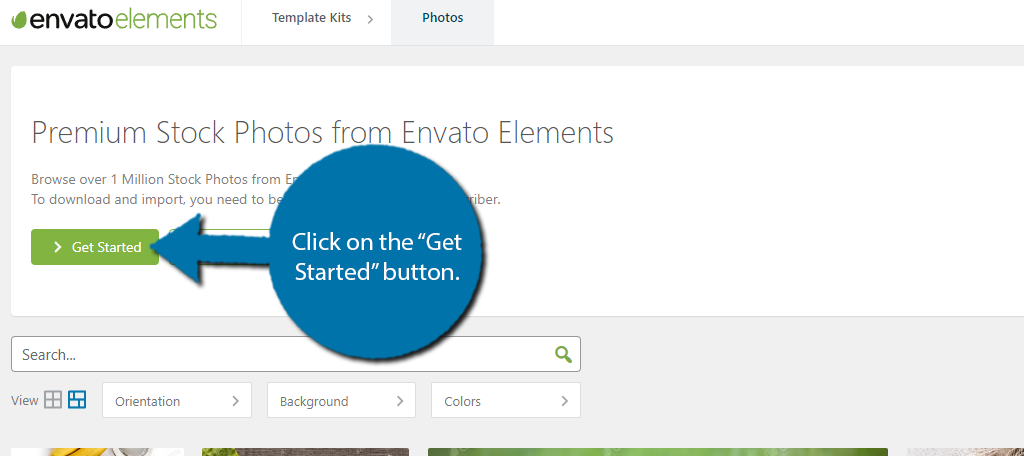 You will be taken to the main subscription page for Envato Elements. If you already have an account, sign into it. If you don't, then create an account so that you can sign up for the subscription.
Note: We don't display subscription pricing in our tutorials because it is always changing. However, the pricing is very reasonable, and you can cancel at any time.
Once you sign up and accept the subscription, you will be given a subscription token. Copy that token.
Now, click back over to your WordPress admin dashboard and you will see that a popup box has appeared.
Paste your token in that field to connect your Envato Elements subscription.
That's it! Once this is done, you have full access to their image library and the ability to import unlimited royalty-free images to your website at any time.
Step 3: Free Template Kits and Blocks
Even though you need an Envato Elements subscription to import unlimited royalty-free images, the plugin also provides you access to 120 free template kits and over 500 free block templates to use for building websites.
Let's take a look at these real quick.
Note: This assumes you are using Elementor to build your website, as these template kits and blocks are built for importing into Elementor. You also need the Pro version of this plugin.
Import a Template Kit
To import any of the 120 free template kits to use for your WordPress website, simply click back on the Temple Kits tab and then from the dropdown menu select either the Premium or Free Kits.
Note: You need to install Elementor Pro for these kits to work. The free kits do not require the Envato subscription.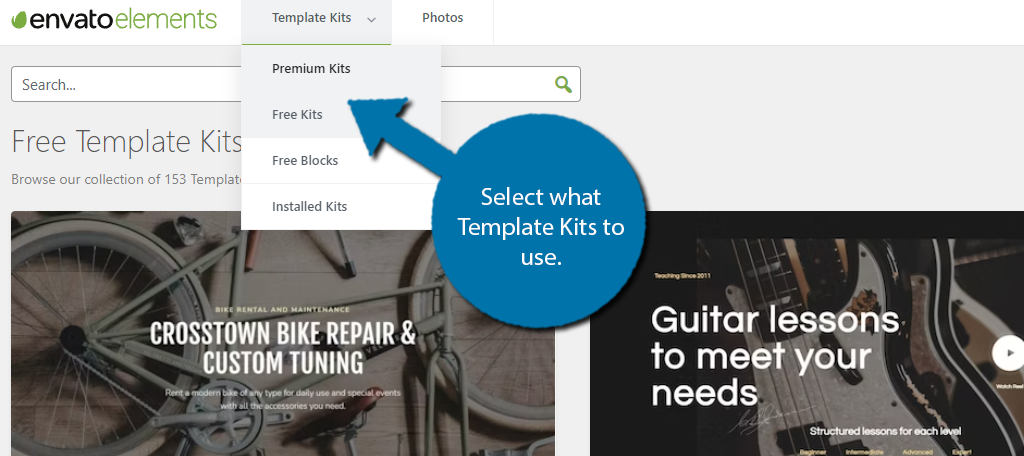 You will see a list of template kits that are available to you. Each one has two buttons underneath them. The first one is the "Preview" button and you can use that to see what the template kit looks like.
If you like what you see, use the "Install Kit" button to install it.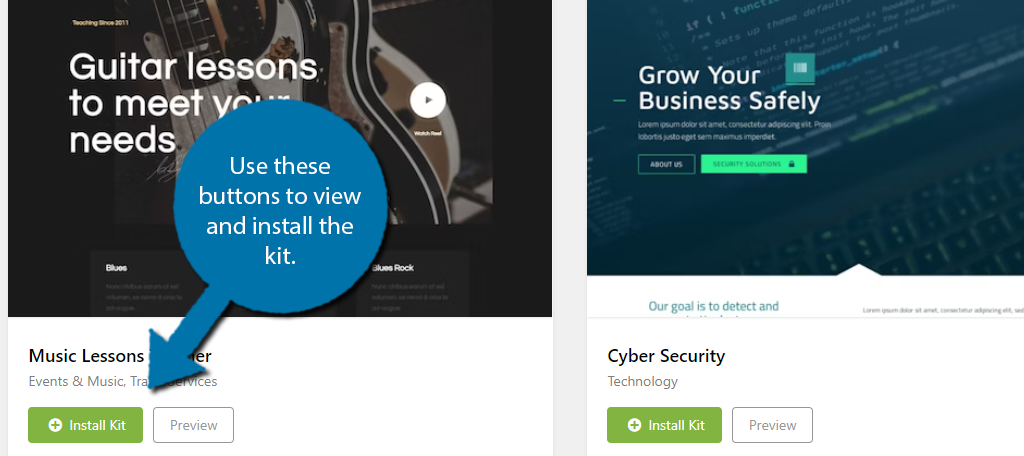 If you install the kit but do not meet the requirements (having Elemen Pro installed), you will see a message appear at the top with a list of the requirements you do not meet.
Import a Block
There are also over 500 free blocks to use while you are building with Elementor. The process is about the same but let's take a look.
To access the blocks, click on the Temple Kits tab again and then click on the Free Blocks option in the dropdown.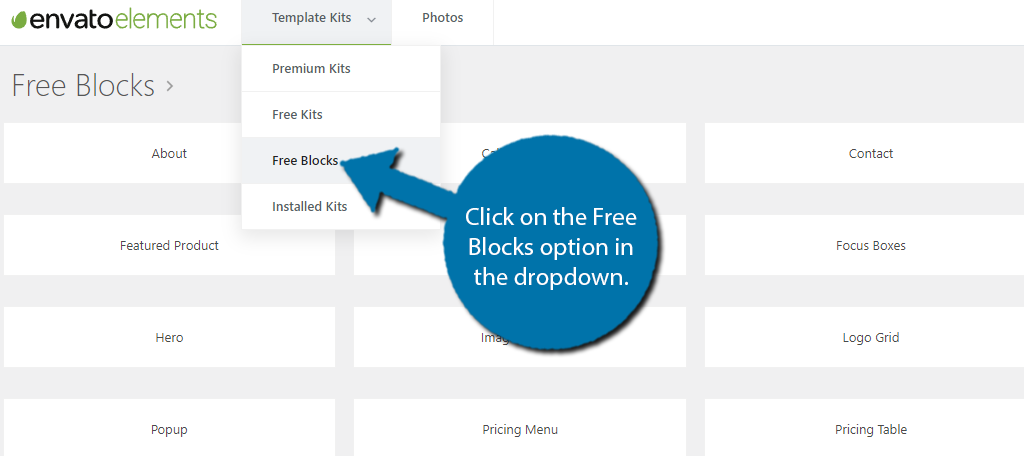 The block library is broken down into several categories. Simply click on the category you are interested in. Once you do that, you will see all of the blocks in that category. Then, just click on the block to import it into your Elementor editor.
While there are a lot of options, truthfully, a lot of these can be achieved using Elementor, these are really just streamlined versions of existing elements, which can help you save time when creating pages.
Are There Other Options?
Absolutely! There are plenty of royalty-free stock image sites that you can choose from, and many of them allow you to download images without even needing to pay a subscription like Envato Elements.
One example that we have covered would be Pixabay. This is a full library of stock images that you can use on your website. You can visit the website and download the images from there, or you can install a plugin and add them directly to your media library.
If you are interested in this, be sure to check out our guide on how to do so.
Use Envato Elements to Add Images In WordPress Today
Having the ability to use and import royalty-free images from your WordPress dashboard can be very valuable. Sure, there is a small fee, but the time you save and the content access you receive are well worth it.
Plus, you gain access to hundreds of free templates and blocks to use when you are building your website.
If you are tired of searching all over the web for royalty-free images at random websites, then give Envato Elements a try. You will save yourself a lot of valuable time and also gain access to a lot of other resources.
Have you ever tried using this subscription package for royalty-free images? Do you prefer another tool?